Form is temporary, class is permanent, right? That might well be the take-home message from Sunday's World Triathlon Championship Series Bermuda.
Vincent Luis – World Triathlon champion in 2019 and 2020 – set the pace in the swim, drove the bike breakaway and then ran strong to rip up all pre-race predictions and take an emotional victory in Hamilton.
Swim – Luis sets the pace
23.5-degrees was the pre-racing water temperature reading, so no need for neoprene today for the two-lap swim in Hamilton Harbour.
It's didn't take long until it was the consistent swim brilliance of Vincent Luis (FRA) and Mark Devay (HUN) really pushing the pace, and within five minutes, the race was notably stretched out at the front. At the end of the first (700m) swim lap, a trio of Luis, Devay and Vasco Vilaca (POR) were already 10 seconds clear of the chasers, which saw close on 40 athletes within around 20 seconds. A great early advantage – but some serious bike legs would be in pursuit, unless there was a further break among the big hitters on lap two.
There was no extended lead on the longer (800m) swim lap, indeed when Vincent Luis reached T1 still leading, he had nine athletes within 14 seconds, having been joined by Kyotaro Yoshikawa, Csongor Lehmann, Jonas Schomburg, Jumpei Furuya, Simon Westermana and Alois Knabl, alongside his early escapees.
Tom Richard (FRA) lead out the chasers in tenth (+21 seconds), with some of the headline names being Kristian Blummenfelt (+0:37), Alex Yee (+0:40), Jelle Geens (+0:49) and Gustav Iden (+0:53).
T1 saw the sight of Charles Pacquet (CAN) having to serve a 15 second penalty for being late to the athlete briefing. Seriously, there's got to be a better approach than this. Hardly great marketing to the 'casual', is it?
Bike – The breakaway sticks
Alois Knabl, who was ninth out of the swim, was the one athlete who wasn't able to make the early bike breakaway. At the end of lap two (of eight), they had built themselves an advantage of 39 seconds, as they weaved through the pastel shades of the buildings on Front Street. Who was pushing the pace in the chase pack? The Norwegians, of course!
Alex Yee and Matthew McElroy were also to the fore and helping the chase, but at the end of lap three their deficit had extended to 49 seconds. With Luis, Schomburg and Furuya amongst those in the leading group, no shortage of athletes willing to go all-in to make their advantage stick. 20km in and they had extended that, slightly, to 52 seconds.
Little changed over the next 15km, and as the leading seven (who had earlier dropped Csongor Lehmann), were still 42 seconds clear with 5km of cycling and the 10km run remaining. Nothing changed over the final lap.
Run – Victorious Vincent runs to victory
Germany's Jonas Schomburg (again!) was the fastest through T2, and immediately to the front in the early stages of the run. Within the first kilometre, Vasco Vilaca moved into the lead, and with Jumpei Furuya, initially at least, a leading trio.
If Alex Yee was going to add a fourth WTCS victory in 2022 here, he was going to have to do it in the closing 9km… because there was little in the opening three minutes to suggest he was simply going to power to the front on his favourite discipline.
The leading trio from the chasers were Jelle Geens, Antonio Serrat Seoane (ESP) and Adrien Briffod (SUI), but they were still 28 seconds off the leader at the end of the first of four 2.5km run laps. As he settled into the run, Vincent Luis took control from the leaders. Was the two-time World Champion going to roll back the years and return to the top of a WTCS podium?
5km in and it was Luis leading, followed by Serrat Seoane/Geens (+0:17), having moved past Schomburg and Vilaca. It was not looking like a good day for Alex, who was now staring at the back of Olympic gold medallist, Kristian Blummenfelt, still close to 40 seconds back.
So experienced, Luis was brilliant over the closing kilometres of the run and despite the best efforts of Spain's Antonio Serrat Seoane, he would not be denied. Brilliant, simply brilliant – and worthy reward for such an aggressive and positive approach to today's race. No wonder he was so emotional post-race.
Serrat Seoane was followed home by Roberto Sanchez Mantecon, meaning two debut WTCS podiums for the Spanish athletes. Geens took fourth, with Alex Yee out-sprinting Kristian Blummenfelt for fifth. With Gustav Iden also in the mix
(ninth) the Norwegians will doubtless be a major factor at Paris 2024
Post race reactions
After the race, Vincent Luis tugged at everyone's heartstrings with an admission of just how difficult the past few months especially have been for him with injury problems.
An emotional Luis admitted "last year I thought I was done" but heralded his team as amazing and thanked them for their belief, stating that "I had all these people believing in me, so I had to believe in myself".
On the last lap, Luis said post-race that he spent that time reflecting "on all the times I couldn't run". This remarkable victory for Luis, after so many setbacks, will hopefully give the Frenchman the self-belief that he can be competitive at a home Olympics in Paris in 18 months time.
In second and third place, Antonio Seoane and Roberto Mantecon seemed to almost be telepathic in their comment, with both elated to be on the podium. Post-race, Seoane said "to be on the podium with Roberto for the Spanish and for us is incredible", with Mantecon agreeing, looking lost for words but confirming that "this is amazing".
Former WTCS Series podium finisher Fernando Alarza, who recently stepped into coaching with the national side, said in an Instagram post after the European Championships in Munich that his goal in coaching is "to see Spanish athletes at the front of world races for the next ten years", and in Seoane and Mantecon that looks a real possibility.
WTCS Bermuda 2022 Results
Sunday November 6 2022 – ELITE MEN
1.5km / 40k / 10k
1. Vincent Luis (FRA) – 1:49:37
2. Antonio Serrat Seoane (ESP) – 1:49:45
3. Roberto Sanchez Mantecon (ESP) – 1:49:54
4. Jelle Geens (BEL) – 1:49:59
5. Alex Yee (GBR) – 1:50:04
6. Kristian Blummenfelt (NOR) – 1:50:06
7. Lasse Luhrs (GER) – 1:50:12
8. Bence Bicsak (HUN) – 1:50:14
9. Gustav Iden (NOR) – 1:50:15
10. Tom Richard (FRA) – 1:50:16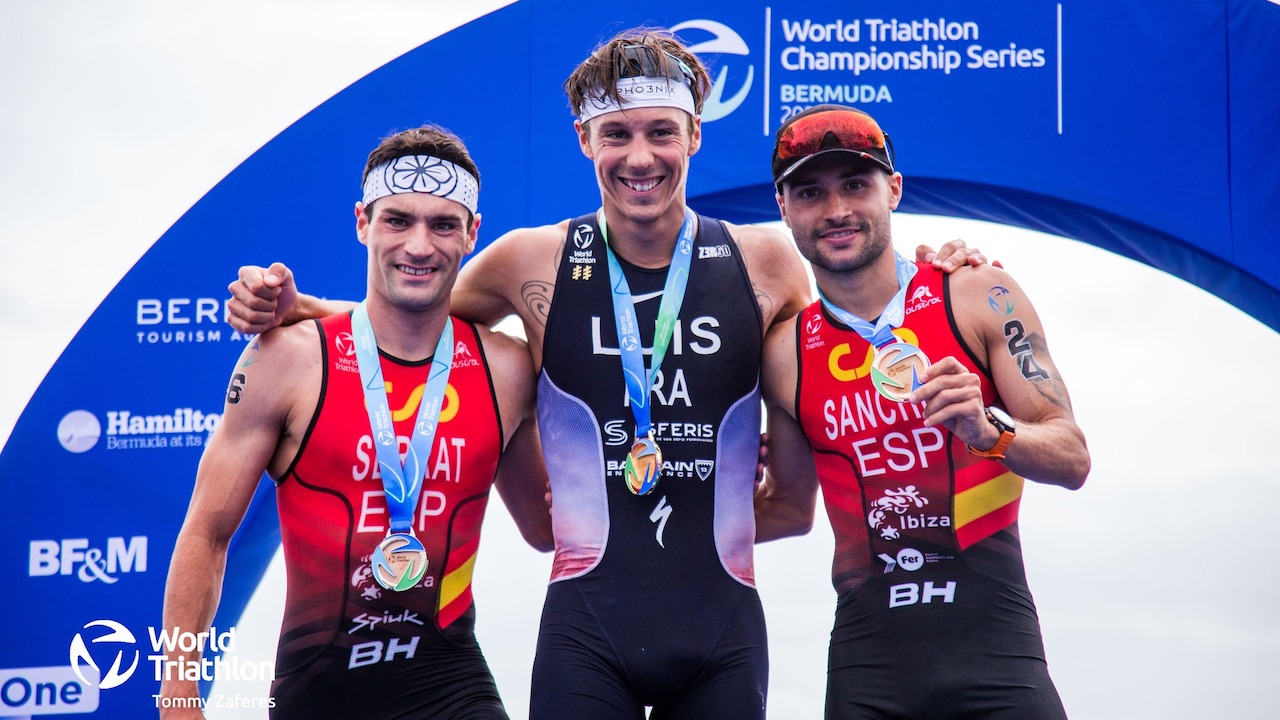 WTCS Rankings Standings after Bermuda
1. Hayden Wilde (NZL) – 3850
2. Alex Yee (GBR) – 3732
3. Leo Bergere (FRA) – 3493
4. Jelle Geens (BEL) – 3314
5. Vincent Luis (FRA) – 3098
6. Antonio Serrat Seoane (ESP) – 2925
7. Lasse Luhrs (GER) – 2769
8. Pierre Le Corre (FRA) – 2726
9. Vasco Vilaca (POR) – 2669
10. Matthew Hauser (AUS) – 2317