A moment of magic from Hayden Wilde proved the difference as he won the battle of the big hitters at WTCS Hamburg to take the Super Sprint world title.
Towards the end of the bike in the final there was nothing between Wilde, Kristian Blummenfelt, Alex Yee, Vasco Vilaca, Matt Hauser and others.
But the Kiwi put the hammer down on the final couple of corners to open up a small gap and he then rammed home the advantage in T2.
It meant he had daylight between himself and the rest starting the short run and he never looked like being caught.
'Don't look back and go'
And afterwards he said: "I thought before the race, if I got into the final, my tactic if the pace was hot – and Kristian was making it real hot at the end – was to swing around that corner and try and get one or two seconds into transition, hopefully then have a really good T2 and just don't look back and go."
That was pretty much exactly how it played out and he added: "Normally I fumble a little bit in T2, so I'm pretty stoked that that worked out.
"But it was a big gamble and could have definitely gone backwards. But I just kept pushing and I saw the boys trucking real hard and that was, I guess, a decisive move and I'm just stoked to get the win here back in Hamburg."
Asked how significant it was that he beat Yee for the first time in a WTCS race they both finished, he replied: "Yeah, Alex is a classy athlete but Matt is as well, everyone is upping their game and I'm not taking any podium for granted these days. It's just great to be here.
"When I was on the start with that line of ten, I was like, oh man, it's going to be pretty hard to get the job done here. But I got it done. And kudos to Alex and the boys. It was just honest racing."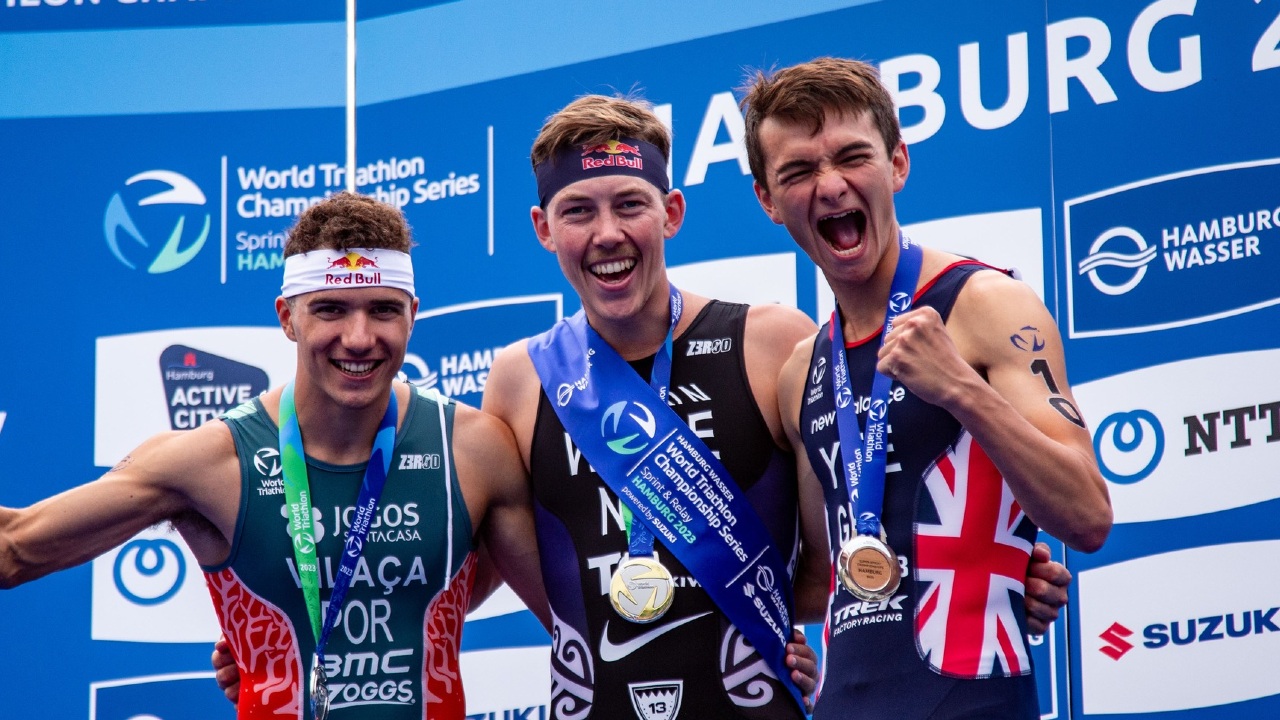 'It was quality racing'
That was echoed by Wilde's great rival Yee, who finished in third, with WTCS series leader Vasco Vilaca splitting them.
"It's crazy this sort of racing, just carnage, but I really enjoy it," Yee told World Triathlon.
"Once you get to that last 10 [athletes], it's quite enjoyable, it's like just racing against your mates.
"It was pretty unpredictable at times, with Kristian doing a bit of a madness on the bike and my legs were in tatters. But, yeah, it was quality racing."
Yee also paid tribute to Wilde's tactics, adding: "He did a really good job in those last few corners. He put a bit of a surge in, had two or three seconds in transition and then he was gone.
"In this kind of racing those small margins are the things that win or lose you a race so kudos to him, it was really impressive."
And looking at the bigger picture, Yee said: "I'm very much preparing for Olympic distance at the moment, so to come down to this short distance was a bit of a madness but I really enjoyed it. And this is a good format, I think it's here to stay."