Reversing their positions from last weekend in Singapore, Great Britain's Alex Yee came out on top after a fantastic battle on the run at WTCS Yokohama on Saturday.
Yee's superb victory completed an impressive British win double after Georgia Taylor Brown's success earlier in the day.
Swim: Les Bleus lead the way
Starting three hours after the Elite Women's race, the first difference was an increase in water temperature seeing the men start without wetsuits. Neoprene or not, no surprise to see two-time World Champion Vincent Luis (FRA), lead the way at the end of lap one.
There was a long line behind Luis with no breaks. Yee was outside the top 30, but still just 20 seconds down at that stage. As with the women earlier, lap two of the swim and the early kilometres of the bike could be key.
Luis continued to lead along with compatriot Dorian Coninx, while Yee was 34th, 35 seconds down and would be hoping that the long line of athletes in between him and the leaders would allow him the stay in contention.
With Coninx and Luis both slow in T1, that hope was helped a little – with the added benefit of having the fast riding and in-form Wilde behind him. They would have work to do to make sure they were in that leading group.
Bike: HUGE group can't be broken
There was little sign of the challenging conditions we'd seen just hours earlier, with the rain-soaked roads practically bone dry for the Elite Men.
By the end of lap two the lead group was a massive 36 athletes (including Yee), and that was soon to be added to by Wilde and Gabor Faldum (HUN). Everyone else was a minute back and likely already out of competitive contention.
The next half an hour saw… absolutely nothing happen in terms of action, truth be told, before Wilde put in a surge to apply some pressure to the front pack. As brilliant as he is, on a flat course in dry conditions and a massive group with him, that was never going to result in a late-race explosion. Putting some fatigue in everyone else's legs was his more subtle goal.
Run: Friends and rivals battle it out
As he has been many times before, Jonas Schomburg (GER) was quickest through T2 to lead out onto the run. Yee wasn't the quickest through transition, but as with T1, Luis was uncharacteristically slow and really looking out of sorts – that swim aside. He was soon out of the race entirely.
It wasn't long until Wilde made his way to the front of the race, but Yee was also looking good and worked his way into second, running on the shoulder of his friend and fellow Olympic medallist. Were the young guns going to battle for the Yokohama win? In his fifth triathlon of the season, Hayden had already won the previous four.
Wilde and Yee pulled clear, and with 5km remaining they had a 13-second advantage over Leo Bergere and 21 seconds on Pierre Le Corre. Wilde was leading the way and looking focused with Yee seemingly content to follow.
Some 40 seconds up with one lap to go, Yee and Wilde started to trade the lead on the final lap; attacking, responding, and repeat. The action missing on the bike was happening now. There was still time for some great respect and sportsmanship between the pair:
Both looking great, they reached the blue carpet together, before the Alex was able to sprint clear, take the victory and then turn and bow to the Japanese crowd.
"He beat me last weekend, I got him this weekend – I forgot how hard racing was!"
WTCS Yokohama 2022 Results
Saturday May 14 2022 – ELITE MEN
1.5km / 40k / 10k
1. Alex Yee (GBR) – 1:43:30
2. Hayden Wilde (NZL) – 1:43:40
3. Leo Bergere (FRA) – 1:43:59
4. Matthew Hauser (AUS) – 1:44:09
5. Pierre Le Corre (FRA) – 1:44:17
6. Dorian Coninx (FRA) – 1:44:25
7. Vasco Vilaca (POR) – 1:44:52
8. Ricardo Batista (POR) – 1:44:52
9. Kevin McDowell (USA) – 1:45:02
10. Antonio Serrat Seoane (ESP) – 1:45:07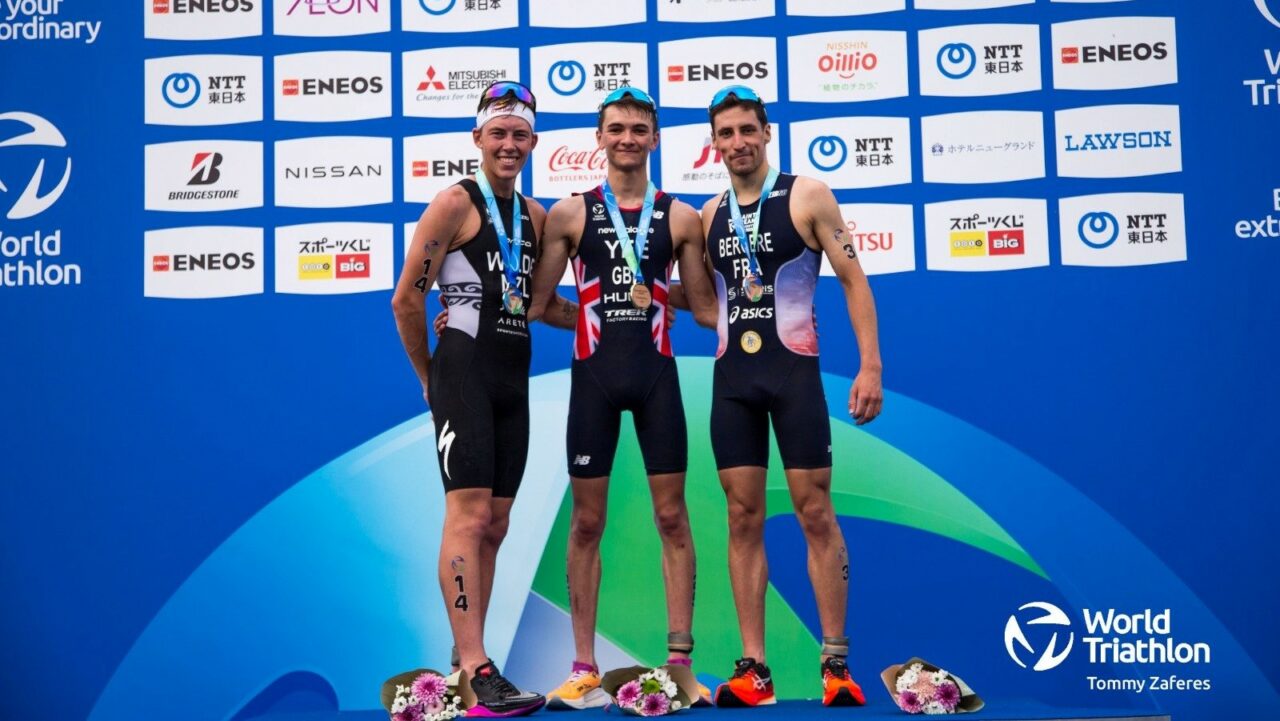 WTCS Rankings Standings after Yokohama
1. Leo Bergere (FRA) – 2075 points
2. Antonio Serrat Seoane (ESP) – 1923 points
3. Pierre Le Corre (FRA) – 1523 points
4. Hayden Wilde (NZL) – 1504 points
5. Tim Hellwig (GER) – 1484 points