The AJ Bell World Triathlon Leeds delivers in style once again
Gold and Silver double for Holland and Taylor-Brown
For the previous two edition of the AJ Bell World Triathlon Leeds, we've witnessed a British one-two at the top of the Elite podium, courtesy of the Brownlee brothers. That result was repeated again on Sunday, but this time around it was Vicky Holland (with her first WTS win for three years), and a debut podium for Georgia Taylor-Brown that sent the home crowd into cheers.
Two days of great weather and on Sunday I had the best seat in the house, calling the race from the on-site commentary booth in Millennium Square in the heat of Leeds.
Both Elite races were exciting, with the technical city centre bike circuit in particular exposing any weaknesses in bike handling skills. There was nowhere to hide – those podium positions were very hard-earned.
---
Holland delights home crowd at AJ Bell World Triathlon Leeds
Vicky Holland's tenacity paid off at the AJ Bell World Triathlon Leeds, where she achieved her first Series victory for three years. Overcoming challenges along the way, she surged ahead of the field to claim victory in Leeds sun-drenched Millennium Square. Georgia Taylor-Brown achieved a break-through silver medal and Tom Bishop was the top British male in sixth.
Jess Learmonth lead out of the swim and was the strongest cyclist on the climb out of Roundhay Park. She was joined by Taylor Spivey and Katie Zaferes (USA), who raced into town and were met with roars of noise from huge crowds. Vicky Holland had finished just behind the leading swimmers and was unable to catch them in the early stages after having issues with a cycling shoe.
She rode into town with Jodie Stimpson, Sophie Coldwell and Georgia Taylor-Brown all forcing the pace. Stimpson was unfortunately stopped in her tracks by a puncture but the hard work of the rest of the group saw them catch the leaders.
Coldwell took up the front running but wasn't able to hold on once Taylor-Brown and Holland both passed her, but for a few minutes there were dreams of a British podium sweep.
Claiming the top spot, Holland said: "It was one of those days where I had a fantastic start, but I went on to the bike and my legs wouldn't move. I started to enjoy it when I pulled away.
"It's been nearly three years since I won a big race and I wasn't sure that I would ever stand on top of a big podium like this again."
Did it happen? A home soil win in the @worldtriathlon series 🇬🇧🥇? Hell yes it did! DELIGHTED to win today – toughed it out, didnt give in, took the tape. Leeds you were incredible!! 🙌. 📸 @worldtriathlon @bensnapsstuff pic.twitter.com/XzvySmLIlx

— Vicky Holland (@VixHolland) June 10, 2018
Taylor-Brown won her first ever ITU World Triathlon Series medal and commented: "I knew that I would have to work hard in the swim and on the hill straight out of transition. I worked to gain positions with Sophie as we worked together well as a team.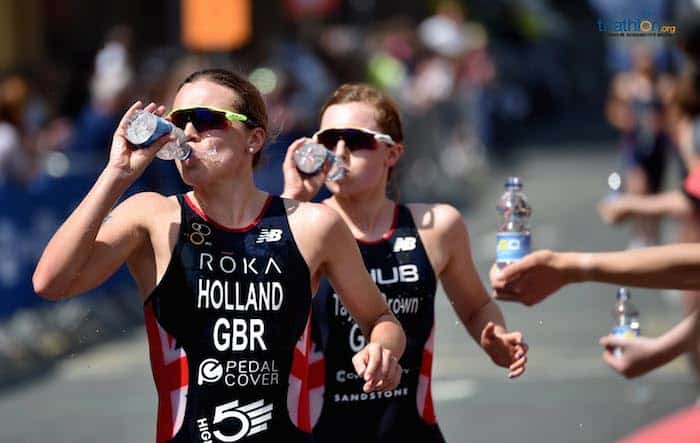 She added: "It's a bit surreal when you're racing alongside well-known names in the sport. At one point it was me, Sophie and Vicky leading, and the crowd went crazy."
Learmonth finished ninth and Coldwell was 12th.
The men's race started badly for Grant Sheldon, who withdrew after the swim. Jonathan Brownlee was already up the road with a lead group heading into town, but when he arrived there, it was clear that he wasn't putting his usual level of energy into keeping the group away from the chasers behind.
The chase group, which featured proven runners, Richard Murray (RSA) and Mario Mola (ESP), caught the leaders during the city laps. This brought Tom Bishop back into contention, but Brownlee lost a minute by the time the run started. He attempted to run but dropped out in discomfort from a stomach bug and was taken for medical checks.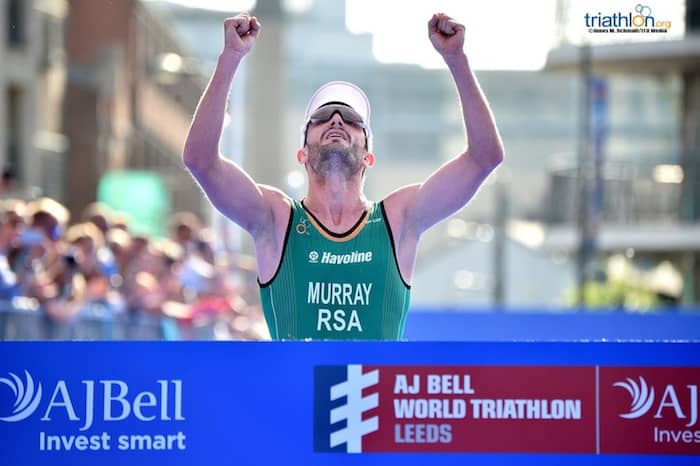 Bishop ran really well to achieve a similar result to last year when he was fifth. He said: "I'm happy with how it went. The relay race on Thursday added to my confidence. It was hard, but that's how I like it, you have to anticipate more about what is around the corner. The British crowd were really supportive and that really helps."
Murray claimed gold, with Mola second and Vincent Luis third. In excess of 60,000 spectators supported triathletes of all levels across the weekend.
Partner quotes:
Billy Mackay, Marketing Director, AJ Bell:
"Congratulations to all the athletes who took part in the AJ Bell World Triathlon Leeds. The weekend was a true celebration of the sport, and we'd like to thank all participants and the many thousands of people who came to show their support and cheer on the athletes. We'd also like to thank the many volunteers and staff at British Triathlon, whose hard work ensured it was an unforgettable experience for everyone involved."
Andy Salmon, Chief Executive of British Triathlon:
"It has been a fantastic weekend of action at the AJ Bell World Triathlon Leeds 2018. We have seen hundreds of first timers take on the triathlon challenge and also celebrated the world's best racing through the streets of Leeds in front of another fantastic crowd. This event has once again demonstrated its ability to show off our sport at every level."
Wayne Coyle, Event Director of the AJ Bell World Triathlon Leeds 2018:
"I would like to say a huge thank you to all the participants and spectators who have travelled to Leeds. The staff, volunteers and officials who have delivered another world-class event and of course the world best triathletes for providing one of the most thrilling races we have seen in the city."
Leader of Leeds City Council Councillor Judith Blake:
"It was truly amazing to see the people of Leeds, Yorkshire and indeed from countries right across the world, turn out in huge numbers once again to show their support for AJ Bell World Triathlon Leeds.
"Since Leeds hosted its first World Triathlon Series event in 2016, the event has captured the imagination of the public and encouraged people of all ages to try and take up this fabulous sport. We are immensely proud to showcase our city to the world through this event and to see some of the sport's greatest triathletes really enjoy competing here.
"The planning which goes into organising an event the size of this one is enormous. I would like to offer a big thank you to everyone who played their part and especially our volunteers, who gave up their hard-earned spare time to ensure the weekend was a great success."
Results:
ELITE WOMEN
1st – Vicky Holland (GBR) – 1:56:32
2nd – Georgia Taylor-Brown (GBR) – 1:56:49
3rd – Katie Zaferes (USA) – 1:57:02
4th – Rachel Klamer (NED) – 1:57:24
5th – Leonie Periault (FRA) – 1:57:24
6th – Rebecca Spence (NZL) – 1:57:37
7th – Taylor Spivey (USA) – 1:57:50
8th – Jessica Learmonth (GBR) – 1:57:55
9th – Nicole Van Der Kaay (NZL) – 1:58:06
10th – Yuko Takahashi (JPN) – 1:58:20
12th – Sophie Coldwell (GBR) – 1:58:28
DNF – Jodie Stimpson (GBR) – puncture
DNS – Non Stanford – sick
Sad to announce that I've been unwell overnight & instead of warming up for @WorldTriLeeds I'm currently in hospital awaiting tests. Nothing serious I hope & sure to see you all soon.

Good luck to everyone racing especially the @BritTri guys & gals 🇬🇧❤️

Cheer loud Leeds! pic.twitter.com/DRweH8c5Sq

— Non Stanford (@NonStanford) June 10, 2018
ELITE MEN
1st – Richard Murray (RSA) – 1:45:52
2nd – Mario Mola (ESP) – 1:46:01
3rd – Vincent Luis (FRA) – 1:46:14
4th – Pierre Le Corre (FRA) – 1:46:27
5th – Marten Van Riel (BEL) – 1:47:03
6th – Thomas Bishop (GBR) – 1:47:07
7th – Joao Silva (POR) – 1:47:12
8th – Sam Ward (NZL) – 1:47:16
9th – Simon Viain (FRA) – 1:47:16
10th – Ryan Bailie (AUS) – 1:47:26
25th – Marc Austin (GBR) – 1:49:17
DNF – Jonathan Brownlee (GBR)
DNF – Jonathan Brownlee (GBR)