Paterson completes 2018 XTERRA / ITU Cross World's double
Costa Rica's Rom Akerson defeats defending champion Bradley Weiss
Lesley Paterson completed a fine 2018 season on Sunday when after six years away from the top step of the podium, she won her third XTERRA World Championship title in Maui. The US-based Brit completed something of a double, having also won the ITU equivalent Cross Triathlon World Championship earlier this year in Fyn, Denmark. Her win came three days after Nicole Walters – second in Denmark – added European Cross Triathlon Gold to her C.V. in Ibiza.
It's been a long road back for Paterson, with injuries and illness including Lyme Disease, but the Scot was in fine form and took the win in style with a victory margin of more than 10 minutes in Maui, having finished a distant fifth last year.
Here is the full race report and imagery courtesy of Trey Garman at XTERRA Media.
---
Akerson, Paterson win XTERRA World Championship
Rom Akerson from Costa Rica and Lesley Paterson from Scotland captured the 23rd annual XTERRA World Championship off-road triathlon elite titles on a sunny but muddy day in Kapalua, Maui.
It's the first XTERRA World title for Akerson and the third for Paterson, who last won in 2011 and 2012. Both earned $20,000 for their respective victories, their share of the $100,000 elite purse.
More than 700 endurance athletes from 44 countries and 39 U.S. states competed in the event, which started with a one-mile rough water swim at D.T. Fleming Beach, continued with a muddy 18.5-mile mountain bike ride that traversed the West Maui Mountains, and finished with a 6.5-mile trail run through forest trails and beach sand.
There was more than 4,000 feet of combined climbing on the technical bike and run courses, which were muddy and slippery due to recent rainstorms on Maui's northwest coast.
Men's Elite
In the men's elite race New Zealand's Sam Osborne and Spain's Roger Serrano were first out of the water, with last year's winner Brad Weiss, 3x winner Ruben Ruzafa, and Akerson about one-minute behind.
Ruzafa posted the fastest bike split for the sixth straight year to take the lead early on the bike, but Akerson was just 40-seconds behind him by the time they got to the bike-to-run transition.
At mile two of the run, Akerson passed Ruzafa and never looked back, taking the tape in 2:52:41, just 35-seconds ahead of Weiss, who posted the fastest run to finish second.
"I can't even believe it," said Akerson after the race, full of emotion with tears of joy in his eyes. "I opened it up today and just felt great. My Pura Vida spirit came out. During the run when I got the lead and I knew it was going to happen I wanted to cry but I had to tell myself to keep going, that I couldn't cry if I hadn't won it yet."
To start the day, Roger Serrano led the M-style swim course through the big waves but was passed on the second lap of the swim by Osborne, who had the fastest swim split of the day in 20:48.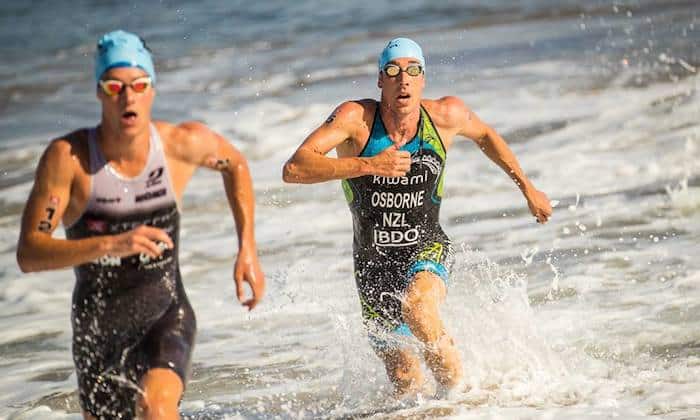 Mauricio Mendez also put in a solid performance in the water and made his way into second place by the time he ran up the hill and exited transition. Maxim Chane, Lukas Kocar, Francisco "Paco" Serrano, Brad Weiss, Ruben Ruzafa, and Rom Akerson were almost a minute behind the leaders.
Weiss was clearly disappointed with his swim. "I've been swimming well all year and was disappointed today," said Weiss. "That's where I lost the race, ironically, because last year, I said that's where I won it. This year I came out of the water 50 seconds down and last year, I was in the lead straight onto the bike. Losing a minute is just too much in this game."
At mile two and a half on the bike, less than 30 seconds separated the top nine men. Mendez led Osborne, Chane, Kocar, Weiss and Ruzafa. Akerson was in eighth place. By mile six, Ruzafa had powered into a one-minute, ten-second lead ahead of Osborne and Weiss, who were riding together, with Akerson riding strong less than 90-seconds behind Ruzafa in fourth.
Mendez said he was happy with his swim but disappointed with his performance on the bike.
"I think that was a good swim for me," said the 2016 World Champ. "We played in the waves a bit and you needed to be smart getting in and out of the water because the waves either took you forward or sent you back. On the bike, I've been trying to focus on 70.3 and I missed out on mountain bike skills, which were important for this muddy race. I fell a lot of times, especially in the last part of the bike."
While Mendez is known for being one of the fastest runners in the sport, he couldn't run fast enough to make up for his performance on the bike. For the sixth year in a row, Ruzafa posted the fastest bike split on the day and headed out on to the run with the lead. The first two years he did that, in 2013 and 2014, he won, but then Middaugh caught him in 2015, Mendez in 2016, Weiss last year, and Akerson this year.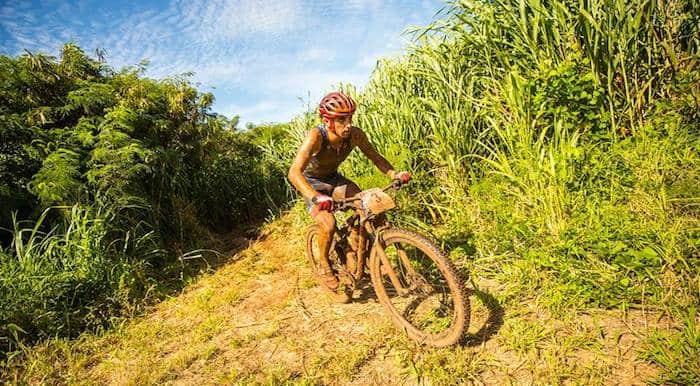 "I felt good early on the bike but towards the end of it I started to get tired through the switchbacks and didn't have enough energy left for that big climb on the run," said Ruzafa.
Perhaps the biggest surprise was how well Akerson rode. He had the third-best bike split of the day behind only Ruzafa and Middaugh. And the timing of his performance couldn't have been better, as Akerson has overcome a fair bit of adversity recently.
"I lost my car in a river at the same time I moved to the city, so for the last three months I lived on my bike," said Akerson. "I rode all over the city, to the supermarket, to training, to the track. I just focused. It was like, everything was taken away from me and I decided, this is how it's going to be, just me and my bike. And here I am."
At about mile 16 on the bike Osborne and Weiss stopped to clean mud from their gears, and Akerson rode around them and continued to climb.
"I had to stop and clean off the mud and I told myself to have faith, that others were going to have to stop too," said Osborne. "But at one point when I stopped, the pack rode away. I caught back up, but it added a whole new dynamic to the day. Rom made a move when I stopped to clean mud from my drive train, and that was a well-timed move. I don't know how he put in such a large gap, but we didn't see him after that."
By the time the riders were heading into transition, the order had changed. Ruben still maintained about a minute lead over Akerson, two and a half minutes on Osborne and over three minutes on Weiss, who was frustrated, but tried to stay positive. Josiah Middaugh was almost four minutes behind Ruzafa, and Mendez dropped back and was more than five and a half minutes behind the leader.
The run course came down to who could handle the slop. Akerson had a fantastic run, which vaulted him into the lead by mile two of the run, when he passed Ruzafa.
"When I caught Ruben, I was going hard and decided I needed to slow down so I wouldn't blow up," said Akerson. "But then I thought no. I'm going to go as hard as I can and dig as deep as I can and if I blow up I blow up, but I'm going to give it a shot."
Weiss credited his girlfriend with convincing him to screw in mountain bike spikes into his racing flats, resulting in the fastest run split of the day.
Osborne, who finished third, said a podium at the World Championship is nothing to frown upon and he's happy to have finished the race "completely knackered with nothing left in the tank."
"Today showed the depth of the field. Nobody was the clear cut favorite, and there were a lot of guys who were contenders and that just shows the quality of the sport," he added. "It's not a good swimmer or good biker that wins, it's the best XTERRA triathlete on the day."
Of interest, Osborne is scheduled to take Prince Harry and Meghan Markle on a mountain bike ride around his hometown trails in Rotorua next week.
"It won't be like this," said Osborne. "We're going to have a nice ride through the redwoods."
For Akerson, who went through all kinds of challenge over the past couple years, the win was big.
"After so many years of competing, I thought that this year may be my last year, that I'll have to give it up," he said. "But this title means that I can probably keep doing what I love."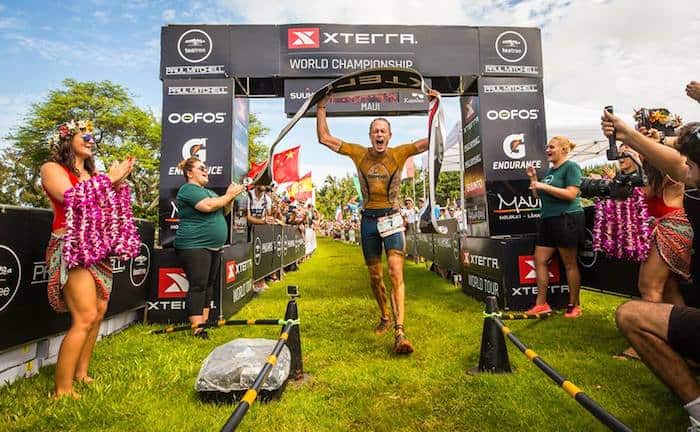 2015 XTERRA World Champ Josiah Middaugh, at 40-years-old and competing in his 18th consecutive World Championship race, rounded out the top five. Middaugh was also the top American finisher for the eighth straight year (11th time in his career), despite coming out of the water nearly four minutes behind the leaders.
Elite Men Results
1st – Rom Akerson (CRC) – 2:52:41
2nd – Bradley Weiss (RSA) – 2:53:16
3rd – Sam Osborne (NZL) – 2:54:37
4th – Ruben Ruzafa (ESP) – 2:55:34
5th – Josiah Middaugh (USA) – 2:56:33
6th – Mauricio Mendez (MEX) – 2:57:10
7th – Karsten Madsen (CAN) – 3:04:05
8th – Maxime Chane (FRA) – 3:07:07
9th – Francois Carloni (FRA) – 3:07:41
10th – Roger Serrano (ESP) – 3:10:29
Women's Elite
The women's race belonged to Paterson, who had the fastest bike and run times, coupled with one of the better swims of her career. She attributed her success to consistency of training, which has been lacking during the past five years while she struggled with Lyme Disease and injuries.
"I've done a lot of hard work over the summer and a lot of strength training and time at the gym," said Paterson after the wreath of ti leaves was placed on her head. "Instead of being frustrated with the conditions, I was so grateful and happy to be out there. I may have dropped a few f-bombs here and there, but I kept it pretty chill."
Flipo, who had won four out of the five XTERRA races she had entered before this one, swam with the men and had the fastest women's swim split of the day with a time of 21:43, about three minutes ahead of three-time XTERRA World Champ Melanie McQuaid. Suzie Snyder was only six seconds behind McQuaid, and Brigitta Poor, Carina Wasle, Paterson, Penny Slater, Allison Baca, and Lizzie Orchard were within 20 seconds of Poor.
Flipo kept her lead on the mountain bike, but by mile two and a half, her lead was down to about a minute and a half over Paterson. By the six-mile mark, Paterson had moved into first place, with an almost two-minute lead on Brigitta Poor and more than two minutes on Flipo. Snyder moved into fourth place, followed closely by Lizzie Orchard and Carina Wasle.
"I had a great swim today and was really happy with it," said Paterson. "When I got on the bike, I got into the lead pretty quick and tried to stay patient with the conditions."
Still, Paterson never got comfortable with her position in the race. During the mountain bike course, she was aware that Poor, a strong mountain biker, was behind her.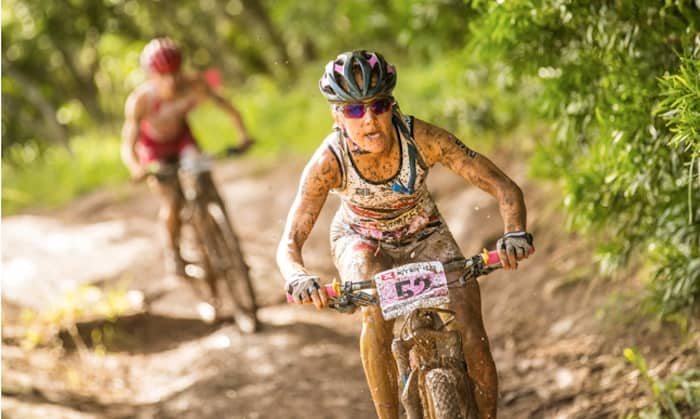 "When I passed Brigitta, she was breathing hard and I felt good," said Paterson. "My run is super strong right now but you've got to stay focused the whole time. You never know if you've got the win until you've crossed the line. That's something I've learned."
On the bike, Snyder moved up into fourth place after a disappointing swim.
"I'm not sure what happened today," said Snyder, "The ocean pushed me backwards which usually doesn't happen to me. On the second lap of the swim I made up some time and then passed a few girls on the mountain bike."
Snyder and Orchard played a game of cat and mouse for fourth and fifth position on the muddy mountain bike course but Poor was still in third despite her mechanical difficulties. Carina Wasle also suffered from mechanical issues which dropped her further down in the pack where she finished the day in sixth place.
By the time the athletes came into transition, Paterson was leading Michelle Flipo by more than six minutes. Poor was about 90 seconds behind Flipo and Snyder was almost 90 seconds behind her. Orchard was next, about 10 minutes behind Paterson.
Paterson continued to dominate the run, passing some of the elite men as she made her way over the mud and the hills. By the time she cruised across the finish line, she had a more than a 10-minute lead over Flipo, who finished second, making this her best performance at the XTERRA World Championship. In 2016, Flipo finished sixth.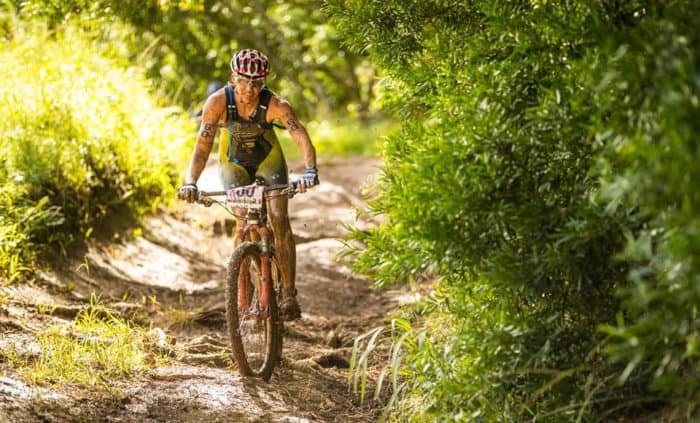 "It was a chore just to finish," admitted Flipo, who has been racing on the ITU circuit this year in an effort to qualify for the Mexican Olympic Team. "It was such a challenge and I'm glad it's over. The last time I raced here, it was also muddy, and I let it get me down. This year, I tried to keep calm and not get too frustrated."
On the run, Flipo held onto second place, but Lizzie Orchard and Suzie Snyder both passed by Poor early on the first dirt climb.
"I had a good run," said Orchard, who used to be a 1500-meter runner. "I passed Brigitta about halfway up the hill, which surprised me. I felt light on my feet today."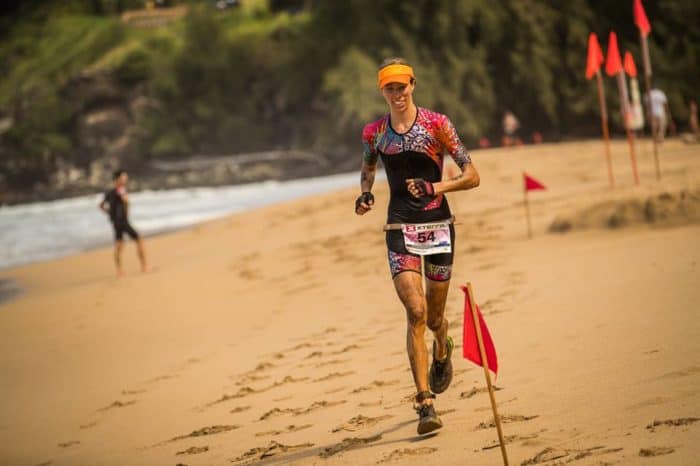 Orchard admitted that she didn't go all out on the bike and wanted to save something for the run. She hiked her bike a good deal because in some instances, it was faster than trying to ride through the mud.
"This course is really interesting because I feel like sometimes, when you get to the high point, you think that it's all downhill. But really, you still have more than half the course to go. This year I conserved energy a bit because there are some really steep hills in the last 10K."
Poor was disappointed by her day. "Unfortunately, my day was very bad. In the swim, I just wanted to stay safe because I don't like the waves. I pushed hard on the bike but the second part of the ride was really bad. My wheel stopped, I crashed three times, and my gears were stuck. My handlebar turned about halfway through, and I had to ride the whole way like that."
Poor also crashed at XTERRA Denmark last month and had to ride with her handlebar completely bent.
"Muddy races are not my best and it wasn't a good day," said Poor. "I'm disappointed because I wanted a much better position and I know I can do it. Next year, I will be back."
Elite Women Results
1st – Lesley Paterson (GBR) – 3:29:07
2nd – Michelle Flipo (MEX) – 3:39:55
3rd – Lizzie Orchard (NZL) – 3:40:53
4th – Suzie Snyder (USA) – 3:44:28
5th – Brigitta Poor (HUN) – 3:45:26
6th – Carina Wasle (AUT) – 3:51:08
7th – Julie Baker (USA) – 3:59:26
8th – Angela Niklaus (SUI) – 4:00;21
9th – Penny Slater (AUS) – 4:04:15
10th – Allison Baca (USA) – 4:06:34