Breca, the organiser of global swimrun events, has added a new Scottish challenge to its growing race calendar. The Breca 'Loch Gu Loch' swimrun will take place in and around the iconic Loch Ness, on 29th September 2018.
Breca has teamed up with Swimrun Scotland to keep the stunning Loch Gu Loch swimrun challenge going. The endurance race has taken place annually since 2015 but faced an uncertain future until Breca offered to partner on event management and communication.
Swimrun involves teams of two traversing trail and open water, running in their wetsuits and swimming in their shoes. It is one of the fastest growing sports globally, with Breca one of the first to establish races in the UK and the only organiser to offer swimrun events across two continents.
Having started with just 14 teams at its inaugural swimrun event in the Lake District in 2015, 434 teams competed in its events last year (2017).
(TRI247 teamed up with 220 Triathlon Magazine Editor, Helen Webster, to compete at the Breca Buttermere event in 2017. Find out what happened HERE).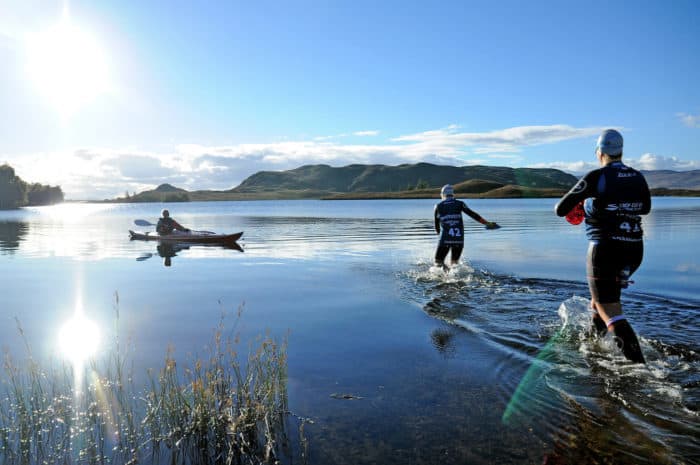 "Swimrun is all about teammates working together to complete a unique endurance challenge in spectacular surroundings," said Breca founder Ben de Rivaz. "You learn a lot about yourself and your own physical and mental capabilities, as well as connecting with nature in a truly immersive way – it's you and your partner working with and, sometimes, against the elements across land and water".

"I couldn't think of a better addition to the Breca swimrun calendar than 'Loch Gu Loch', with its beautiful yet challenging landscape," de Rivaz added. "Swimrun Scotland has done an excellent job of organising the race for the last three years, and we're looking forward to bringing this fantastic new sport to more people in 2018."

"We're excited to be working with the Breca team to deliver another amazing Loch Gu Loch event," said Swimrun Scotland co-founder, Paul McGreal. "It's such a special race, in such a stunning location, and is a true Scottish adventure that should be on every swimrunner's 'to do' list".
With the addition of Loch Gu Loch, Breca now offers eleven swimrun events (five sprints, six long distances), in the UK and New Zealand. With this growing race portfolio, Breca is looking at the possibility of launching a national swimrun 'race series' in the future.
"Swimrun has massive potential – it attracts endurance elites as well as multisport enthusiasts looking for their next big challenge. We offer something for both of these groups and everyone in between. Feedback from our previous race participants suggests a growing appetite for a Breca swimrun race series, where teams can amass points over multiple events and compete against each other in our stunning race locations. It's something we're giving serious consideration."
The Breca Loch Gu Loch swimrun offers two race distances, covering a total of 18 kilometres for the 'Sprint' and 57 kilometres for the 'Long'. Both races present teams of two the unique opportunity to run through beautiful Scottish landscape on challenging terrain, interspersed with swims across five stunning 'lochs'.
Entry costs £270 per team for the Sprint distance, £400 per team for the Long. Teams can enter via the Breca website. The Breca 'news' section offers useful tips and guides to would-be swimrunners, including a 'Beginners Guide to Swimrun' video series for newcomers to the sport: see it HERE.