Quality racing on show at the 2018 Castle Howard Triathlon, which saw headline wins for Thomas Davis and Catherine Jameson (Standard Distance), plus Sam Pictor and Debbie Greig (Gauntlet), in the latest of the Castle Triathlon Series events.
As well as Elite racing at the pointy end of the field, around 2,500 athletes of all ages and abilities took on their own swim, bike and run challenges in Yorkshire over two days of competition.
Here is the report from a weekend which saw the scorching temperatures and bright sunshine we have got used to in the U.K. over recent weeks.
---
2,500 athletes descend on one of Yorkshire's most stunning estates for weekend of sport
Castle Howard witnessed its hottest day of triathlon racing in nine years this weekend, accentuating the challenge for triathletes who took on arguably the toughest course of the Castle Triathlon Series.
The weekend sporting festival saw stunning performances from elite athletes amongst hundreds of inspirational children giving triathlon a go, and those using triathlon to overcome diversity. Once again, Sports Personality of the Year award winner, Bailey Matthews, took part and completed his 15th Castle Triathlon. Meanwhile Peter Waddington raced in the Super Sprint Plus following his own recovery from a devastating motorbike accident.
Inspirational Performances from triathlon superheroes
10 year old Bailey Matthews was welcomed across the Castle Howard Triathlon finish line for the fourth year in a row to wild cheers and support from fellow athletes, supporters and event crew. Bailey, who doesn't let his cerebral palsy stop him from racing, first competed in a triathlon at Castle Howard in 2015 and received the Helen Rollason BBC Sports Personality of the Year Award for his valiant efforts.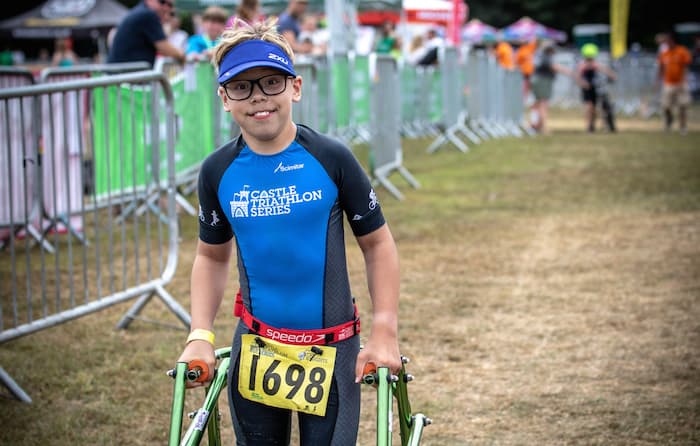 In another example of how triathlon has become a truly accessible sport, Saturday's programme saw California's Peter Waddington complete the Super Sprint after spending two and a half years on crutches following a devastating motorbike accident in 2002. Peter broke both his tibia and fibula in the accident, losing muscle in his lower leg and experiencing many years of reconstruction and recovery. Even though Peter still feels pain in his lower leg, he completed the Super Sprint in tough conditions, and loved taking part.
Scorching temperatures add to the challenge at Castle Howard Triathlon
Sunday's racing saw the Castle Howard estate blessed in glorious sunshine in the UK's ongoing heatwave, with temperatures reaching 28 Celsius on the run route. Despite the heat, the men's Olympic distance race saw Race Hub's Tom Davis finish with a 5-minute lead over Matthew Nelson and Lewis Byram, with an impressive time of 02:07:03, given the hostile race conditions.
On the finish Line, Tom commented: "I was feeling pretty good and the swim was really relaxed, I was also feeling good on the bike so I pushed hard, but the run was just a way of survival today, my legs had gone. The weather was very similar to two weeks ago at Hever Castle when I raced in the Festival of Endurance Gauntlet, it's really hot and you just have to manage the conditions … which I have done better today and which is reflected in the result; I'm really happy."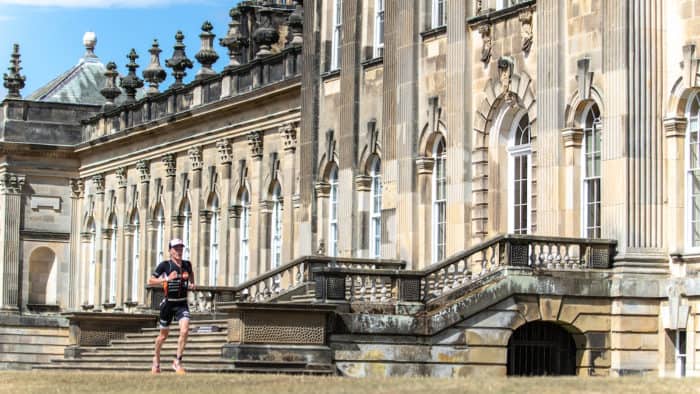 Fresh from her British Middle Distance Championships win at The Festival of Endurance at Hever Castle (8th July), Catherine Jameson, took first place on the podium yet again in the Olympic Distance at Castle Howard Triathlon, with Olivia Matthews and Hannah Munday in second and third place. Jameson commented: "It's been really good today, I knew what time I ran last year so I focussed on running and cycling at a similar pace. Even though the run is quite hard, its only one lap which I quite like, although it is hard, hilly and off-road – it's not easy!"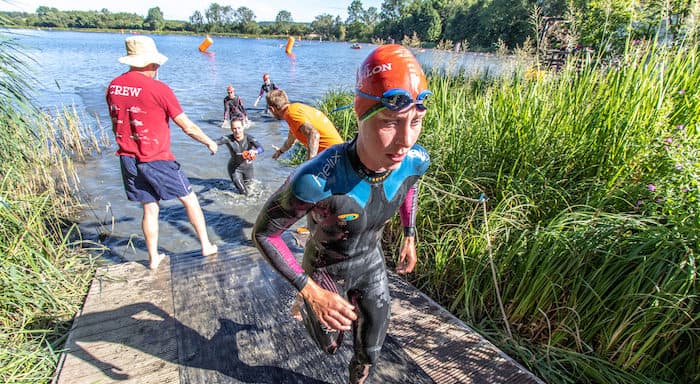 In the Gauntlet race, which sees the half-iron athletes take on a 1.9km swim, a 90km undulating cycle through the Howardian Hills and a 21km run through Castle Howard estate Sam Pictor took the top spot with an impressive time of 04:08:10, and also picked up a new set of Wheelscience Performance race wheels for completing the fastest cycle split of the day.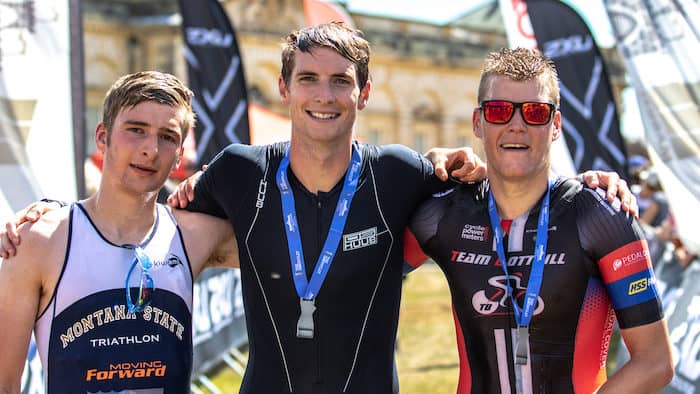 In the women's Gauntlet event, Debbie Greig (Speed Hub) took the win from Claire Weller (Ipswich Triathlon Club), who adds her third middle distance second place in a month, following runner-up spots at the Outlaw Half Holkham and the Festival of Endurance (British Middle Distance Championships).
Athlete Claire Weller crosses the line 2nd today @CastleTriathlon Castle Howard , gauntlet race , well done Claire and coach @Tripezza , that's Claire's 3rd 2nd since she's been back from injury in less than 2 months ! pic.twitter.com/EueaeqKry7

— ETE Racing (@ETEracing) July 22, 2018
All race results from the day can be seen here
Success for Humber Triathletes in Yorkshire Mixed Team Relay Club Championships
Saturday afternoon saw the UK's finest triathlon clubs compete for the Mixed Team Relay Championship title, with Humber Triathletes storming to victory over Wakefield Triathlon club, continuing their success after winning in the first Mixed Team Relay race at Castle Howard in 2017. Mixed Team Relay is a new race format for triathlon, which will be included in the Olympics at Tokyo in 2020, and sees two male and two female athletes compete in a relay team, with each team member completing a mini triathlon.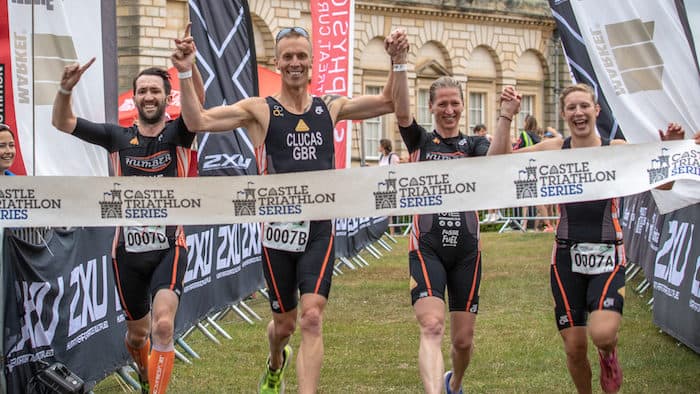 Castle Run and Swim Series
The inaugural 10k and half marathon saw hundreds of runners enjoy the off-road run course which has been enjoyed by triathletes for the last nine years. Course records were set with the winning half marathon runner Kyle Greig completing the stunning route in 01:18:41. For the first time ever, swimmers took to the Great Lake, enjoying the scenic open water swim, overlooked by the majestic Castle Howard.
Fundraisers help to reach £250,000 target for Macmillan Cancer Support
With Castle Triathlon Series raising over £130,000 for Macmillan Cancer Support in the first year of the charity partnership on 2017, over 50 triathletes, runners and swimmers were at the event taking on the challenging course all in aid of fundraising for Macmillan. This year Castle Triathlon Series aims to reach £250,000 for Macmillan, and you can sign up for a charity fundraising place here.
Sign up now to Castle Howard Triathlon, Swim or Run on 20th and 21st July 2019 with a 30% discount for a limited period of time (ends midnight on Sunday 29th July 2018).