Sunday 15 September 2019 – 08:00 to 10:00 start
Start: Rourke Cycles, 194 Waterloo Road, Stoke on Trent, ST6 3HF
The nation's favourite charity bike ride is back!
This 55-mile route takes you from Rourke Cycles in Stoke on Trent on a circular route through Staffordshire, Cheshire, Derbyshire and the beautiful Peak District National Park, including the infamous seven-mile Cat and Fiddle climb which will leave you breathless not only from the cycling, but from the stunning scenery that surrounds you!
Started in 2002, this event has become a regular in many cyclists calendar. Expertly organised by Brian & Jason Rourke with Ian Deaville of Rourke Cycles, it has an enviable reputation as both a superb event with a great atmosphere, complimented with second-to-none hospitality at the finish with home-baked goodies, a hot cuppa and as much banter as any rider could wish for.
David Stone, Wembley Phoenix CC adds "I've taken part in the Cat & Fiddle each year since 2004, along with Nicole Cooke, Sean Kelly, Guy Martin and Jason Kenny to name but a few. All types of individuals take part from the keen cyclo sportive rider to the complete novice, some as young as 12 and others almost 80 years of age, in cold weather or warm, sunny days. It really is a fabulous event no chip timing, no medals, nothing but a truly great ride – where will you get better value for £25? In addition, every penny goes to the partner charity, plus any additional money you collect… just think if every rider raised £25!
"Rourke Cycles supply the support vehicle and the shop is open just in case you forget something. I would be very surprised if you do not enjoy this event, I don't know of anyone who doesn't!
"We make it a family day so I book a hotel so my wife, daughter and granddaughter can greet me at the finish!"
With its route fully signed and riders provided with links to download to their GPS, maps and cue sheets along with general safety and race day information are all supplied to each rider.
This isn't a race, it's a fun run on two wheels, so whether it takes you two hours to complete or all day, everyone who is competent on a cycle is warmly invited to join us.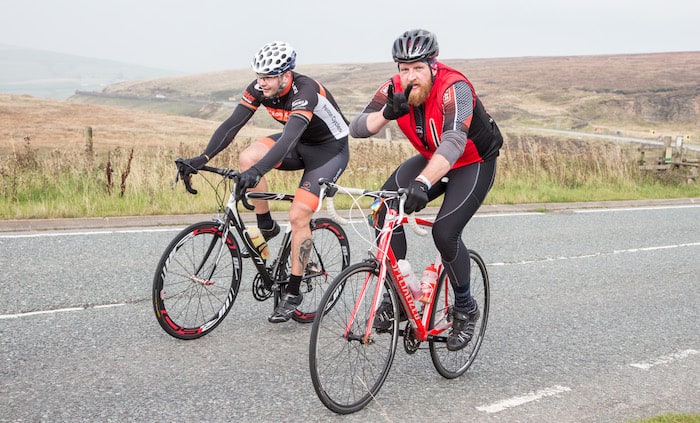 Livability is delighted to be the official charity partner for Rourkie's Cat & Fiddle 55-mile Cycle Challenge 2019. Livability is a proven and trusted provider of disability care that connects people with their communities. Their 2,000-strong enabling team of staff and volunteers across the UK deliver rehabilitation centres for brain and spinal injuries, operate 35 residential care homes plus manage independent and supported living programmes for people living with various, complex disabilities.
Livability also operates a school plus Further Education college for disabled students along with a Wellbeing centre and delivers social inclusion through churches and community projects. Together with the people they support, they put the elements in place that add up to livable lives within communities.
Whilst fundraising is not a condition of entry, we'd love it if you would use your Cat & Fiddle Cycle Challenge to support Livability's vital work, tackling social isolation and the barriers that can cause this in the lives of disabled and vulnerable people.
TRI247's very own Andy Tomlinson will be taking part in the challenge, so what are you waiting for, join our team today and support Livability in the process.