We featured the event earlier this year (HERE), and on Sunday the Eastbourne Triathlon (www.eastbournetriathlon.co.uk) proved to be a great success.
Perfect weather conditions greeted athletes from GB Elite regulars through to a large contingent of first-timers, racing over both Standard and Sprint distance formats.
---
Calum Johnson (Team Bodyworks) took a convincing win in the standard distance race at the Eastbourne Triathlon, with Team Zoot's Dotty Bouck-Standen taking the women's title. Meanwhile, Team Bodyworks dominated the podium in the sprint distance race with British Youth Champion Noah Canby taking the win for the men and Chloe Pollard defending her title in the women's race.
Over 230 triathletes, aged between 15 and 78, competed in the Eastbourne Triathlon on Saturday 15th June. Conditions were perfect as Eastbourne lived up to its sunny reputation. Amongst those taking part were over 60 novices, taking part in their first ever triathlon, and over 80 local Eastbourne residents.
Local event organisers Mat Dowle and Dale Anderton, with support from headline sponsors Eastbourne College, delivered an exceptionally high-quality event. Seasoned triathletes, with many years of racing experience, described the event as the best they have ever raced at, with a standard of organisation which would normally be expected from international championship events.
A strong contingent of elite level athletes took to the start in a highly anticipated race for the top places, many from the local British Triathlon Satellite Centre, Team Bodyworks. They were joined by over 60 novices (many from Eastbourne), who would be taking on their first ever triathlon. Conditions were perfect as Eastbourne lived up to its sunny reputation, and every single one of the novice athletes successfully completed the race.
In the sprint race, Eastbourne College student and Team Bodyworks member Noah Canby dominated the men's race. Noah exited the water alongside teammate Kieran Lindars, followed closely by defending women's champion Chloe Pollard, who's swim performance put her over two minutes ahead of the next best woman heading out onto the bike. Thomas Epton followed almost 30 seconds down on the two leaders in the men's race.
On the bike Noah delivered the fastest split, entering T2 almost 40 seconds ahead of Kieran, with Jamie Bedwell moving into third place. Noah further extended his lead on the run, finishing with a time of 59:29, over a minute ahead of Kieran.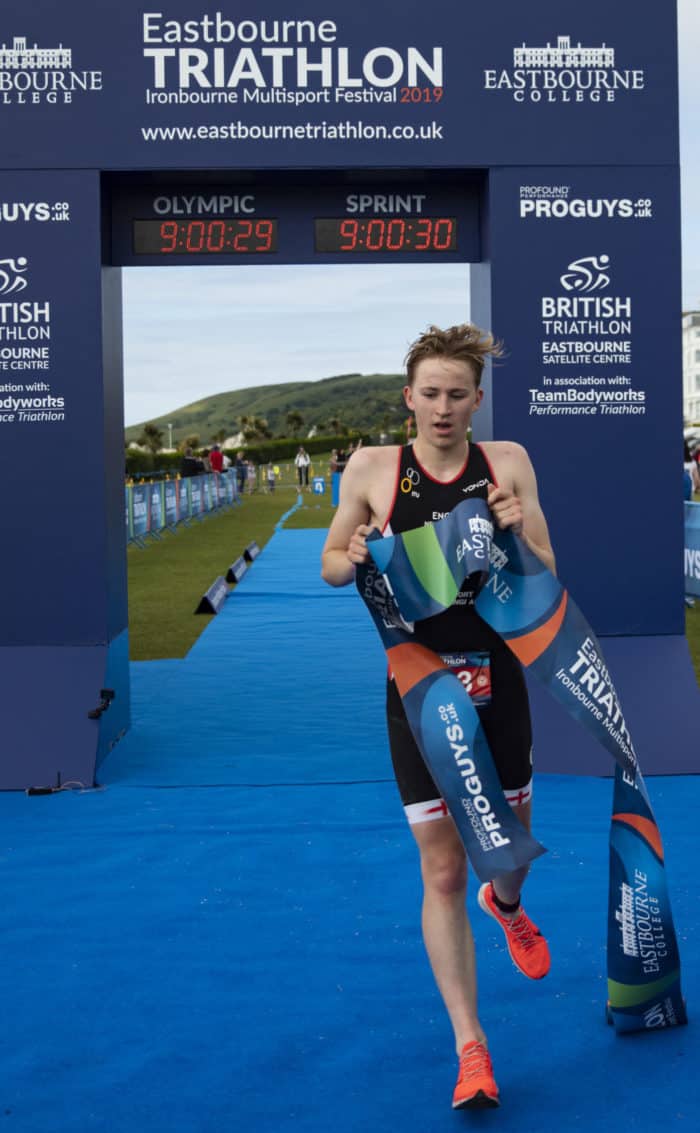 For the Women, Chloe Pollard's dominant swim performance was more than enough to secure the win, defending the title she won last year by over two minutes. Tri Tempo's Lorna White took second place with Darrelle Parker rounding out the podium.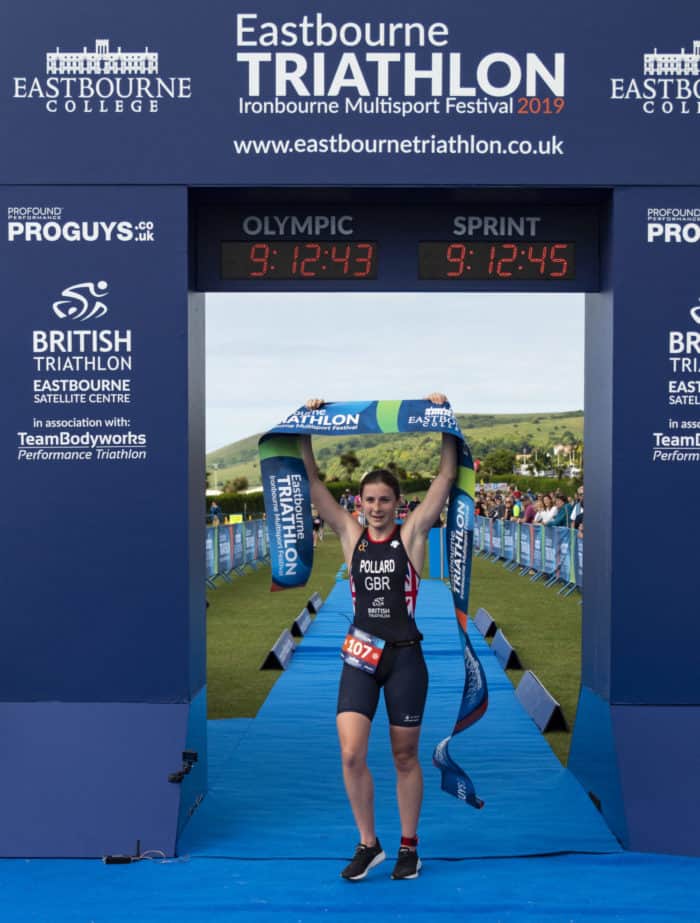 In the standard distance race (a new addition for Eastbourne this year), Calum Johnson (Team Bodyworks) dominated the race from start to finish, exiting the water over a minute ahead of Luke Howard and a further 30 seconds ahead of Andrew Gordon. Callum went on to extend his lead, finishing with a time of 02:00:25, with a winning margin of almost 10 minutes ahead of Luke and Andrew, who maintained their second and third positions respectively. Fifty-year-old veteran triathlete Colin Dixon put in an impressive performance finishing just off the podium, in fourth place.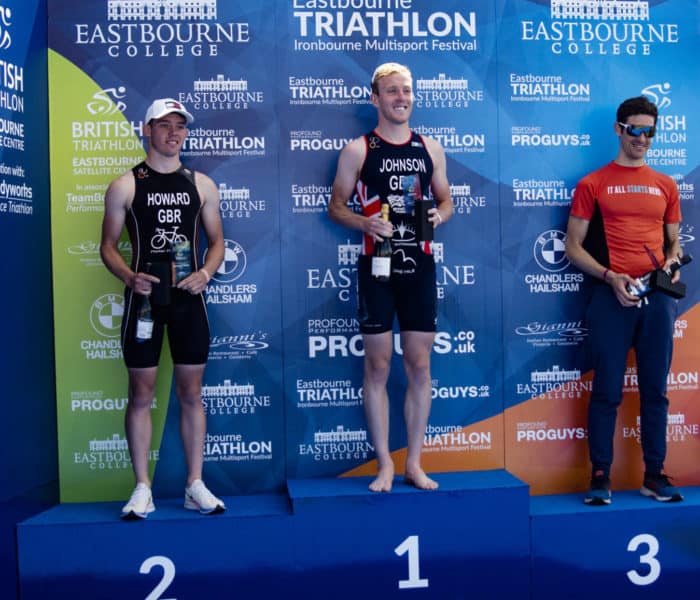 For the women, Dotty Bouck-Standen took the win in a time of 2:39:56, with local athlete Johanna Dowle finishing four minutes down in second place and Emma Swinnerton completing the podium places.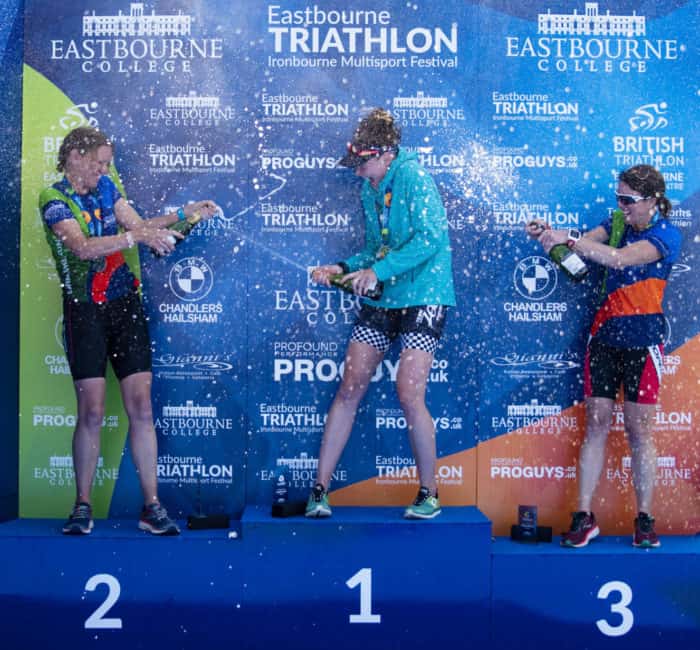 However, it was novices who were the real stars of the day – a special mention should also go to the oldest finisher, 78-year-old Brian Knight.
Planning is already underway for next years' race (provisionally the 14th June), with the organisers expecting the race to grow to become one of the premier triathlon events in the country.
Full results can be found at: https://www.eastbournetriathlon.co.uk/results/2019/