Davies and Pollard take the titles in third edition of the Eastbourne Triathlon
Pre-race favourites Thomas Davis (Racehub) and Chloe Pollard (Bodyworks) took the titles in a sun-baked edition of the Eastbourne Triathlon this past Sunday, 10th June.
Davis completed the tough 600m sea swim, 19km cycle course and 5k run in a time of 1:02:54, victorious over local favourite Kieran Lindars who had pushed the more experienced Davis the whole way. Completing the men's podium was Jamie Bedwell, who matched his performance from 2017 with another top-3 in his hometown event.
Davis said afterwards:
"Kieran pushed me hard out there and the hills meant I didn't have much time for anything other than working hard. It's a stunning place to have a race.
Third-placed Bedwell said:
"It's so tough here – probably the toughest course in England, if not Britain and this is another performance on my way to what I believe will be my Olympic journey in 2024. I want to give thanks to everyone who supports me and a big thanks to the town of Eastbourne. There's so many people out there and it felt like everyone knew my name."
https://www.facebook.com/eastbournetriathlon/videos/1847272432233688/
In the women's race, the event welcomed its first hometown winner in its history and it was the in-form Chloe Pollard who would create that historic footnote. Pollard, well known for her super-swim, started the day in the lead with a 10.09 swim and kept it throughout the day. Second place went to pro-triathlete and stuntwoman Daz Parker, whilst one of Eastbourne's most successful ever triathletes, Yvette Grice came in third.
Chloe Pollard said:
"It was so tough but I'm pleased that I achieved what I came here to do. I hit the swim as hard as possible and then hang on".
Of course the event wasn't just about the elites, as hundreds cross the line in front of thousands of spectators on Western Lawns, in front of the historic Grand Hotel. Amongst them was the Paralympian and Commonwealth Gold Medallist Joe Townsend, who finished seventh overall.
Joe said: "It's a fantastic and stunning race. I'm privileged enough to race in some amazing places around the world but honestly, in my heart, I don't think you can beat Eastbourne".
https://www.facebook.com/eastbournetriathlon/videos/1847261058901492/
2018 Eastbourne Triathlon Men's Results:
Thomas Davis, 1:02:54
Kieran Lindars 1:03:25
Jamie Bedwell, 1:05:49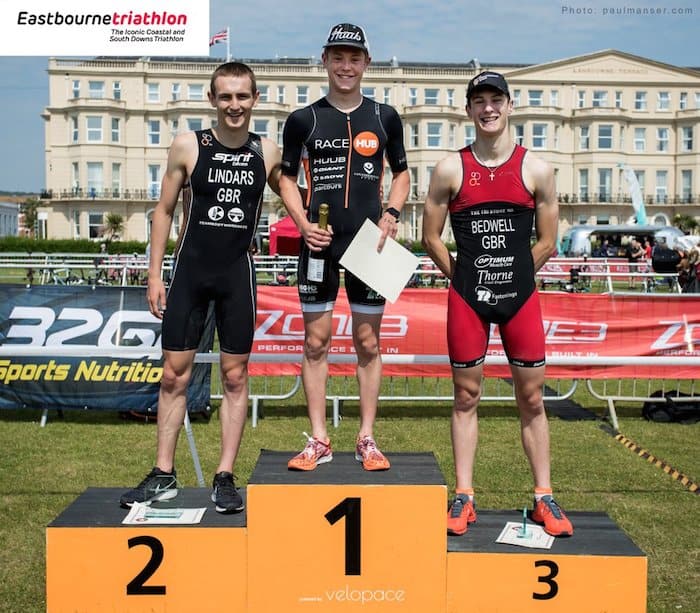 2018 Eastbourne Triathlon Women's Results:
Chloe Pollard, 1:14:20
Daz Parker, 1:20:16
Yvette Grice, 1:21:20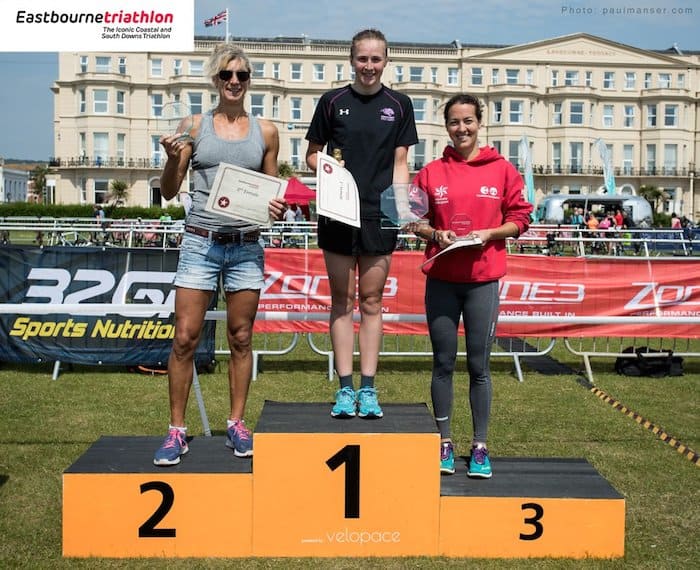 2018 Legend's
Joe Townsend (PT1), 1:09:49
Finlay Jakes (PT4), 1:31:16
The full results can be found here.
The Eastbourne Triathlon supported the Eastbourne Voluntary Lifeguards. The triathlon was in turn supported by Sportswise, Zone3, The Grand Hotel, Velopace and Visit Eastbourne.