London to Paris – The Hard Way.
That's the tagline of the Enduroman Arch to Arc challenge, a point-to-point triathlon, which comprises of an 87-mile run from Marble Arch to Dover, swimming the English Channel, and then cycling 181 miles to the Arc de Triomphe in Paris.
Since the event was founded in 2001, the number of solo completions of the challenge have only just passed the 50 mark, and finisher #48 this year was Richard Stabler. Every attempt of an event on such a scale comes with it's own stories, but through circumstances outside his own control, Richard ran more than 50km before having to return to the Marble Arch, and start all over again…
This is his journey to becoming Enduroman #48 in August this year.
Where it all started: biscuits to bikes
I've been an age-group triathlete since I was 22 years old, pretty much 20 years. I didn't do much sport at school and preferred to eat packets of shortbread biscuits. At 21, my mum bought me a Trek 2300 road bike on a monthly payment schedule and I thought I was Lance Armstrong. However, I actually had to stop a cyclist on a ride one day and ask him how to work my gears. I didn't have a clue.
I did my first IRONMAN in 2003 in Zurich and finished in 10 hours 30 mins. I stayed in my lower chainring for the entire 180km and ate far too many energy bars. In the following years I qualified for the IRONMAN 70.3 World Champs, Kona and then in 2017 did the Norseman, finishing with a black t-shirt. I had a couple years doing Swimrun and then as lockdown descended on us all, I decided it was a great opportunity to get bike fit using my turbo.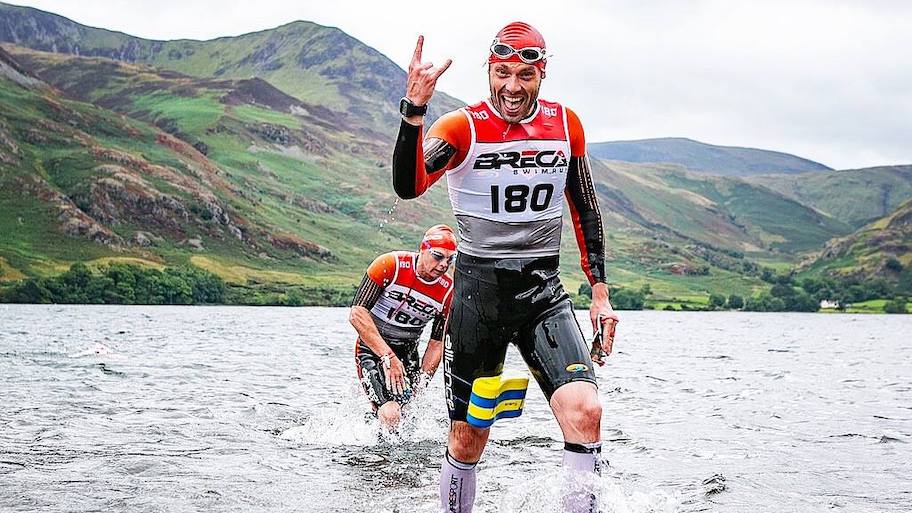 Why Arch to Arc?
I had known about Arch to Arc for years and it had always intrigued me. I have always dreamt of swimming the English Channel as a triathlete, and A2A was really only the acceptable way to do that.
I contacted Eddie Ette (Enduroman #1, founder and Race Director), and began the selection process. Once I had demonstrated to the Arch to Arc organisers that I had done 12 iron-distance triathlons, raced to a good level and had 20 years open water swimming experience, I was given a slot for the A2A in October 2022.
I began training and had 15 months before my slot. I attended the A2A training camp in Lanzarote in January 2022 which included a 10-hour swim and actually 70km of swimming that week. The camp highlighted what I needed to work on and was incredibly useful.
In April I was contacted and offered an earlier slot, as an athlete had to withdraw their entry. Although this meant shortening my training by 11 weeks, I decided to agree on the basis that late July would offer more sunlight and better air temperature. I also felt comfortable that my swimming was strong and it was my riding that would be impacted the most.
A (very long…) false start.
As my slot approached I managed my final logistics (a huge amount of self-planning for this event), and waited. My two great friends Chris Wilson and John Griffin, both seasoned triathletes, were my support crew. I received a call and was told to meet Eddie at Marble Arch. Excitedly, we packed our kit and headed to the start.
I had waited over two weeks at that point for the Channel weather to settle and a window to open. 52km (!) into the run both Eddie's car and my support vehicle approached me. I stopped by the side of the road and was informed the Channel swim window had closed and I would have to stop and go again another day. I was devastated, but thankfully my friends talked me through it and we headed back to London.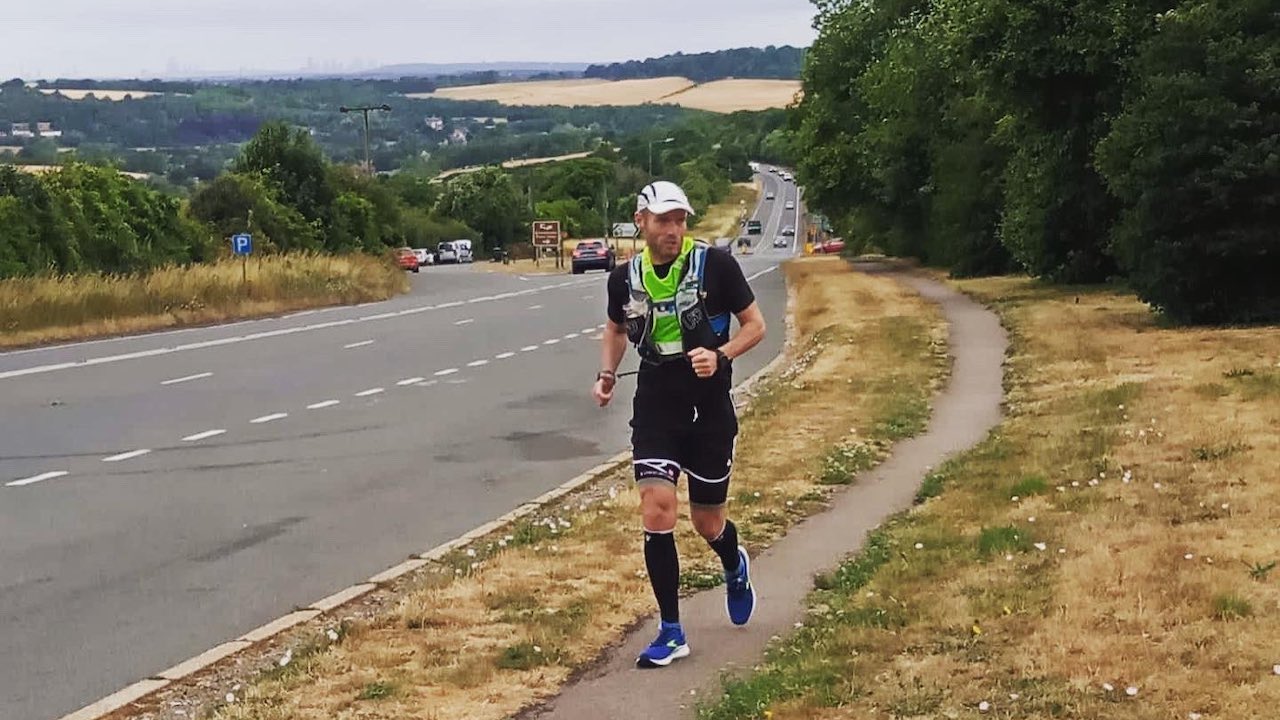 Just 48 hours later I was given the green light and told to head to the start again. Hardly ideal with 52km in the legs, but all part of the adventure. I started the 140km run and reached Dover 19 hours and 45 mins later. My quads were dead for the last 10km, but I'd made it. This meant in that in three days I'd run 192 hilly kilometres. We headed to the hotel, I had a chip sandwich and then slept for six hours.
Taking on the Channel – and learning fast
I prepared my swim feeds in the morning and then we headed to the boat (Galavant, with Mike Oram as Skipper). I'd never been swimming in the English Channel before and 99 percent of my swimming was done in the West Reservoir. I hadn't been swimming next to a boat before and I hadn't fed in open water either. Chris, my mate, was my swim butler and he was learning also. Turned out – as predicted – he was a natural and sensational.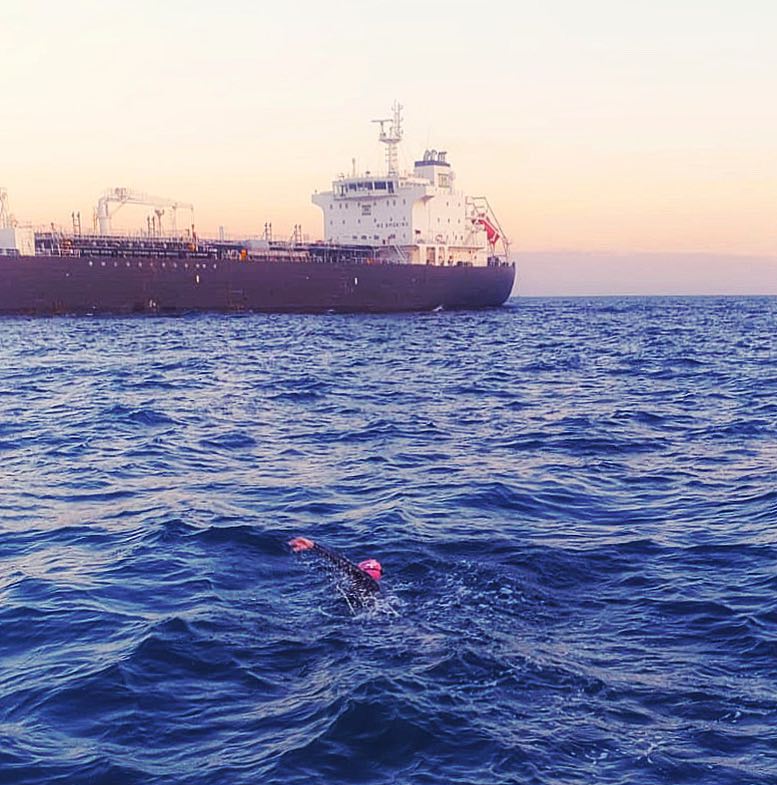 I was on a spring tide and it was choppy in parts. My feeds were every 40 minutes and they took me about 17 seconds. I had to learn to breathe bilaterally during this swim as due to the weather, I was put on the side of the boat which meant breathing to the left, something I haven't done in 20 years.
The swim took 17 hours and I landed triumphantly in Wissant. It had been hard fought, but rewarding. I'd watched the sun set, been stung by a jellyfish and seen seven supertankers sail close to me. We headed to our caravan and had 3/4 hours sleep. Then a relaxing French breakfast of baguette with ham and cheese, washed down with coffee.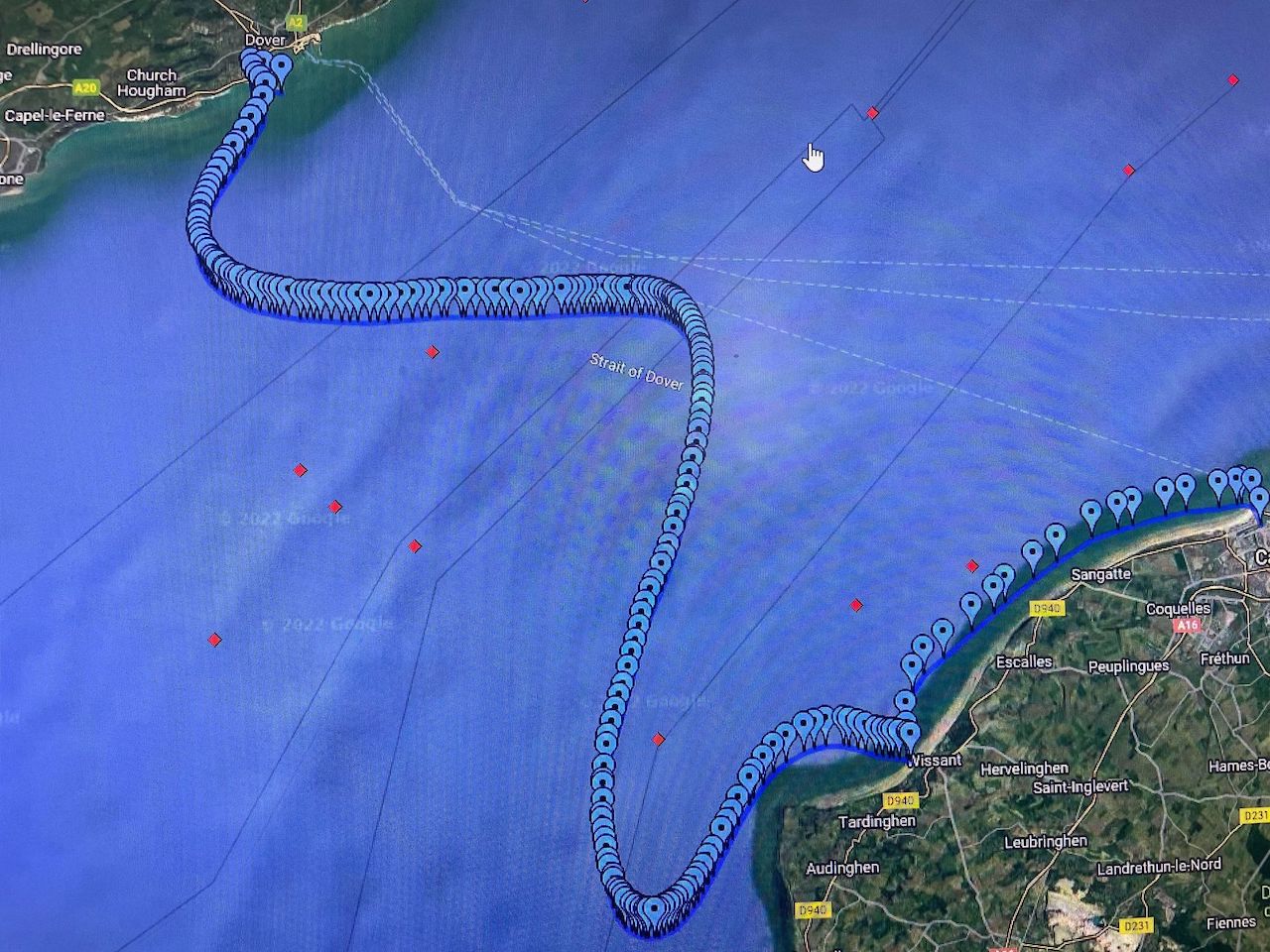 The bike is 300km from Calais to Paris and I set off knowing most of the ride would be through the night. Again, something I had never done. I had two 25-minute power naps mid-ride and we enjoyed laughing and traversing France in the dead of night.
I only hallucinated once, where I saw two black dogs running across the road…
I wasn't bothered about splits or timings and just enjoyed the adventure with my mates. There is always an observer with you at all times from Enduroman too.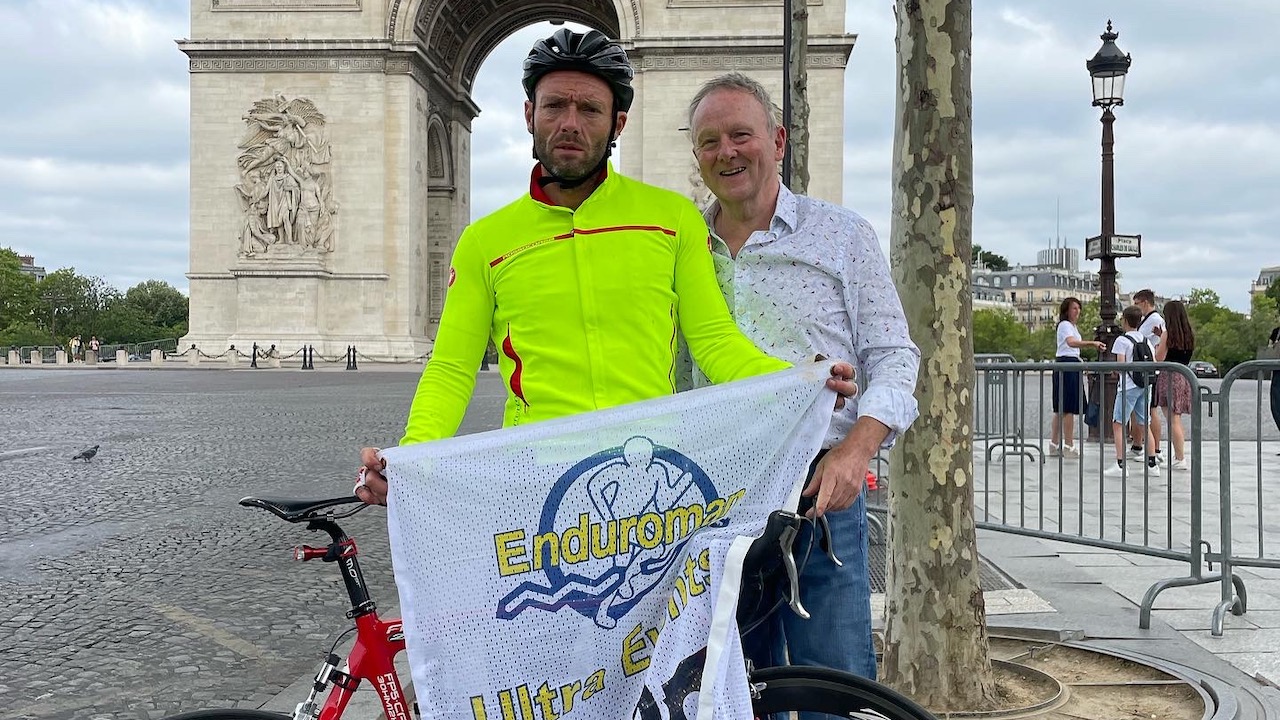 We arrived in Paris and I was able to ride up the Champs-Élysées. I burst into tears with the pure emotional relief of achieving my goal. My dad was waiting and we embraced. I was delighted for myself but also for Chris and John, as how do you thank two friends who have selflessly done everything to make your dream come true? They were my hero's.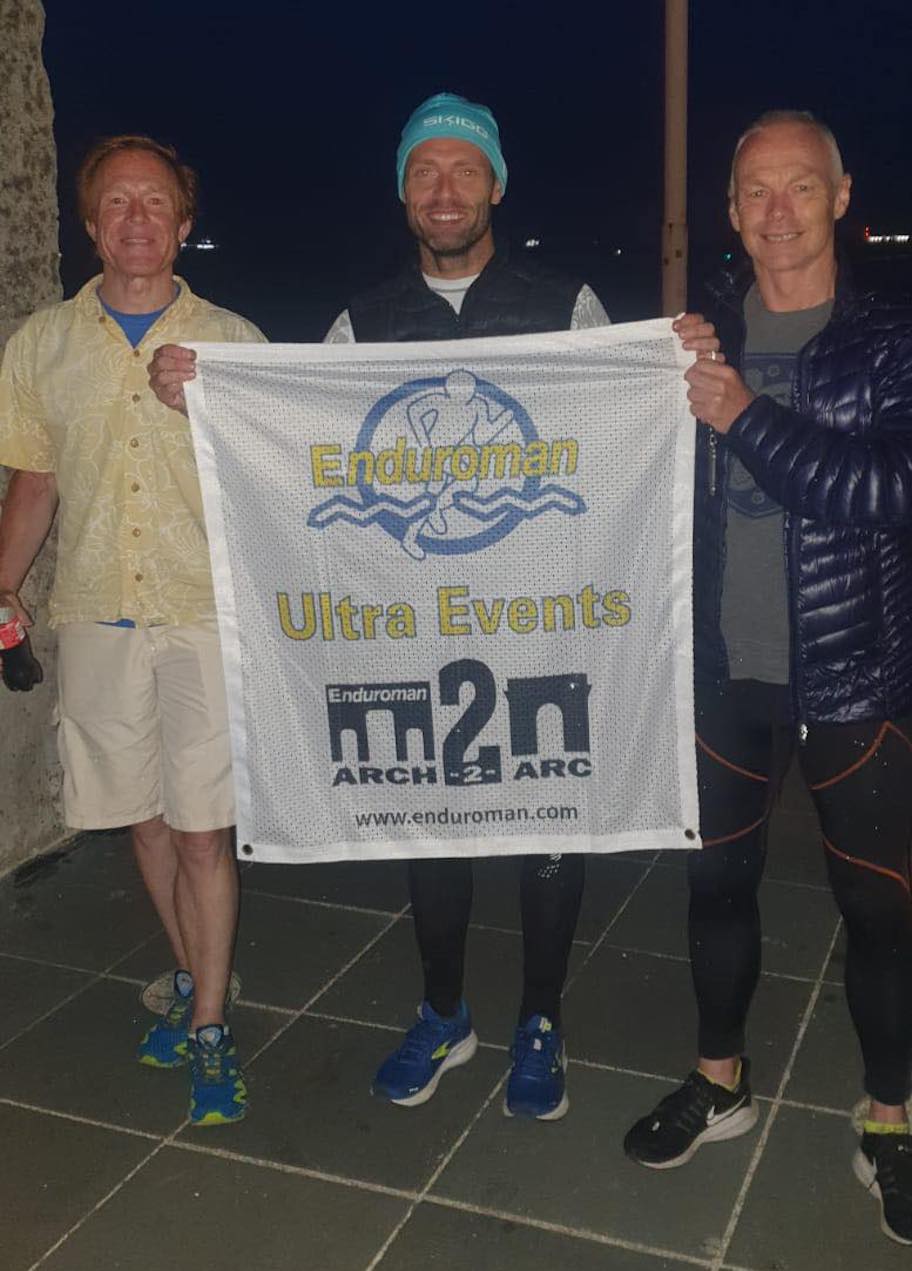 I had become Enduroman #48 and I was honoured. I still have my Trek 2300 and it's a nice reminder about the start of my triathlon journey to finishing the World's Hardest Triathlon.