IRONMAN 70.3 Dublin – Sunday 20th August 2017
Part two of our feature on IRONMAN 70.3 Dublin (race website) – see part one HERE – today we take a look at the race course.
We've also spoken to Susie Cheetham, the winner of the race in both 2015 and 2016, to get her tips and advice on making the best of your race. She will be back in Dublin again on 20th August to aim for win number three – and if you want to join her, you can still enter HERE.
---
The opening 1.2mile swim will be a single lap sea swim in Scotsman's Bay, Dun Laoghaire, which is to the south of Dublin city.
The swim will operate on the rolling swim start system, with each athletes time starting as they cross the timing mat. More details HERE.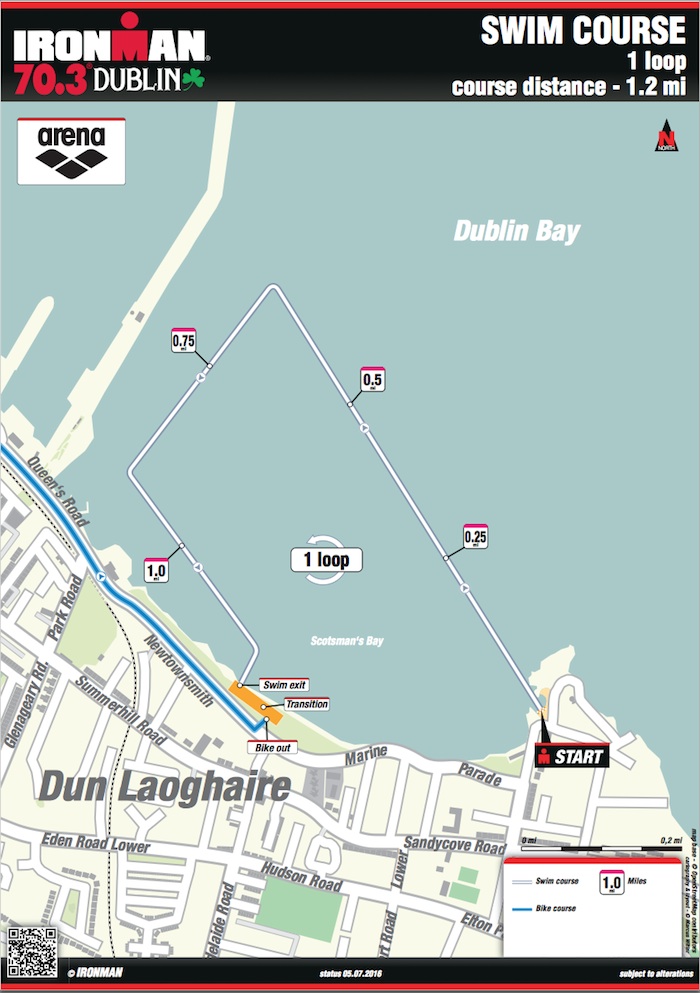 Susie Cheetham's swim course advice:
"There can be quite a strong current in the water and last year I ended up swimming a longer course than perhaps I should have done. Try and be aware of that current… but don't over-compensate for it! There is an official practice swim the day before the race, so if you get a chance to test out the water, that may help. However… bear in mind that any currents may be different on race day!
"It's also worth noting… the swim can be cold! If you are impacted by cold water then it is well worth considering wearing one of the neoprene skull caps under your official race cap. I would suggest thinking about this before you arrive at the race… otherwise, you may find that the expo have sold out, if everyone else has the same idea."
With a total altitude gain of 550m over the 56 mile course, the route is relatively flat. The is one loop, heading north along the coast, before heading through Dublin and finishing in Phoenix Park, after a large loop to the west of the city.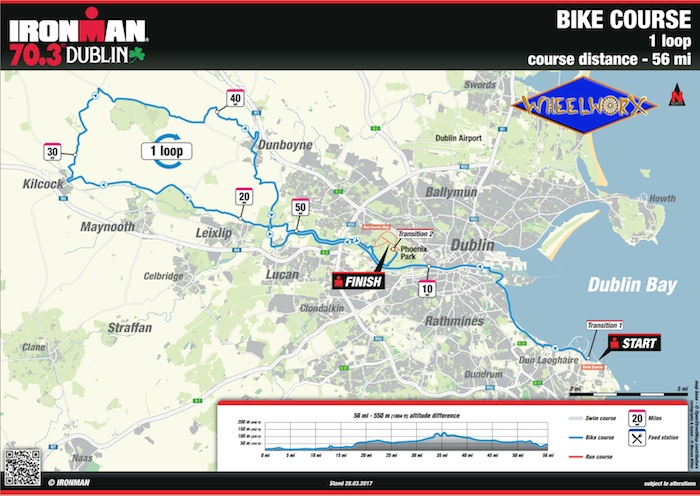 Susie Cheetham's bike course advice:
"Be prepared for lots of 'humps' – speed bumps / sleeping policeman – out on the course. Some of these are towards the bottom of a hill, so take care. Best advice? Try not to waste energy stressing about them or 'fighting' them. If you need to slow, then do so. Practically, you also need to consider drinks bottles / nutrition / spares stores etc, since you don't want to lose your key supplies during the race.
"With the race being in Ireland… the race could also be practically any weather! I would suggest you plan in advance for a range of scenarios and make sure you are dressed appropriately for race day. One tip is to consider arm warmers under your wetsuit. They should have little or no impact on your swim stroke – while trying to put arm warmers on while wet after the swim is very difficult!"
RUN COURSE
Based entirely within Phoenix Park, the three-lap run course is flat and fast – as evidenced by the 1:11:46 run split of Age-Group athlete, Andy Greenleaf, in 2016! (Check out his advice on how to run fast HERE). With three loops to complete and several feed stations on the course, you'll be well catered for nutrition and hydration during your 13.1 miles.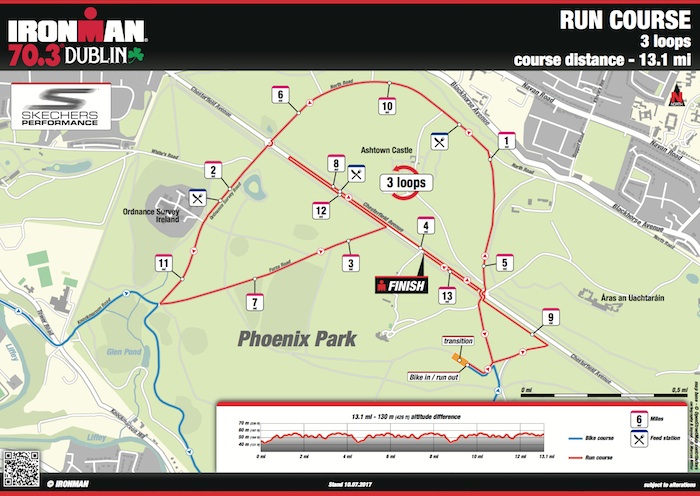 Susie Cheetham's run course advice:
"The run course is pretty straightforward, flat and next to the Guinness factory! There is a great atmosphere and a multi-lap run course ensures excellent support on the route which is all within Phoenix Park.
"Remember that while T2 is based at the park, the event has a split transition with the swim based at Dun Laoghaire. Split transitions always add an extra complexity to pre-race preparations, so make sure you plan in advance, read the Athlete Guide in detail and have a detailed plan for what you need and where and when you need it. Eliminate as much pre-race 'admin' stress as you can by being prepared.
"It's a great event and I will be racing again this year. See you there!"

For more on IRONMAN 70.3 Dublin and to enter for 2017, visit http://eu.ironman.com/triathlon/events/emea/ironman-70.3/dublin/