IRONMAN South Africa to utilise 70.3 World Champs course
IRONMAN South Africa in Port Elizabeth – a event which has seen so much British Pro success over the years (check it out below) – will feature an amended course for the 15th edition on 7th April 2019.
As we have outlined before, while South Africa may seem quite a distance away from the UK, with minimal time changes, overnight flights and very reasonable costs once there, it is a venue which has a lot to offer the travelling British / European athlete. It's also a venue and event that the Tri247 Editorial team have been to a number of times and would highly recommend.
Port Elizabeth of course hosted a very successful IRONMAN 70.3 World Championship this season won by Jan Frodeno and Daniela Ryf, and it is that course which will provide the basis for the changes from 2019.
British Pro Success at IRONMAN South Africa
2018 – 1st Lucy Charles, 2nd Susie Cheetham
2017 – 3rd Susie Cheetham, 3rd David McNamee
2016 – 2nd Susie Cheetham, 3rd Lucy Gossage
2015 – 1st Jodie Swallow, 2nd Lucy Gossage, 3rd Susie Cheetham
2014 – 2nd Lucy Gossage, 3rd Jodie Swallow
2013 – 2nd Jodie Swallow
2012 –
2011 – 1st Chrissie Wellington, 2nd Rachel Joyce
2010 –
2009 – 3rd Rachel Joyce
2008 – 1st Stephen Bayliss, 1st Bella Comerford
2007 – 3rd Bella Comerford
2006 –
2005 – 3rd Sara Gross
Here are the full details of the course changes.
---
IRONMAN South Africa announces amended course for the Standard Bank IRONMAN African Championship 2019
IRONMAN South Africa is excited to announce the amended course for the 15th edition of the Standard Bank IRONMAN African Championship taking place on 7 April 2019 in Nelson Mandela Bay.
The swim course remains the same with the 3.8km swim taking place at Hobie Beach. The change comes on the 180.1km bike course and 42.2km run course, which will see athletes taking on the 2018 Isuzu IRONMAN 70.3 World Championship bike course in reverse.
The bike course takes athletes left out of transition and along Marine Drive, proceeding left onto Sardinia Bay Road and right onto Heron Road. From Heron Road, athletes will turn left onto Seaview Road and continue to the turnaround approximately 1.3km from De Stades Road. Heading back along Seaview Road, athletes will continue towards town taking them through Mount Pleasant on Buffelsfontein / Heugh Road all the way to Walmer Boulevard / Settlers Highway intersection, where they will turn right back onto Marine drive.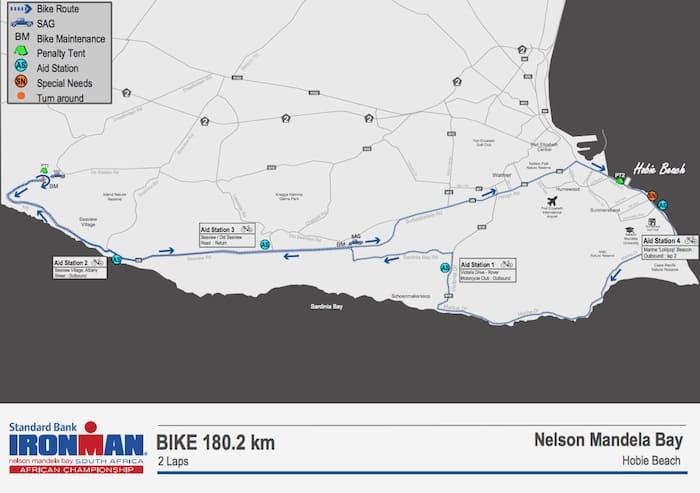 The bike course consists of two laps of 90.1km with transition remaining at Hobie Beach. The beauty of this new bike course is that if the easterly wind blows, athletes will be more protected by going through town. This is something the athletes will cherish come race day. The change in route will also show off more of what Nelson Mandela Bay has to offer as athletes will experience the Maitlands views which they didn't do before.
"We are excited about the change. The amended course is a much fairer and safer course – we don't have to take the PRO's through the Age Groupers so that allows more space on the course. The route also allows for a faster and smoother bike course surface as we will be using the lane that was repaired for the 2018 Isuzu IRONMAN 70.3 World Championship. The athletes will appreciate the last 13km of the bike course a lot more as it is downhill, and this will allow the legs some time to recover before heading on the run," says Paul Wolff: Director of Operations IRONMAN South Africa.
Athletes will start the amended run course by heading left onto Marine Drive out of transition, turning at the Admiralty/ University Way Junction. Heading back along a spectator lined Marine Drive, athletes will turn-around half way up Driftsands Drive. The run course consists of 4 laps to make up the 42.2km run route.
"We've also slightly changed the run course. We have taken away 2km of 'dead space' by moving the course along Driftsands Drive. Driftsands has residents and guest houses as well as an aid station which will encourage more supporters to continue the vibe at that turn-around," says Paul Wolff.