British Triathlon launches volunteering campaign to #MakeItHappen this summer.
Today, 27 February, British Triathlon has officially launched the search for 500 Tri Maker volunteers to help bring the Accenture World Triathlon Mixed Relay Nottingham and ITU World Triathlon Leeds events to life in June 2018.
Volunteering in triathlon is a great opportunity for personal development, improving physical and mental wellbeing, whilst supporting the local community.
In 100 days' time, the Accenture World Triathlon Mixed Relay Nottingham on Thursday 7 June begins a four-day triathlon extravaganza with the world's best triathletes arriving in the UK to take on the best of Britain in a race to claim the first Olympic qualification points on offer for Tokyo 2020.
A brand-new event to the triathlon calendar, the Accenture World Triathlon Mixed Relay Nottingham acts as one of three global Mixed Relay Series events in 2018, with nations looking to hone their team skills in the fast and furious racing style ahead of competing for the first ever Olympic Triathlon Mixed Relay medal in two years' time.
The triathlon action doesn't stop on Nottingham's Victoria Embankment, with triathlon superstars from around the globe heading north to the triathlon city of Leeds for the ITU World Triathlon Leeds on 9 and 10 June. Over 70,000 fans are expected to arrive in the city to cheer on local heroes Alistair and Jonathan Brownlee as they race through the city and arrive to a raucous reception on the blue carpet finish in Millennium Square.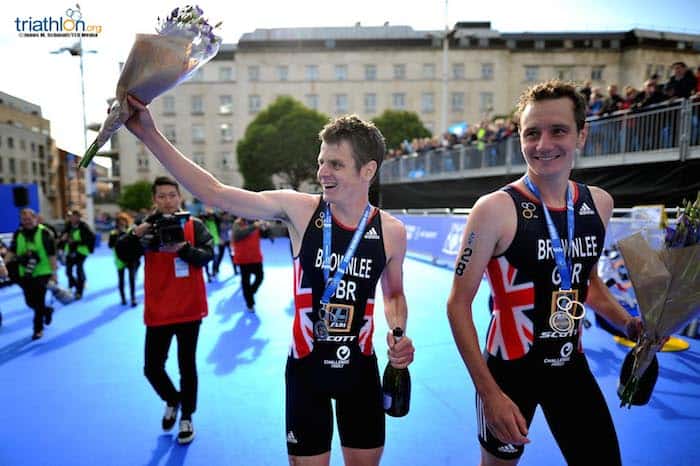 Both events provide an unforgettable opportunity for volunteers to be a part of the action with 97% of volunteers in Leeds last year saying they would be back again this year.
There are a huge variety of volunteer roles available, including customer services, helping to look after the elite and mass participation triathletes, supporting swim start, transition and the finish line experience, supporting spectators, accreditation management or working in the media centre to assist the many journalists and photographers from across the world who will be covering the action over the four days.
Everyone who signs up to become a volunteer Tri Maker will not only receive a free t-shirt and refreshments to keep them fuelled throughout their experience, but a money-can't buy opportunity to get behind the scenes at a world-class sporting event and memories that will last a lifetime.
Volunteers must be at least 16 years old on the date of the event in order to sign up. Those aged 16 or 17 years old must obtain parental permission beforehand.
British Triathlon, Chief Executive Officer, Andy Salmon said: "Volunteers are at the very heart of our sport and have the opportunity to create a true triathlon welcome for all the athletes and thousands of fans that will be experiencing our two ITU World Triathlon Series events in June. Please sign up and help to make it happen this summer."
Cllr Dave Trimble, Nottingham City Council Portfolio Holder for Leisure and Culture said: "Volunteers really make a difference to events and add to the atmosphere, not just for the athletes, but also for the spectators. We want to build on last year's success and to recruit lots of new faces of all ages and experience.
"It's a great opportunity to have fun and meet new people while also getting the chance to get up-close to the action. I'd urge everybody to sign up as an Accenture World Triathlon Mixed Relay Nottingham volunteer and join us in June as the city becomes the focus for another world-class event."
Cllr Judith Blake, Leader of Leeds City Council, said: "We are extremely grateful to the contribution of our fantastic volunteers who play such an important role in ensuring that World Triathlon Leeds is such a tremendous success. Volunteering is not only a wonderful opportunity to participate in a global sporting spectacle, it also offers a chance to experience at first-hand and at close quarters the incredible atmosphere and buzz created in the city by World Triathlon Leeds."
Esther Britten, Head of Major Events at UK Sport, said: "As we've seen since London 2012, volunteers really bring an event to life and have become a backbone of support for events across the country. Not only does volunteering help individual development and well-being, it's also great fun and something you'll want to do again."
If you are interested in signing up to volunteer for either Nottingham or Leeds, please visit www.britishtriathlon.org/wts-volunteer
To find out more about the range of opportunities available in Nottingham and Leeds, including event entry and spectator opportunities, please visit the respective event websites, Nottingham.triathlon.org or Leeds.triathlon.org
If you have any questions you can also email [email protected] or [email protected]
Support Jonny & Beth in London
Support the best of the Brits like Jonny Brownlee and Beth Potter battling it out against the world's best triathletes including Gustav Iden and Cassandre Beaugrand in The Arena Games Triathlon grand finale at London's Olympic Park.
Use code AGTLDN_TRI247 for 20% off tickets.