Nottingham to host new British Triathlon Mixed Relay Cup in September 2017
Live BBC TV, the Brownlee brothers PLUS international stars heading to Nottingham
2nd September 2017 will see the first British Triathlon Mixed Relay Cup hosted on the banks of the River Trent in Nottingham.
Launched on Thursday – in the company of Storm Doris, which prevented this Editor from making up the M1 in person! – this is a brand new event that I've known amount for the past three months, but is now officially out there. Very welcome it is in my eyes.
Held over the popular Mixed Relay format (for reference, the Mixed Relay event at the Commonwealth Games gained significantly more TV viewers than either of the individual races), the event will be delivered by the reliable OSB Events team, one week after the long-standing Club Relays Championships held just a few miles away at Holme Pierrepont. With the multi-award winning Outlaw Triathlon on their books and almost a 'home' in Nottingham, the event is in good hands.
Credit where credit is due…
With a significant push for the addition of the Mixed Relay format in to the Olympic schedule at Tokyo 2020, I feel this is a great addition to the calendar. The demise of the British Triathlon Super Series in 2015 has to some degree reduced the profile of domestic 'elite' racing, but the announcement of a new, UK, exciting event with prime-time terrestrial LIVE TV coverage is a very welcome move.
The National Governing Body gets – rightly at times – plenty of critics when an event doesn't deliver to expectations (Windsor Duathlon 2016, WTS Leeds Age-Group 2016) – but typically not a similar level of recognition when things go well (Tri Liverpool for example).
As always, the proof is in the pudding – but with the Race Director of Tri Liverpool now leading the organisation of Leeds and the reliable team from OSB Events delivering the Mixed Relay Cup in Nottingham, 2017, I'd say that lots of very positive decisions have been made.
Here are the full details of the launch of the Mixed Relay Cup.
---
Nottingham to host 2017 Mixed Relay Cup
Four Olympic medals may already adorn the walls of the Brownlee family home, but Britain's trailblazing triathlon brothers want more – two apiece, to be precise, at Tokyo 2020. But, that will only happen should Olympic organisers agree to the inclusion of a mixed relay event to the programme in four years' time.
It is an addition the Brownlees would welcome with open arms, having already been crowned Commonwealth champions at Glasgow 2014 alongside Jodie Stimpson and Vicky Holland.
And for the brothers, should their hopes come to fruition, it could signal a new era for the sport at every level.
"I'd absolutely love to see it in the Olympic programme, I think triathlon deserves more than the individual medals it has at the moment," said two-time Olympic gold medallist Alistair.
"I'm a bit biased but I think it is a fantastic sport, and it embodies so much of what the Olympics is about.
"It involves three sports, but it's also mixed gender and great to watch, so I think it is a true Olympic discipline and it would be fantastic to see it in Tokyo."
Jonny, who won bronze and silver in London and Rio respectively, added: "As an athlete, it gives us another chance to win a medal.
"But aside from that, I think it's what the Olympic ideals are all about. It's exciting to watch as a spectator, it's short and fast which I think is important for the Olympics, and also, it's fun for the athlete.
"For selfish reasons, it would give triathlon more exposure at the Olympics, which I think it deserves."
While a decision is expected in July this year, the brothers will be showcasing the sport in all its glory regardless come September 2 in the inaugural British Triathlon Mixed Relay Cup in Nottingham.
The race, featuring elite team relays with international stars plus teams from across the UK and a Great Britain Under-23 and Junior squad, will incorporate the city's Victoria Embankment and Trent Bridge.
Live TV and large crowds expected
And with an expected crowd of 20,000 spectators and a live BBC television audience watching the action unfold, Jonny insists there is no better way to capitalise on the sport's ever-growing popularity.
"I can't wait to get involved, I think it's a great format of the sport, it's exciting to race in, exciting to watch, and I think it's just what the sport needs," he said.
"I think it has been a long time coming. A lot of the feedback we got after mixed relay events, particularly after the Glasgow Commonwealth Games, was how much people enjoyed watching it, and how good it is for the sport.
"I think it is a very good year to start a mixed team event like this. London 2012 increased the profile of triathlon massively, and the Glasgow Games moved it on a bit further.
"It brought relay to the general public, and Rio moved the exposure of triathlon on again, so we need to build on that."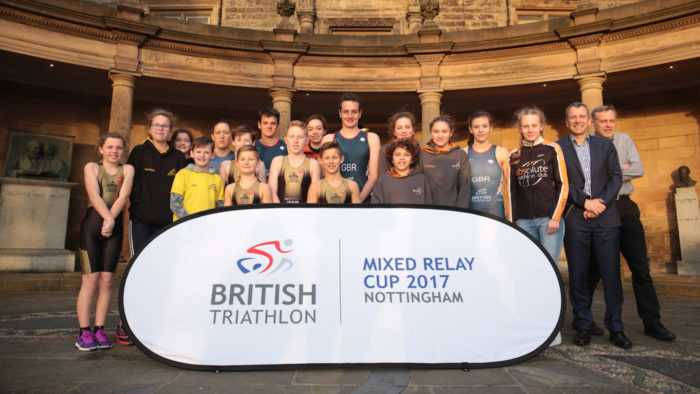 But while 2016 saw the siblings continue to dominate the international triathlon scene, questions remain as to what 2017 has in store.
For Jonny, that's the small matter of becoming World champion after missing out in a memorable finish in the Cozumel final last year, but for Alistair, such plans are still somewhat up in the air.
"At the moment, the Gold Coast Commonwealth Games is on the horizon," he said. "I've been lucky enough to go to one Games before and win there, so it would be fantastic to do it again.
"I'm seeing how I enjoy different types of racing this year and then I'll sit down and make a more detailed plan for the next few years.
"I definitely want to keep one foot in the door of the Olympic distance, with the thoughts that maybe Tokyo could be on the horizon, especially if there is a relay in it."
But for his brother, more concrete goals have been put in place.
"It's always a tough year, post-Olympics, to become World champion because it's very busy, but that's the aim," he said.
"I have to start well, but I ideally don't want to race too much, but if you want to become World champion you basically have to podium in each race.
"I'll try my best to do that in the Gold Coast, and after last year's events in Mexico, I'm more determined than ever."
The British Triathlon Mixed Relay Cup Nottingham takes place on Saturday 2 September 2017. Come and watch Britain's best athletes going head-to-head with teams of two men and two women in world-class triathlon action. Visit britishtriathlon.org/mixedrelaycup for more information.