Tactical perfection from the Brownlee brothers falls just short in dramatic scenes in Cozumel. A double Olympic Champion as a domestique / pilot?
That's a pretty potent weapon. Jonathan Brownlee had the chance to win a World Championship today and older brother, Alistair, was going to do everything he could to help his chances. After all, he'd already won a world title himself this week… little did we know quite what an impact he would have.
The 2016 WTS season ends in a dramatic fashion. What. A. Year. #WTS2016 pic.twitter.com/nvqNrrI13D

— World Triathlon (@worldtriathlon) September 19, 2016
A tight swim
Exiting the non-wetsuit, one lap swim in second and third position behind Aurelian Raphael (FRA), the Brownlee brothers were in great position at the ITU World Triathlon Grand Final Cozumel. Unfortunately for them, pretty much everyone else wasn't too far behind in what was a single file of athletes, reflecting the strong pace set in the water.
A break on the bike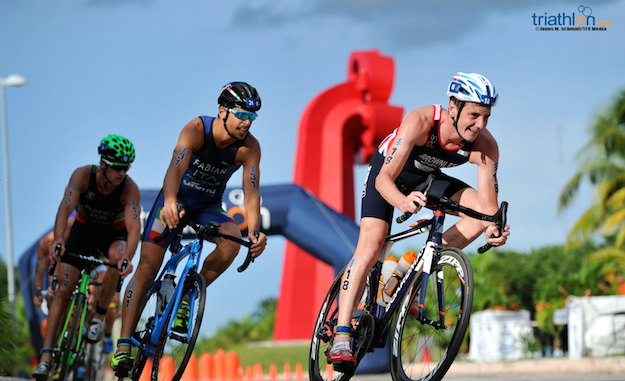 We've seen many times though that there doesn't need to be a (swim) break to force a (bike) gap, and with the Killer B's to the fore, we very quickly had a group of nine which also included Raphael, Aaron Royle (AUS), Henri Schoeman (RSA), Andrea Salvisberg (AUT), Alessandro Fabian (ITA), Gregory Billington (USA) and Joao Pereira (POR). Pereira was swiftly despatched a few laps in to reduce that to eight.
The gap to the huge chase group (Mario Mola et al), grew. 38 seconds by 10km, 46 seconds at 20km, 1:15 at 30km and finally 1:32 at T2. Alistair Brownlee was wearing a serious pain face for most of that 40km, putting in some huge efforts on the front.
Temperature rising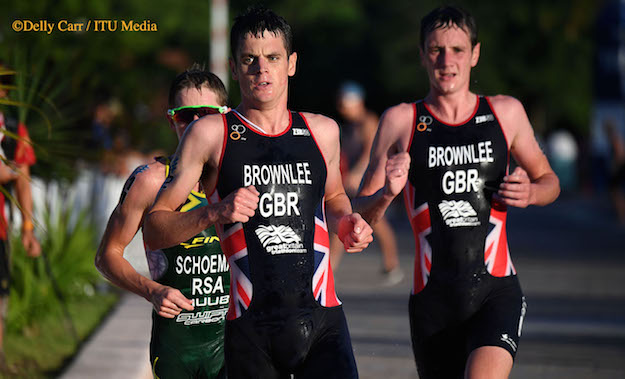 It was hot, hot, hot – and Jonathan was first on to the run course. Henri Schoeman quickly joined him with Alistair a few seconds behind. That was the full Rio Olympic podium leading the race, with Mola frantically chasing 90 seconds behind. If Jonny could win, Mario had to make the podium to become World Champion.
Together at 2.5km into the run, the Brownlee/Brownlee/Schoeman trio had a lead over Mola (in ninth) of 1:21. At 5km that was still 1:15, while Jonny was covering himself in as much water as he could get. Which, was quite a lot.
7km in and things were changing (slightly). Jonathan had pulled out a seven second lead over Henri and Alistair – and importanly, for the World Championship title, Mario Mola wasn't making huge impacts. He cut another couple of seconds, but would need a last lap miracle.
Having won the coldest race of the year (Edmonton), Jonathan looked set to win the hottest one too. And if he could – just like Flora Duffy yesterday – it would mean a Grand Final / World Championship double. Nothing could stop him, even the ITU coverage agreed…
Game over folks! We are calling it now, your world champ is gonna be @jonny_brownlee. pic.twitter.com/dsdkycYQyH

— TriathlonLIVE (@triathlonlive) September 18, 2016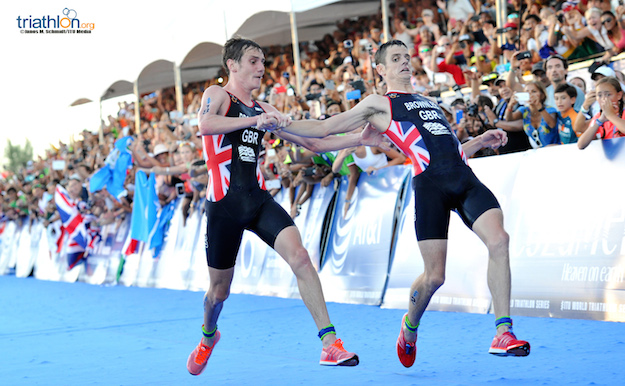 …until about 400metres, maybe less (?) to go, Jonathan Brownlee's legs absolutely went. As did his eyes. He could barely move in a straight line in scenes reminiscent of London 2010 – in that case, for Alistair. From behind, Alistair arrived a few seconds later to a barely standing younger brother and all but carried Jonathan across the line, pushing him towards the finish line in second place (to Henri Schoeman). Absolutely staggering scenes that will be seen around the world in the morning and become part of triathlon legend.
Behind, Mario Mola moved through to fifth place which – given Jonathan didn't win – was enough anyway, after having seemingly spent almost two hours about to lose the lead in the Columbia Threadneedle Rankings. He takes the World Championship title by just four points.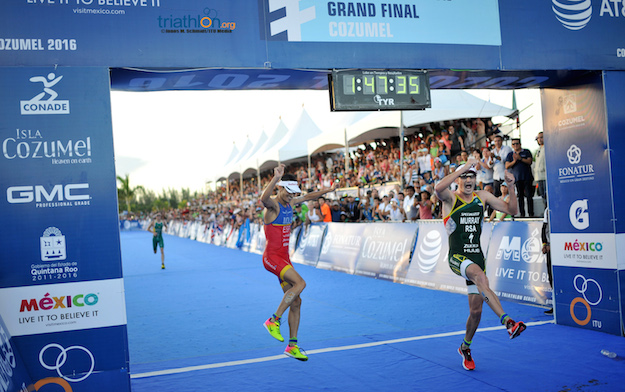 In all of this, the victory of Olympic Bronze medallist Henri Schoeman was somewhat overtaken by the drama and concern for Jonathan Brownlee, who appeared to have all but won, then lost, then perhaps won again the the title… before Mario secured that fifth place, which meant that second for Jonathan wasn't quite enough…
An update from Jonathan Brownlee
Not how I wanted to end the season, but gave it everything. Thanks @AliBrownleetri, your loyalty is incredible pic.twitter.com/6uG4QiIgfS

— Jonathan Brownlee (@jonny_brownlee) September 19, 2016
ITU World Triathlon Grand Final Cozumel
Sunday 18th September 2016
1.5km / 40km / 10km – Elite Men's Results
1st – Henri Schoeman (RSA) – 1:46:50
2nd – Jonathan Brownlee (GBR) – 1:47:08
3rd – Alistair Brownlee (GBR) – 1:47:08
4th – Richard Murray (RSA) – 1:47:35
5th – Mario Mola (ESP) – 1:47:36
6th – Ryan Bailie (AUS) – 1:47:40
7th – Crisanto Grajales (MEX) 1:47:46
8th – Jelle Geens (BEL) – 1:47:52
9th – Fernando Alara (ESP) – 1:47:53
10th – Adam Bowden (GBR) – 1:47:55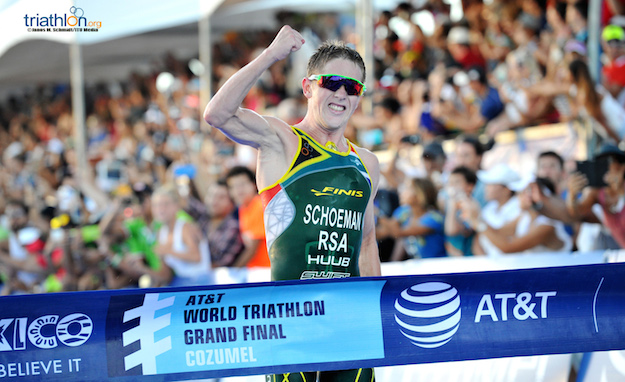 Columbia Threadneedle World Championship Final Rankings
GOLD: Mario Mola (ESP) – 4819 points
SILVER: Jonathan Brownlee (GBR) – 4815 points
BRONZE: Fernando Alarza (ESP) – 4087 points