Monster Triathlon: Seven days from Loch Ness to Richmond…
Longer, stronger, harder, tougher – to be honest, trying to keep up with such claims from organisers is something we gave up on long ago. What is clear however, is that the desire for something different, the need for events that challenge is ways other than times and positions, is certainly more than just a niche market. The recent growth of SwimRun for example, highlights that.
Here's another one for you, The Monster Triathlon (www.monstertriathlon.org) has been announced to the public. After a private event in 2016, here is your chance to start with a swim in Loch Ness, spend five days cycling to Windsor and then finish up with a 50km run to Richmond, over a week in September.
Full details below.
---
'UK's Toughest Triathlon' opens to the public after successful private event in 2016
The Monster Triathlon, dubbed the 'UK's toughest tri' by organisers Sabre Trust and WMP Sports, is now open for registration at www.monstertriathlon.org.
The epic 550-mile challenge takes place over seven days in September 2017 and will see teams and individuals swim, cycle and run from Loch Ness to London.
The event was pioneered by charity Sabre Trust in 2016, where a team of both novice and experienced triathletes from corporate partner Tullow Oil completed the challenge in eight days. After being short-listed for a prestigious Better Society Award and with the support of specialist challenge events company, WMP Sports, the Monster Triathlon is now open to the wider public and corporate teams.
Participants will complete a 5km swim in Loch Ness, cycle 100 miles a day for five days, before finishing with a 50km run/walk from Windsor to Richmond on the
final day.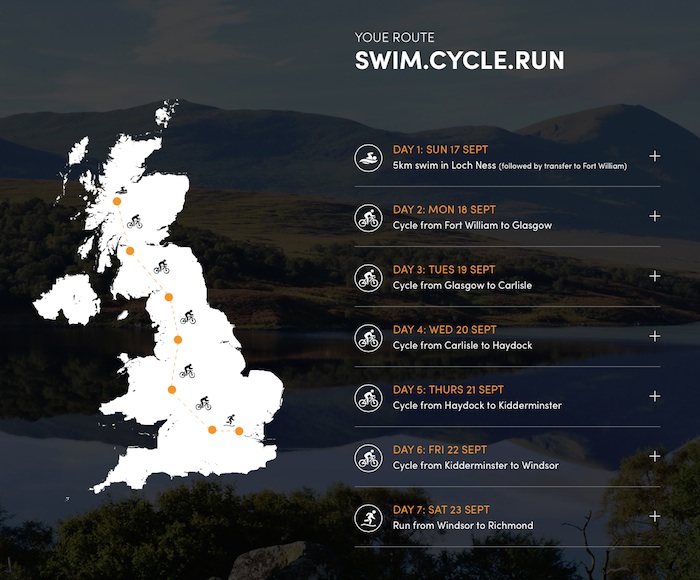 The event is designed to appeal to endurance enthusiasts keen to take on the whole challenge, as well as those who will prefer to enter as part of a relay team for a fundraising opportunity that is demanding, yet achievable.
"The Monster Tri offers an innovative concept in a crowded challenge event market place, and we are hugely excited to be partnering with the team at Sabre Trust to bring it to the public," said Rupert Martin, Director at WMP Sports. "It will undoubtedly be a real test of endurance, but the relay option makes it very inclusive and provides an ideal platform for companies to support staff engagement, wellbeing and fundraising objectives."
https://www.youtube.com/watch?v=01vOHMw8Icw
"We are delighted to see the Monster Triathlon evolve into a full public event this year after a very successful pilot last year," said Dominic Bond, Managing Director at Sabre Trust. "We are looking forward to establishing the Monster in the challenge event calendar, and increasing the crucial work our teams do to improve the quality of education for Ghana's youngest school children."