Want to escape the cold weather? How about Ocean Lava Madeira…
If the 'Beast from the East' weather is getting you down, how about sorting yourself an early season, late notice trip abroad?
A race is always a good excuse for triathletes to travel, and here is something a little different from the regular options: Ocean Lava Madeira (www.oceanlavamadeira.com), taking place on Sunday 25th March.
---
 "Madeira ouro otra vez!" – Madeira is gold again
Ocean Lava Madeira is back for third outing
Race the unique Ocean Lava Triathlon and discover why Madeira island is awarded as gold again – World's & Europe Leading Island Destination in 2017
An adventure, a warm heart and infinite ocean views. Memories of picturesque villages full of flowers, huge cliffs, wild tropical flowers and waterfalls emerging from every angle come to each triathlete's mind when they think about Madeira island.
A mix between Atlantic and Mediterranean, tradition and innovation. A cosy remote island that lives up to everyone's expectations but that it is usually underrated and forgotten. Madeira island is fondly called the "Pearl of the Atlantic" and also "the floating garden" because of the beautiful landscape and breathtaking scenery.
For the third year in a row, the World Travel Awards has recognised Madeira Islands as the World's Leading Island Destination of 2017. Competing with other emblematic and exotic island destinations, Madeira again collected the annual award that recognises excellence in the stand-out tourism brands and locations around the world, distinguishing itself as the best island tourist destination on the globe since 2015.
Scheduled to be held on Sunday 25 March 2017, the early season event is situated on the east coast of Madeira island in the Machico, the second biggest city which has a great historical significance in the history of Madeira.
"After two years of Ocean Lava Madeira in the civil parish Caniçal and in the surroundings of the Quinta do Lorde Resort, Hotel & Marina, we have decided to change the location of event to give our athletes and spectators a new and special race experience put them right in touch with the authentic Madeira. Machico is a quiet setting – but full of colour, culture and history. The old church and forts are well worth a visit – and are excellent places to sit back and take in the wonders of old and new Madeira identity and culture", said Ocean Lava Madeira Race Director, Victor Hugo Gomes Rodrigues.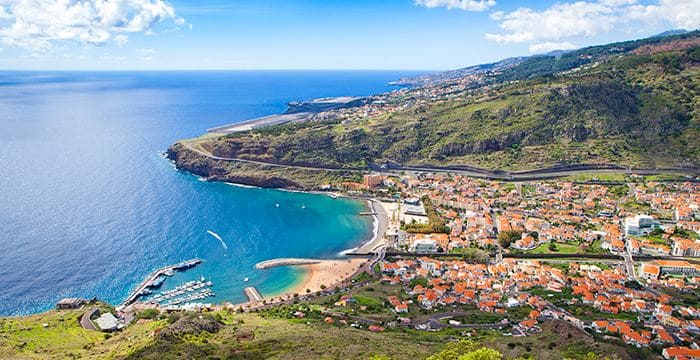 Ocean Lava Madeira 2017 is offering three distances with the main half distance race, alongside an Olympic distance race and sprint distance event:
Middle distance (1.9km; 90.7km; 18.4km)
Olympic distance (1.5 km; 37.9km; 9.4 km)
Sprint distance (750m; 20.3km; 4.9km)
The event's new venue is along The Banda d'Além beach, in the bay of Machico (about 125 meters long and 70 meters wide), which is distinguished for its yellow sand, imported from Morocco and only 20 minutes from the capital – Funchal – and 10 minutes from Cristiano Ronaldo Madeira International Airport. This beautiful, sweeping crescent-shaped bay is one of the few sandy beaches on the island.
Ocean Lava Madeira will feature a 1.9km swim in the Atlantic Ocean with two loops, then athletes will embark on a cycling circuit of total 90.7km (five laps of 17.6km with 315m elevation in each lap), having an initial and final connection of 1350m each (20m positive slope). The run course of 18.4km involves four laps through the Machico town with an initial connection of 500m where athletes would run to the Forum Square, and from where would start run laps having a fixed course between the Machico promenade and the roundabout near Machico stadium, passing through the 'murinho', an iconographic zone of the Machico.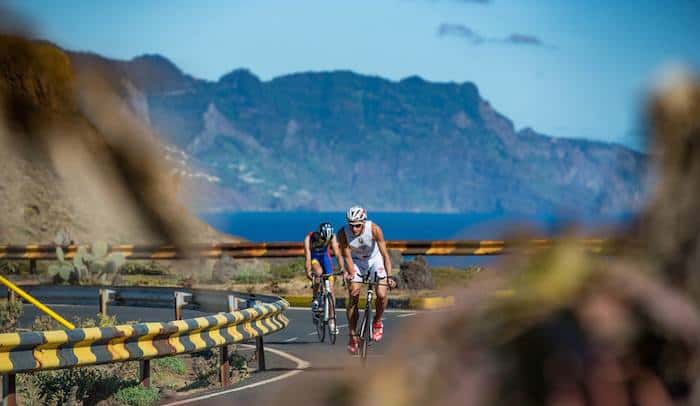 "What a pleasure it is for our beautiful island to host the Ocean Lava Madeira Island Triathlon. Dom Pedro Madeira is a calm and elegant ocean beach hotel whilst Machico is the place to feel the real Madeira; a town away from the tourist track, nice and quiet with a historic waterfront and spectacular promenade by its beach. We are very happy to welcome all athletes looking into taking part on this event, and hope that you take the opportunity enjoy the unique and breathtaking views our island has to offer, said Carla de Sousa, general manager of the Dom Pedro Hotels Madeira. (Click HERE for hotel information and special offers for the event).
"Our key focus is try to connect more personally with the athletes, all of whom will be welcomed by the stunning coastline landscape and sincere Madeiran hospitality from the local population, and entice them to stay and explore all that Madeira has to offer as already proven the best world's island travel destination. Madeira is the perfect destination for those who want to combine racing triathlon and relax, 'switch off' from the world and take a break from routine. It's adventure and peace at the same time, providing unique low-cost early season island race destination in the European triathlon calendar,''said Jurica Cvjetko, Ocean Lava Planet Marketing Manager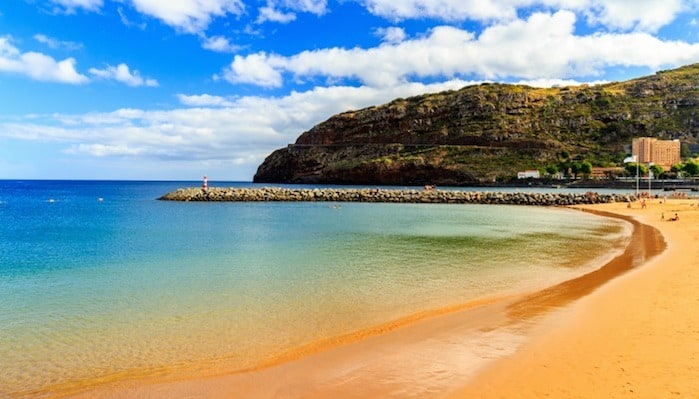 Additionaly, Machico boasts a vast selection of long-established family restaurants, traditionally Madeiran style cafes and vibrant bars. It's no surprise that a large part of the island's cuisine is based around seafood given its fishing tradition, and there are many restaurants in the area that serve up a selection of locally-sourced seafood.
Athletes have the benefit of free transfers booked in advance through reservations via the official event website from Cristiano Ronaldo Madeira International Airport to Hotel Dom Pedro Madeira with return back to the airport after the events.
Ocean Lava Madeira 2018 have also prize pool for the fastest participants (Top-five: EUR 400 / 200 / 100 / 75 / 50).
Registration fees for half distance from January 1st until March 19th:
Licensed female athletes – 50€ ; Licensed male athletes – 100€
Relay race (licensed & non licensed) – 120€
For non licensed athletes there is additional fee of 5€
https://www.youtube.com/watch?v=hxYzOfum7lw