What's going on with those Outlaw 2019 entries?
Yes, you CAN enter the Outlaw Half Nottingham during the Priority Entry period…
Yesterday (Thursday), a number of media channels posted a Press Release from OSB Events – the organisers of the Outlaw Triathlon events – outlining the "on-sale process" for the 10 year anniversary of the Outlaw series, for athletes wanting to secure their places for 2019.
The first full-distance Outlaw Triathlon was held in Nottingham in 2010, so 2019 will represent its 10th edition (with Outlaw Half Nottingham starting in 2013 (six races to date), and the newest edition, Outlaw Half Holkham, joining in 2016 (three races held to date)). Three athletes have completed all of them…
Just squeezed them on! pic.twitter.com/fOilpTEFND

— David Manning-Ohren (@DavidOhren) July 30, 2018
Now, it is fair to say that the contents of that communication has, and is, sparking much heated debate on social media. Why? Well, the reason – and having sight of it myself and read it multiple times, I understand why – is that unusually it implies (well, it actually stated…) that for pre-registered athletes (the method by which OSB Events, and indeed many other organisers, make 'first access' to events available), said – "During this exclusive period, it will not be possible to enter Outlaw Half Nottingham as a single event."
What you were able to do – again, quoting exactly from the issued document, was as follows:
"The entry options that will be available during Priority Entry are as follows:
Individual Entry – Outlaw Half Holkham (£175) & Outlaw Nottingham (£299)
Double entry – Any combination of two Outlaw events, including Outlaw Half Nottingham (£175)
Series entry – All three 2019 Outlaw events at a special price of £600 (representing a saving of £49)"
For background, the Outlaw Half Nottingham is the most popular (in terms of entry numbers), of the three Outlaw Triathlon events and in recent years has typically reached capacity in three or four days. Numbers for the other two events are also strong (Outlaw circa 1000 athletes, Holkham circa 1300 starters this year), but both do have additional capacity.
Ok – so a clever (?) way to boost entry numbers to the Outlaw and Outlaw Half Holkham? 'Forcing' athletes to buy an entry to a race that perhaps they didn't want? A way of rewarding athletes who wanted to complete all three races, by providing a way to access a Nottingham entry? A slap in the face for loyal Outlaw Half Nottingham athletes who don't want to race in the other two? There are probably more variants you could interpret, positive and (mostly) negative, depending on who your are, which view you take and how you read the text.
But, what is the reality?
To try and get to the bottom of it, I've spoken this morning to Iain Hamilton, the Founder of OSB Events to try and understand exactly what is happening and when / where / how / if you can (or can't!) access a particular event… and to confirm how you should go about securing a place for the 2019 Outlaw Half Nottingham.
It's fair to say, the last 24 hours have been a challenging one for an organisation which, generally speaking, has been widely praised for its balance of quality organisation, athlete-focus, volunteers and value for money?
"I've never experienced anything like this in the past, and it's certainly not something I've enjoyed. As an organisation we've put a lot of effort in over 25 years to try and get things right, and in this case, what we are doing and trying to do has not come across as we had planned – however, there is only myself and Adam to blame for that communication, ultimately we take the responsibility for that as the heads of the company."
So what was the objective?
"For the first week of priority entries, we want to give people who are doing the Holkham Half, or the full – or both – the chance to be able to secure an entry to the Outlaw Half Nottingham, which has been our most popular event, should they also want to do that."
So is it correct that pre-registered athletes cannot enter the Outlaw Half Nottingham during the priority period that they have signed up for?
"No. It is true that during that first week, entries are open for Holkham, the full distance or any combination of two events (or indeed the whole series), but, the second stage – which still only for pre-registered athletes – WILL enable athletes to enter for the Outlaw Half Nottingham."
I'm confused… how will that work?!
"Priority entries will open first on Thursday 6th September at 9 a.m. Then, a week later on Thursday 13th September at 9 a.m. – again, still only to pre-registered athletes – single entries will be available to the Outlaw Half Nottingham."
Will there still be entries available at that point for Nottingham?
"Yes, we have guaranteed that at least 500 spots will be available at 9 a.m. on Thursday 13th. In practice however, I expect it to be significantly more than 500. Historically, we have typically sold just over 200 places to athletes doing more than one race. With the 10th anniversary of the full distance and additional interest from athletes wanting to earn the gold series medal this year, we would expect that number to increase.
"There is then another group of entries which are taken up each year by previous volunteers, volunteer clubs, sponsors and the like which support the events so well every year. So, while it's difficult to predict exactly, I would certainly expect significantly more than that guaranteed 500 entries to be available to out pre-registered athletes (from 9 a.m. on Thursday 13th September), and they will have 24/48 hours priority before any remaining slots go on to general sale."
Does the Half at Nottingham typically fill within the priority period?
"It can be very fast – about four years ago it filled in a few minutes for example – but last year it was after two days of pre-registration and then two days of general entry."
What is the limit for entries at Nottingham – has it changed?
"It's unchanged and remains at 1900 entries. That is what we consider to be the safe capacity to deliver a quality race on that course and we won't compromise on that. Yes, OSB Events is a commercial business, but if we were only seeking to maximise profits then we would increase the numbers and put up the prices to what is an in-demand event. However, we won't compromise on the standards of event delivery for that."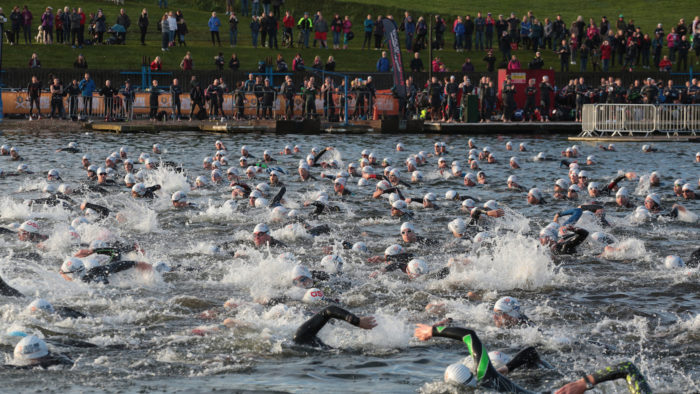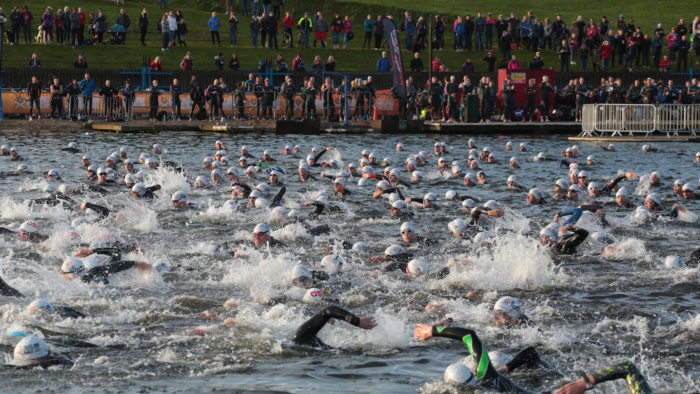 How much have the prices increased this year?
"The full distance is the same price as for 2018, £299. For the 2018 races, the Half distance events were £165 before Christmas (Tier 1) and then £175. The 2019 races are £175. Our aim is to develop the commercial aspect of the events through external partnerships, not by seeking to squeeze more money from entrants. With the discounted series entry, you can enter all three events now for £600, which I think is good value."
What about Payment Plan options, as I didn't see any mention of those yesterday?
"Yes – if athletes enter the full distance or enter the series, then the option of three staged payments exist again. These will be September 2018, March 2019 and May 2019. We've actually amended the dates for this based on athlete feedback as they consistently asked us to avoid December and January, as this is typically when people are short of money after Christmas / New Year."
Having been at many of the Outlaw events over the years, I typically see incremental improvements and changes rather than wholesale ones – what is planned for 2019?
"That is definitely how we try and work. We actually had over 400 pieces of feedback from the athlete surveys and we go through everything, to see if there are improvements and fixes we can make for future years. These can be very small things, so for example one thing the survey told us was that the drawstring on the transition bags in the changes tents was too long, so that will be changed.
"We'll also be including free athlete photos for 2019. We are working through the details now, but the plan is that for those that sign up to them pictures can be posted live to your social feeds, and over a full distance race, you can get a significant number of images.
"We did a little bit with Facebook live coverage last year so we want to continue to develop that. Getting the finishers t-shirts right is important too and proved an issue this year, plus the medals will be slightly different.
"It's still under consideration and discussion, but I think we will probably move to a two lap swim for the full distance. We had to revert to a three-lap course this year because of the water conditions, but the majority of feedback has been that a lapped swim was favoured and I think two laps would be optimal there."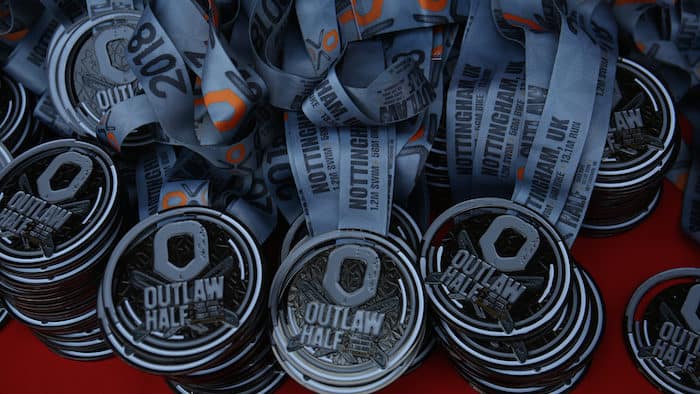 Any chance of deferring entries?
"Yes. This is being added for next year. If you enter the full distance in September or October 2018, then there will be the availability to defer your entry free of charge. There is no deferment option for the half distance races, but there will be a set partial refund process depending on the date of withdrawal."
(Here are the details of the withdrawal/refunds for Outlaw events)
| | |
| --- | --- |
| Cancellation Date Range | Refund Level |
| Up to 182 days prior to the scheduled Event date | Full refund less a £50 cancellation fee |
| Between 181 and 84 days prior to the scheduled Event date | Full refund less a £75 cancellation fee |
| Between 83 and 42 days prior to the scheduled Event date | Full refund less a £100 cancellation fee |
| Between 41 and 28 days prior to the scheduled Event date | Full refund less a £125 cancellation fee |
| Within 27 days of the scheduled Event date | No refunds |

Any response to the feedback you've been getting over the last 24 hours?
"Yes, because of the response I've actually taken over our social media feeds and answering them personally, because I want to understand any of the issues and concerns first hand."