The weather strikes again… but the anniversary Outlaw adjusts and continues
Well that was a wet one. Heavy rains, flooded roads, debris and the prospect of exceptionally dangerous road conditions caused the cancellation of the bike leg of Sunday's tenth anniversary Outlaw Triathlon yesterday. It wasn't quite the birthday party that everyone had planned, but it was 100% the correct decision… and the party went on anyway, it was just a different party.
Congratulations to the athletes who took the huge disappointment in the their (soon to be wet and muddy) stride – and massive respect to the race organisers / crew / volunteers / technical officials and more behind the scenes who:
made absolutely the correct call, despite it not being what anybody wanted, and
dealt with all of the logistical implications involved as a result of that decision
---
Bishop and Wiseman win weather affected Outlaw Nottingham
Outlaw's ten-year anniversary celebration was affected by flooding in Nottingham resulting in the bike section of the triathlon being cancelled. Derby's David Bishop and London's Ellie Wiseman made the best of the reformatted swim-run event and claimed the overall victories.
After a week of record high temperatures, Nottingham's weather turned cold with heavy rain. Sunday morning's initial checks of the bike course saw some standing water, but nothing that would prevent the Outlaw from going ahead until the heavens opened. Within a few minutes of the 2.4mile swim leg having started at 6am, the course was too dangerous to ride, and athlete safety had to take priority.
A reformatted event saw swimmers exit the water and being told to get ready for a staggered start marathon from 9am. Ninety percent of athletes stayed to take on a muddy, wet marathon, and many of them set fast times on the flat course.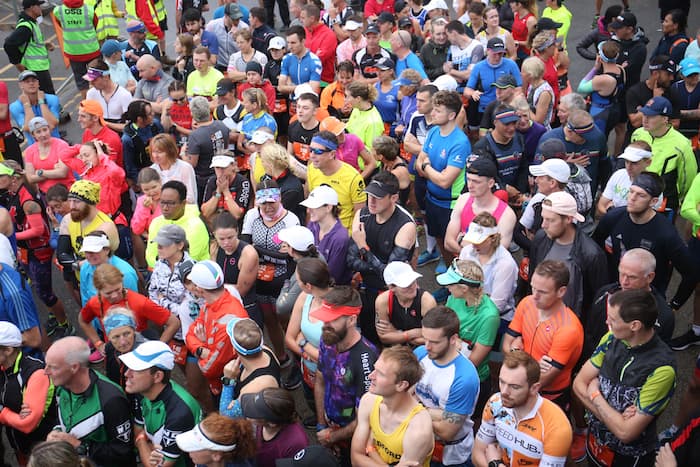 Bishop had been intending to race in the Czech Republic, but flight issues led him to enter the Outlaw Triathlon at the last minute, not knowing that the weather had other plans for his debut long distance event.
He said: "I had meant to be racing Challenge Prague but my flight was cancelled and there wasn't a realistic way to get there. I wanted to make use of my taper and have always been interested in racing the Outlaw… perhaps starting with the half would have been the more sensible route, but I thought I would at least give it go."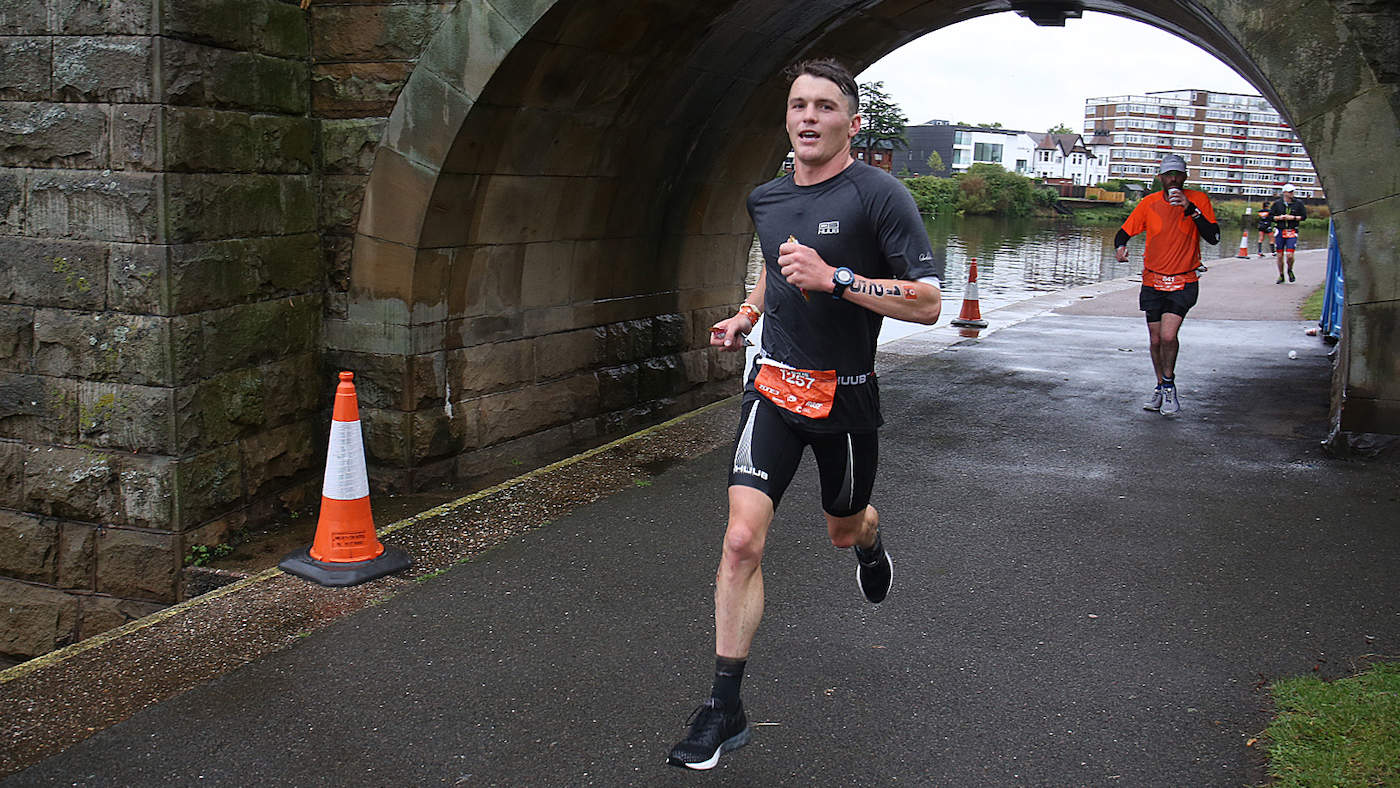 He won the race thanks to a 2hours 44minute marathon run, commenting: "Bearing in mind my longest run before this has been 16 miles, I am pretty happy that I managed to get round."
He added: "I thought I might be in the mix, but I was surprised that I won, I will certainly be back in the future to complete the full distance and hopefully have a go at the course record."
Women's winner Ellie Wiseman was also surprised to win. Her swim background helped and made the difference over second placed Naomi Shinkins, who finished two minutes behind her.
Wiseman said: "It was a strange day. This was going to be my first full distance triathlon and it ended up being a really long aquathlon instead. I've done a lot of work on my bike this year, so I was quite gutted but it was the right decision."
She added: "I spent the first 5km dodging puddles on the run and then just gave up and ran through them. I got a marathon PB so it was good, I've never won anything before!"
Event Director, Iain Hamilton had been looking forward to celebrating the tenth Outlaw Triathlon along with a race crew and team of volunteers that has helped make this one of the most popular races in the country.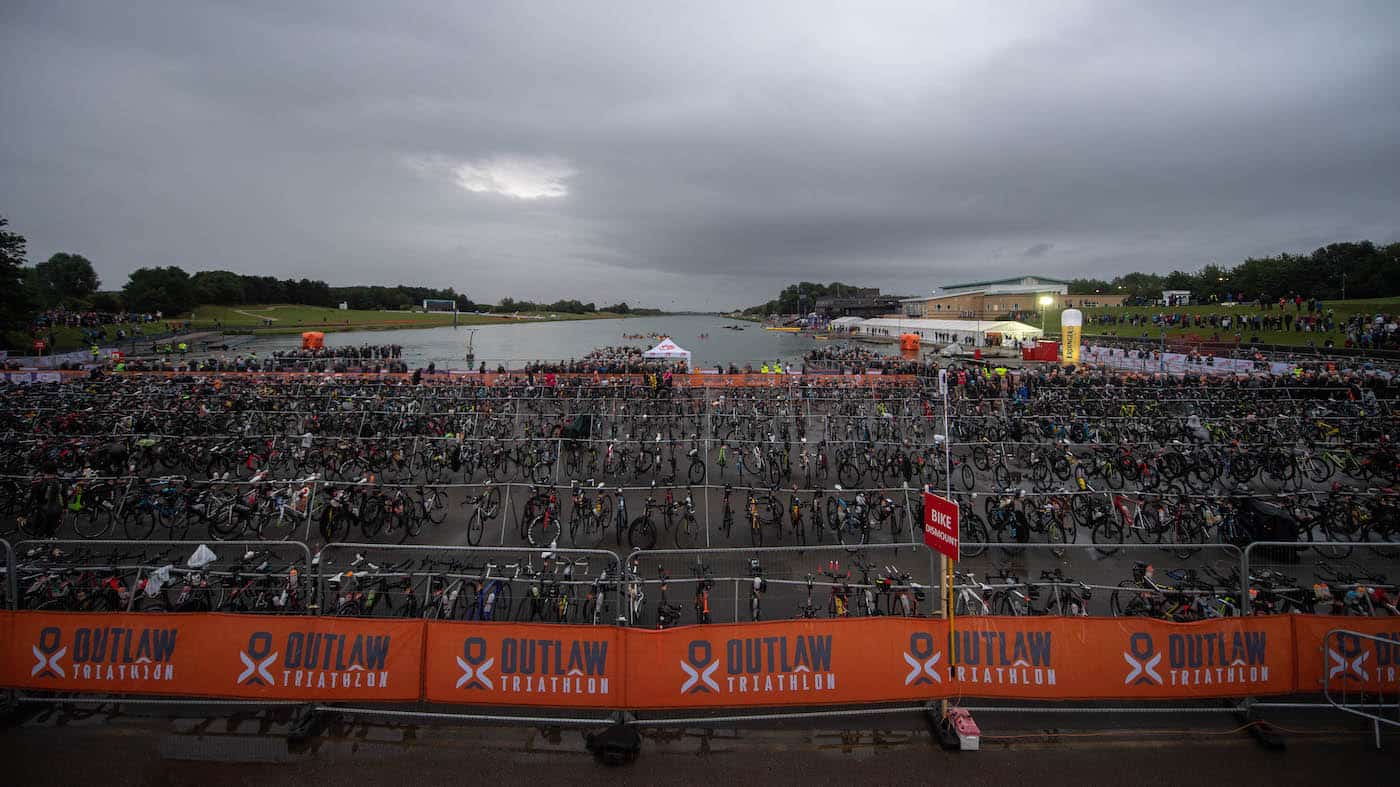 Explaining the decision to cancel the bike leg, he said: "Thirty minutes before the swim start, the course was signed off as being safe. But as we started, heavy rain caused localised flooding, which made the early part of the course impassable. With more rain forecasted, the race and highways officials made the difficult decision to cancel the bike section."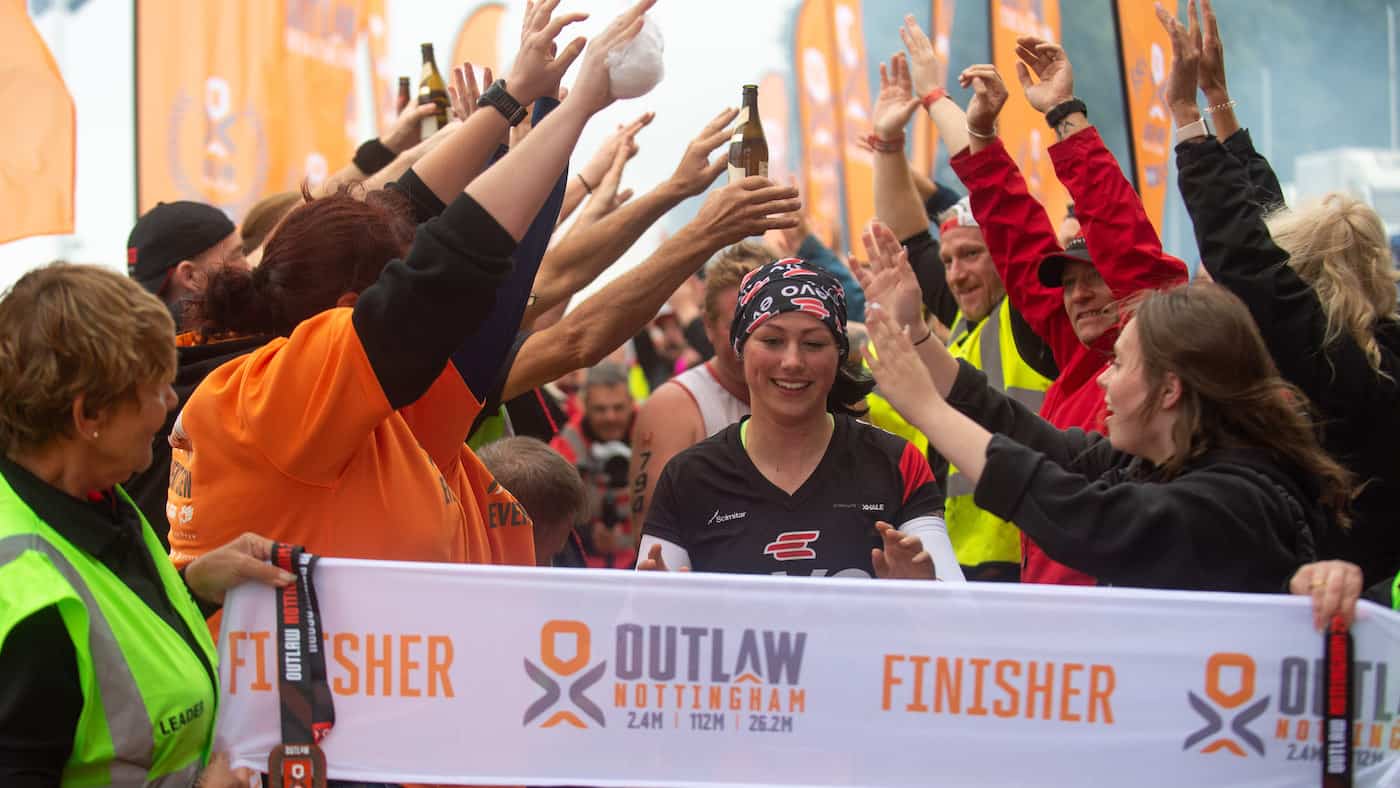 He added: "I'd like to thank our race crew and volunteers for their rapid response to changing the format, and the competitors for supporting us."
Outlaw Nottingham; 2.4mile swim, 26.2mile run – Results:
Men
David Bishop, Huub Academy, 3:36:24
Carl Jones, Triology 3:45:22
Barnaby Palmer, 3:49:28
Women
Eleanor Wiseman, London Fields Triathlon Club, 4:38:51
Naomi Shinkins, 4:40:53
Sarah Cole, 4:41:07
Relay
Race Hub – Erdinger, 3:30:25
Tri Amigos, 3:38:10
Should Have Stuck To Cricket, 3:58:12
Race results are available HERE.