2019 Outlaw Triathlon athletes – you have mail…
Priority entries to the 2019 Outlaw Triathlon series of events have opened this morning to all athletes who pre-registered before midnight last night. This will give you first access to entries, before the races are opened to general/public entry at the end of next week.
While I won't be racing any of them myself, I did sign up to the list so that I could at least follow the process. At 9 a.m. exactly this morning, right on the scheduled time, an email dropped into my inbox as scheduled. Hopefully yours did to. It should have looked like this: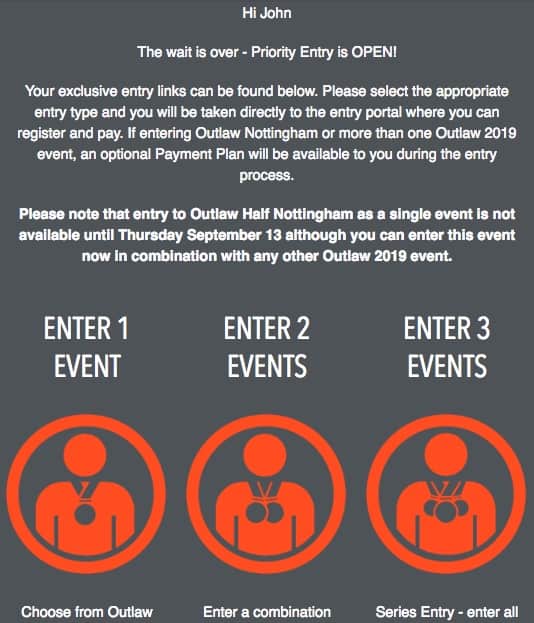 From this morning, you can enter the full distance Outlaw, the Outlaw Half Holkham or any combination of two (or three) events, including the Outlaw Half Nottingham. If you only want to enter the Outlaw Half Nottngham, you will be able to do this, but not until this time next week (9 a.m., Thursday 13th September). Check out my interview with Race Director Iain Hamilton for more on this – because we were confused too!
The dates for the 2019 events are as follows:
Outlaw Half Nottingham: Sunday 19 May
Outlaw Half Holkham: Sunday 7 July
Outlaw Triathlon: Sunday 28 July