STAFFORD CASTLE BECOMES PART OF IRONMAN 70.3 STAFFORDSHIRE RUN COURSE
IRONMAN 70.3 Staffordshire organisers released the event's new run course, now taking in Stafford Castle as part of the popular middle-distance race. The IRONMAN 70.3 Staffordshire takes place 9 June 2019 in and around Stafford.
Now in its fifth year, the new run course becomes the first major alteration of the current version of the event since moving from Shugborough Estate to Stafford town centre in 2018. The full event consists of a 1.2-mile swim at Chasewater Country Park, followed by a 56-mile bike through the Staffordshire countryside and Cannock Chase Area of Outstanding Natural Beauty, finishing with a 13.1-mile run through Stafford town centre, now also taking in Stafford Castle.
The changes will see the course moving from four loops to two, spreading out the 13.1-mile distance between Riverway and Stafford Castle via Stafford town centre.
The course takes athletes from Riverway alongside the River Sow, into the Stafford town centre and towards Stafford Castle and back. Nestled in 26 acres, Stafford Castle is the perfect place to take in a bit of history before heading back down Newport Road towards the town centre. With two and a half loops around the historic medieval castle and through the town centre, athletes will get to revel in the vibrant support Stafford is known for as supporting family and friends will be able to see athletes multiple times before heading down the finish chute in Stafford's Market Square.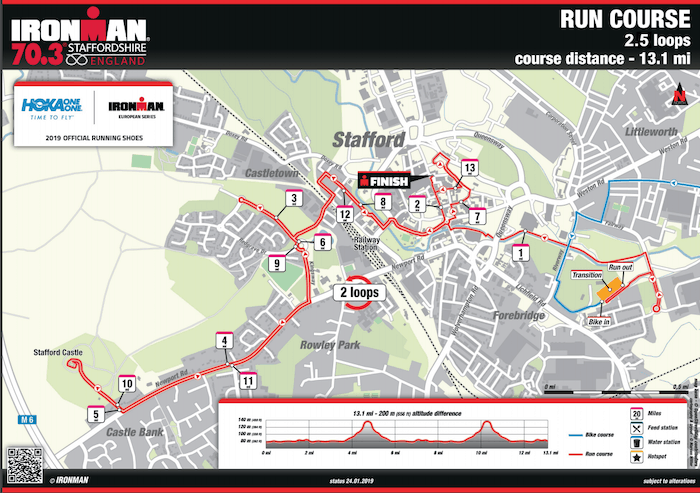 "We are excited to be able to incorporate the historic Stafford Castle into the course and expect it to become an iconic feature not only of the run course, but also of the event as a whole," said Rebecca Sutherland, IRONMAN 70.3 Staffordshire Race Director.
"We continually strive to improve the race experience for our athletes and following last year's move into Stafford town centre, incorporating Stafford Castle was identified as a long-term goal. The change allows us to remove some of the dead turns of the previous version, as well as giving athletes more of Stafford to enjoy."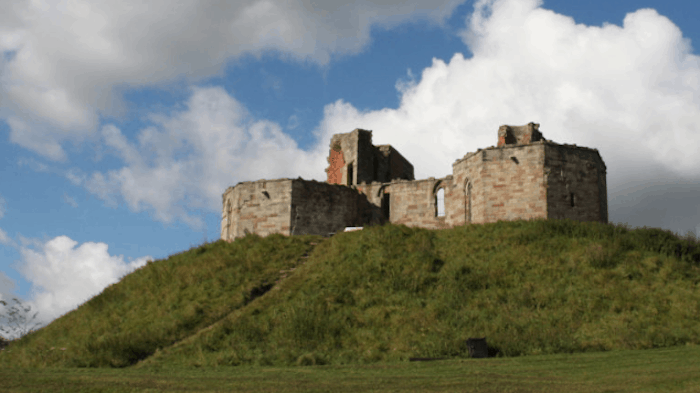 "We would like to thank our partners at Staffordshire County Council, Stafford Borough Council and Freedom Leisure in helping us make this happen and we look forward to another exciting event this June," added Sutherland.
County Councillor Mark Winnington, Cabinet Member for the Economic Growth at Staffordshire County Council said: "We're really excited that IRONMAN 70.3 is coming back to Staffordshire for 2019. Last year proved to be a real boost for the local economy, with hundreds of families and communities coming out to support the athletes and taking advantage of what Staffordshire has to offer."
Councillor Mike Smith, Deputy Leader, Stafford Borough Council said: "What a fantastic atmosphere this event created last year with the athletes completing the race in the heart of the county town cheered on by thousands of spectators. And this year Stafford Castle, the iconic landmark of our county town, will provide a spectacular backdrop for all the athletes."
"I expect the event this year to be very popular so get your entry in now if you haven't already but, if you are not competing, make sure the date is in your diary for what promises to be an exciting day in Stafford," added Smith.
IRONMAN 70.3 Staffordshire is the only race in the UK to offer qualification to the 2019 IRONMAN 70.3 World Championship in Nice, France and in addition is one of only four races in Europe and 20 globally, selected as a "Women For Tri" qualifying race, offering 25 additional World Championship qualification slots exclusively for female athletes.
IRONMAN 70.3 Staffordshire takes place 9 June 2019 and is one of the biggest middle-distance triathlons in the UK with over 2500 athletes expected to take on the 1.2-mile swim, the 56-mile bike and the 13.1-mile run.
Entries are close to being fully sold out with less than 50 places remaining for this year's race.
🚨 SELL OUT ALERT! 🚨 It's crunch time! If you're going to conquer the castle, #IM703Staffs is down to the last 20 places. Get in, get excited and get ready! https://t.co/93Fvqmy4ad pic.twitter.com/u6sPheDcb3

— IRONMAN 70.3 STAFFS (@IM703STAFFS) March 5, 2019