The Campus, Europe's newest premier multi-sport and wellness destination, situated at the five-star Quinta do Lago resort in the Algarve in Southern Portugal, has just announced the launch of its Tri-Triathlon (Event Website), taking place in October this year.
---
THE CAMPUS AT QUINTA DO LAGO, PORTUGAL, INVITES YOU TO THEIR TRI-TRIATHLON EVENT: THE TRAINING BASE FOR TEAM GB TRIATHLETES EARLIER THIS YEAR!
Having firmly established itself over the past 45 years as one of the most highly regarded luxury golf and residential developments in Europe, Quinta do Lago is set among 2,000 acres of the picturesque Ria Formosa Natural Park. The Campus Triathlon is the latest evolution at Quinta do Lago: A multi-sport academy hub, designed as a sport and well-being destination and elite performance venue.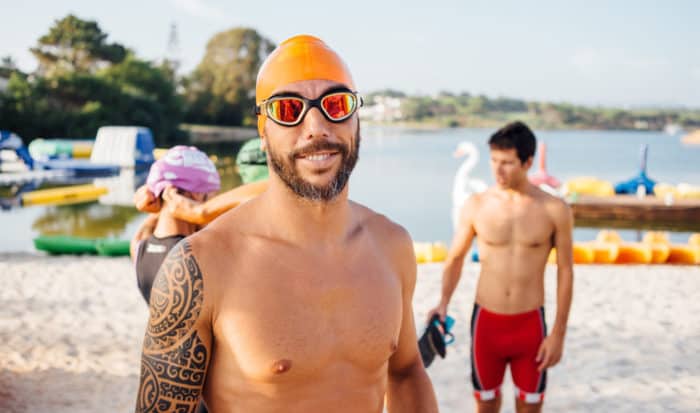 This year's race gives a fantastic opportunity for novice or recreational participants to have fun in the sun, whilst more serious competitors can really enjoy a fast, technical course, to test themselves on! The lake and the surrounding landscape at Quinta do Lago provides the perfect backdrop for younger competitors, who are competing in a triathlon event for the very first time.
The Campus Triathlon is being headed up by Triathlon expert, Steve Casson. Steve is an Independent Triathlon Performance Coach, with years of experience coaching the British Triathlon Performance Programme to develop elite athletes in the Olympic and Paralympic programmes, and is collaborating with The Campus to bring some exciting new triathlon events and training opportunities to life in Quinta do Lago.
Built in the summer of 2017, The Campus is the first phase of the state-of-art multi-sport academy hub. The new facility provides training and coaching to Quinta do Lago residents and guests alike. The facilities caters for both adults and juniors and at the performance end will facilitate professional athletes training for future Olympic Games through to amateur club, grassroots levels and families.
In what is a nod to its credentials as a world-class multisport venue, The Campus was chosen as a pre-season training base by the British Triathlon Elite Team in 2018.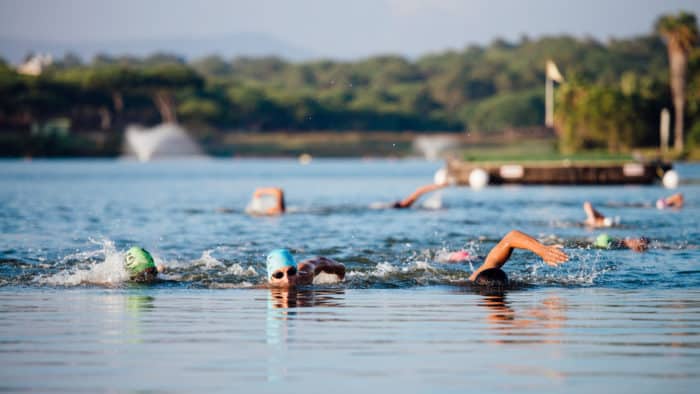 Located just 15 minutes from Faro airport, the resort offers residents and guests an unparalleled location, benefiting from a year-round temperate climate, a variety of lifestyle and sporting pursuits and a strong sense of community
The Campus Triathlon 2018 consists of a number of races, all designed for different ages and abilities. The Sprint Triathlon and Super Sprint Paratriathlon are designed for seasoned triathletes, or fit sportspeople, looking to test themselves in a new and stimulating environment. The flagship race consists of a 750 metre swim, followed by a 20km bike ride and finished by a 5 km run.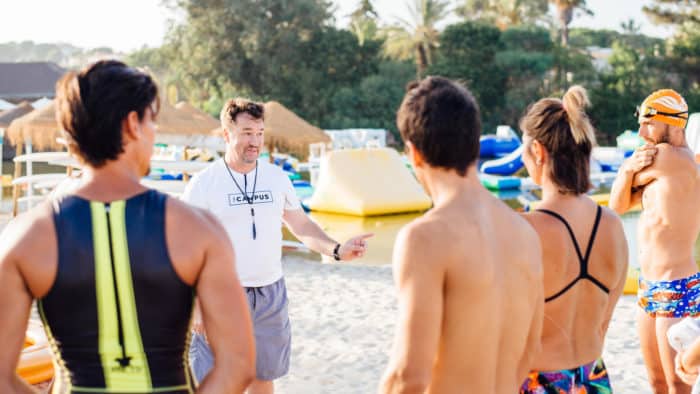 There's also the option to complete this race as a team, in a relay race. This particular race has a minimum age requirement of 16. At €55 each for entry, the race also represents great value for money and the perfect opportunity to test yourself.
Another shorter course has been designed, which is ideal for beginners, or for those looking to ease themselves back into triathlon. With a 300 metre swim, 10km bike ride and 2.5km run, the Super Sprint Triathlon and Super Sprint Paratriathlon races are sure to give you a speedy introduction to the sport of triathlon. At a reduced cost of €40 and open to people that are 14 and over, the picturesque surroundings of the Algarve will provide the perfect backdrop as you challenge yourself.
Whilst you test yourselves, there's also a chance for your children to try their hand at triathlon! The Campus has created two children courses. The first 'Aquathlon' is for 8-11 year olds, and has a 100 metre swim, followed by a 500 metre run. There is also a second Aquathlon course for 11-15 year olds, which includes a slightly longer 300 metre swim and 1500 metre run. At just €20 for entry, The Campus Triathlon is sure to provide fun for all of the family!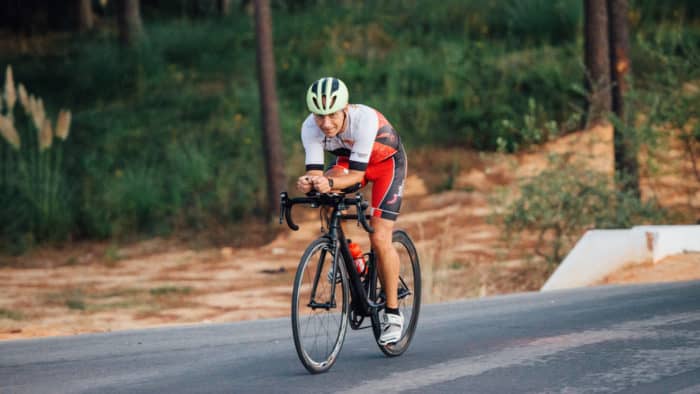 Steve Casson, World Class Triathlon Performance Coach, says:
"The Campus Triathlon is a fantastic opportunity for people of all ages and abilities to test themselves, in the picturesque surroundings of the Algarve. We've designed the course so that it appeals to all ages and abilities – and will prove a challenging, but rewarding experience for all involved. Triathlon is a fantastic sport – and one which you can enjoy with friends, family, or as an individual pursuit. We look forward to seeing you all on the start line at The Campus in October."
The Race
Race day will be packed with events including para and children's races making for an inclusive and fun series of events for competitors and supporters.
SPRINT TRIATHLON – 750m swim, 20km bike, 5km run
SPRINT TRIATHLON RELAYS – 750m swim, 20km bike, 5km run
SPRINT PARATRIATHLON – 750m swim, 20km bike, 5km run
SUPER SPRINT TRIATHLON – 300m swim, 10km bike, 2.5km run
SUPER SPRINT PARATRIATHLON – 300m swim, 10km bike, 2.5km run
CHILDREN'S AQUATHLON – 100m swim, 500m run
CHILDREN'S AQUATHLON – 300m swim, 1500m run
Route Maps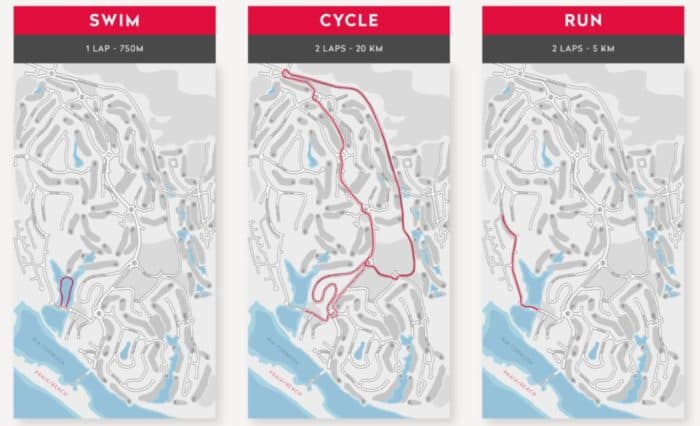 To register for The Campus Tri-Triathlon 2018, e-mail the-campus@quintadolago.com today! Or, click here to enter online.