ETU draft-legal, IRONMAN 70.3, National Championship and GB Age-Group qualification racing – the season is starting to pick up. Let's take a look at what's on this weekend.
Gran Canaria ETU Triathlon European Cup
Sunday's Sprint distance ETU Cup event in Gran Canaria will see several British athletes making their racing 2018 racing debut. The Elite women's race sees Jodie Stimpson, Georgia Taylor-Brown, India Lee and Sian Rainsley racing from a British perspective.
Taylor-Brown has shown excellent running form this year, including a fourth place at the English National Cross Country Championships. After missing out on the chance to defend her Commonwealth Games Gold medals in Australia, Jodie will be keen to get her season of to a positive start. She wears race #1 – and will have sights on finishing in that position too.
Running into my first race week of 2018 pic.twitter.com/caSGJt6LZv

— Jodie Stimpson (@jodiestimpson) March 12, 2018
Last years race (HERE) was an excellent won for the British women. Racing over the Standard distance 12 months ago, Jess Learmonth and Lucy Hall took the top two spots, with Sian Rainsley finishing seventh.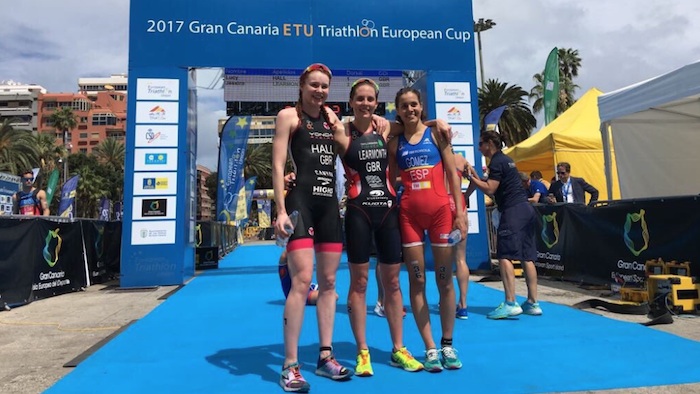 The British men are out in large numbers – Chris Perham, Calum Johnson, James Teagle, Jack Willis, Sam Dickinson, Fergus Roberts, Barclay Izzard, Alex Yee and Alex Chantler Mayne.
I'm particularly keen (and pleased to see) how Alex Yee goes. His crash last year at the Cagliari ITU World Cup was an absolutely horrible one – so seeing him back to racing, winning the BUCS Cross Country Championships this year was very positive. With 70 athletes listed on the Elite men's start list, there should be some close and aggressive racing.
IRONMAN 70.3 Campeche, Mexico
$25,000 and 750 KPR points on offer – and race #1 is allocated to Terenzo Bozzone. Can he make it three wins in consecutive weeks? The challenge will not be an easy one, with a solid start-list of athletes including Matt Hanson (USA), Trevor Wurtele (CAN), Cameron Wurf (AUS) and Kevin Collington (USA) set to challenge the multi-talented, world-travelling kiwi.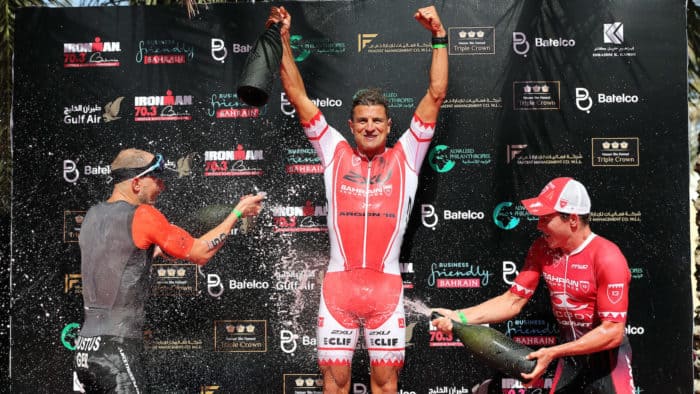 Canada's Heather Wurtele won by a huge ten minute margin 12 months ago (HERE). With Angela Naeth (CAN), Linsey Corbin (USA), Sarah Piampiano (USA) and Lauren Brandon (USA) also racing, winning by such a margin is likely to be a lot tougher this time around.
IRONMAN 70.3 Taiwan
Taitung, Thailand hosts this $15,000 / 500 KPR points event. For the men, Tim Van Berkel (AUS), Cody Beals (CAN), Andy Potts (USA) and Alessandro Degasperi (ITA) would appear to be the standout names on the start list for the men, while Laural Wassner (USA) is the top ranked female listed.
Domestic Racing
Sunday's Clumber Park Duathlon should be a big one. The first Triathlon England Championship of the 2018 season (Standard distance), the event is also a qualifier for both 2018 and 2019 ITU Duathlon World Championships (Standard distance), with the Sprint distance race also an ETU European Championship qualifier for 2019 too. Complicated!
Former two-time ETU Long Distance Champion and British Elite Duathlon Champion (and Nottingham local!), will be racing at this one:
I was looking forward to a hit-out at @OSBevents Clumber duathlon on Sat. Looks like it might be a #slidefest rather than a #smashfest. Come on spring. It's your turn now… pic.twitter.com/lpUrHQ6TmH

— lucy gossage (@lucygoss) March 15, 2018
*** UPDATE – CLUMBER PARK DUATHLON HAS BEEN POSTPONED ***
Clumber Park Duathlon Event is postponed due to extreme weather conditions, please wait for an email from us by 10.30am regarding new date/deferral.

— OSB Events (@OSBevents) March 16, 2018
More Age-Group Duathlon qualification on Saturday too at the Oulton Park Spring Duathlon, this time in the draft-legal format for the 2019 world's.
*** UPDATE – OULTON PARK DUATHLON ALSO POSTPONED ***
Due to the poor weather conditions forecasted for Sunday, including sub-zero temperatures, wind chill and snow, we have made the difficult decision to postpone the Oulton Park Spring Duathlon. The rescheduled date which will be Sunday April 29th. https://t.co/fFEHBbDwWc pic.twitter.com/28j8yKnUph

— XtraMileEvents (@GreatTriathlons) March 16, 2018
Plenty of other events outside of the qualification process too, including the Battlefield Duathlon (POSTPONED!), Sun City Duathlon (POSTPONED), Pembrokeshire Duathlon (POSTPONED), Mud & Mayhem Duathlon, Speedhub / Cycling Mallory Duathlon (CANCELLED) and the latest in the F3 Events Windsor & Eton Duathlon Series (POSTPONED) amongst them.
Aquathlons too – Burntwood (CANCELLED), Derby and Sidmouth, while the the Mad March Triathlon (POSTPONED!) will be hoping that the recent cold spell manages to bypass their Wimborne, Dorset venue.
---