"Women in Triathlon" at Giant Store St. Paul's
FREE Triathlon evening, Thursday 16th March from 5pm onwards
The final chapter of Giant Store St. Paul's Triathlon events series focuses specifically on women in triathlon and everything female related in the fastest growing cycling sport.
Come down and see great products, chat to the brand representatives, enjoy a few drinks and some food whilst listening to our guest speakers and eliviate any of your fears or sharpen your game with tips and advice during the Q&A session.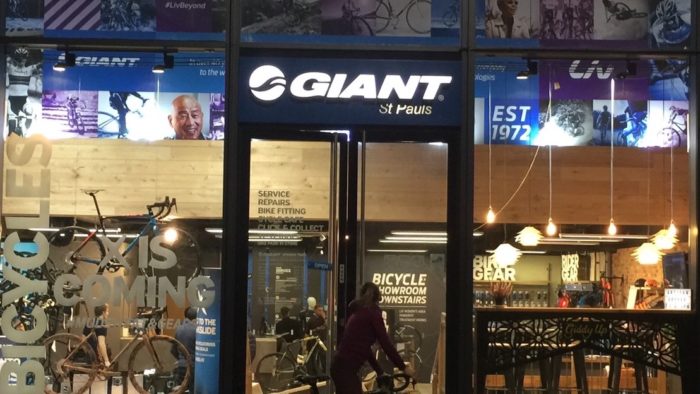 Some things to expect on the evening;
Talk to the athletes and brands – this is an opportunity for you to talk to the people that have achieved so much in the sport and grill them on any burning questions you might have. This top level one on one advice is priceless and a rare opportunity.
Wetsuit Fitting – We will have brand reps from blueseventy, Huub and Zone 3 available to help ladies into wetsuits and really talk through the features and benefits of each so you can understand what suit is right for you.
Transition Demos – We will be performing transitions from wetsuit to bike using our pro athletes so you can get a direct view on technique and the do's and dont's of what many feel to be the mostly stressful part of a Triathlon.
Panel Discussion (7-8pm) – We will be holding some good interactive conversations on all topics Women and Triathlon related amongst yourselves and our pro's so that individuals queries can be addressed in a great group format.
Trainer demo's – Mariette from On Running will be at hand to talk you through the revolutionary Swiss running shoes. Demo trainers will be available for ladies to try out in store and on the street. Get expert advice and find out what gains you could achieve.
The evening will be rich in female athletes and speakers with the following already confirmed:
Catherine Jameson Pro Long Distance Triathlete
Heather Sellars Pro ITU Triathlete
Jane Hansom Age Group Word Champion & Director of Sponge Marketing
Stef Hanson Triathlete and Chief of Witsup
Ruth Purbrook Age Group Long Distance Triathlete
Edwina Brocklesbury Age Group Long Distance Triathlete & Director of SilverFit
Jennifer Tait Reluctant Triathlete and last Finisher at Kona 2017
Gillian Sanders Pro ITU Athlete Once upon a time a lawye
Georgie Rutherford Pro Long Distance Triathlete
Helen Murray Age Group Long Distance Triathlete, co-host of Oxygen Addict Podcast & Assistant BBC Sports Producer
As always there will be live music, competitions, top level information and products and of course a friendly atmosphere!