The 2019 ITU World Triathlon Series begins on Friday in Abu Dhabi
Here's your one-stop guide to following the action…
For the fifth consecutive season the Daman World Triathlon Abu Dhabi (https://abudhabi.triathlon.org) provides the opening round of the World Triathlon Series. Both of the 2018 World Champions, Great Britain's Vicky Holland and Spain's Mario Mola, will be racing this coming Friday in Yas Marina.
You can follow it all live (or via replay and highlights programming) – here's what's going on, when, who's racing and how to watch it all unfold.
What?
There will be three Elite triathlon events taking place this weekend (Abu Dhabi is GMT+4, four hours ahead of UK time). NOTE – the racing takes place on Friday and Saturday:
Friday 8th March 2019: Elite Men (Sprint) – 14:06 start time (local) / 10:06 UK-time
Friday 8th March 2019: Elite Women (Sprint) – 16:06 start time (local) / 12:06 UK-time
Saturday 9th March 2019: World Mixed Relay Series – 12:06 start time (local) / 08:06 UK-time

Who is racing?
19 of the top 20 men, and 8 of the top 10 women from the 2018 ITU World Triathlon Series rankings are scheduled to race in what should be a very strong start to the 2019 season. Here are the full start lists:
British athletes racing?
MEN: Tom Bishop and Alex Yee
WOMEN: Vicky Holland, Georgia Taylor-Brown, Jessica Learmonth, Non Stanford and India Lee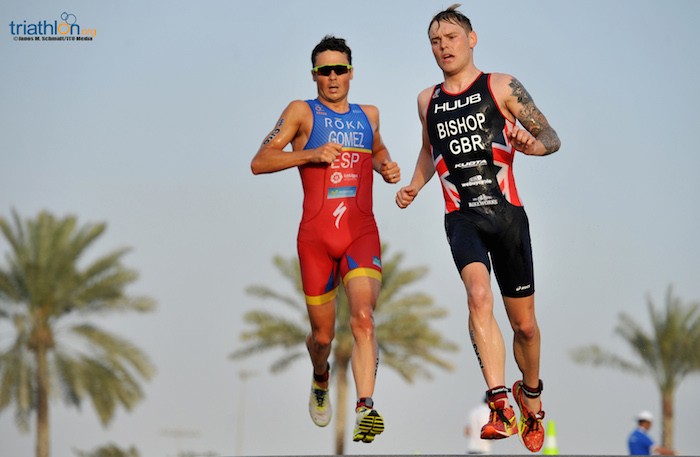 Courses?
All events are based at Yas Marina, the home of the Yas Marina Circuit, home of the Abu Dhabi Formula 1™ Grand Prix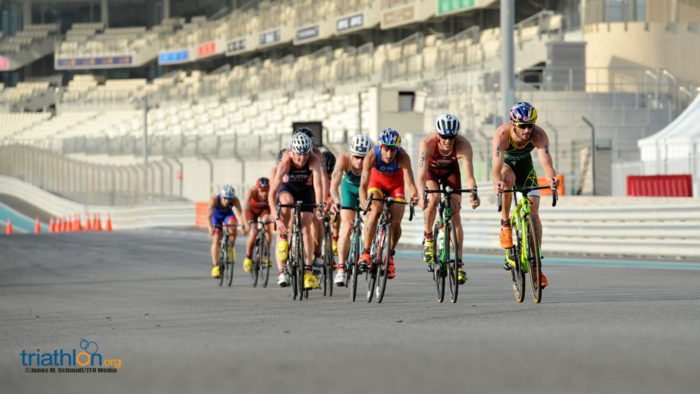 Sprint Distance: 750m swim (1 lap), 20km bike (5 laps) 5km run (2 laps)
Mixed Relay: 300m swim (1 lap), 7.6km (2 laps), 1.5km run (2 laps)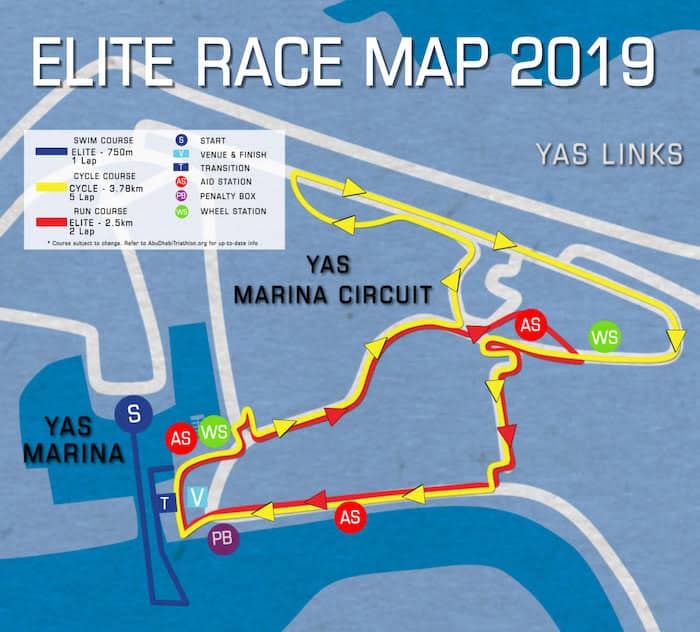 *** HOW TO WATCH ***
There are a number of options for for UK viewers, for both live and repeated / highlights programming:
BBC Red Button and online coverage – LIVE
You will be able to follow the events live (and free), using the BBC Red Button service, at the following scheduled UK times:
Men's race live: 09:50 to 11:15 (replayed 21:30  to 22:55) – Friday 8th March 2019
Women's race live: 11:50 to 13:20 (replayed 22:55  to 0:25) – Friday 8th March 2019
Mixed Relay live: 07:50 to 09:45 (replayed 21:00 to 22:55) – Saturday 9th March 2019
TriathlonLive coverage – LIVE
All of the events will be covered live by the ITU subscription streaming service, TriathlonLive (www.TriathlonLive.tv). The service is "all-new" for 2019, full details of which were revealed by the ITU in this news piece. With an annual subscription costing around £25, and including more than 40 live events plus a host of addition programming (and access to an extensive archive), thats likely to be good value for money for any triathlon fan.
[UPDATE] The TriathlonLIVE coverage will start (with the pre-event shows), from the following UK times:
Men's race live: 09:20 – Friday 8th March 2019
Women's race live: 11:20  – Friday 8th March 2019
Mixed Relay live: 07:20 – Saturday 9th March 2019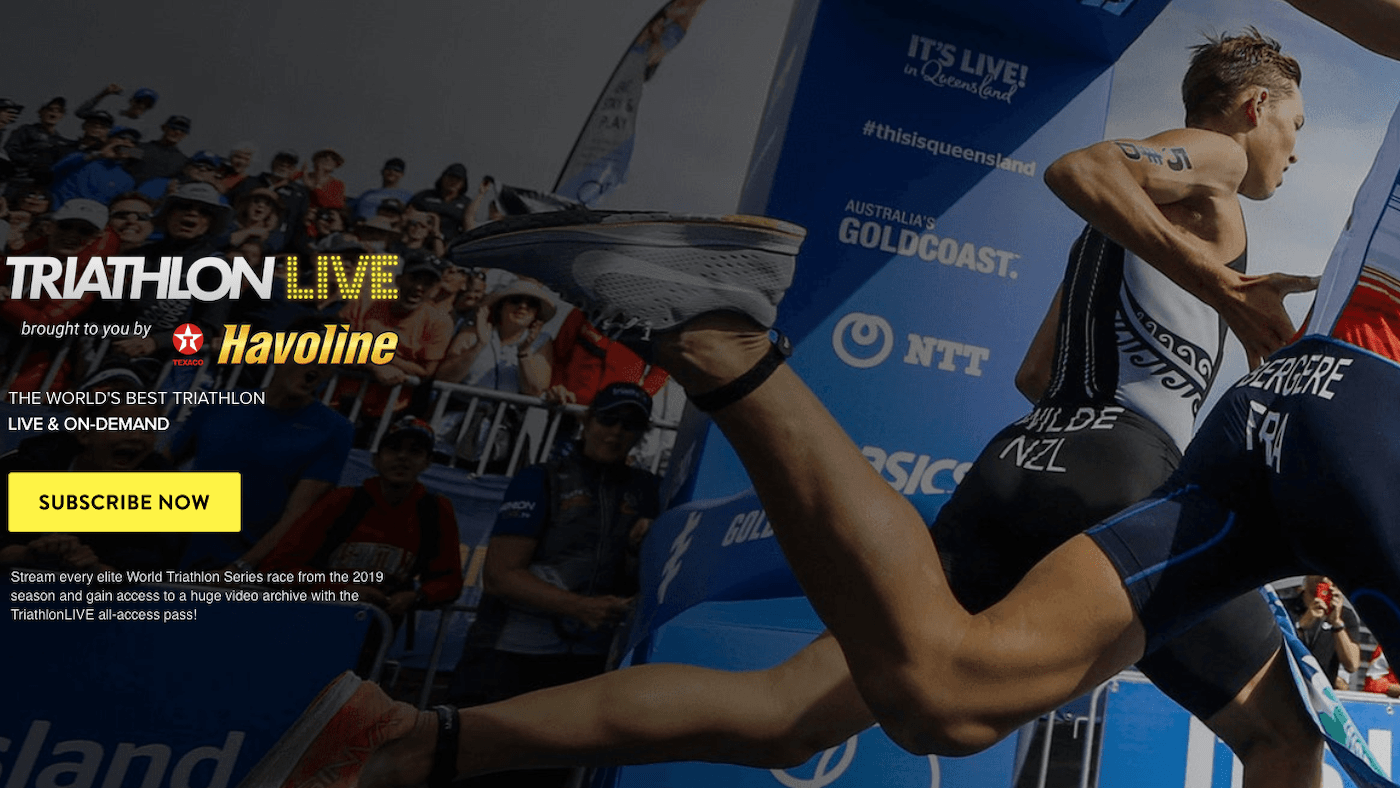 BBC Two Highlights coverage
You can also join in the conversation and get insights – often not available to the broadcasters in real time – via Twitter, so it is well worth following these pages to support your viewing:
Event links: