Dates and details for World Triathlon Leeds and Nottingham in 2019
Pre-register now for priority Age-Group entry and early-bird pricing
If you are planning you diaries for 2019, then how about considering one or both of the two World Triathlon Series events taking place in Great Britain next year?
The dates for the fourth edition of AJ Bell ITU World Triathlon Leeds were already announced, with further confirmation here of the date for the Accenture World Triathlon Mixed Relay Nottingham. After being held on the Thursday prior to Leeds this season, that event will now follow the Leeds races on the following Saturday, 15th June 2019.
As well as seeing the top Elite athletes from the ITU circuit, both events offer a range of Age-Group racing opportunities. While not formally confirmed yet, we would expect that Leeds will once again host the British Standard Distance Age-Group Championship. (The championship events / qualifiers are typically announced during September).
From being at both events this year (and indeed, every year they have been held), both really are worth your consideration. The move of the Nottingham race to a weekend really should open up the totally closed roads, city centre riverside course in Nottingham to more athletes.
More details on pre-registration and pricing below, but if you get in early (entries will open from 19th September for pre-registered athletes), then you can save yourself some money.
AJ Bell World Triathlon Leeds: 8-9 June 2019
Accenture World Triathlon Mixed Relay Nottingham: 15 June 2019
---
Britain prepares to host double dose of ITU World Triathlon Series action in 2019
The AJ Bell World Triathlon Leeds and Accenture World Triathlon Mixed Relay Nottingham return to the sporting calendar for 2019, with mass participation entries to each event opening in a month's time on Wednesday 19 September.
Opportunities for everyone from complete triathlon beginners to experienced age-group competitors will be on offer; spanning GO TRI, relay, sprint and standard distance and allowing members of the public to follow in the footsteps of the elite stars of the sport.
Home to Britain's Olympic heroes, Alistair and Jonathan Brownlee, Leeds will be brought to life on the weekend of 8-9 June 2019. The city has become Britain's beating heart of the sport in recent years, having hosted the ITU World Triathlon Series on three occasions and currently being the base for some of the country's finest triathlon talent.
Fast forward seven days and the action continues in the Midlands on Saturday 15 June, when Nottingham's Victoria Embankment will welcome the world's top triathlon nations for a mixed relay showdown. The sport's newest Olympic discipline has earnt its respect from both competitors and fans for its thrilling, fast-paced format; most recently attracting a 2.7 million BBC audience to the Glasgow 2018 European Championships.
Both events in Leeds and Nottingham take place within the Olympic selection window, offering nations the opportunity to pick up valuable points in the elite races to qualify both individual and team slots for the Tokyo 2020 Olympic Games.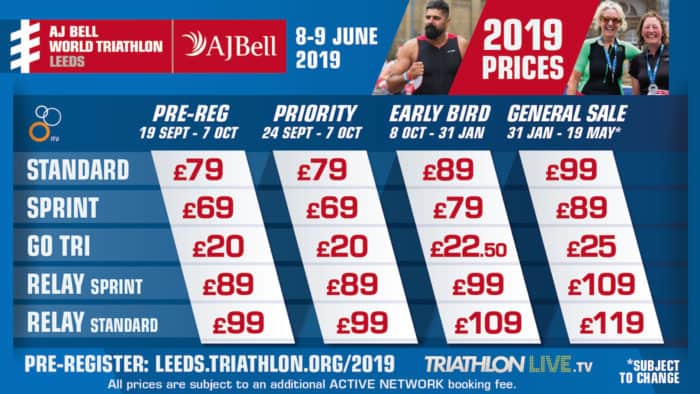 Entries to each event open 10am Wednesday 19 September, with prices starting at £20. Those wanting to be the first to book their place will need to pre-register for the event of their choice at https://leeds.triathlon.org/2019/ or https://nottingham.triathlon.org/2019. British Triathlon Home Nation members and past participants will be invited to sign up for 2019 from Monday 24 September, with remaining entries on general sale from Monday 8 October.
The locations offer two exciting and different race-day experiences, both with the iconic blue carpet finish where participants can cross the line to roaring crowds. The AJ Bell World Triathlon Leeds will see competitors begin their triathlon challenge with a swim in Roundhay park's Waterloo Lake, North-East of the city centre. Once on bike they will race along closed roads; returning to the Roundhay Park transition hub before running to the city's Millennium Square to a hero's welcome. The compact course at the Accenture World Triathlon Mixed Relay Nottingham means there's no shortage of atmosphere.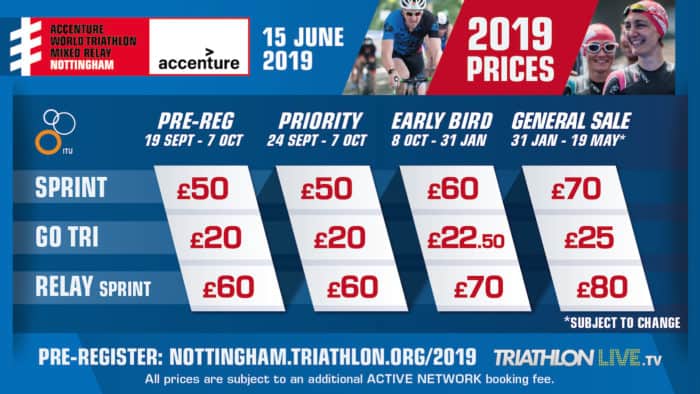 Participants start and finish their campaigns in front of the city's War Memorial monument; swimming in the River Trent before completing their triathlon experience along Victoria Embankment. They will cross both Trent Bridge and the Suspension Bridge, allowing spectators the rare opportunity to capture virtually every stage of the race from a single viewing point.
Entry windows have been announced today, offering a discounted rate to those booking their spot on the start line early. For full details of race options and prices for the AJ Bell World Triathlon Leeds, visit https://leeds.triathlon.org/ and for the Accenture World Triathlon Mixed Relay Nottingham, visit https://nottingham.triathlon.org/
The AJ Bell World Triathlon Leeds is organised by British Triathlon in partnership with AJ Bell, Triathlon England, Leeds City Council, UK Sport, the ITU.
The Accenture World Triathlon Mixed Relay Nottingham is being organised by British Triathlon, in partnership with Accenture, Triathlon England, Nottingham City Council, UK Sport, OSB and the ITU.
SUPPORTING QUOTES
Andy Salmon, British Triathlon CEO, said: "Following outstanding events earlier this year, I'm thrilled that we can begin planning for the ITU World Triathlon Series to return to two fantastic locations in Great Britain in 2019, both having become iconic cities for the sport. Off the back of a fantastic Glasgow 2018 European Championships, I hope the public will be inspired to get involved in either the AJ Bell World Triathlon Leeds and/or the Accenture World Triathlon Mixed Relay Nottingham, no matter what stage they're at on their triathlon journey."
Billy Mackay, Marketing Director at AJ Bell, said: "In recent years, Leeds has truly established itself as the central hub for triathlon in Great Britain and AJ Bell are proud to play a leading role in continuing this movement. We're thoroughly looking forward to building on the success of the AJ Bell World Triathlon Leeds in 2018 and creating even greater experiences next year for both participants and spectators."
Julian Skan, Senior Managing Director at Accenture, said: "Just three months on from what was a fantastic display of mixed relay triathlon in Nottingham, we're thrilled to be able to announce the Accenture World Triathlon Mixed Relay Nottingham for 2019. Mixed relay has become front and centre of the sport over the last 18 months, following the announcement of its inclusion in the 2020 Olympic programme and we are very proud to be part of such an exciting time for triathlon."
Leader of Leeds City Council, Cllr Judith Blake said:
"We are extremely proud that the AJ Bell World Triathlon Leeds has established itself as an event that is not only an unbelievable experience for those participating, but for the many thousands spectating over the weekend.
"Already we are building up to next year's event in Leeds, and it is exciting that anyone wishing to take part can now book their place at a special discounted rate if they book early. We've been amazed how the AJ Bell World Triathlon Leeds has inspired so many people of different standards and experience to take part and are looking forward to seeing even more people taking up the challenge and participating in Leeds next year."
Cllr Dave Trimble, Nottingham City Council Portfolio Holder for Leisure and Localities, said: "We are very excited the ITU has, once again, chosen Nottingham to host this prestigious race and look forward to having the privilege of showcasing the Olympic discipline of mixed relay triathlon in the city. We are pleased to have the opportunity to welcome teams from across the world to Nottingham, to show off the city and all it has to offer as well as building on the success and excitement from races in the past two years.
"We will look forward to welcoming thousands of people to come and both watch and take part in the action and we will make the event truly memorable for all those visiting and competing."
Kris Gemmell, ITU General Manager, said: "We are very excited to be returning to Nottingham and Leeds in 2019, both cities always ready to welcome triathletes from all the world.
"The city of Nottingham will host the second edition of the World Triathlon Mixed Relay Series in 2019, which will be an extremely important stop for all National teams in qualifying for the Olympics in Tokyo 2020. After the success of this year and the amazing support all international teams felt from the city, I am completely sure that the event will provide thrilling competition for both participants and spectators alike. And returning to Leeds again in 2019 proves that the Brownlee's city is always eager to organise world-class events for triathletes".