Non Stanford has been announced as the latest ambassador for Pedalcover Insurance.
Stanford, who claimed first place in the ITU World Cup in Chengdu in May, joins the Pedalcover team as it adds to its impressive profile of UK athletes.
The Bridgend-born athlete, who is a member of the British Triathlon squad based in Leeds, is the latest GB athlete to support the insurance brand, following the previous addition of teammate and world triathlon champion Vicky Holland.
She joins a pool of talented athletes including Tom Bishop, Lucy Charles, Morgan Davies, Catherine Jameson, and Olly Simon, all existing Pedalcover ambassadors.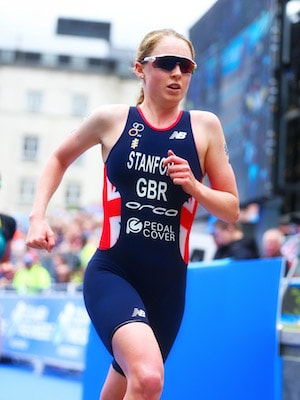 Backed by one of the UK's largest insurance providers, Pedalcover is the UK's first home insurance provider for cyclists.
Replacing the need to take out separate bike insurance, or specify multiple bikes on a home insurance policy, Pedalcover is unique in that it combines all bikes and accessories under a single policy providing cover during training, leisure and competition time, at home and abroad.
Founder Darren Thomas, a former international pro-am cyclist, said "Adding Non to our growing pool of ambassadors is really exciting for us. We are very proud of our Welsh roots and it's great to have another Welsh athlete on our books. We're confident that she'll be a great ambassador for our brand as we continue to go from strength to strength."
On joining team Pedalcover, Non said: "I've always heard positive things about Pedalcover and their unique brand, so when I was invited to become an ambassador I was absolutely thrilled.
"Pedalcover is so unique because it provides cover for multiple bikes, on top of everything else, which is definitely invaluable for all levels of cyclist or triathlete.
"Taking away the need to buy separate insurance for your bikes is certainly a relief and means that it couldn't be easier to get cover – one policy, one price, one renewal."
Pedalcover is the UK's first home insurance provider dedicated to cyclists and triathletes. Keen to give something back to sport and the people who compete, Pedalcover supports governing bodies such as Welsh Triathlon, GB athletes including Olympic Bronze medallist Vicky Holland, as well as event operators including Alway Aim High events.
Due to its success and the originality of its offering, Pedalcover and its founder Darren have picked up and been shortlisted for a number of awards including Product Innovation at the prestigious British Insurance Awards, Wales Entrepreneur of the Year, GB Entrepreneur of the Year and the Wales Business Awards. It was also included in Startups 100 2016 – the definitive index of the UK's 100 fast growth-potential new businesses.