Polar, the leader in wearable sports and fitness technology, has announced their partnership with the two-time IRONMAN World Championship runner-up triathlete Lucy Charles-Barclay.
Lucy kickstarted her 2019 season directly on the podium: she achieved her second win at IRONMAN African Championship. Her partnership with Polar, however, began already in the off-season, which is where the groundwork for races is laid. It was during this time that she tested Polar products and found her favourites: She uses Polar Vantage V and Polar H10.
What she needed was accurate sports technology that would support her efforts all the way, from all points of view: not only in all aspects of training but also, equally importantly, in all aspects of recovery. She needed reliable data that was meaningfully interpreted and that equipped her with facts, to be able to plan her training on a daily, weekly and monthly basis.
Lucy said: "The Polar Vantage V and the Polar Flow app make it easier than ever before to train for my races and the goals I've got throughout the season. It's super simple to track everything from how well I'm training to how well I'm recovering. The Polar technology makes our training and recovery more effective. If I need more rest, we can factor that in. I really, really like the Polar Vantage V watch. It allowed me to do my first-ever sub-3-hour marathon in the IRONMAN African Championship."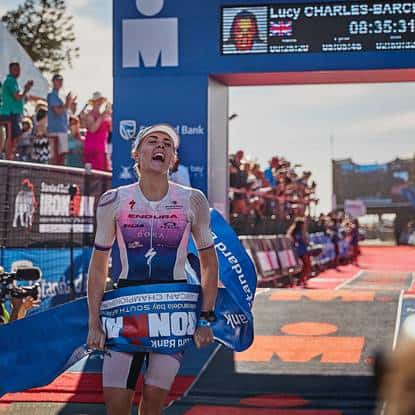 The Chief Strategy Officer of Polar Marco Suvilaakso added: "We are super excited to work with Lucy Charles-Barclay. The talent she has demonstrated in triathlon is amazing, and we are pleased to be able to work with Lucy in a this kind of a performance partnership. These types of collaborations help Polar to continue evolving our devices and solutions to ensure that we continue to also be the choice of the elites like Lucy. We want to wish Lucy the best of success for the 2019 season."
You can follow Lucy on Instagram @lucycharles93 and Polar on @polaruk_ire.
To learn more about Polar products, visit www.polar.com.