Tour de Zwift 2020: January 12 – February 16
Returning to the platform from Sunday, the Tour de Zwift (https://zwift.com/uk/tdzride) is back to the market leading indoor training software for the next five weeks.
Launched 12 months ago, the Tour de Zwift was an instant hit and perhaps the most popular initiative on the the platform in 2019, reflected in these post-event statistics, with over 119,000 riders taking part and almost 25,000 of those completing the full 2029 tour of nine stages. I didn't (quite) join the later group, but I did personally ride most of the stages during the month long event and can genuinely say it provided a great training focus during that period. I fully expected the 2020 participation numbers to be even higher, and I'll be doing plenty of the events myself.
New for 2020, the Tour de Zwift also features both Zwift Running, a new 'race' category and even a pro-am event with full production broadcast. Here is the full news release from Zwift on the 2020 event.
---
Zwift Launches Biggest Ever Multi-Stage Event With 2020 Tour de Zwift
TOUR DE ZWIFT RETURNS FOR 2020 WITH PRO-AM RACING
Zwift, the fitness platform born from gaming, has today announced the schedule for the 2020 Tour de Zwift. The popular stage event returns for a second year with the addition of pro-am racing and new group running events.
The Tour de Zwift is an inclusive stage event that allows Zwifters of all abilities to experience seven of Zwift's worlds and the variety of roads on offer. Different courses will be available to ride or run for each stage depending on which event category is selected. Stages will be divided up into the following categories: Cat A (Long Group Ride), Cat B (Short Group Ride), Women's Group Ride, Race and Group Run. Complete all stages, to unlock the exclusive 2020 Tour de Zwift kit.

Group Ride stages are great social rides and can be ridden at your own pace. Every finisher will be awarded a finish time and position and will receive a credit towards the exclusive Tour de Zwift in-game kit. A guide detailing what to expect can be found HERE.
Tour de Zwift Race Category
For those really looking to race, the 2020 Tour de Zwift will also feature a race category. Like all Zwift racers, Zwifters will be able to select their race category (A-D) depending on ability. Races will be short format, high-intensity events. Races will also count towards the kit unlock.
On the eve of each stage, a Pro-Am field of cyclists will take to the start line in a series of special exhibition races. A mix of professional cycling teams including CANYON//SRAM, TWENTY-20, Vitus, Canyon p/b Soreen, Ribble, SEG Racing, NTT U23 and Hagens Berman Axeon, will line up alongside a mix of the best community racers from the platform. Both Men's and Women's races will be held with a full broadcast production hosted by Esports presenter and Zwifter, OJ Borg. Borg will be joined by co-presenter and former professional rider, Hannah Walker for the first women's race taking place at 7pm GMT Saturday 11th Jan.
"We are really stepping up the Tour de Zwift this year. It's a great reflection of the efforts we've made in both esports and running, and I can't wait to get started." Says Eric Min, Zwift CEO and Co-Founder. "For those returning on the bike from last year, we have two new Worlds and a number of new Watopia routes to try. I will have my work cut out this year with both run and bike stages, but I'm glad that runners will be able to experience this fantastic annual event. However, with the new esport pro-am races taking place ahead of each stage, I'll also get a chance to sit back and watch others battle it out on the live streamed broadcasts."
Tour de Zwift Running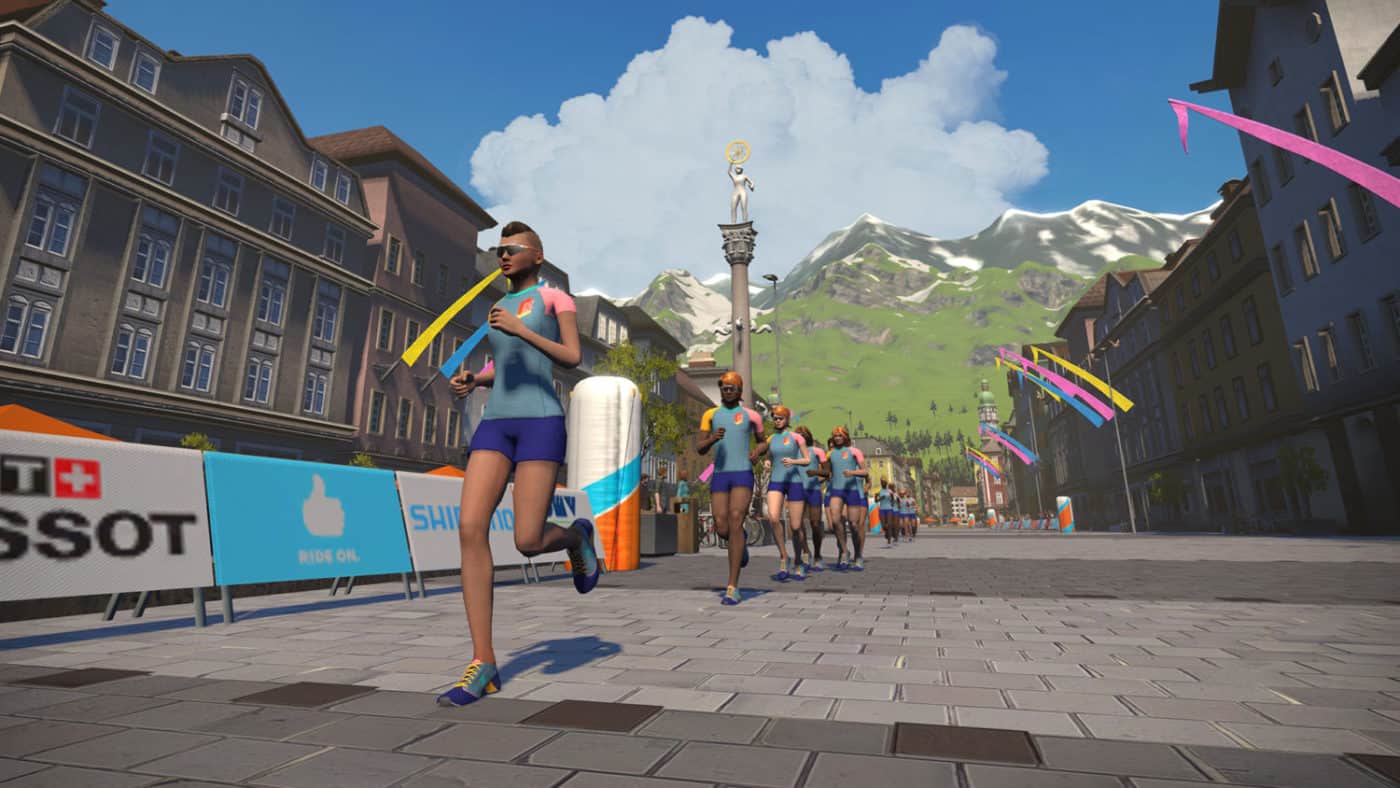 For the first time this year, runners will also experience a taste of the Tour de Zwift. Run stages will take place in each world and will showcase the most iconic routes. Runners will need to complete a group run in each world to finish the tour. Group runs will be structured so runners can run at their own pace or go for the gold. The majority however, will be able to take advantage of settling into their pace and experience the motivational benefits of group running on Zwift. Just like the cyclists, runners who complete all seven stages will unlock a unique Tour de Zwift run kit.
More information, including details of how to take part in each stage, and where to watch the action, can be found at https://www.zwift.com/eu/tdzride for riders and https://www.zwift.com/eu/tdzrun for runners.