With Challenge Family's The Championship taking place this weekend, TRI247 talked with the company's Chief Executive Officer Jort Vlam. In the first piece of a two-part interview we learned about his route into triathlon and now we discuss Jort's involvement with Challenge, dealing with the COVID-19 pandemic, and what the future holds.
After spending a number of years in charge of the race direction at the Holland Triathlon, later known as Challenge Almere-Amsterdam, Jort Vlam saw his prominence in the Challenge Family expand – all led by the curious nature of himself and his partners Richard Belderok and Jefry Visser.
"We were really interested in how other races performed and what they do, so we visited a lot of races. In Challenge Family we have a system of regular knowledge exchange meetings, race director meetings – where we share best practices and discuss how we can improve and the points where we stand out against the competition – and we always loved it.
"In the years that Challenge grew at a fast pace, we saw some races that didn't perform very well, even though the organisers had a good track record.
"Organising a middle or long distance event is different to organising a sprint or Olympic distance – it's a way different flow, different in permissions for road closures, it takes much longer so really it's a different thing to do, and there were some races that were not performing very well.
Quality over quantity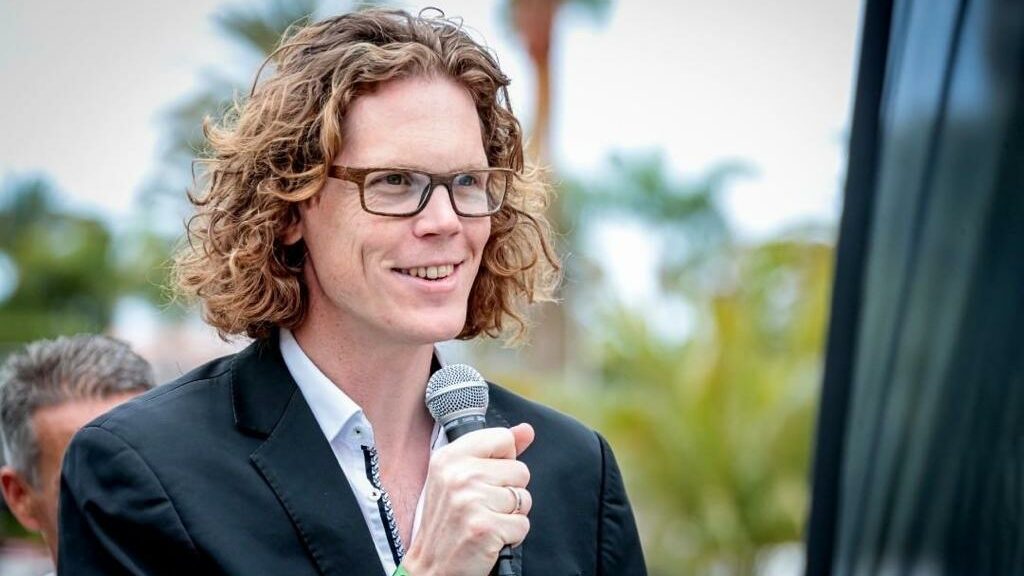 "We noticed that if people were complaining about a particular Challenge race, that was harming the reputation of all races.
"You'd see on the internet, or hear people saying, 'I am never going to race Challenge again' and that was hurting us as well – we can work our asses off in Almere, but if someone else messed up that has an impact.
"So we began talking with our colleagues within Challenge Family and told them we need to take more care of the quality control – that was our first job within the Challenge Family.
"We also advised new races, a new race in Belgium, a new race in Aruba, so we went there to help the local teams with our experience, so we got more and more involved, and that grew organically.
"Zibi Szlufcik – the now President – was for a long time the CEO – regular contact with him became daily contact – so our role grew organically.
"By the end of 2019 and he said maybe it was time for you guys to takeover."
COVID causes chaos
With a new board in charge of the Challenge Family – including Jort as CEO, Jefry Visser as Chief Operating Officer and Richard Belderok as Chief Technical Officer – the organisation was ready to hit the ground running in 2020 – then COVID-19 hit.
"A new era began for us personally, then two months later it was COVID and the world stood still – from 34 races we had to cancel 30," explained Jort.
A press release, date January 1, 2020, described a new foray for Challenge in the heartland of China – an untapped market for the sport. The inaugural CHALLENGEWUHAN was set for May 24.
Nine days later, the first death from a new coronavirus that originated in Wuhan was announced by the Chinese government.
"It was the first race we actually had to cancel – Wuhan, where the virus started," said Jort.
"It was a challenge, first we were like 'nobody knows how long this will last' – it took much longer than everyone expected.
"At first it was like, here is the situation, here is how we have to manage it, we have to postpone a few races, but at the beginning we thought it would just be for a few months.
"I think it was Challenge Salou that was the first European race of the season – it was cancelled two weeks before, and we thought we might have been too early to cancel.
"We didn't want to have the risk to get infected there – at the time we knew very little about the effects of the virus and on race day there was a big wave in Spain, and obviously in the rest of Europe, so it was the right decision.
Schedule shutdown
One by one, Challenge was forced to postpone races throughout the year. As the year rolled on, Challenge Almere-Amsterdam was on the horizon – the organisation's long distance World Championship and Vlam's brainchild.
"The Almere race was in September, we thought we would be safe, everyone thought in the summer everything would be done, but it took two years of pandemic.
"We learned that you have no guarantees further than two weeks, just like a weather forecast, we had to live with daily scenarios.
"We thought we can not control that, but we can control how we act with our athletes, and with our partners. We had to the same as always and take care of our stakeholders.
"Athlete safety is the first priority – in the race, but also if you make the decision whether to race or not."
Feeling the pinch
All stakeholders suffered through the pandemic; athletes who made a living through racing were stuck at home unable to secure vital income, race venues lost out on huge numbers of spectators, sponsors suffered with a lack of exposure.
Meanwhile, Challenge had to deal with racing coming to a standstill – but rather than twiddling their thumbs, Vlam and co made the best of a bad situation.
"We had to help our stakeholders," explained Vlam.
"For athletes it was also a very insecure time, will there be a race or not, so providing them with information, providing them options if the race is not going to happen – transferring to another race, to a later year, giving refunds where possible.
"We thought, what would we expect if we were the athletes, and also sponsor partners, we have some great partners and they expect exposure and visibility, if they don't have races then 90% of the tools disappear, so we were also thinking, together with the sponsors, can we give you exposure and how can we still interact with our athletes as everyone was sitting at home doing nothing or on the cross trainer, so we did a lot of things.
"We did home workouts made by professionals, even if you can't swim how can you maintain your body exercise if the swimming pools are closed. We did a pub quiz about triathlon online, we did podcasts, 'Coffee with Belinda', we had virtual training sessions with a lot of different things to keep that relationship with the athletes and also with sponsors.
"We were always thinking, we know that there are things not possible, what can we do instead.
"We were also finding ways we could also hold events – perhaps not international events – people could not fly from all over the world – but maybe with a limited capacity of participants, or limited capacity for spectators or none at all.
"What can we do, I think that was key, looking for the solutions that were possible.
Locally rooted
"The home markets became more easy to access, people are not going to each and every country so we saw that the races that could go on could rely more on the home market and that was a good thing that even as a global brand, we are locally rooted.
"A lot of our races are anchored by the local triathlon communities and that was a benefit in the pandemic as we could maybe reach easier the home markets like Challenge Taiwan, it was postponed from April to November in the first year, but we had 6,000 people on the start line – all domestic and a few ex-pats living there – and also other races within Europe, athletes came from a smaller circle, but they could race.
"That was good, but we are also happy the world is now opening again."
Challenge had a head start on the rest of the world when it came to working during a pandemic. With offices across the globe, and races on six of seven continents, digital communication was key to the operation.
"We can do a lot from a distance, and especially in the COVID period everyone learned to modify their working, but we already had done that – our organisation is spread all over the world, even our core team – some are based in Almere, others based in New Zealand, Australia, Prague, Barcelona, so we were maybe a bit used to distance working.
"But you can't do everything from abroad – you can do marketing etc from abroad, but the fundamental work is done in the local community.
"You always need a race director that lives near the venue, knows the people around, the tri team that live here, the tri clubs but also the people in the city council, the permits, the partners – it's a people business, you need to rely on humans – we always think it is important to have local organisation that is integrated in the local community.
The Championship and the future
With The Championship taking place this weekend – with the likes of Gustav Iden, Kyle Smith, Josh Amberger, Lucy Buckingham, Emma Pallant-Browne and Sara Perez Sala on the start line – Challenge have recently announced the doubling of the prize pot for their landmark showpiece.
"We think we have to invest in our athletes," expressed Vlam.
"That's both our age groupers and our professional athletes, they're the face of the sport, and the inspiration comes from the pro athletes, so it is important to support them.
"Although it has been a tough time over the past two years, we want to show that it is part of our core values to support everyone.
"Over the last two years all athletes will have be focused on their expenses, cutting the costs, but it's also about making investment in the future and that's why we found it important to help the pros as this is their living, for two years they had limited ability to make a living from the sport, with so few events.
"We wanted to give them something to race for, and also for the age groupers to get the inspiration – they are on the start line with people they get inspiration from with their idols.
"Then you have to be creative, and together with our partner the x-bionic Sphere, we need to do this one way or another to make this investment."
With the world now opening up, tentatively, the plans to expand the Challenge Family can now come to fruition.
"We think there are certain areas where we can have more races as we are a global brand and we want to be all over the world, but the existing races are ever so important – you need to have the quality standard high, because you'd be losing at one end what you are gaining with new races.
"Expansion was not possible in COVID, but we have had a lot of approaches by event organisers, cities and resorts – asking can we talk about possibilities after the pandemic, and that time is now."