With Challenge Family's The Championship this weekend, TRI247 talked with the company's Chief Executive Officer Jort Vlam. In the first article of a two-part interview, we learned about Jort's route into triathlon and his work on the Holland Triathlon/Challenge Almere-Amsterdam in his home City.
Jort Vlam, the passionate CEO of the Challenge Family, was just five years old when his family moved to the Dutch City of Almere, located 20km to the east of Amsterdam across the Gooimeer (Gooi Lake).
The move came just two weeks prior to the Holland Triathlon – the beating heart of Dutch triathlon – and a new experience for the family who decided to take in the action.
"We didn't know what it was," admitted Jort.
"We went to have a look and I was immediately hooked by triathlon."
While his brothers and father exited the stadium after the first few finished, Jort wanted to stay until everyone had finished.
"I didn't want to leave the stadium before the last finisher was in, so my father took my brothers back home, and my mother stayed with me.
"I found it inspiring from the beginning and as soon as I was able to take part in the youth triathlon club I joined.
"I did kids triathlon, and then I always had the dream to do a long distance race, that was the inspiration, together with my neighbour friends we started volunteering for the Almere race when we were 11, 12 years old."
"So yeah, I have grown up with the sport in Almere."
Chasing the dream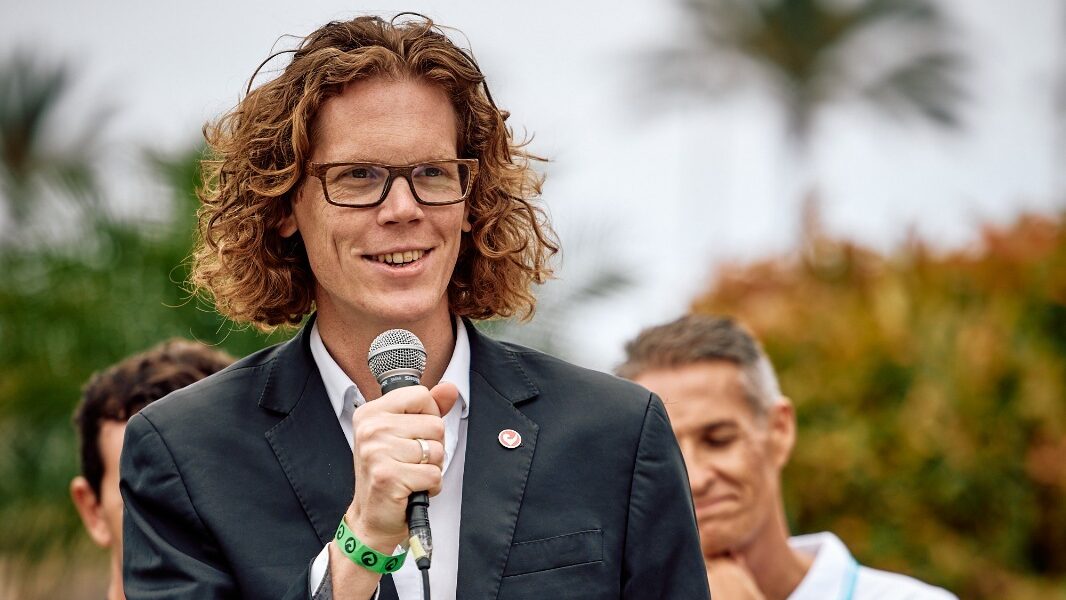 After competing in numerous triathlons throughout his childhood, Jort appeared to turn his attention elsewhere, attending Amsterdam University where he studied Theatre Science.
Working an office job in a local theatre, that dream of completing a full distance triathlon appeared to be very much in the rearview mirror as the sport he loved took a backseat to making a living – for now.
"I went to the theatre almost every night and had no time to train.
"I was working with the manager of a theatre group, I found myself in the office, it was hurting my back.
"I thought 'what went wrong with my previous dream to do a full distance triathlon?'
"So I saw some of my friends from my old triathlon club – they were doing the Almere Triathlon every year when I was going to the race helping out at the aid stations and what not.
"Every year I thought I should go back to training, but it took some years to do that, so in the end, I think in 2009, I started training again on the bike, started doing some races and in 2012, I did my first long distance race in Almere, just before I turned 30."
Hobby turned profession
Despite completing his childhood dream of finishing a long distance triathlon, Jort contemplated the bigger picture as the race in Almere saw a dramatic decline in terms of attendance, sponsorship and value to the local community.
"There was a year the race was not good," said Jort, "there was no main sponsor anymore, there were only 250 athletes.
"The City and the Province were not happy with the event like they were before, they didn't see the added value.
"There was some trouble in the internal organisation, the former race director was terminally ill, everything that could go wrong, did go wrong.
"In addition there had been three years of bad weather – the spectators were 'ugh, it's always raining'."
So Jort teamed up with Jefry Visser and Richard Belderok – who had also grown up admiring the race – the trio often situated on the Almere dykes watching their heroes pass during their youth.
"Together with Jefry and Richard, who I was in contact with again after I had started training, we came up with a plan.
"It was possibly going to be the last edition of the Almere race – and we felt we could not let that happen. All three of us grew up with the race, we had a strong passion for the race.
It was part of us, part of the city – our city would be a lesser place without the triathlon, so we tried to figure out what was wrong, how can we improve it.
"We all had the memories of the live stream on national television, the packed stadiums, and we know that times have changed, but we thought we could bring it back on the national triathlon map.
"We sat together, made a plan, and we got in contact with the Challenge Family and they were very interested – they knew the history of Almere, so they said let's do this together and that's how it started.
"We visited a lot of races, we got some inspiration to see what others were doing right, what had room for improvement, what can we implement that others can do better at Almere.
Make Almere great again!
"The first year we were organising the Challenge Almere, we were making evaluations afterwards and in the first edition we really had like a hangover – two, three weeks after we didn't want to continue, we thought we were not able to do this, it's too much.
"We were not happy with it, we had an excel list of 400 rows of improvement and we thought – oh no we can't do that."
"But, everyone said after the first edition that it was way different from before and it was the way to go.
"Athletes were happy, sponsors were happy, the city was happy so we thought 'okay, we did something right, we are not happy, but we did it right'.
"So we thought, what can we improve, and every year we spent a lot of time doing internal evaluations – asking the athletes what they miss, what they like – keep the good things, improve the bad things."
Mixing business with pleasure
Organising an event of this magnitude is a full-time job in itself – managing the race, applications, working with the city council to close roads, working with sponsors to promote branding, and ensuring the best possible experience for thousands of athletes.
Jort, Richard and Jefry maintained jobs away from the sport whilst maintaining the high standard the trio demanded of the triathlon, but was this method of working sustainable?
"At the time we did it next to our normal jobs, and formally it was an organising company taking care of the preparations, and we decided to stop that contract and put all the money we had saved into the race – bigger course, marketing, pasta party and we said we can invest our time.
"I think after one and a half year we said, the race is nice, but if we want to go next level we should do this full time – so we said let's quit our jobs and let's do this.
"We couldn't live from one race though, so we also took on some local races under our umbrella and started making a living out of it, so then it became work, but it doesn't feel like work."
In the second part of our interview with Challenge Family CEO Jort Vlam we discuss how he got involved with the Challenge Family – initially as a quality control expert before taking on the task of running the entire organisation and his plans for the future.