George Peasgood can't remember anything about his bike accident on 1 October 2022. He does however, have a vague recollection of singing Christmas songs in a hospital bed on 25 December; a severe brain injury and a deep coma meant that he didn't start remembering anything new until 4 January 2023.
Following the freak crash, which didn't involve any other vehicles or cyclists, the double Paralympic medallist and World Champion, who used to ride regularly with Alex Yee and Ben Dijkstra, is now working towards getting his life back. He's already worked his way up to the fast lane of a public swimming session and is determined to ride his bike with his mates again.
What happened?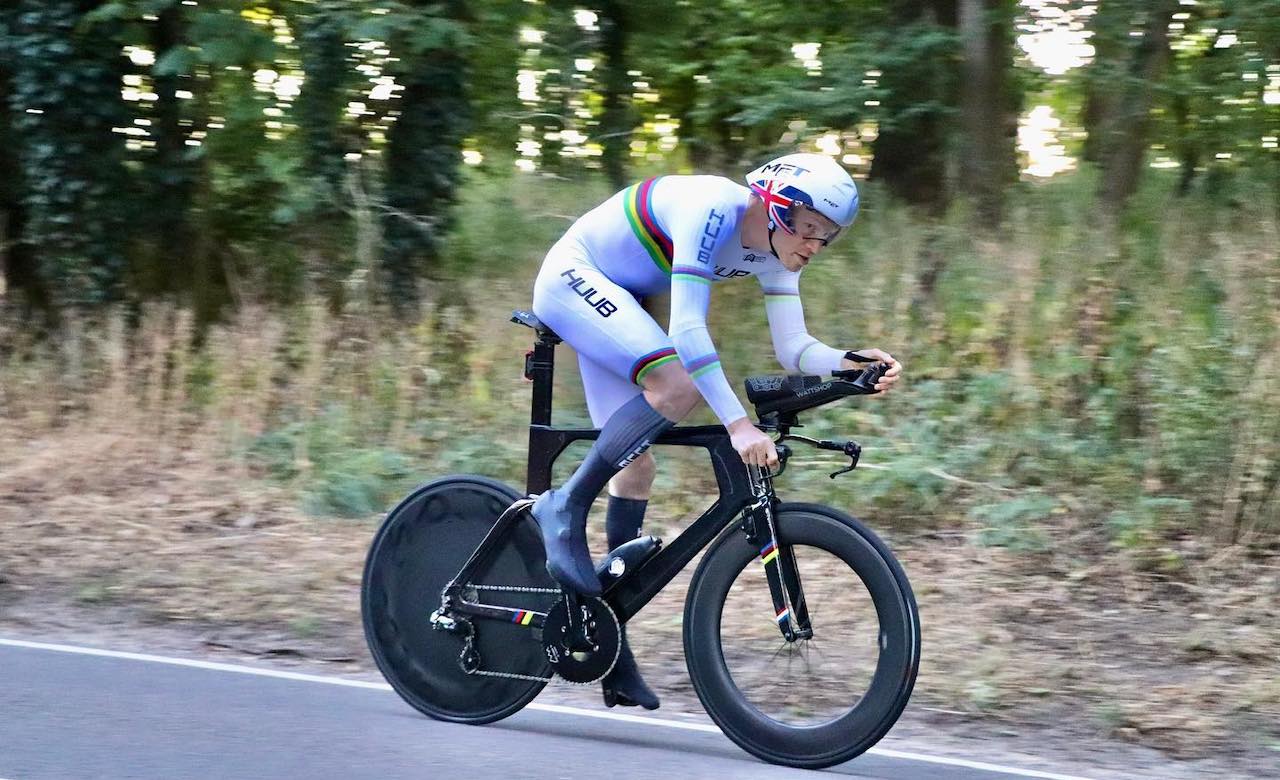 Peasgood can't remember what happened in the accident. Even his girlfriend, Frankie Hall, who was cycling with him at the time, doesn't know how it happened.
"I was so lucky I crashed where I did," he reflected. "I was just finishing a ride and was 200m down the road from [my parents'] home, which was crucial. Frankie called my parents and they called the ambulance and came out straight away.
"It's a single lane track, but I crashed by an empty field with a gate, so the air ambulance could land and the road based ambulance could turn around. Some things went in my favour.
"There was also a trauma doctor on board the air ambulance and he said to go (to Addenbrookes hospital) by car so the air pressure didn't change. It would have been quickest to go by air, but I might not be here if I had."
Waking up from a dream
Peasgood suffered a grade 3 diffuse axonal injury, the most severe form of this type of brain injury, and went into an instant coma, in fact, the deepest possible level of coma on the Glasgow Coma Scale.
He remained that way until mid November and still has very little or no recollection of anything that happened during the rest of the year, including being transferred from Addenbrookes to the specialist Regional Neurological Rehabilitation Unit (RNRU) at Homerton in London at the end of November.
He said: "On 4th Jan, I could remember what happened the day before on 3rd Jan, because I had a meeting." But it took another ten days before he was more alert. "Everything from mid November felt like a dream. After 13th Jan, I felt like I woke up from a dream, it's really bizzare.
I don't remember any Christmas presents on Christmas day, but I do remember one thing, I was singing a Christmas song, that's all.
The RNRU had a couple of younger people that had been involved in accidents, but it was mostly bedbound, older stroke patients.
"I set myself a challenge before I would leave that I would walk 5km round the hospital. I did it the day before I left, it took all day though! It was just because the physio said one lap was 100m.
"I did 50 laps; I had it on my Garmin. It took 1hr 47 and 42 seconds."
I just want my life back
Back home with Hall in Loughborough since early April, rehab is Peasgood's full time occupation.
"I'm trying to be independent, so I'm using sport to be able to live life. I want my life back ultimately; I had such a good life before, and I just want it back."
Rehabilitation includes physiotherapy, neuro physiotherapy, sports therapy, speech and language therapy and gym work.
He was invited to the Get Busy Living Centre, a state-of-the-art rehabilitation facility funded by the Matt Hampson Foundation. Hampson was an U21 England rugby player and Leicester Tigers prop when he suffered a life changing injury.
Seeing Hall's initial social media post about the accident, an offer of help was made immediately.
Muscle memory
A hydrotherapy pool used by The Get Busy Living Centre, saw Peasgood surprise even himself, click here to watch the video on Instagram.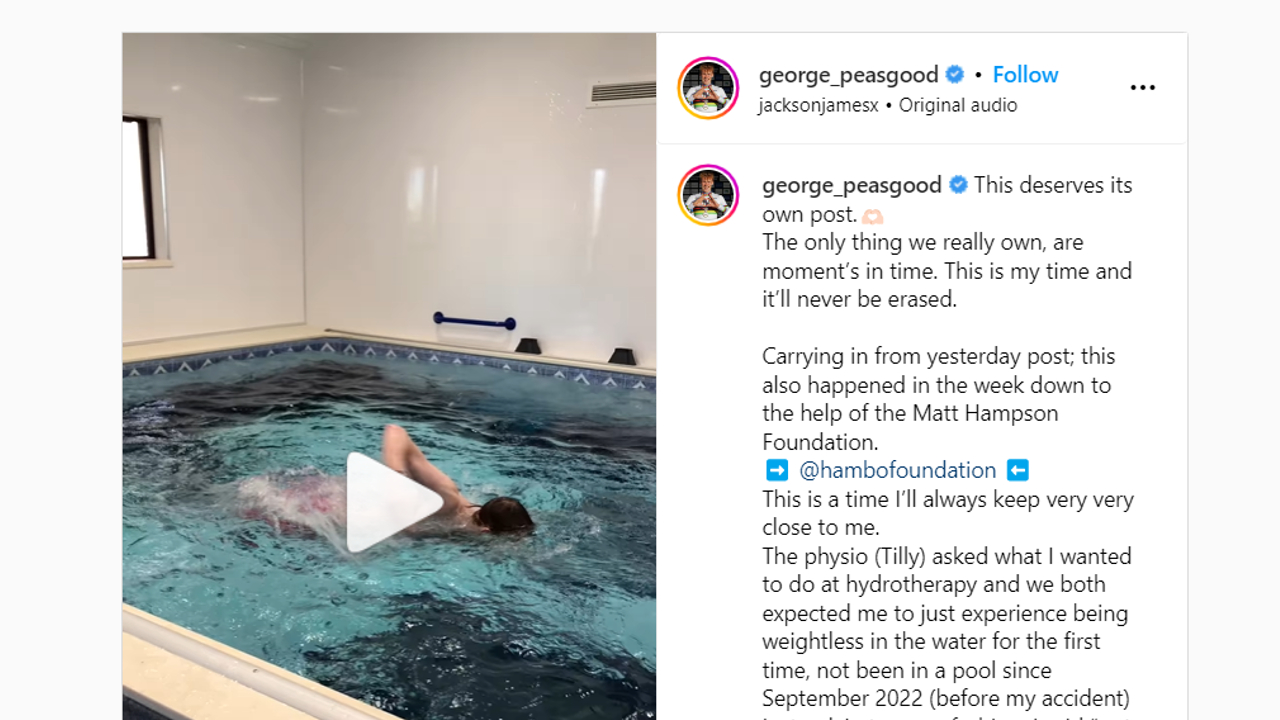 "The idea was to go in, be weightless, float about, but I was like, 'put it on 1:30 pace.' I think I surprised a few people by being able to swim at that pace. I couldn't move my arm in the same movement patterns on land, just my brain's wired to swim.
"It was nice to be able to come out and think, I can swim again. I went to the leisure centre on Monday night and I wasn't the slowest person in the fast lane."
He's also been riding on Zwift, joined by Yee and others. He must have been one of very few people to have had a push bike and a Wahoo KICKR in their hospital room.
"One of the sessions I did on Zwift the other week was an hour long and I averaged 147 watts roughly. It's not too bad, but my heart rate was a bit high, I've lost cardiovascular fitness.
"My legs were shaking but not because they were tired, there was a lot of muscle wastage. I think I lost almost 20kg from before the crash until I went to RNRU Homerton in London, and that was just two months, but muscle memory is fantastic."
Appetite for cycling
Everyone in Peasgood's family has completed an Ironman, and he hopes to complete one himself one day, but for now, exercise is rehabilitation, and an opportunity to get out and escape.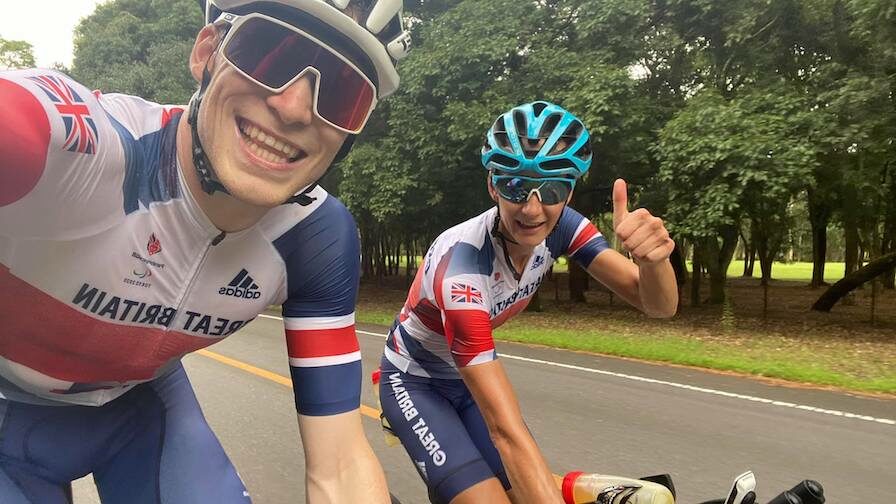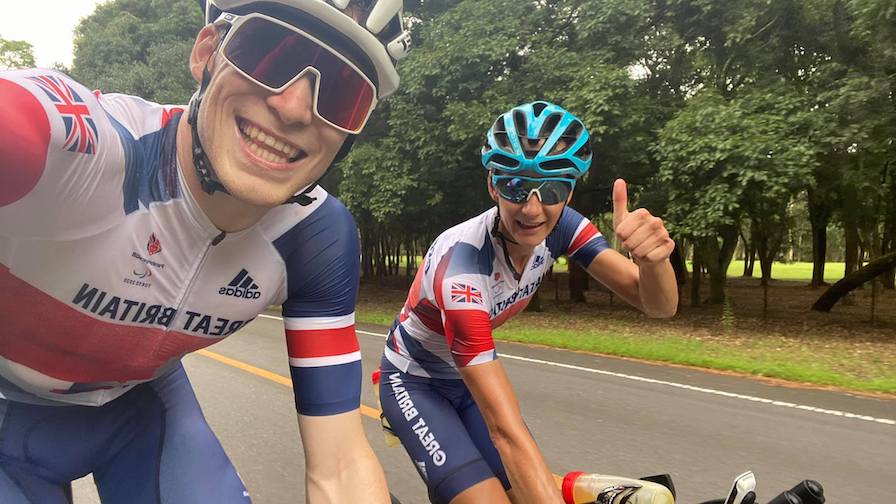 On the prospect of cycling again, he said; "I still have the appetite to get on a bike. To ride with Frankie, Ben and Alex again would be amazing.
"I need to be wrapped in bubble wrap to make sure if I fall off, nothing happens. It's not too distant though, this year I'll ride a bike at some point.
"My family have the challenge, if I'm able to, next year on New Year's Day, we all do the Edinburgh Triathlon. It's a festive one, it is 400m swim, 12mile bike, like a super sprint but you swim in the pool."
#ForGeorge
Peasgood was a keen supporter on the finishing line at the London Marathon on Sunday. Hall had planned to run, but was unable due to injury. However, his mum, Teresa, completed the race for the 17th time, and this one was special, running with the #ForGeorge logo emblazoned on her kit, thanks to brand owner, Dean Jackson, at HUUB.
Alex Yee wore the logo, in place of the HUUB logo at WTCS Bermuda in November and then British Triathlon adopted it for the Grand Final in Abu Dhabi.
"It's a bit emotional just hearing things about that," said Peasgood. "And on Sunday my cousin was running London. He ran a 2:29.07 and when he saw me in the grandstand, he did the love hands, it nearly made me cry."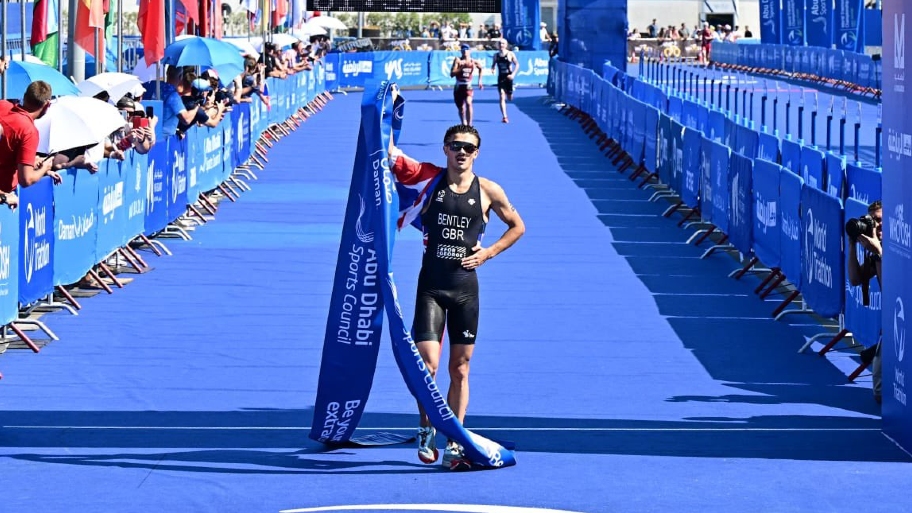 Thoughts have been with Peasgood from across global triathlon and cycling communities, and wider. A JustGiving page that Hall set up has so far raised over £15,000 which will be split equally between the Matt Hampson Foundation, Air Ambulance Charity and to assist Peasgood with his rehabilitation.
He's is making great progress against the odds – a very high percentage of people with a grade 3 diffuse axonal injury don't survive the first six months following their injuries. There will be challenges ahead, but he'll face them with an athlete's mindset.