Great Britain's Melissa Nicholls will aim to pick up her first European Paratriathlon Championships medal this weekend in Madrid as she competes in the PTWC category.
The 45-year-old, from Tewkesbury, only entered the world of triathlon a year ago, but has made serious progress over the last 12 months and now has her sights set on racing with the very best.
Ahead of the race in Spain this weekend, Nicholls shared how much time she has spent improving her swim this winter, where she thinks she can close the gaps to the best in the sport and why she can't wait to go back to Swansea this summer.
"I'm looking forward to enjoying it"
A two-time Paralympian, with multiple international medals, Nicholls is accustomed to the highly competitive nature of elite sport, despite only switching to paratriathlon in 2022.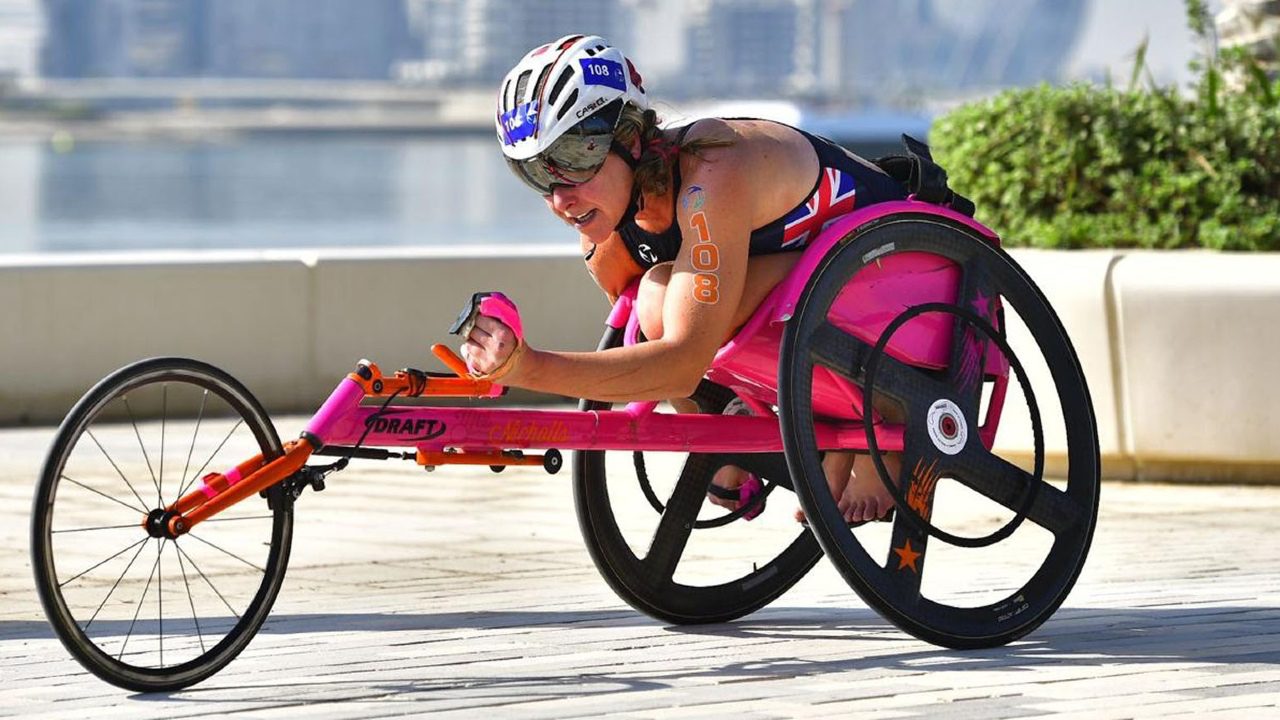 "I did Llanelli Super Series last month, which was my first ever race last season. It was nice and interesting to do that full circle. I went into that first race last year with no idea about triathlon, with my previous endurance experience very different.
"I came in with a plan for the race this year, it was still really fun and welcoming, and to go out there with an idea of what to expect made it more enjoyable too.
"I'm feeling good at the moment. It's been a decent lead up and now that we are here in Madrid and I have seen a bit of the course, I'm looking forward to just enjoying it and pushing the best I can in a relaxed state."
"I still find it very hard to call myself a triathlete"
Now in her second season of triathlon, Nicholls admits that she still feels like a relative newcomer, especially in the swim, but that this is the one area she has put a considerable amount of training into over the winter.
"I still find it hard to call myself a triathlete. Swimming is the biggest challenge for me, because I have never been a swimmer.
"We have put a lot of time in on my swim, and with my impairment it is the biggest challenge for sure, so I am hoping to see some results come from that training."
As well as the swim, the Brit says that the technical side of racing is still a challenge, but that she is slowly getting used to it.
"The technical side of stuff, learning to do dead turns, is very different to what I am used to, it's been enjoyable, but I still think my strengths lie in the bits between, which is putting the power down."
"The plan is to peak at Worlds"
On her plans for the rest of the season, Nicholls said that her focus is on the World Championships, with the World Triathlon Para Series in Swansea another big goal.
"It's the beginning of the season, this weekend is my first international race of the year and although I am at a good point, the plan is to peak at the World Championships.
"I am also really excited for Swansea. It was quite daunting last year, because it was a such a large scale event, but it was so well organised and I am really excited to go there and see how I perform when I approach it with a bit more of a plan.
"On the international stage, I know I can be close, so now it is about figuring out how I can get that bit closer and make it on to the podium alongside the best girls."