After a tough day for Great Britain on Saturday at the Paralympic Games Triathlon, there was medal success on Sunday. Three athletes, three medals, one of each colour – with Lauren Steadman reaching the top step of the podium, upgrading from her Rio 2016 silver.
Men PTWC
Was there a stronger favourite at Tokyo 2020 across any sport than Jetze Plat (NED) in the paratriathlon wheelchair category? Known as the human triangle – his slim waist and huge shoulders will explain why – he's an absolute legend of the sport, unbeaten since the 2015 World Championship in Chicago. Gold medallist in Rio, he followed the USA's Alyssa Seely in retaining his title – and never looked like doing anything else. An absolute class act.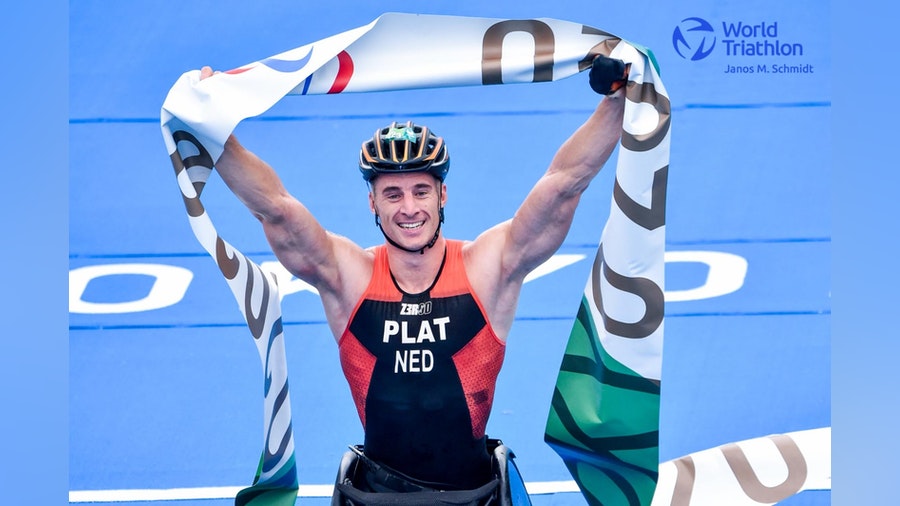 "I just had to win here. It didn't really matter to me in what time I would finish or what the difference with others would be. Before competition everyone always thinks that I will win easily. Of course that worked out, but this is such a difficult sport in terms of all the material you use, possible penalties and things that can go wrong and all that. I knew I was in shape physically, and I just went all out. I will compete in the cycling road time trial tomorrow, so it was important for me to try not to waste as much energy."
Women PTWC
What. A. Race. Stunning, absolutely incredible – and only decided in the last metre. Australia's Lauren Parker led for almost the entire race, but with 1.25km of the run remaining she was being chased down by Kendall Gretsch (USA). Some 26 seconds ahead, and being closed with every push, which way would this go?
Parker turned into the finish straight on the blue carpet in the lead, but Gretsch now had her in sight and was closing. Fast.
It seemed that Lauren, the bronze medallist at the 2018 Commonwealth Games, had enough to hold on, but Gretsch managed to dig deep, closed on the Aussie and took the lead quite literally inside the final five metres with surely the hardest sprint she will ever do in her sporting career. Heartbreak for Parker, ecstasy for Gretsch – but what an incredible advertisement for paratriathlon. Simply stunning.
"One of the great finishes in the history of the sport" was the commentary line – and for a change it's pretty difficult to challenge that statement. The high and lows of Elite sport summed up in one second.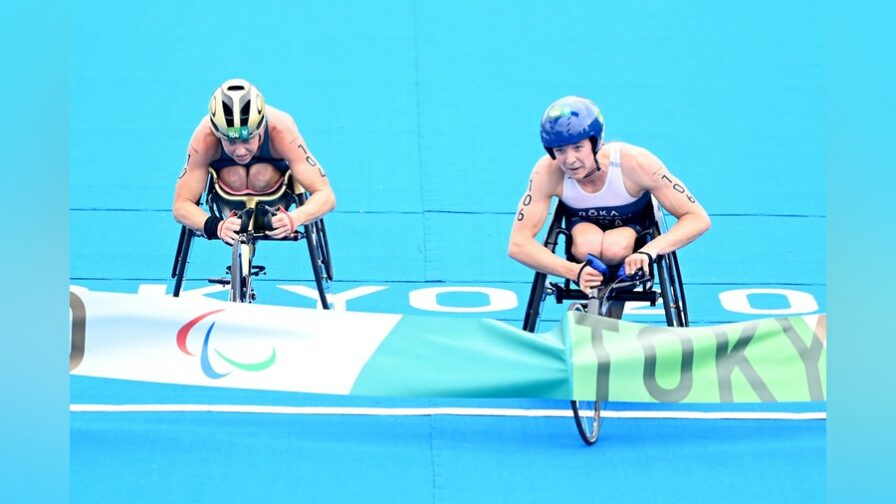 "I knew it was going to be such a close race, so that finish is something I have been training for with my coach and my team this entire extra year," said Gretsch.
"I couldn't see Lauren in front of me until the very last lap of the run. Even halfway through that (last) lap I couldn't see her. But as soon as I saw her, I was like, 'hey, you just have to do it'. You have to give everything you can. On that final stretch I just put my head down and that was all I could do".
MEN PTS5
Stefan Daniel (CAN), Martin Schulz (GER) and George Peasgood (GBR) were seemingly the three favourites for medals, and that is exactly how it played out.
Peasgood was a minute clear, solo, after the swim and then onto the bike – where he is the reigning TT World Champion. measure of the talent of Schulz, the defending Paralympic Games champion, was that he reduced that deficit to 47 seconds starting the run.
That was always going to be tough to hold onto given the run speed of Schulz, and just after the halfway point of the run the German made the pass. Peasgood wasn't able to respond but his strong pace was enough to stay clear of Daniel and the fast-closing Chris Hammer (USA), and secure a Paralympic Games silver medal.
Schulz joined Plat and Seeley to become a two-time Paralympic Games triathlon champion.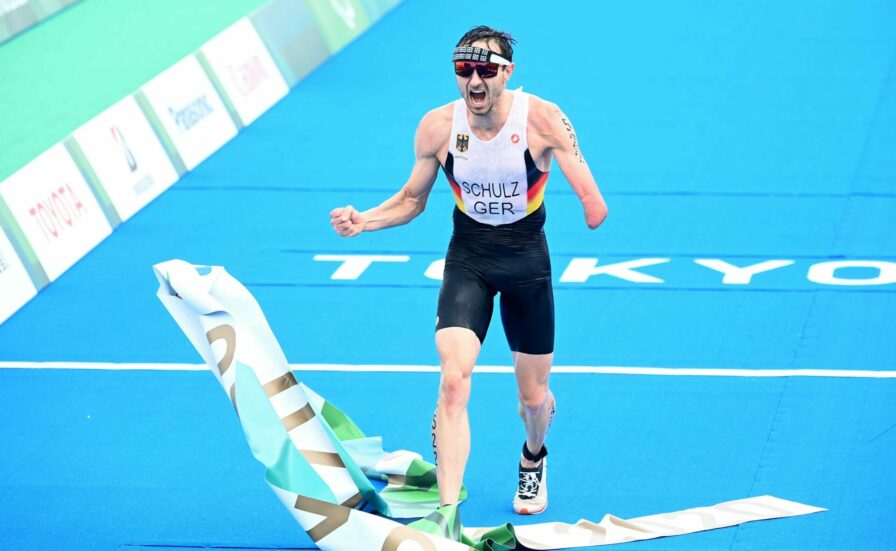 WOMEN PTS5
Much like the men's PTS5, there were three clear medal favourites – Lauren Steadman, Rio 2016 champion Grace Norman (USA) and 2019 world champion Claire Cashmore.
Norman set the pace through the 750m swim (11:10), with both Steadman and Cashmore 45 seconds back starting the bike.
Steadman was the class of the field on two wheels, overcoming that swim deficit to create an 18-second lead over Norman starting the run, with Cashmore further back in third. Could she hold on and swap positions with Norman versus their finishing positions at Rio 2016? Absolutely she could.
Cashmore's chances were impacted by a one-minute penalty, which ruled out any chances she had, but the day would belong to Steadman.
The Brit actually extended her lead, leaving the overall podium positions as Steadman / Norman / Cashmore.
"I went in and I really had no idea how it was going to go. The standard in my category is fantastic. Grace Norman could have taken it, Claire Cashmore could have. The cards were going to fall one way or the other. Today they fell my way.
"After Rio (2016) I was devastated, and I really withdrew from sport. It was a horrible experience for me (back then). I don't think it has quite sunk in yet, I feel quite teary. I can't believe I did it. I am over the moon."
Paralympic Games Triathlon Results – Day Two
Sunday August 28, 2021 – Tokyo, Japan
MEN – PTWC
Jetze Plat (NED) – 0:57:55
Florian Brungraber (AUT) – 0:59:55
Giovanni Achenza (ITA) – 1:04:05
WOMEN – PTWC
Kendall Gretsch (USA) – 1:06:25
Lauren Parker (AUS) – 1:06:26
E. M. Morel Pedrero (ESP) – 1:14:59
MEN – PTS5
Martin Schulz (GER) – 58:10
George Peasgood (GBR) – 58:55
Stefan Daniel (CAN) – 59:22
WOMEN – PTS5
Lauren Steadman (GBR) – 1:04:46
Grace Norman (USA) – 1:05:27
Claire Cashmore (GBR) – 1:07:36