As promised – albeit, later than I'd expected on Monday – it is time to look back on the debut of Paratriathlon under the Super League umbrella, from last Saturday at the SLT Arena Games London power by Zwift.
Only announced a couple of weeks ago, the Super League team did a great job of putting on a top quality event, that featured many of the stars that will doubtless be standing on the podium in Tokyo later this year.
Rather than a triple mix format, the para athletes raced over longer distances of 300m swim, 10km bike and 2km run. Speaking with Jonathan Riall, Head Coach for the British Triathlon Paralympic Programme, it was clear that this event was very much a partnership between Super League and the governing bodies, notably of Great Britain and the Netherlands hosts of the Arena Games events. The longer distances being both a closer link to the sprint distance races that many of these athletes will face through the summer, but also to make it additionally worthwhile for those travelling.
Given the current restrictions on travel, that there was additional representation from Spain, Luxembourg and Belgium was notable.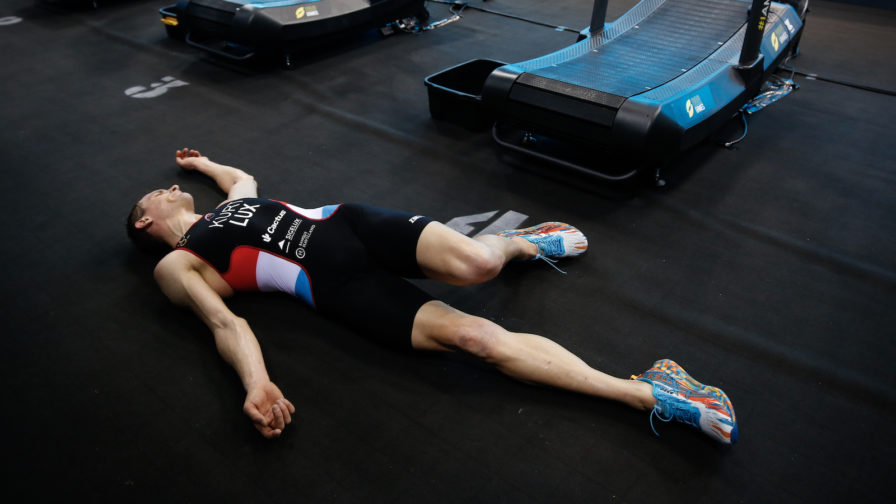 The technology involved in making this virtual and real world format work is impressive to see. Paratriathlon adds in more complexities, when you consider the type of rollers required for linking wheelchair racing to Zwift. Similarly with the cycling – a hand-cycle won't necessarily link up with a standard turbo!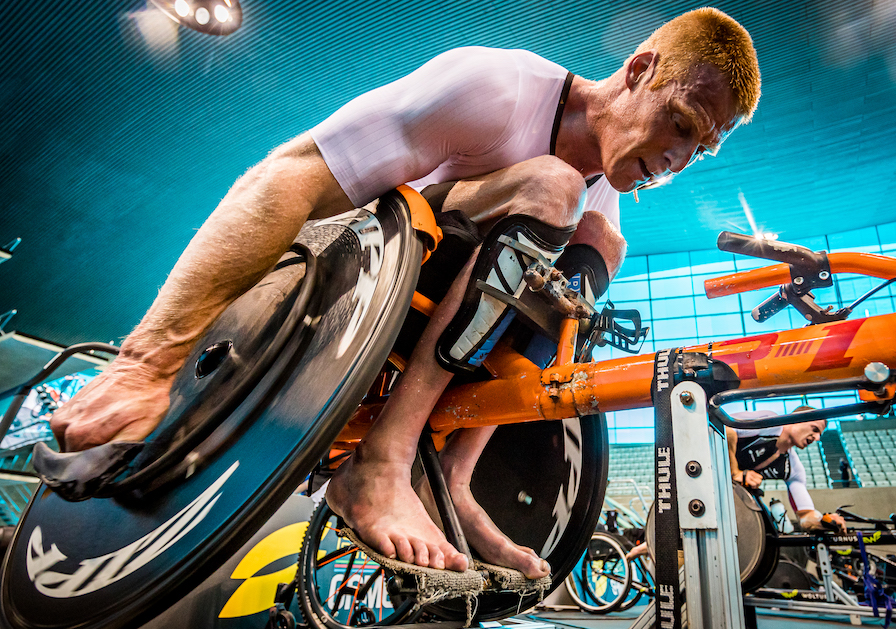 If you own or have ever picked up a typical smart trainer, you'll know they are heavy. Well, some of the kit used within the paratriathlon event was wheeled in and out of the venue on a trolley… now THAT is heavy!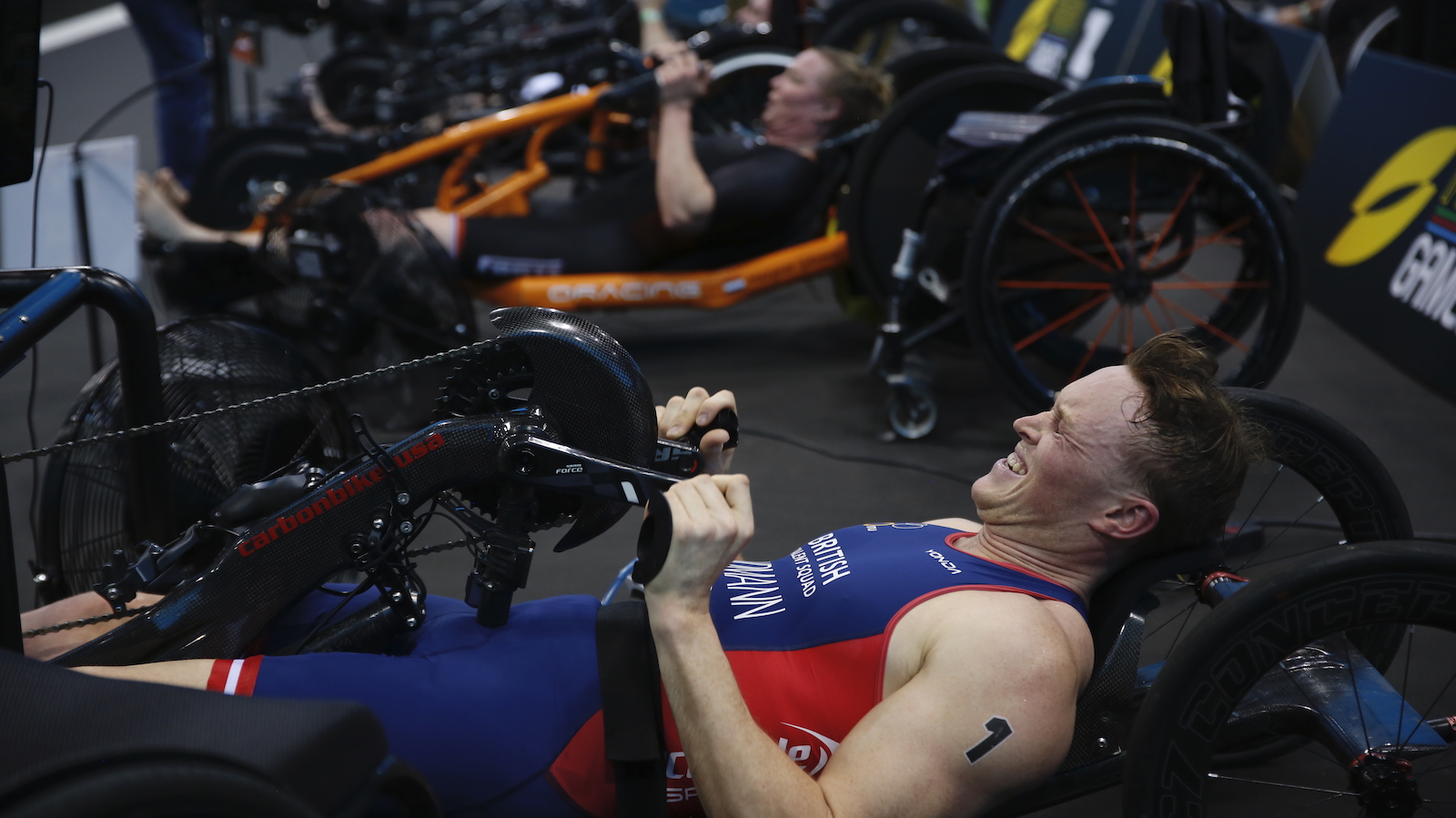 For everybody, the general vibe was the happiness to be back in a competitive environment. From a British perspective, for some, it's an early warm/up for the Tokyo Paralympic Games. For some athletes, securing that selection is all but a fait accompli, such has been the consistent high level of performance across European and World Championship and World Paratriathlon Series competitions in recent seasons.
For others potentially on the cusp of selection based on their rankings and performances, this is the sort of event that provided an opportunity to prove themselves. That is perhaps the case for Michael Taylor (PTS4) who is currently 12th in his category rankings. Winning on Saturday – including beating the current #2 in the process – will have surely helped his prospects and motivation for potential selection.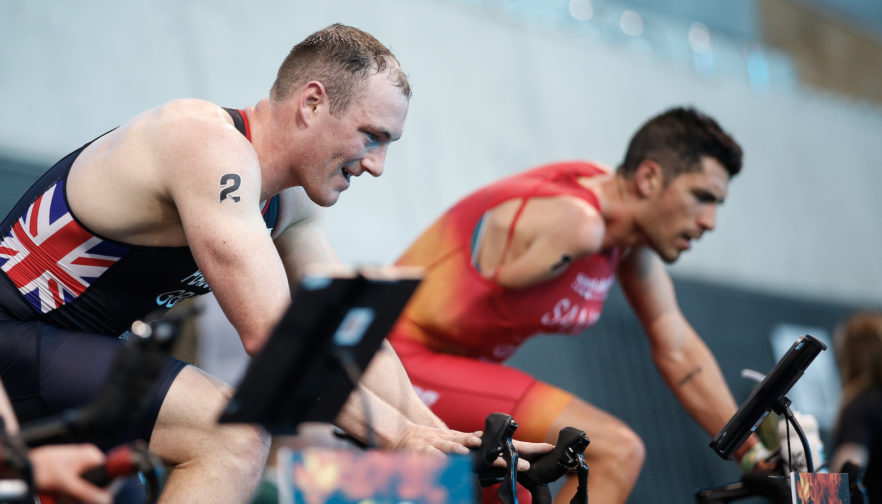 I've seen some disappointment about the relative lack of broadcast coverage of the paratriathlon events. Having been at the venue on the day, I've not seen the show myself, but it's probably worth noting a couple of things. The live broadcast was from 3pm to 5pm, a very packed schedule which including six races, short breaks and athlete introductions etc. The Paratriathlon events were held over two waves, at 11am and midday respectively. The turnaround between waves for paratriathlon is quite complex (see comments above re equipment), and with the para distances, the individual races much longer. For a first time event, I suspect (and, genuinely, I have no inside line on this), that the primary focus was around operational excellence and ensuring that all of the logistics worked. On that basis, success.
When you see it up close and personal, and from experience of previous events on Jersey and Malta too, the Super League team do a superb job of trying to get everything right, and doing so in a very well presented and slick manner. With almost a proof of concept done (and another chance to build on that in Rotterdam later this month), I'm pretty confident that over time we will see increased profile and content – through their media channels too – of the Para element of the Super League portfolio. Room to improve? Certainly… and SLT are the sort of organisers who will already be working on those next steps.
With that background – the athletes, organisers, coaches and all of the many elements of logistics and planning that made it happen have put in place some great foundations from which to build.
Athlete Reactions
Claire Cashmore – PTS5 Winner
I asked Claire if she could sum up the Arena Games experience in one word… which was perhaps a mistake.
"In one word? Not sure I can do that – I'm a chatterbox! I'll try though…it was brilliant, really good."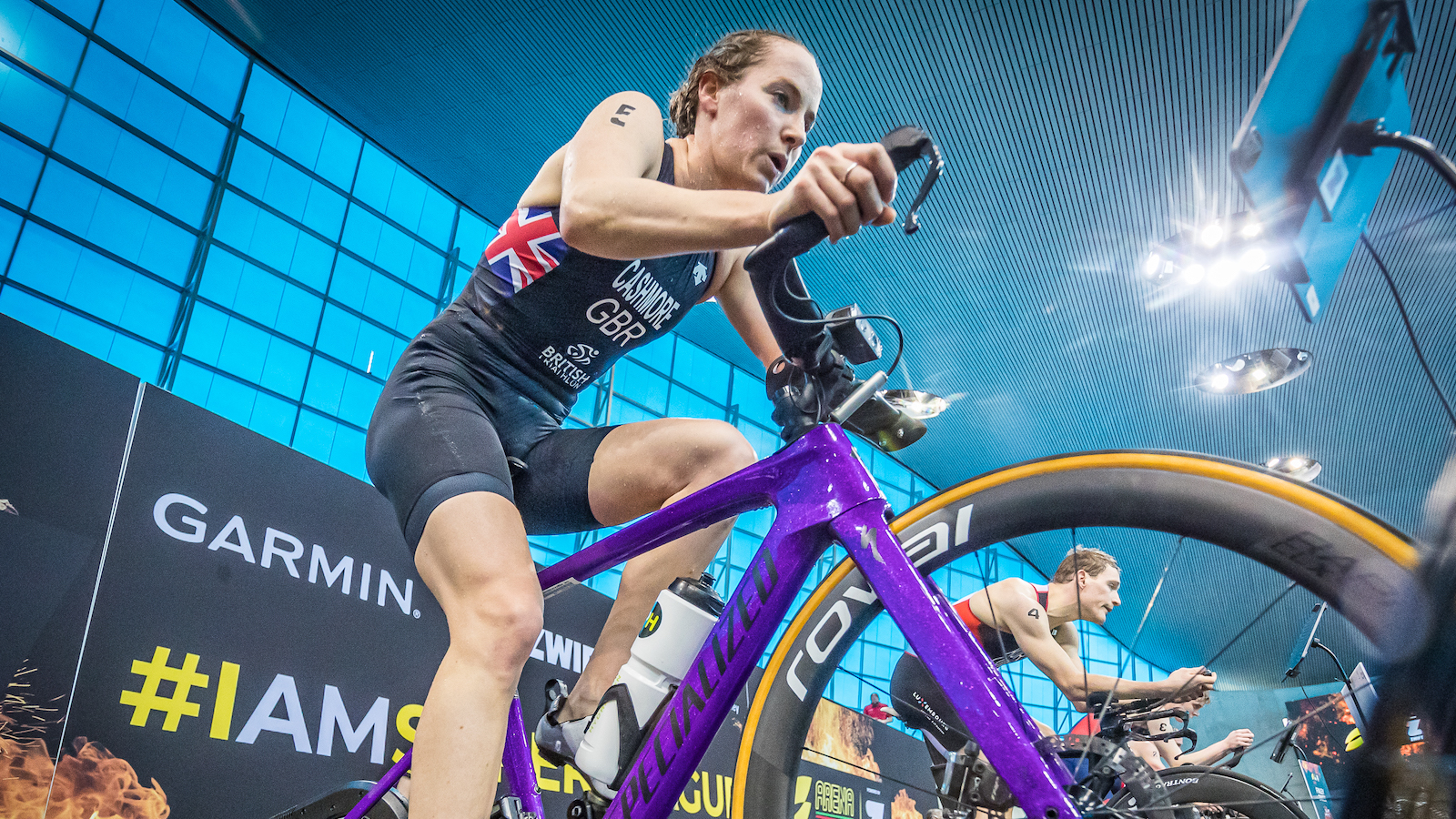 Currently ranked #1 (Claire) and #2 (Lauren Steadman) in the World Triathlon Para Rankings (and having finished in those same positions, after a sprint finish, at the 2019 World Championships in Lausanne, their head-to-head could well be an insight into what we can look forward to through 2021… and potentially, year to come. It was Lauren who was first off the bikes and onto the treadmill, but Lauren was able to reel her in.
"Yeah – I could see (on the screen) that I was slowly catching, and that was giving me that motivation to try and get ahead – but it was blooming hard. It's quite hot in here, but it was really good fun."
"We were just saying that it would be amazing if you could get a full category of PTS5 athletes all racing each other, all in the Super League jerseys. That would be great progress forward and hopefully the next step."
After three previous Paralympic Games (and a cabinet full of medals), does the switch of sport to triathlon feel like a new start?
"Oh definitely – I think you can get stale and it was just that change that I needed to freshen things up. To actually see some progression again, I'd got to the point (with swimming) where I wasn't really progressing, so it's really nice to see those small margins of improvement and the hard work paying off. I just love the variety of it – it's a really great sport full of great people."
Like many, it's been a while since any proper racing was done. So long, it took a while to remember the last time.
"Crikey… I've done some domestic races and we've done some time-trials within British Triathlon, but it's probably been, I'm not even sure… Summer of 2019? It's so good to be back, I'm just hoping this is the start of many to come."
Does having Lauren Steadman as a rival and friend work well?
"100% – it's great to have each other to just stop any complacency. It's particularly good for things like this that we can race each other, as otherwise we could easily have gone 18 months without seeing each other in a race – It's great to do that on home soil, and keep pushing each other to the limits."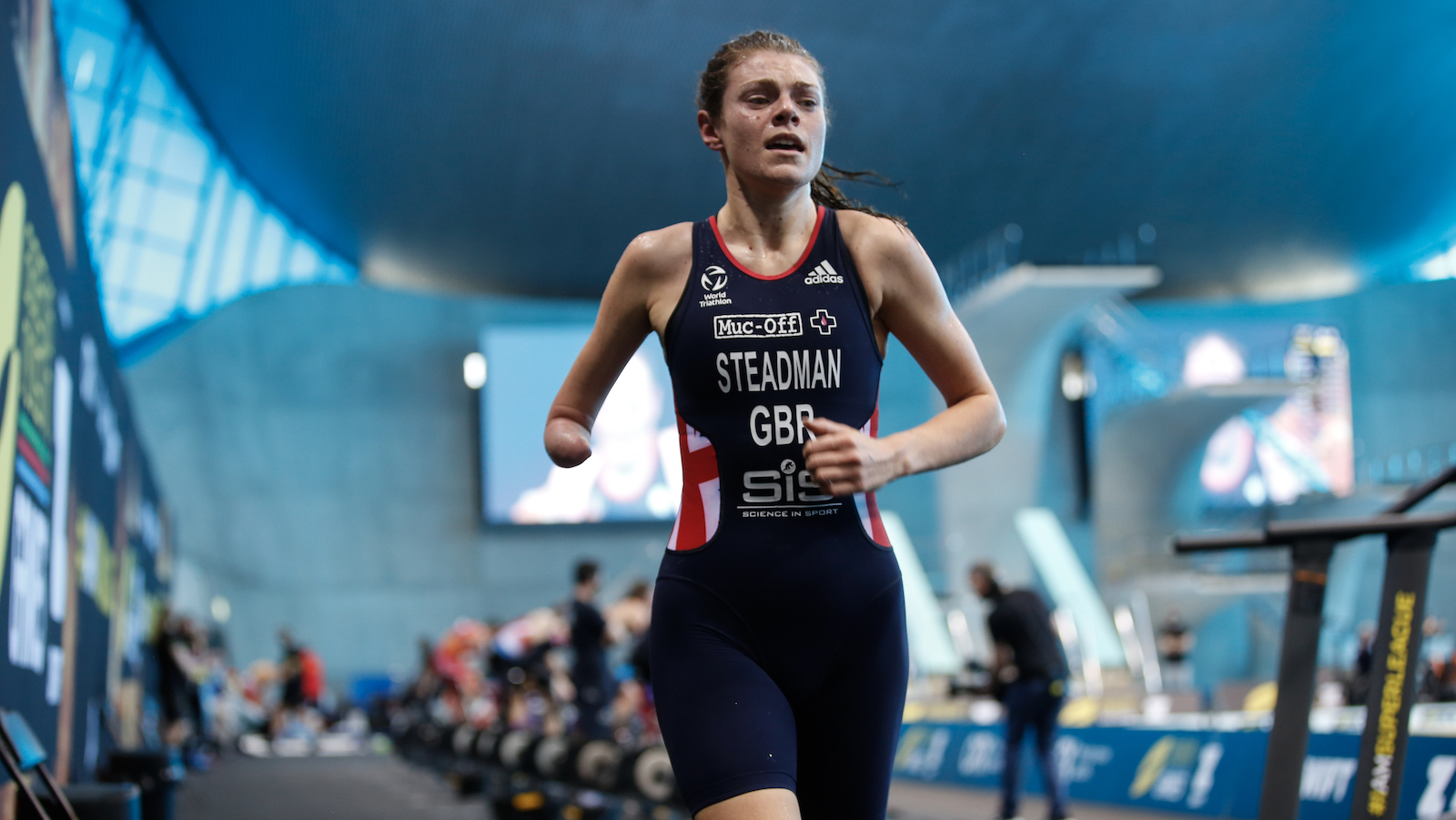 Alison Peasgood – PTVI Winner
Winner of Paralympic silver in Rio, the Arena Games was a very different experience for Alison Patrick…
"It was good to be back racing, obviously, it's been over a year since doing anything. It was weird for me racing by myself as I've always raced with a Guide, so knowing that you have to push yourself rather than being pushed along was quite different. I've been doing loads of riding on Zwift as I crashed last summer and couldn't go out on the road for ages, so it was good to put that into practice."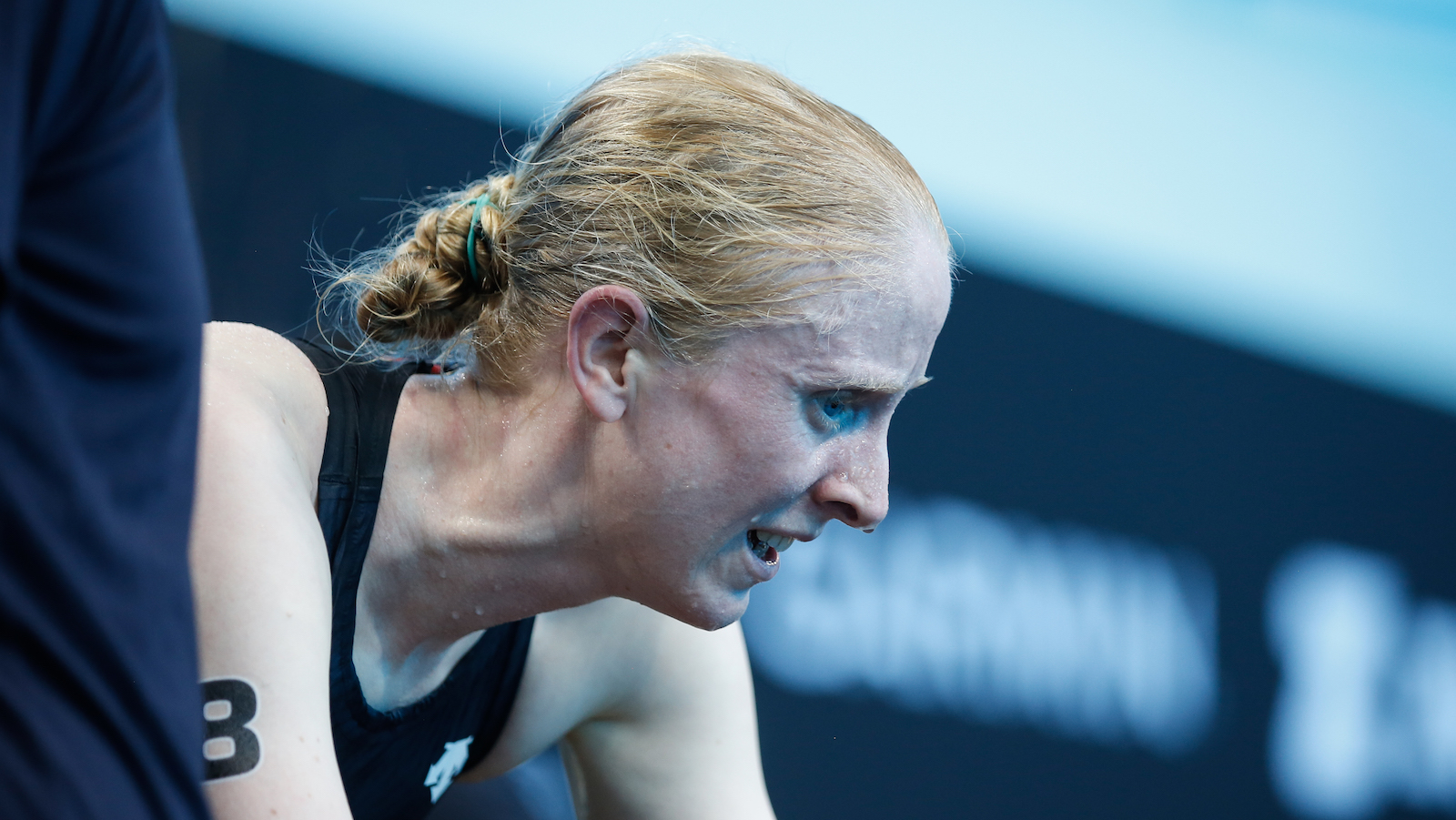 All of the athletes through the day commented on the challenge that the self-powered, curved treadmills provide relative to standard gym fare. Alison was one of those who looked very comfortable and fluid.
"Thank you – I did have a little pause in the middle though, I've got what's called nystagmus so my eyes wobble from side-to-side, so I couldn't focus on anything and felt very dizzy once the heavy legs kicked it. Once I got that resolved, I was able to get into a rhythm."
How has Alison maintained focus during the last year+ of Covid?
"There's been ups and downs, but I've been setting myself small goals (e.g. get bike power to X watts), so that I had little things to tick off along the way."
She told me that things are on track for Tokyo, with plenty of room for progression between now and then too.
"I'm really happy with my biking. It's the best I ever thought I could get it too. Running is consistent, which for me is always the important thing as I've had loads of injuries. Swimming, we've missed lots of that as I broke my hand, so there's plenty of room to improve there."
As with Claire (and indeed, everyone I spoke to), this Arena Games experience was a positive one – and provides opportunities to develop the Para side of the sport too.
"I've never been here – it's amazing to be inside an Olympic Aquatic centre. It's great that Super League have added a paratriathlon, because i think the more the world can see how good paratriathlon is, the more it will grow our sport. It needs to grow and I want to see it grow over the next 4/8 years, so opportunities like this are only going to help."
PARATRIATHLON RESULTS