There were three days of World Triathlon Series action this past weekend. While we saw the Elite Men, Elite Women and Mixed Relay races in Hamburg, the weekend started earlier for the top tier of paratriathletes.
The Bassin Olympique at Parc Jean-Drapeau and the Gilles-Villeneuve race track provided the location for World Triathlon Para Series Montreal, the second round of the WTPS. The next one of course will be in Swansea, South Wales on August 6.
Paralympic Champions on top
Living up their favourite status were Tokyo 2020 champions Jetze Plat (PTWC) from the Netherlands and Susanna Rodriguez (PTVI of Spain, who was guided in Canada by Sara Loehr).
Both continue to excel and will of continue to be the favourites every time they race this season.
Silver into Gold
Several athletes who were silver medallists at the Paralympic Games last year took gold in Montreal. Lauren Parker (AUS), who lost out to Kendall Gretsch (USA) in that thrilling finish in Tokyo, took the win in Montreal by a big margin.
Grace Norman (USA) in PTS5 and Haley Danz (USA) in PTS2 also took maximum points in Canada.
Home winner
Just as the Brits will in Cardiff, local expectations were on Stefan Daniel in the PTS5 category. The bronze medallist from Tokyo delivered on those hopes to top Chris Hammer (USA) – World Champion in Abu Dhabi – on home turf.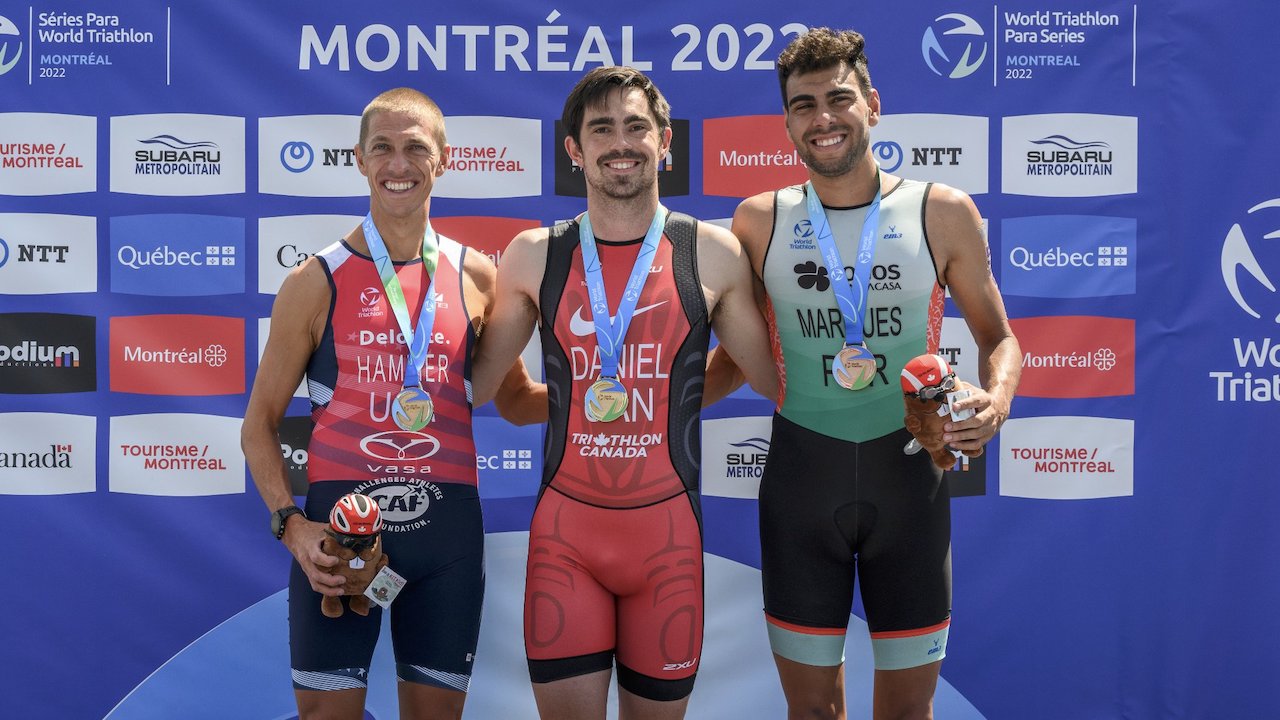 The Brits
The small British entry included silver medals for Finley Jakes (PTS4) and for Commonwealth Games bound Oscar Kelly (guided by Charlie Harding), in the PTVI category. Still new to the international circuit, they put up a great display versus Kyle Coon (USA), who also won in Yokohama.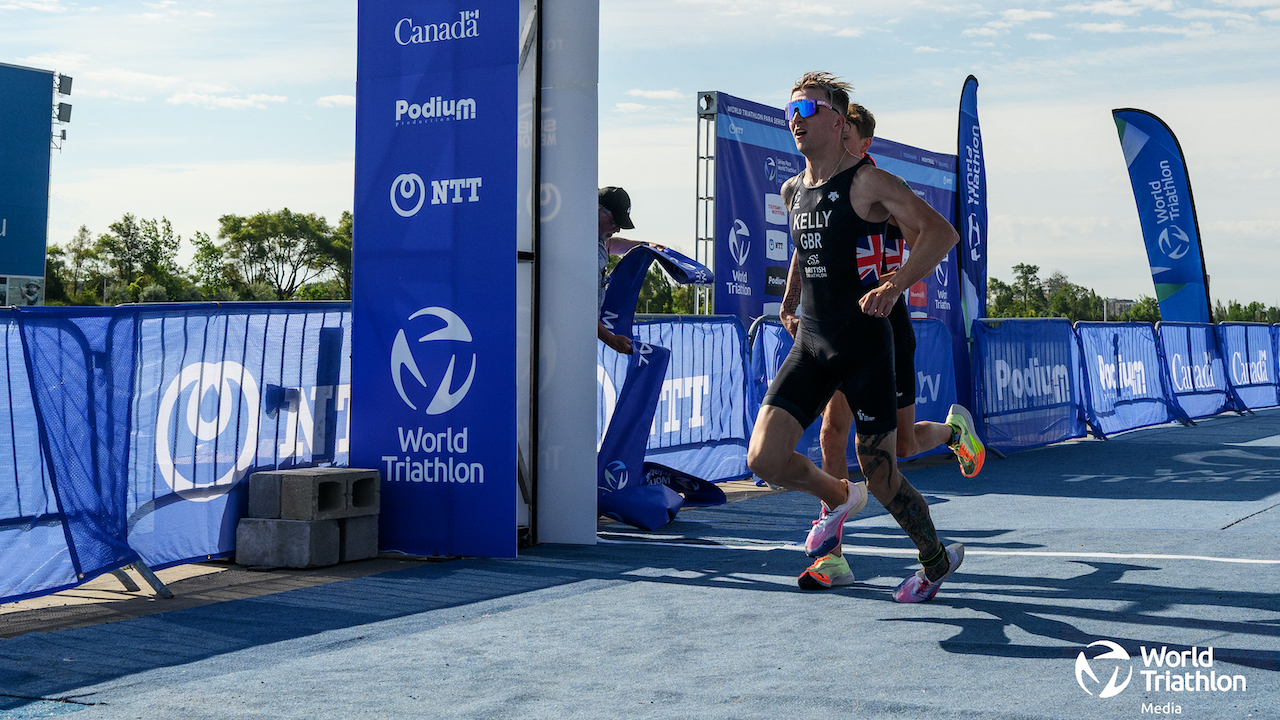 Michael Salisbury (PTS5), another athlete who was racing in only his second international paratriathlon event, followed up second place at the European Championships with ninth in Montreal.
World Triathlon Para Series Montreal 2022 results
Friday 8 July 2022 – 750m / 20km / 5km
PTWC
Men
1. Jetze Plat (NED) – 56:25
2. Geert Schipper (NED) – 58:35
3. Giovanni Achenza (ITA) – 1:04:06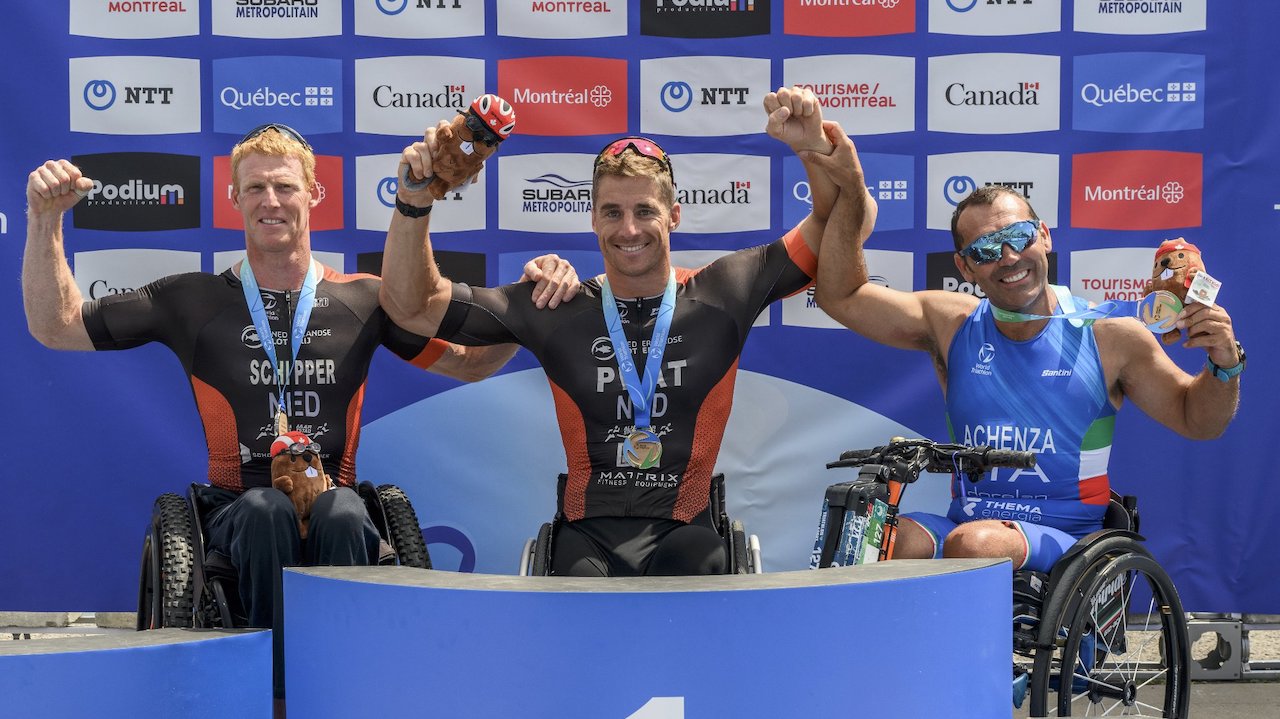 Women
1. Lauren Parker (AUS) – 1:05:08
2. Kendall Gretsch (USA) – 1:11:50
3. Leanne Taylor (CAN) – 1:12:40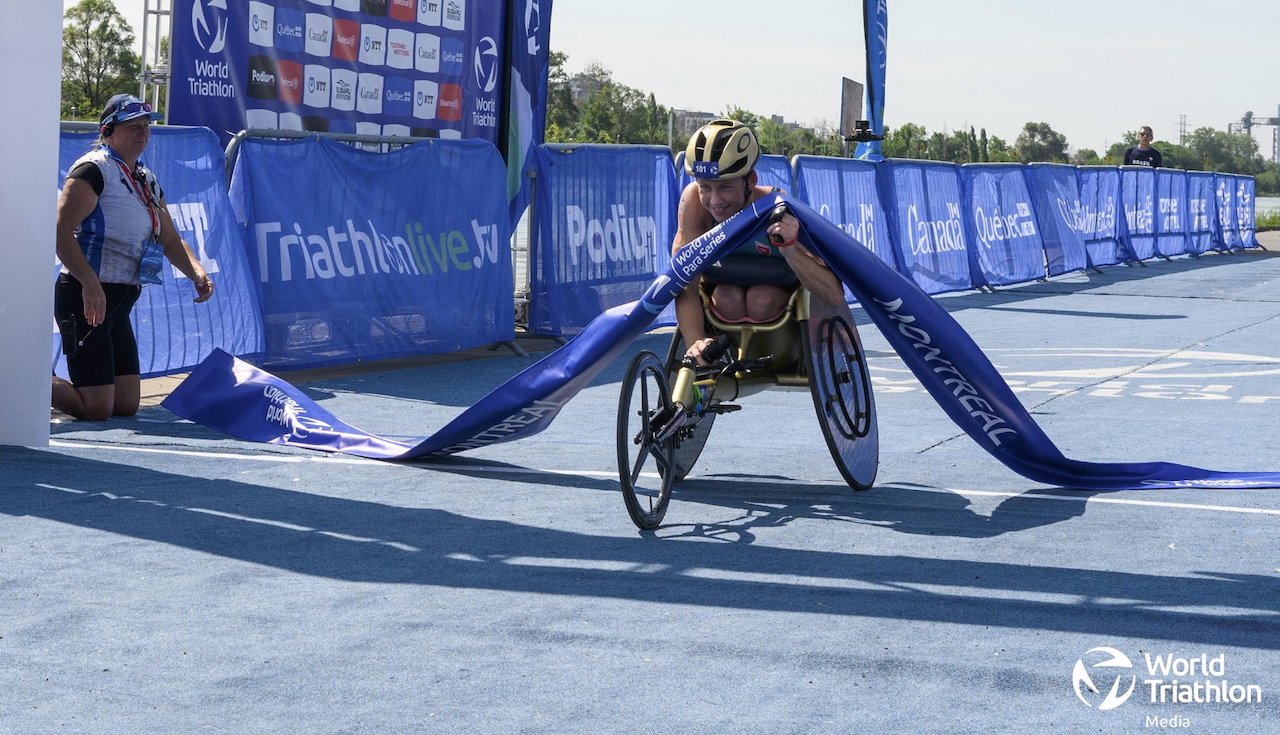 PTS2
Men
1. Lionel Morales (ESP) – 1:11:40
2. Geoffrey Wersy (FRA) – 1:12:17
3. Mohamed Lama (USA) – 1:12:35
Women
1. Haley Danz (USA) – 1:20:03
2. Lisa Lilja (FIN) – 1:26:42
3. Veronica Plebani (ITA) – 1:28:09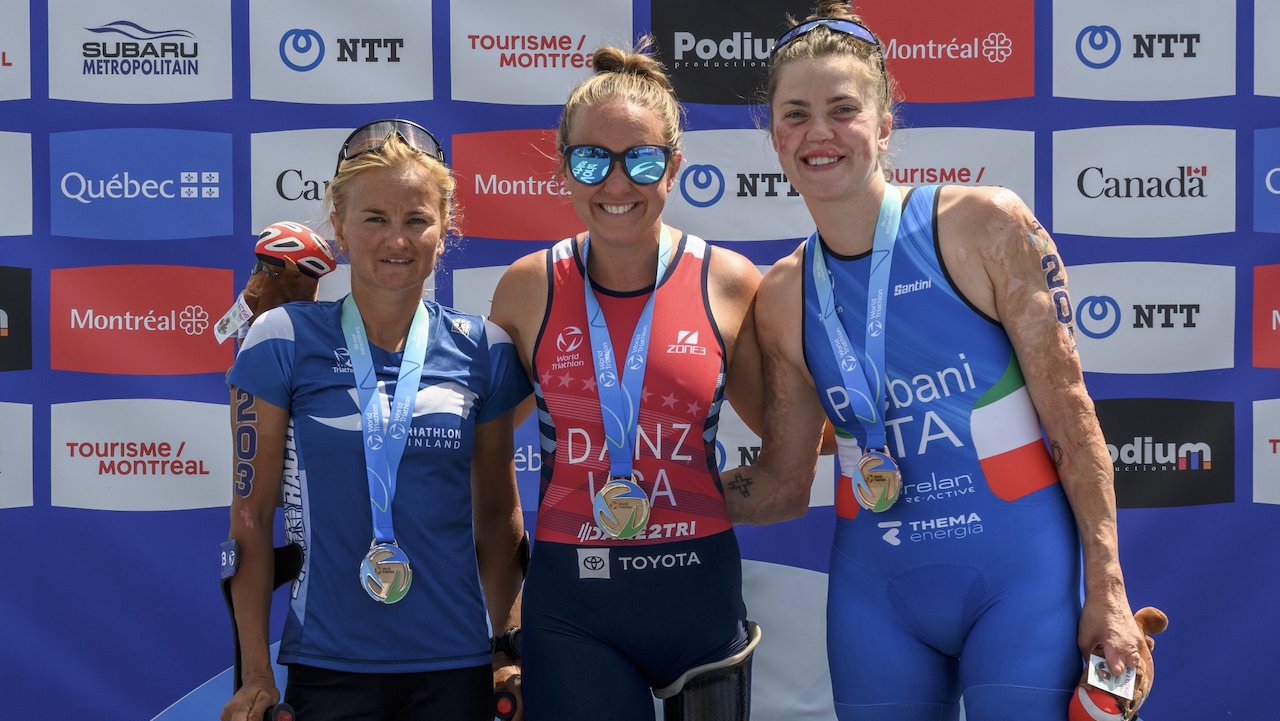 PTS3
Men
1. Justin Godfrey (AUS) – 1:12:40
2. Cedric Denuziere (FRA) – 1:17:22
3. Christopher Marston (USA) – 1:18:32
PTS4
Men
1. Jeremy Peacock (AUS) – 1:05:34
2. Finley Jakes (GBR) – 1:06:45
3. Eric Mcelvenny (USA) – 1:06:47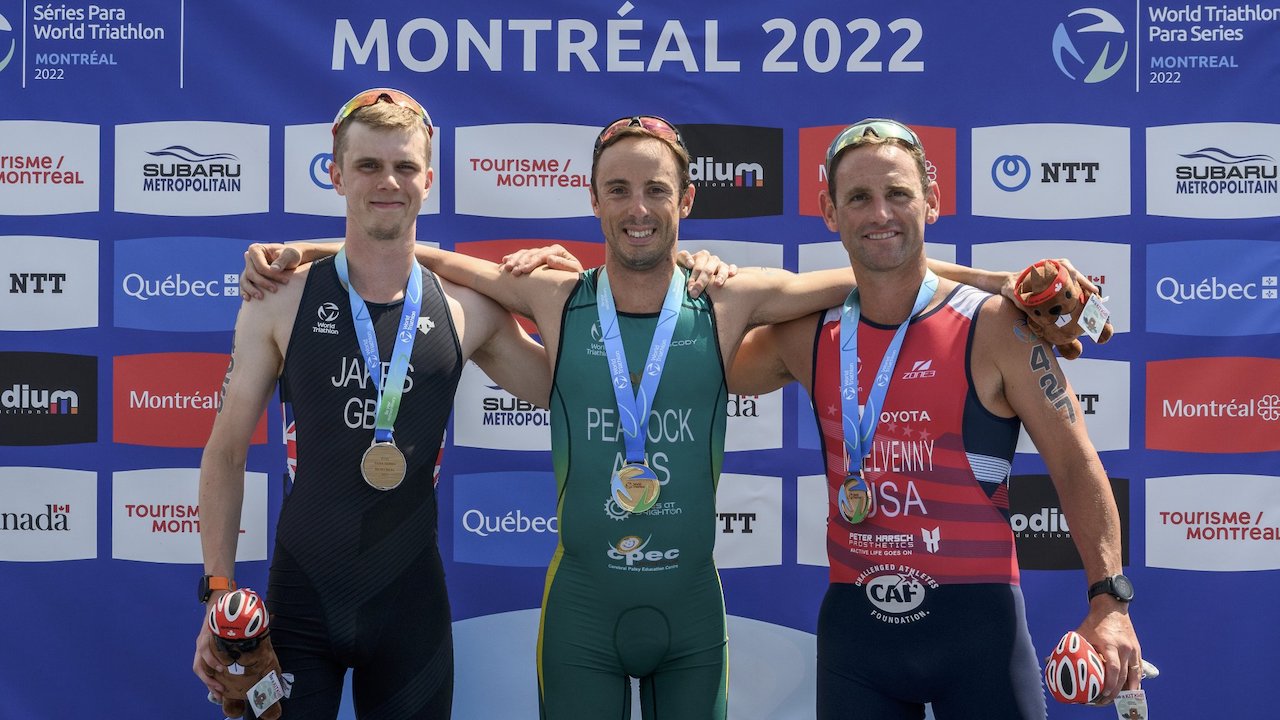 Women
1. Kelly Elminger (USA) – 1:13:24
2. Marta Frances Gomez (ESP) – 1:15:08
3. Elle Van Engelen (GER) – 1:21:03
PTS5
Men
1. Stefan Daniel (CAN) – 59:10
2. Chris Hammer (USA) – 1:00:13
3. Filipe Marques (POR) – 1:00:20
9. Michael Salisbury (GBR) – 1:04:30
Women
1. Grace Norman (USA) – 1:05:45
2. Kamylle Frenette (CAN) – 1:09:45
3. Gwladys Lemoussu (FRA) – 1:12:24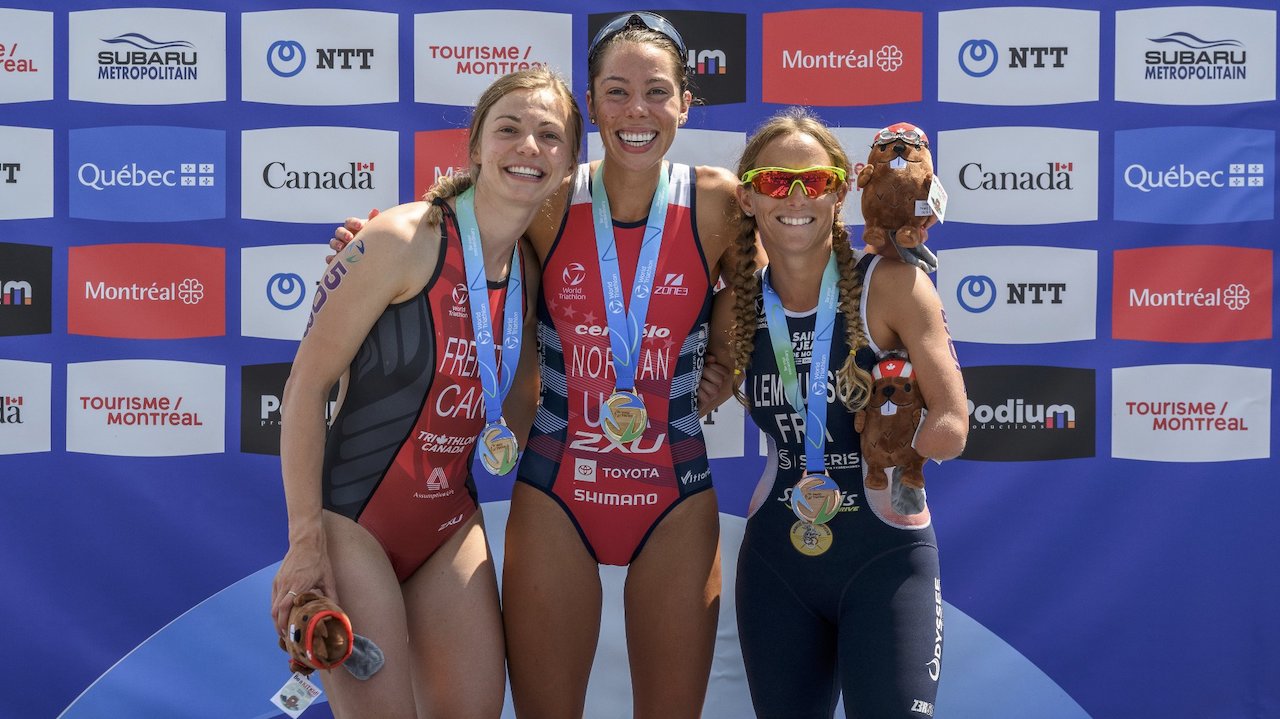 PTVI
Men
1. Kyle Coon (USA) – 1:01:12
2. Oscar Kelly (GBR) – 1:02:02 (Guided by Charlie Harding)
3. Gerasimos Lignos (GRE) – 1:03:39
Women
1. Susana Rodriguez (ESP) – 1:07:24
2. Francesca Tarantello (ITA) – 1:12:25
3. Deborah Chucoski (USA) – 1:19:20