Racing earlier on Friday before the afternoon's World Triathlon Championship Series races, British athletes secured four medals at the 2021 World Triathlon Para Championships.
Just as Jelle Geens was perhaps motivated by Tokyo 2020 disappointments, Claire Cashmore (PTS5) and Dave Ellis (Guided by Luke Pollard) in the PTVI division, didn't get the results they wanted this summer in Japan.
While Cashmore did return from Odaiba Marine Park with a Paralympic Games bronze, it didn't represent the result that the 2019 World Champion was hoping for, a one minute penalty putting her out of contention in terms of challenging fellow Brit, Lauren Steadman. For Ellis and Pollard the frustration was perhaps even deeper, as the odds-on favourites were unable to even complete the bike leg due to a mechanical issue with their chain.
While gold medals today for both won't fully eliminate the 'what could have been' of Tokyo, it will still represent a positive way to end the season, adding to European Championship wins earned last month in Valencia.
Cashmore adds more Gold
After starting the bike in first position, Cashmore held strong until the finish, coming home a almosy minute clear of Tokyo silver medallist, Grace Norman (USA).
"It feels pretty good to have retained my title. I've held on to the title for the longest without having to race in 2020 so to be World Champion again in 2021 is pretty awesome.
"It's been a bit of whirlwind of a year so just the perfect way to finish it off. I knew I had it in me, but I suppose I didn't have as much coming in after Tokyo. I didn't feel quite as on it but actually out there I felt amazing. I just felt like everything clicked into place.
"The course was so much fun. To race on the formula 1 track was so fast and the perfect course for me. It wasn't too technical, whizzing round that course was phenomenal."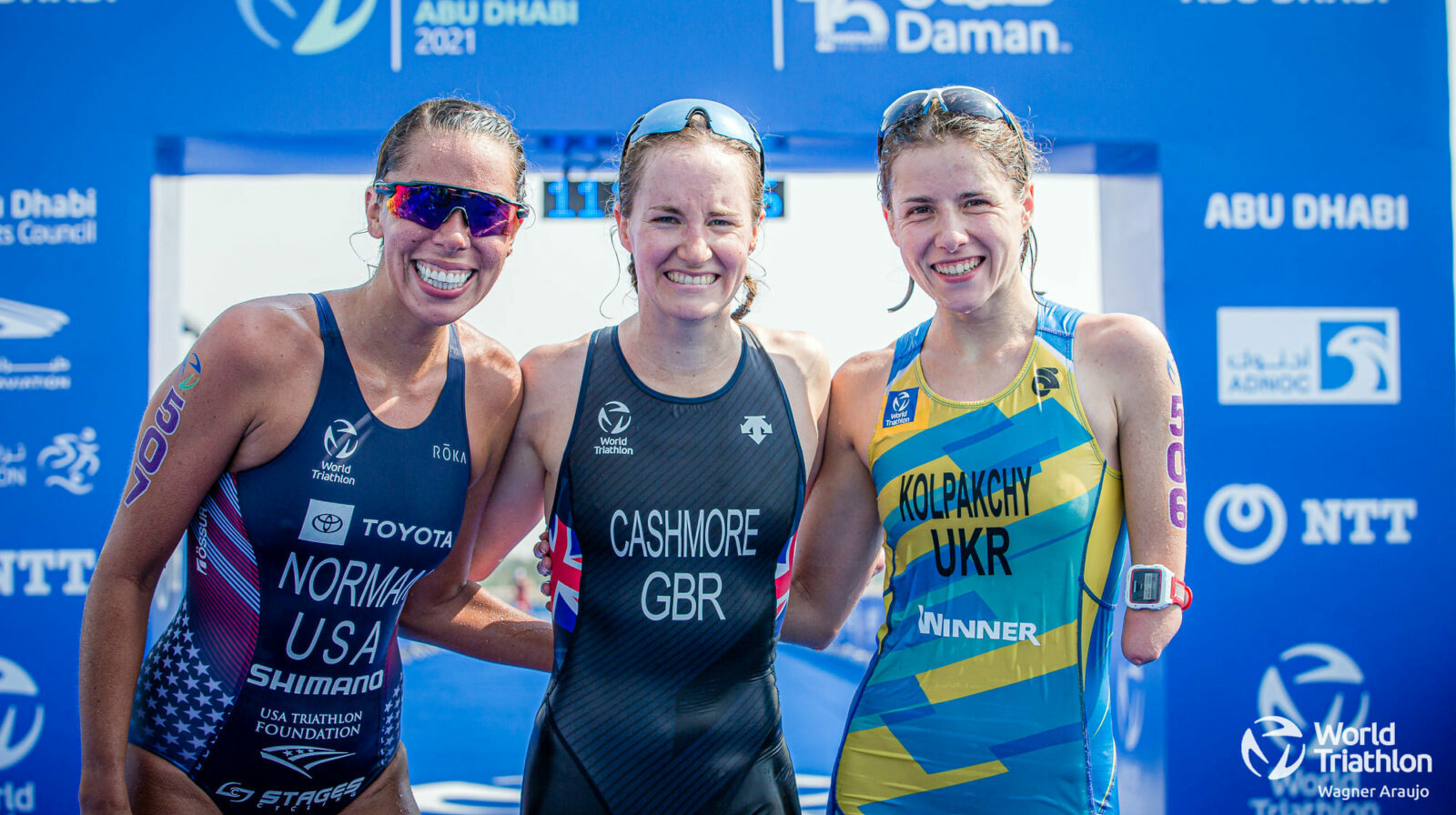 European and World Championship double for Ellis
While Dave Ellis has tasted World Championship victory before, there was a new twist to this performance:
"It feels awesome to be World Champion again and it's Luke's first time as a World Champion guide. It was a really good race and a great day which we really enjoyed and it's great to be back on top again."
"We had a bit of bad luck this year, so it was good to finish it how we were meant to," Pollard said. "It's a really good course. The surface is really good, the bike is nice and quick and it's nice to see everyone else on the run so you can pace your run well."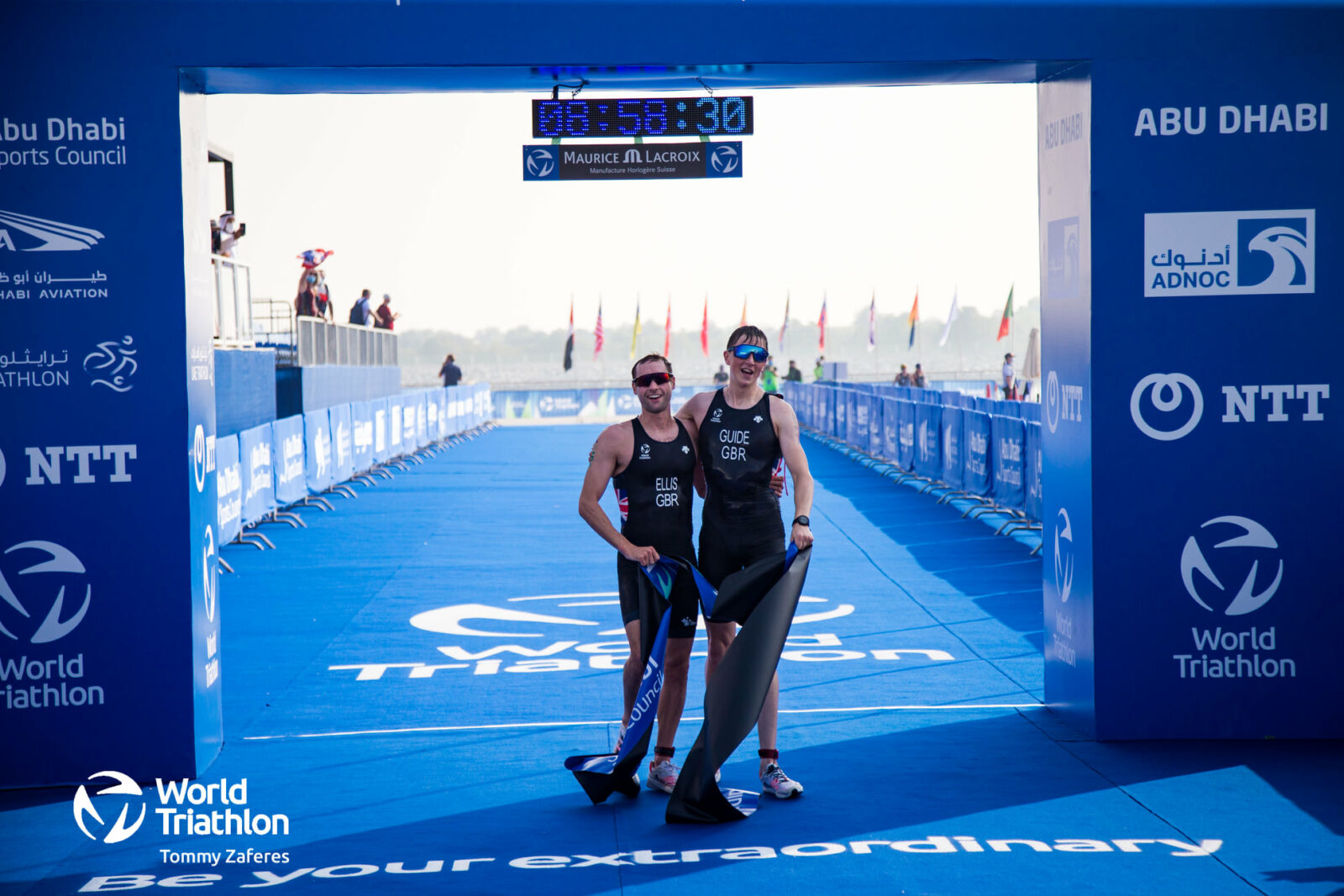 Silver lining for Fran Brown
Another athlete for whom Tokyo didn't quite go as hoped, Fran Brown (PTS2) added World Championship silver to her European Championship gold:
After the race, Brown said: "It was really good out there today. I had a really good swim and led out of the swim which I don't think I have done before. That was probably my best swim yet.
"The bike was really good fun and I love biking and this course is incredible and I played the run sensibly. I was really happy, and I just wanted to finish, so to come second is good to cap off the season."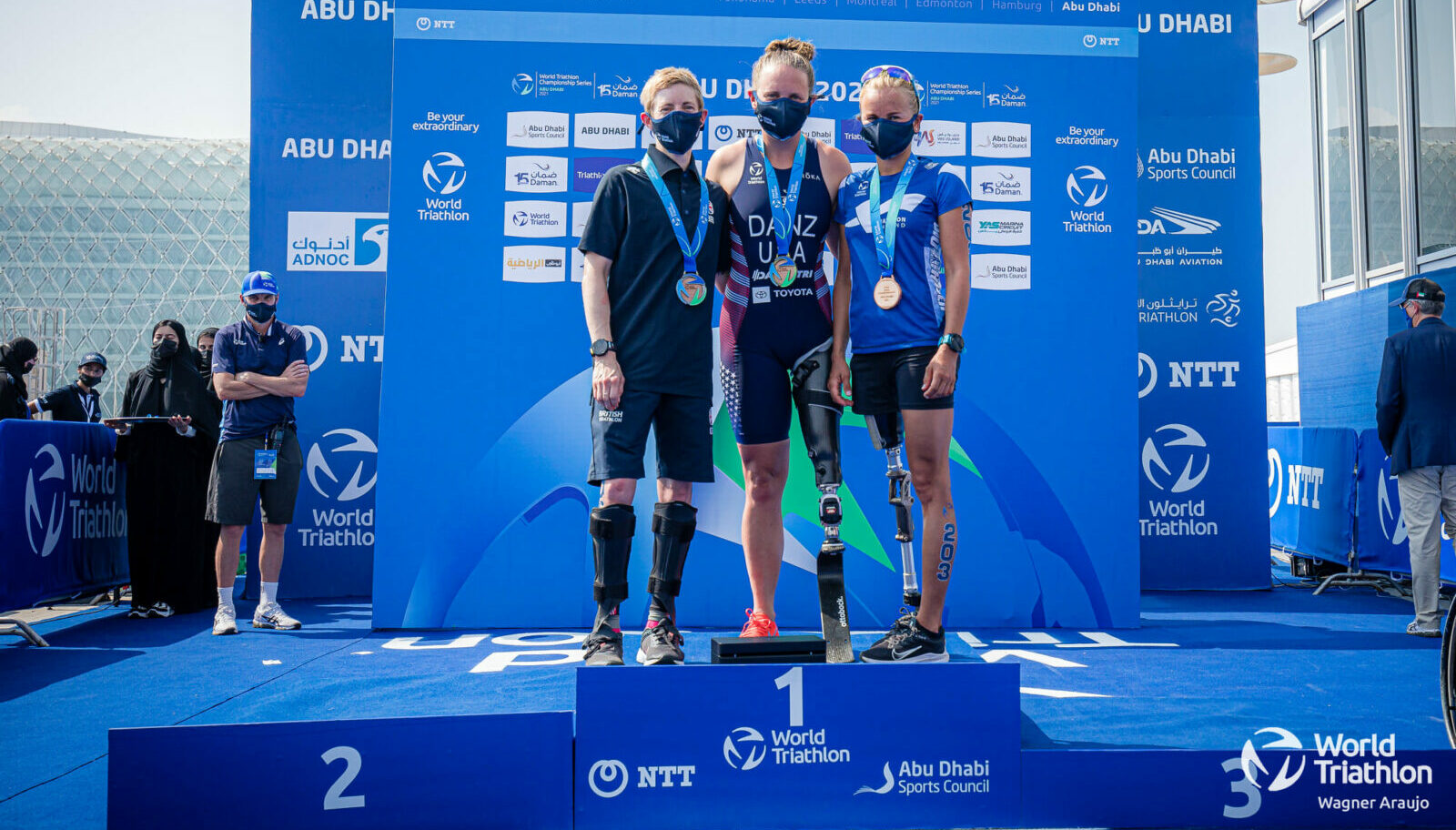 Peasgood back on the podium
Like Brown, Alison Peasgood was also fourth in Tokyo – and hopes of turning that around to medal success the European Championships ended with a bike crash and a DNF. Alongside guide Brooke Gillies, she took bronze in the women's PTVI classification, the race won by Spain's Paralympic Games champion, Susanna Rodriguez.
"Being bronze medallists at the Worlds sounds amazing," Peasgood said. "After the season I've had with lots of ups and downs, we crashed at Europeans in Brooke's first race so to have the confidence on that bike course today is a massive testament to her. I couldn't be happier and prouder of her."
"Alison wasn't 100% but she absolutely nailed it. She has a torn/sore calf on the run, but we managed to still do it," Brooke said. "Especially after the last race, we're just so proud to get to the end so we're so happy."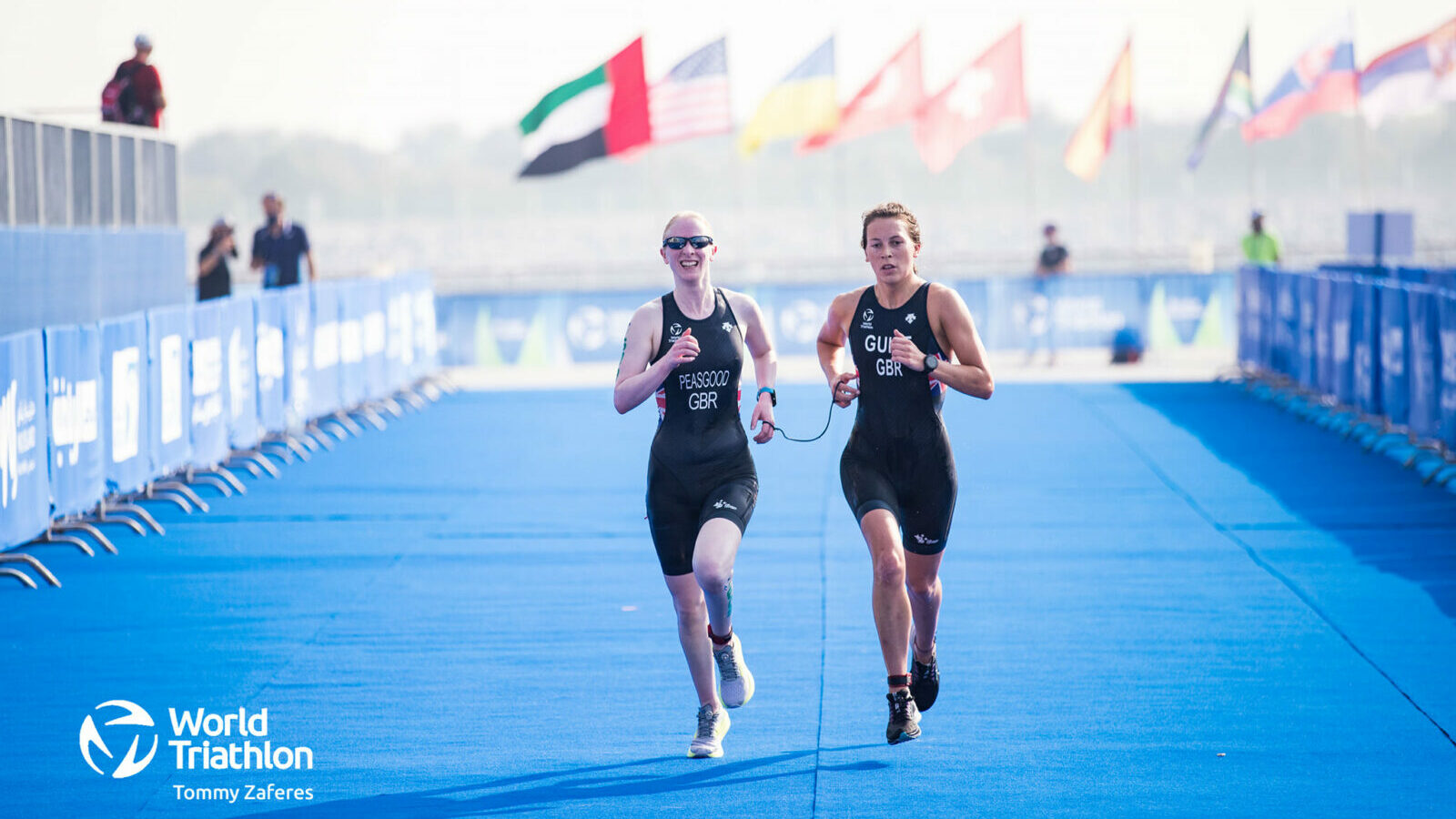 Debutants make their mark
Making his world championship debut in the same race as Ellis and Pollard was Oscar Kelly and his guide Charlie Harding. The young Brits backed up strong performances earlier in the year and overcame a crash on the bike to finish sixth.
Katie Crowhurst and her guide Grace France were another pair making their world championship debut as they finished sixth in the women's PTVI race. This is only the second international event that Crowhurst has raced in, with France guiding her to world cup silver in the week before Abu Dhabi.
Two Brits competed in the men's PTS4 category in the UAE, with Michael Taylor crossing the line in fifth and Finley Jakes finishing ninth as both athletes made their world championship debuts.
World Triathlon Para Championships Results 2021 Abu Dhabi
Friday 5 November 2021 – 750m / 20k / 5k
PTVI – Men
1. Dave Ellis (GBR) – Guided by Luke Pollard – 58:29
2. Hector Catala Laparra (ESP) – 59:47
3. Kyle Coon (USA) – 1:01:19
6. Oscar Kelly (GBR) – Guided by Charlie Harding – 1:02:14
PTVI – Women
1. Susanna Rodriguez (ESP) – 1:06:26
2. Anna Barbaro (ITA) – 1:09:25
3. Alison Peasgood (GBR) – Guided by Brooke Gillies – 1:09:40
6. Katie Crowhurst (GBR) – Guided by Grace France – 1:13:38
PTWC – Men
1. Jetze Plat (NED) – 56:15
2. Geert Schipper (NED) – 57:33
3. Florian Brungraber (AUT) – 57:44
PTWC – Women
1. Lauren Parker (AUS) – 1:05:24
2. Jessica Ferreira (BRA) – 1:09:19
3. Eva Maria Morel Pedrero (ESP) – 1:11:36
PTS2 – Men
1. Jule Ribstein (FRA) – 1:08:43
2. Lionel Morales (ESP) – 1:09:19
3. Wim De Paepe (BEL) – 1:10:44
PTS2 – Women
1. Hailey Danz (USA) – 1:17:21
2. Fran Brown (GBR) – 1:18:17
3. Liisa Lijla (FIN) – 1:23:45
PTS3 – Men
1. Victor Chebotarev (RTF) – 1:08:07
2. Daniel Molina (ESP) – 1:09:15
3. Nico Van Der Burgt (NED) – 1:09:50
PTS3 – Women
1. Andrea Miguelez Ranz (ESP) – 1:14:42
2. Elise Marc (FRA) – 1:19:31
3. Evgeniya Koroleva (RTF) – 1:34:00
PTS4 – Men
1. Alex Hanguinquant (FRA) – 0:58:54
2. Hideki Uda (JPN) – 1:03:22
3. Alejandro Sanchez Palomero (ESP) – 1:03:58
5. Michael Taylor (GBR) – 1:04:48
9. Finley Jakes (GBR) – 1:06:41
PTS4 – Women
1. Kelly Elmlinger (USA) – 1:12:53
2. Marta Frances Gomez (ESP) – 1:15:31
3. Elke Van Engelen (GER) – 1:23:17
PTS5 – Men
1. Chris Hammer (USA) – 58:34
2. Aleksandr Konyshev (RTF) – 58:36
3. Ronan Cordeiro (BRA) – 58:38
PTS5 – Women
1. Claire Cashmore (GBR) – 1:05:01
2. Grace Norman (USA) – 1:05:54
3. Alisa Kolpakchy (UKR) – 1:11:40