The Europe Triathlon Championships in Valencia also hosted the European Paratriathlon Championships, alongside the Elite Men & Women, Age-Group Sprint and Age-Group Standard distance races.
From Japan to Spain
As we'd highlighted last week in our preview piece, several of the strong British squad which featured in Tokyo last month would also be racing in Valencia. Three gold and two silver medals was the final tally from the 10 entries.
European Championship titles were earned by Fran Brown (PTS2), Claire Cashmore (PTS5) and Dave Ellis, Guided by Luke Pollard (PTVI).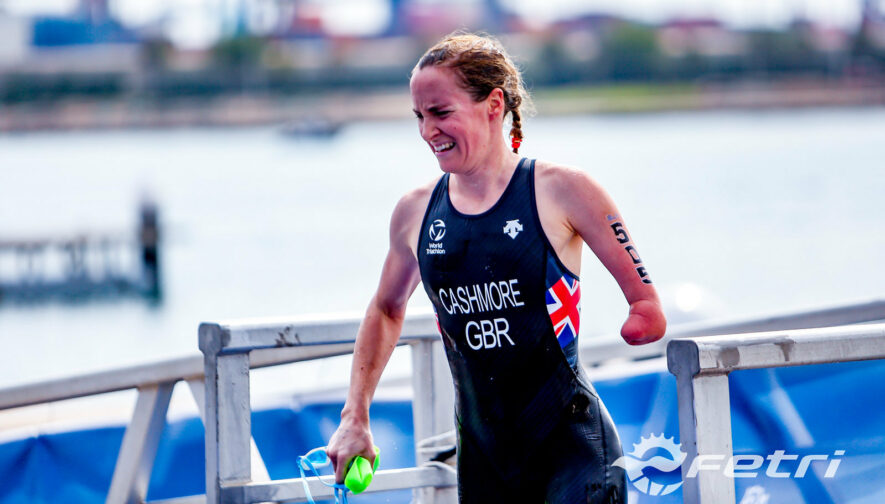 That win for Dave and Luke comes off the back of huge disappointment in Tokyo, when a mechanical issue on the bike ended their hopes having started the race as the strong favourites for the gold medal. While a European Championship victory can't replace that, it is great to see them back on the top of a championship podium.
The PTS5 Men's division saw a repeat of the Martin Schulz (GER) / George Peasgood (GBR) one-two from Tokyo, while Michael Taylor (who was eighth in Tokyo) was back to form to match Peasgood's silver. Alexis Hanquinquant (FRA) continued his dominance of the PTS4 category however – his sights, surely, will be fully set for Paris 2024.
Paratriathlon results from Valencia 2021
Europe Triathlon Paratriathlon Championships, Saturday September 25, 2021
750m / 20km / 5km
PTS2 Women
1st – Fran Brown (GBR) – 1:23:10
PTS2 Men
1st – Jules Ribstein (FRA) – 1:07:23
PTS3 Women
1st – Andrea Miguelez Ranz (ESP) – 1:16:39
PTS3 Men
1st – Daniel Molina (ESP) – 1:09:35
PTS4 Women
1st – Marta Francés Gómez (ESP) – 1:17:15
PTS4 Men
1st – Alexis Hanquinquant (FRA) – 0:59:50
2nd – Michael Taylor (GBR) – 1:02:41
5th – Finley Jakes (GBR) – 1:07:43
PTS5 Women
1st – Claire Cashmore (GBR) – 1:05:52
PTS5 Men
1st – Martin Schulz (GER) – 59:05
2nd – George Peasgood (GBR) – 59:47
PTVI Women
1st – Annouck Curzillat (FRA) – 1:11:56
DNF – Alison Peasgood (Guide Brooke Gillies) -GBR
PTVI Men
1st – Dave Ellis (Guide Luke Pollard) – GBR – 1:00:21
6th – Oscar Kelly (Guide Charlie Harding) – GBR – 1:04:24
10th – Rhys Jones (Guide Jamie Price) – GBR – 1:09:06
PTWC Women
1st – Eva María Moral Pedrero (ESP) – 1:13:17
PTWC Men
1st – Jetze Plat (NED) – 57:51
7th – Joshua Landmann (GBR) – 1:09:26