TRI247 Workout Series #146 – Stages Power Builder Series Week 2
YOUR CHANCE TO WIN A GPS BIKE COMPUTER
Wednesday, 11th November 2020 – 7.05pm UK time on Zwift
After a great start last week, we are back with Week 2 of the Stages Cycling TRI247 Power Builder Series.
In conjunction with Marc Jenkins and Rhys Jones at JinxSport (www.jinxsport.com), we have a four week Power Builder Series. As well as the Wednesday night group workout which will be lead by Athens 2004 Olympian, Marc, the Jinx Sport team will also be providing detailed advice and guidance on other sessions you can do during the week to complement the group workout, along with additional tips on making the most of your training.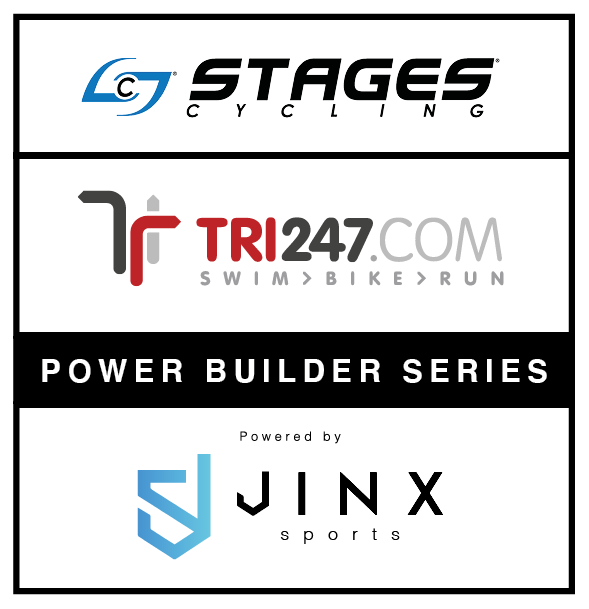 Not only that, but with a huge thanks to Stages Cycling (stagescycling.com), each week one rider from that Wednesday night group session will win a Stages Cycling Dash M50 GPS Bike Computer loaded with a wide range of training features that make workouts like this one easier to execute. That's a prize worth more than £200!
If you've not yet experienced Zwift (www.zwift.com), the market-leading indoor training platform, then what better time to give it a try. These links will help you get started – hopefully we'll see you (virtually!) online soon.
And with that introduction, here's the update from Marc and Rhys on what's on the schedule for week 2.
---
WEEK 2
With the first week of the Stages TRI247 Power Builder Series completed, we now have a good idea of what a good training week should look like. This is an opportunity to adjust a few things that might not have worked for you in the first week, and also the opportunity to alter the intensities we rode at a fraction.
It's not uncommon to see big changes in FTP scores when athletes are coming from an untrained start, so don't be too concerned if you feel like you want to go a little harder; just don't increase by more than a few %. Zwift has a great feature that allows you to increase or decrease intensity within the work as you go.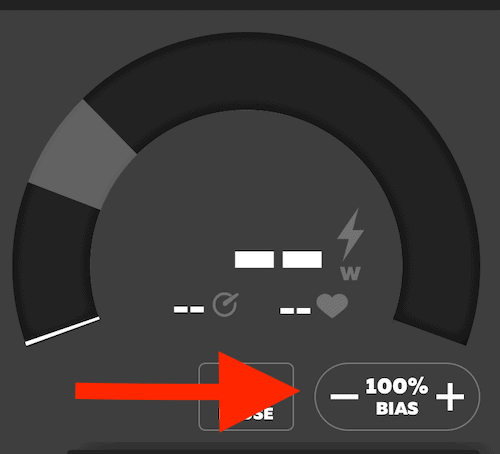 The Wednesday sessions start to increase the length of time we were working at a higher intensity, but still within that band that gives us the most bang for our buck without causing too much unnecessary fatigue. As the reps get a little harder, try and focus on a still body and staying as relaxed as possible.
Heart rate
We hadn't made a reference to heart rate in the first week, but as most people also use a HR monitor, it is important to understand what our HR is telling us. HR doesn't respond as quickly as power does so can give us misleading intensities and most definitely isn't a standard across the population. Max HR, resting HR, HRR, and % of max HR are useful, but are heavily affected by heat, hydration, and stress. So, one of the most important training aids you will ever use for indoor training is a big fan! Get one!
The week's outline
We are getting the consistency now so the basic plan will remain the same, but let's try adding a few more things into the mix to keep challenging our bodies and keep the mind as fresh as possible. Wednesday's Zwift workout focuses on spending more time in and around our threshold power, so you develop a large capacity to process this intensity.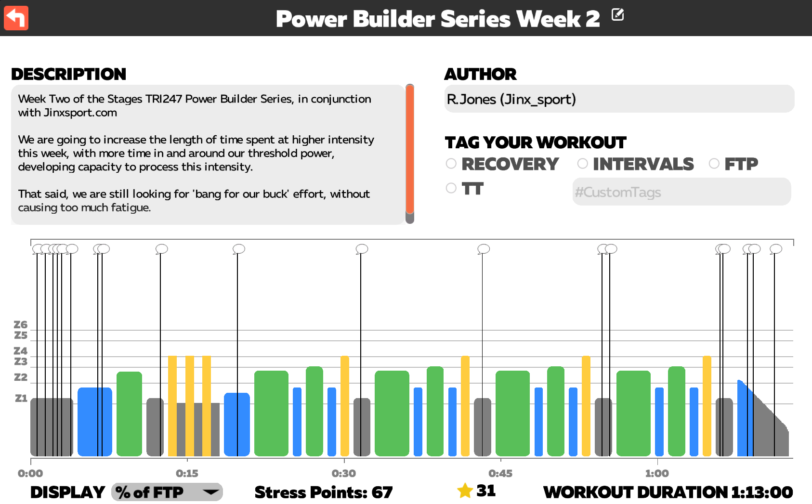 (ZWIFT EVENT LINK >>> https://www.zwift.com/events/view/1201209)
The rest of the week includes the following:
Within the longer 2/2.5hr ride try playing with different cadences. Over gear work at a cadence of 60/70rpm will add sport specific strength which will help when you have to dig deep toward the end of races. High cadence work of 100rpm plus will help save your leg strength for when you need it the most. E.g. 2min low cadence 1min comfortable cadence times 10, then flip it to 2min high cadence and 1min comfortable cadence for 10reps, all within the 65/75% FTP intensity range.
70/90min group ride. Find a few mates that might be a little fitter than you and aim for a strong pace when you feel good, do a short pull into the wind and when you feel tired sit in and rest. Top tip: always try to rest more than you pull as you don't want to turn this into max effort and affect the quality work to come.
A shorter 45/60min ride which you can possibly do fasted (if health allows) to again improve fat metabolism. You can also use this ride to practice holding an aero position either on the tri bars or on the drops, keeping your head as low as possible, so you get comfortable for race day.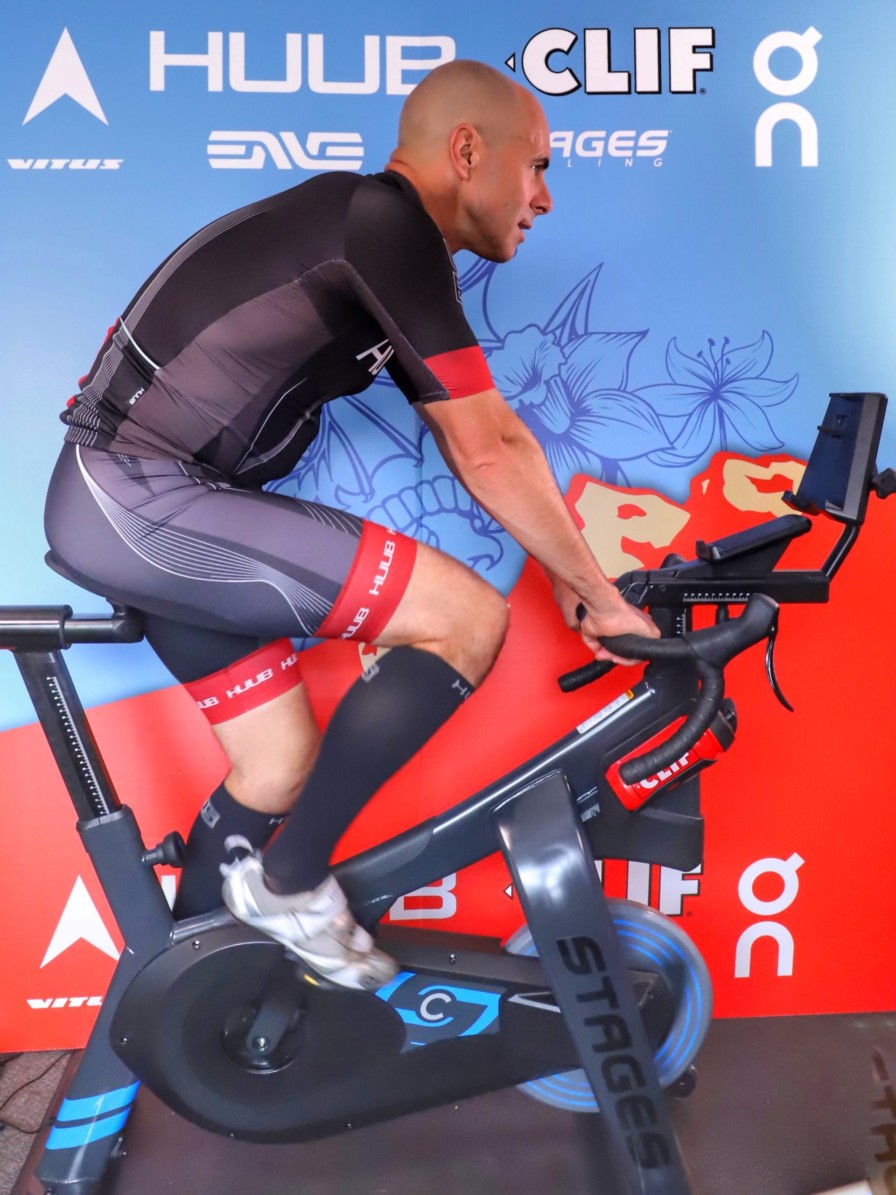 Other training tips for the week
Power on the bike and run comes from strong stable hips and glute muscles firing at the correct time, so get yourself some stretch bands and concentrate on hip and glute strength. Exercises like monster walks and side planks are excellent and can be included into warm up and cool down taking very minimal time each day.
Have a great week and we look forward to seeing you on the ride Wednesday. If you have any questions about, comments or feedback from this week's sessions, please feel to reach out on [email protected] or @jinxsport on facebook.
Marc and Rhys
JinxSport.com
(PS – Don't forget that these sessions and advice provide are generalised for the wide audience of TRI247.com. You can always make them harder or easier depending on your personal ability. Also, if you are unsure about your health or wellbeing it is always worth checking with a medical professional before undertaking any physical activity.)
DON'T FORGET – JOIN THE WEDNESDAY RIDE AND YOU COULD BE A WINNER!