TRI247 Workout Series #20 – Race Force
Wednesday, 25th April 7.00pm UK time (GMT) on Zwift
Wednesday's TRI247 Workout Series group session on Zwift will be lead by Race Force! May the force be with you…
Race Force (www.raceforce.co.uk) spend their summers out on Ironman courses around Europe supporting over 300 UK athletes every year on their incredible journey to that magic red carpet.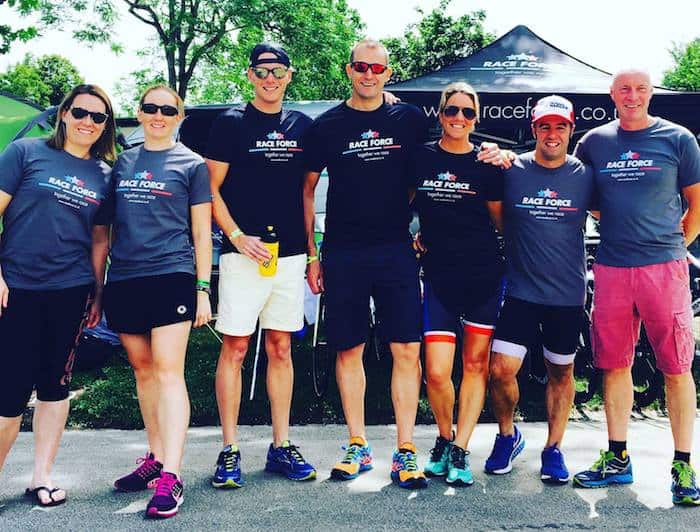 They are your professional support crew made up of coaches, mechanics and sports therapists but they are active triathletes too and like to bring a lot of fun to whatever they do, so join the Race Force ChainGang this week for an hour of topsy turvy, heart raising fun fun fun. #Togetherwerace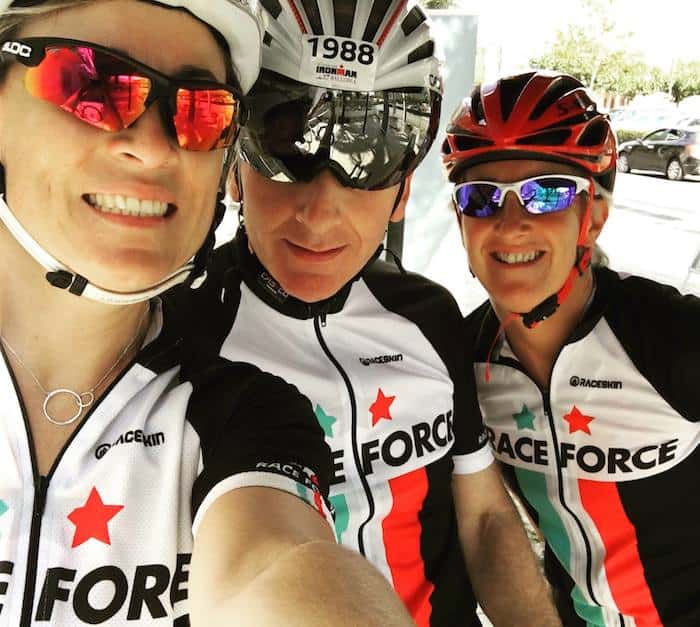 The Session:
This session has a Pyramid, Shorts & Long intervals and we'll be working from 95% – 115% of FTP throughout. Lots of fun stuff to keep you interested for the next hour and to make sure you feel like you have taken your turn on the front. Lets go team!
The main session structure is:
Set 1
5*1min pyramid at 95%/100%/105%/100%/95%
30secs Z1[50%] recovery intervals
Set 2
5min Z5[115%]
Set 3
4*2min Z4[100%]
30secs Z1[50%] recovery intervals
Set 4
4*1min Z5[105%]
30secs Z1[50%] recovery intervals
Set 5
4*1min Z4[100%]
30secs Z1[50%] recovery intervals
Set 6
5min Z4[100%]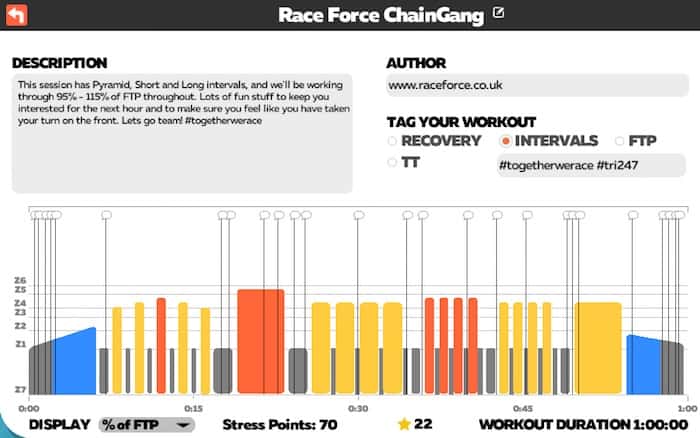 (As with our other events to date (Lucy Charles | Lucy Gossage | Lionel Sanders | Joe Skipper | John Levison | Ruth Purbrook | Tim Don | Reece Barclay| Harry Wiltshire | Paul Shanley | Karl Alexander | Jenny Gowans | Matt Bottrill | John Levison #2 | Sam Begg | Paul Shanley #2 | Karl Alexander #2 | Richard Stannard), we will publish the Zwift Custom Workout file from the session after the event, so that you can also do the session in your own time).
Joining Instructions:
The workout will begin promptly at 7.00pm UK time, Wednesday 25th April 2018. It is worth logging in 10 or 15 minutes before the session to make sure you are set up and ready to go, where you will be able to warm up in the virtual 'holding pen'.
https://www.youtube.com/watch?v=XNTXAkky4qE
Look for the TRI247 Workout Series event in the list on the right of the screen once you have paired your sensors. Click to JOIN and you will be taken to the start line ready to begin the workout.
Make sure you have set your FTP level correctly before you join the workout as all the intervals are based on a percentage of FTP so it is important to get that right. If in doubt, dial the FTP number down 10 or 20 watts as it is better to finish the session than to feel like it is too challenging.
If you have never used Zwift before but don't want to miss out, head to the Zwift support page for tips on how to get the most out of your setup.
After the session head over to the TRI247 Facebook page for some post ride chat.
Zwift Group Rides: TRI247 Workout Series
The cool thing about a group workout on Zwift is that varying levels of ability can ride together in a group and all finish the session together having done the same relative effort, even if the actual watts are significantly different. It is not a race, but a shared goal to get a good session in the training log.