The Performance Chef has the recipe for speed!
Regular readers of the pages of TRI247 over the years may be familiar with the name Alan Murchison.
Between 2013 and 2015, Alan was one of the most consistent and successful athletes in the Great Britain Age-Group Duathlon team, winning six consecutive Gold medals in European and World Championship competition over that three year period.
Alan Murchison as an Age-Group Duathlete (40-44):
ETU Sprint European Champs 2013 (Horst) – Gold
ITU Sprint World Champs 2013 (Ottawa) – Gold
ETU Sprint European Champs 2014 (Horst) – Gold
ITU Sprint World Champs 2014 (Pontevedra) – Gold
ETU Powerman Long Distance European Champs 2015 (Horst) – Gold
ETU Sprint European Champs 2015 (Alcobendas) – Gold
Based on those results – and wining the London Duathlon overall in 2015 – we made Alan our ERDINGER Athlete of the Month for November 2015.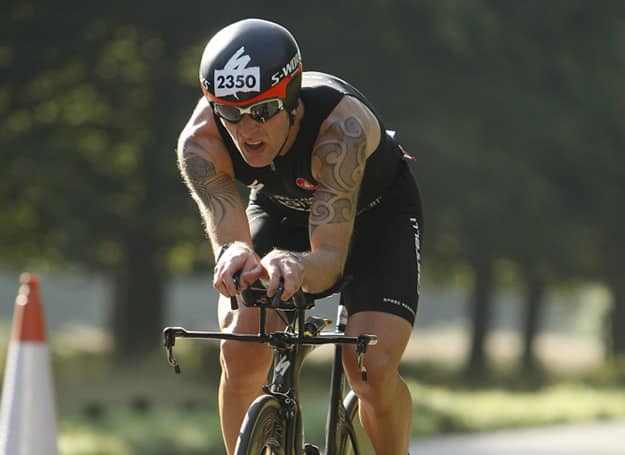 Ahead of one of those events in 2014, we featured Alan's (at the time…) race bike (HERE). It is fair to say that Alan likes bikes a lot… and "new bike day" is never too far away in the Murchison household. The Shiv Tri may have left the building, but the flow of Specialized bikes into and out of his 'stable' continues to this day.
(The 'out of' can be quite useful if you are around Alan's size when he comes to selling on his typically immaculate 'second hand' machines for the latest new toy…).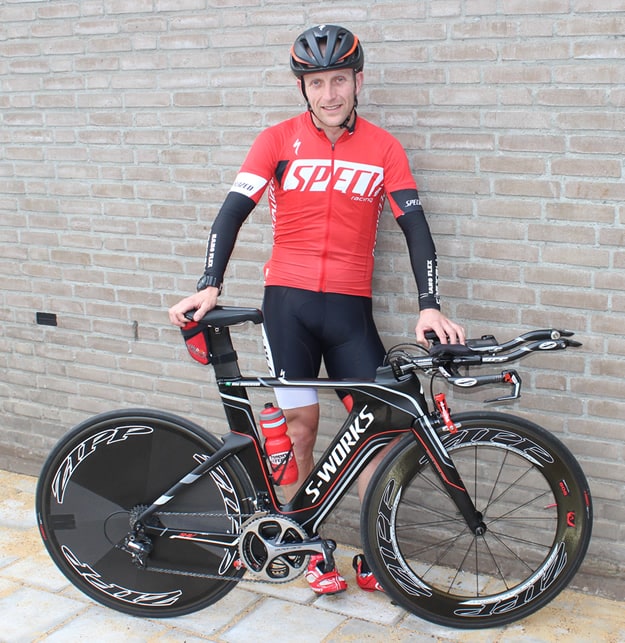 Alan's racing and defying the passing years (he was 45 at the time), earned him an Elite start for the Great Britain team at the ETU Powerman Long Distance Duathlon Championships in 2016, but that race pretty much signalled the end of his run-bike-run ambitions. Knee surgery followed shortly afterwards and his competitive running ambitions would be over.
New Goals
Around this time, Alan changed direction both professionally and with his sporting ambitions. Having been a Michelin-starred chef and worked and run many of the best restaurants for many years during his career, Alan combined his food and sporting knowledge to create Performance Chef (www.performancechef.com), bespoke nutrition and optimised food planning / periodisation for athletes.
A huge success, he was recently the Team Chef for the Great Britain track cycling team at the World Championships in Holland, he works with several Olympic Gold medallists and World Champion athletes and has become the 'go to' name for advice on combining nutrition with performance.
That work hasn't diminished his own sporting goals. In his younger days, Alan was an Elite runner in the Scottish team and has broken the 30 minute mark for 10km. While "hugely missing" not being able to run, Alan turned his goals towards the bike and time trialling in particular.
Under the guidance of TT legend Matt Bottrill as coach, last year Alan cracked the 20-minute mark for 10-miles (19.37), making him one of the few athletes we can think of to have done that Sub-30 minute 10k run / Sub-20 minute 10-mile (30mph) time trial.
New Records
2017 wasn't mission accomplished however. On Saturday, racing in the Lea Valley CC event on the E2/25 course just outside Newmarket, Alan extended his '30mph' speed to 25-miles, setting a new personal best time of 49:16. That's 30.45 mph average. Speedy.
He is not done yet either. Alan believes he can go faster over 25-miles – "Can definitely get a minute off that time today, not in shape as such" – and has the 30mph target of 1:40 for 50-miles on his 'to do' list, along with a speedy '100' too.
25 mile TT, respectable ride in decent company. pic.twitter.com/K4WEbgP7MK

— Performance Chef (@AlanMurchison) April 8, 2018
The world of domestic time-trialling with its village halls, strange course codes, aerodynamics obsession plus tea & cake, has gained another multisport convert – and he's doing rather well.
Enjoyable trip to Cambridgeshire for a ride up & down a dual carriageway yesterday. Area reminded me a lot of Holland, flat, windy, cycle lanes, windmills, deep fried food & odd looking quirky tall people. @Doctor_Hutch @hayleyrsimmonds

— Performance Chef (@AlanMurchison) April 8, 2018
Alan's take on his new ambitions:
"The main thing for me is enjoying setting goals in another discipline. Adaptation over to being a pure cyclist has taken more time than I first thought. I figured cycling must be really easy without running… but it's not that simple to find any real form.
"TT'ing is hugely competitive and the standards are mad; 50 year-olds riding 47 mins (for 25 miles), whereas in duathlon/triathlon AG racing, sub-60 minutes for 25 is decent. My time on Saturday, 49.16, only gave me 5th veteran (!), so half the fast guys in the field are over 40s.
"I'm looking to be competitive over 100-miles to 12 hours, then focus on getting my 25 down to 48 minutes. I'm lucky to have help from Matt Bottrill who was also my coach when I was racing Duathlon, and to also have the best racing kit and aero advice from Drag2Zero.
"I would like to finish this season with a 48 minute '25', a 1:40 '50', 3:40 for the '100'… and finish the 12 Hour not broken!!!"
Nice work Chef!