Record-breaking Flying Dutch Girl extends her Sub-9 iron-distance record
Challenge Almere course record and a 13th career 8:XX finish in Almere
You can never say that Yvonne Van Vlerken is not consistent. With a professional career now well into its second decade, the Dutch athlete is showing little desire to stop just yet – and even less sign that she is slowing down either.
Sunday's Challenge Almere-Amsterdam (report HERE), the ETU Long Distance Triathlon European Championships also saw her extend a record she already holds, as the female athlete with the most career sub-nine hour iron-distance finishes.
As I have been know to enjoy a triathlon statistic or two, here are details of all 13 of those finishes – which now extend over a period of more than 10 years since the first one at Challenge Roth in 2007. She also finished in 8:57:54 in Almere that year. 10 years on, over six minutes faster and a course record too.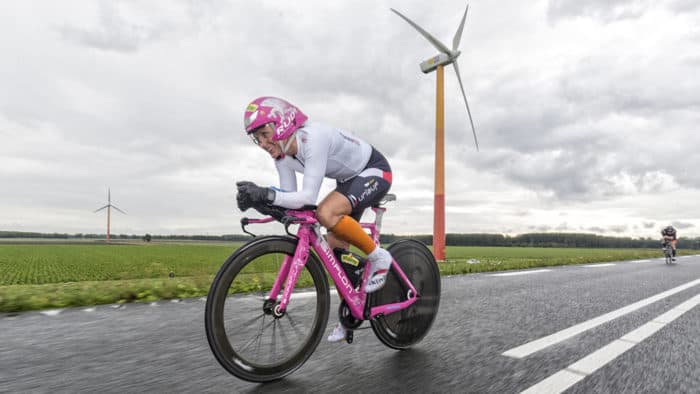 Here is the full archive of her record-breaking numbers:
Yvonne Van Vlerken – Sub Nine Hour Iron Distance Finishes (Fastest first)
| | | | | | | | |
| --- | --- | --- | --- | --- | --- | --- | --- |
| Location | Year | Swim | T1 | Bike | T2 | Run | Total |
| Florida | 2013 | 01:00:14 | 00:02:53 | 04:35:49 | 00:02:16 | 03:01:55 | 08:43:07 |
| Roth | 2008 | 00:53:47 | 00:02:07 | 04:54:11 | 00:01:22 | 02:54:22 | 08:45:48 |
| Roth | 2013 | 00:54:40 | 00:01:24 | 04:39:35 | 00:01:12 | 03:09:33 | 08:46:22 |
| Barcelona | 2015 | 00:59:57 | 00:01:39 | 04:41:28 | 00:00:52 | 03:02:48 | 08:46:44 |
| Roth | 2016 | 00:55:14 | 00:01:29 | 04:40:29 | 00:01:27 | 03:10:38 | 08:49:35 |
| Roth | 2015 | 00:54:46 | 00:01:30 | 04:47:34 | 00:01:22 | 03:05:43 | 08:50:53 |
| Almere | 2017 | 00:57:24 | 00:01:33 | 04:44:15 | 00:02:19 | 03:05:44 | 08:51:13 |
| Arizona | 2016 | 00:58:04 | 00:02:22 | 04:40:40 | 00:01:38 | 03:08:43 | 08:51:27 |
| Florida | 2012 | 01:01:26 | 00:02:52 | 04:40:20 | 00:02:12 | 03:04:45 | 08:51:35 |
| Roth | 2007 | 00:57:55 | 00:01:56 | 04:51:48 | 00:01:19 | 02:58:55 | 08:51:55 |
| Almere | 2007 | 00:58:30 | 00:02:10 | 04:45:49 | 00:02:17 | 03:09:11 | 08:57:54 |
| Melbourne | 2015 | 00:59:52 | 00:02:32 | 04:44:28 | 00:01:12 | 03:10:54 | 08:58:58 |
| Roth | 2014 | 00:59:24 | 00:01:40 | 04:42:17 | 00:01:36 | 03:14:40 | 08:59:36 |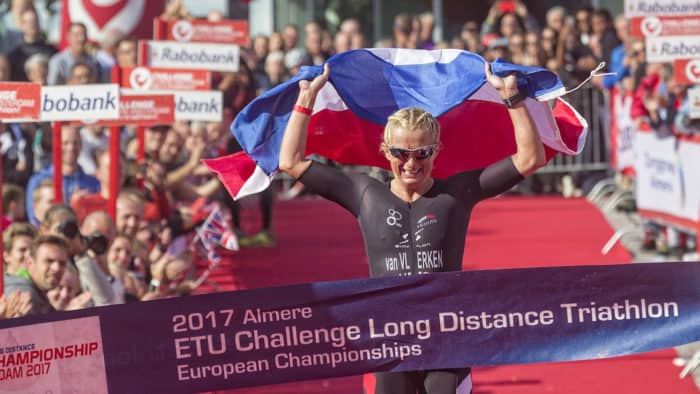 Yvonne Van Vlerken – Sub Nine Hour Iron Distance Finishes (Date order)
| | | | | | | | |
| --- | --- | --- | --- | --- | --- | --- | --- |
| Location | Year | Swim | T1 | Bike | T2 | Run | Total |
| Roth | 2007 | 00:57:55 | 00:01:56 | 04:51:48 | 00:01:19 | 02:58:55 | 08:51:55 |
| Almere | 2007 | 00:58:30 | 00:02:10 | 04:45:49 | 00:02:17 | 03:09:11 | 08:57:54 |
| Roth | 2008 | 00:53:47 | 00:02:07 | 04:54:11 | 00:01:22 | 02:54:22 | 08:45:48 |
| Florida | 2012 | 01:01:26 | 00:02:52 | 04:40:20 | 00:02:12 | 03:04:45 | 08:51:35 |
| Roth | 2013 | 00:54:40 | 00:01:24 | 04:39:35 | 00:01:12 | 03:09:33 | 08:46:22 |
| Florida | 2013 | 01:00:14 | 00:02:53 | 04:35:49 | 00:02:16 | 03:01:55 | 08:43:07 |
| Roth | 2014 | 00:59:24 | 00:01:40 | 04:42:17 | 00:01:36 | 03:14:40 | 08:59:36 |
| Melbourne | 2015 | 00:59:52 | 00:02:32 | 04:44:28 | 00:01:12 | 03:10:54 | 08:58:58 |
| Roth | 2015 | 00:54:46 | 00:01:30 | 04:47:34 | 00:01:22 | 03:05:43 | 08:50:53 |
| Barcelona | 2015 | 00:59:57 | 00:01:39 | 04:41:28 | 00:00:52 | 03:02:48 | 08:46:44 |
| Roth | 2016 | 00:55:14 | 00:01:29 | 04:40:29 | 00:01:27 | 03:10:38 | 08:49:35 |
| Arizona | 2016 | 00:58:04 | 00:02:22 | 04:40:40 | 00:01:38 | 03:08:43 | 08:51:27 |
| Almere | 2017 | 00:57:24 | 00:01:33 | 04:44:15 | 00:02:19 | 03:05:44 | 08:51:13 |