Can British Age-Group athlete Paul Lunn return to the Kona podium?
"I wouldn't have come back if I didn't think I had a chance of doing better than last year"
Continuing our #GBKona coverage of the 2018 IRONMAN World Championship, after profiling several of the British female athletes racing, today we turn our attention to the men.
Paul Lunn is the only British Age-Group male racing this year who made it to the stage at the awards in 2017 to collect over the coveted Umeke bowls awarded to the top five finishers in each AG category. That was achieved on his first race in Hawaii.
Finding himself asking, "What if?" after the race last year, he is back and would like to try and collect a bigger bowl if possible this time around. If her does, let's hope it survives the after-party, unlike last year…!
---
You did your first Kona 12 months ago and made the podium with fifth place in M45-49. Did that exceed your target?
Position is always tricky to predict as you never really know who is racing and how you will cope with the conditions the first time out here. I did think if I was to have a solid race a top-10 would be achievable based on previous years, so I was absolutely made up with fifth and the chance to stand on the podium.
How did the race compare to your expectations beforehand in terms of course / difficulty / heat etc.?
I had heard so much about the race over the years from various people, so knew the conditions would be super tough, and it didn't disappoint. I came out two weeks prior to the start to try and acclimatise and train on the course, so come race day I was expecting a tough day out. It didn't disappoint.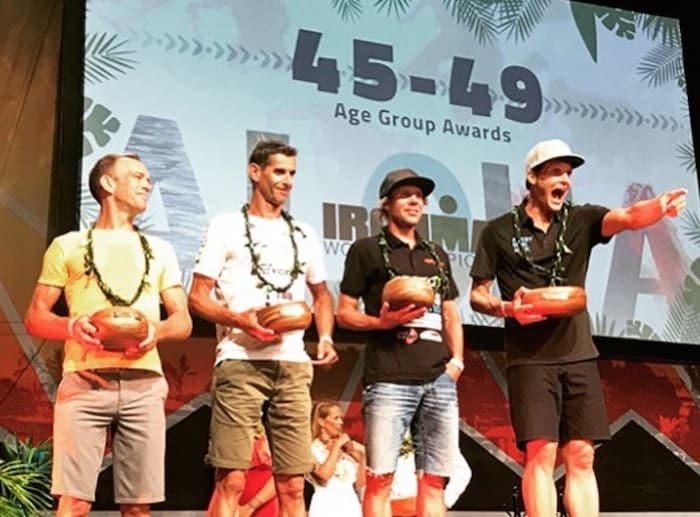 How soon after the 2017 race did you decide you wanted to return, and where did you qualify for this year?
Pretty much the next day. I was looking at the results and saw how close the top five were and thought "what if". I had already entered Frankfurt so that was my qualifying race.
Given the experience of 12 months ago, what changes if any have you made to prepare for this year's race?
I've pretty much done the same as last year with the exception of my final build, where I did about 25% less volume but with more intensity.
How has your season gone to date – do you think you've been able to improve since last year?
I've had a good consistent year, very similar to my past couple of years which at my age I feel is almost the same as an improvement as I haven't got slower.
https://www.instagram.com/p/BafCMb_FH1e/
Hawaii the second time around – does it feel good to be back?
It's such an amazing place, with amazing people. I came out two weeks before the race (same as last year), and it's been great again, meeting up with old and new friends, such a relaxing and chilled vibe here, what is there not to like?
Looking at some recent results, it seems like just a few minutes either way in your category can be the difference between a podium or outside of the top-10. Is another Umeke the target, given what you achieved last year?
Last year the top five were within just over six minutes of each other, but like I mentioned earlier, you never know who will turn up. But I wouldn't have come back if I didn't think I had a chance of doing better than last year.
Talking about that Umeke… you managed to break it before the night was over – how was the after-party (and is the super glue and tape still holding it together?!).
The after-party at Huggo's on the Rocks was such a fun night. A tropical storm came over and there was torrential rain all night, the dance floor became a river and everyone just partying after the long season was truly memorable. As for the Umeke, good friend Duncan Shea-Simonds somehow managed to salvage all the bits from the road and taped it back together for me, what a legend.
https://www.instagram.com/p/BaXLYHalEGV/
Outside of the racing, what aspect of the Kona experience do you most enjoy?
It's just great to get away from work and chill out with friends, after all I'm on holiday and Kona is the perfect place for that. The week before race week is much quieter, laid back and perfect for just chilling out.
This is your second Hawaii… do you think you'll be back again, fitness / qualification permitting?
It's not a cheap trip, or one that I could afford to do every year, so no plans to come back next year, but never say never.
https://www.instagram.com/p/BonyiC9lvf8/
You are an 'Architectural Technologist' according to your Twitter profile – what does that actually mean in terms of your working life?
I work for a small Architectural practice, so 80% of the time I am office bound with my legs up. I work a pretty standard 40 hour week and have the luxury of a short commute which makes training before and after work very manageable.
What is a normal training week for you, and do you have a coach?
I've had a coach for about five years which has been great, I never have to think or query what I am doing, I just do it. A normal week for me would be three swims, three bikes and three runs with a gym session thrown in the mix. I probably average 13-14 hours a week throughout the year.
The training is all but done now – are you good at relaxing and resting over the next few days, or one of those people that gets twitchy without the normal training 'fix'?!
I still have a few sessions left in my taper and I'll be training up until race day, but nothing too hard and I'll be relaxing the rest of the time which is very easy to do out here.
https://www.instagram.com/p/Boc8r7-lXBb/