The SEVEN British Age-Group podium finishers at the 2017 IRONMAN World Championship
For the vast majority, simply qualifying to race at the IRONMAN World Championship in Hawaii may be a lifetime goal. For a special few however, simply finishing under the brutal conditions that the Big Island presents is not enough – they are there to win.
This year, seven British Age-Group athletes made the podium in Kona, finishing in the top five of their division to receive the coveted Umeke trophies, the carved wooden bowls that are part of Hawaii tradition – and surely the most iconic awards in the sport. The higher you finish, the bigger the bowl you are presented with.
Here are the seven British Age-Group athletes who were welcomed on to the stage at the 2017 Awards Banquet.
---
Linda Ashmore: Winner F70-74 (13:42:50)
If ever there was a flag bearer for "faster with age", surely Linda Ashmore is it? Linda made the podium in Kona for the third consecutive year, and after finishing third and second in 2015 and 2016 respectively, 2017 was the year that she reached the top step of the podium. Not only did she win the F70-74 category, she was one of only three athletes to break an existing Kona Age-Group record.
The previous best figures in her category were 14:03:26 set in 2015, but Linda smashed that record by more than 20 minutes – winning her category on the day by more than 45 minutes. Check this out for exceptional year-on-year progression.
2015 – 3rd F65-69: 15:11:48
2016 – 2nd F70-74: 14:38:39
2017 – 1st F70-74: 13:42:50
Speaking to the Dorset Echo (LINK), Linda said, "I exceeded all my expectations. I thought it was going to be a close call at the end, but I was miles ahead. I only took up triathlon three years ago with a view to doing Ironman. I did my first three years ago and came third."
Alison Rowatt: Winner F35-39 (9:58:16)
For years on this site I've referred to Alison Rowatt as 'The Postman' – because she always delivers. Her fifth start in Hawaii, Alison is no stranger to the awards ceremony having finished second three times – 2016, 2015 and 2013.
Second is great… but of course, Alison REALLY wanted to win the big Umeke, and on her fifth attempt she finally managed it.
As well as winning her F35-39 division, she was also the second fastest female Age-Group athlete overall. That said, her winning margin was just 27 seconds. Having finished the bike in 11th position, more than 15 minutes in arrears, Alison was still 38 seconds behind with just one mile of running remaining. If you are only going to lead the race for a total of around 500 metres, well, making that the final stretch on Alii Drive is a great way to do it… even if sprinting the last mile in an IRONMAN is rather painful.
Winner winner chicken dinner! After 5yrs of trying @ali_rowatt wins her age group at Kona! So so happy for her. @teamfreespeed pic.twitter.com/VIzCJpWIR4

— Charlie Pennington (@c_e_pennington) October 15, 2017
I got a few words with Alison at the Awards Dinner. Will she be back again? Maybe!
Jane Hansom: Second F45-49 (10:19:15)
Another Kona regular, Jane had previously finished second on her debut in 2015 and then took the win last year. During 2017 she had won at The Championship and finished sixth overall at Challenge Roth amongst many AG victories, and she came very close to retaining her title in Hawaii, just coming up 1:34 short after trying to catch Michaela Rudolf (AUT) during the marathon.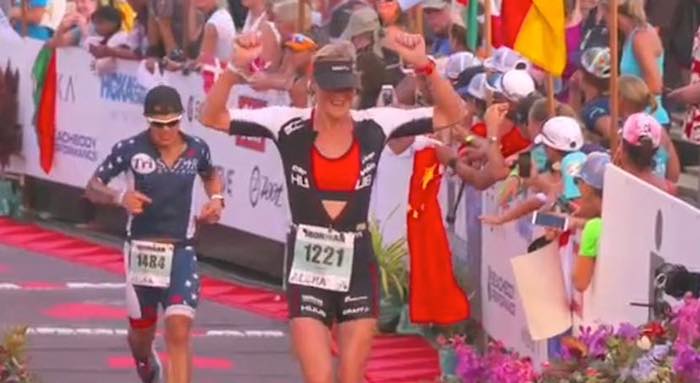 Alison Wilson: Second F25-29 (10:06:14) / Ruth Purbrook: Third F25-29 (10:08:33)
In the countdown to Kona I profiled Ruth Purbrook (HERE), while we featured 2016 Outlaw Triathlon winner, Alison Wilson, last year, with an interview entitled "from clueless to champion". Ali and Ruth took second and third respectively in the F25-29 division, Ali more than making up for her disappointment at missing the podium 12 months ago by just one place. Not surprisingly, Ruth was thrilled with third position in what was just her second IRONMAN start.
So incredibly proud of @Rastle50. 3rd in Kona, 10th Over all Age Group lady. One of my proudest coaching moments pic.twitter.com/8qdVPu7EiW

— Will Clarke (@Theclarke) October 15, 2017
I spoke to both Ali and Ruth at the awards.
Charles Pennington: Fifth M35-39 (9:07:18)
After missing the top spot on the podium two years ago by just six seconds, Charles was hoping to go one better this time around. While he didn't manage that goal, he was the fastest British Age-Group athlete overall and made the podium once again, fifth in M35-39. Joining Alison Rowatt and Ruth Purbrook, he was the third Team Freespeed athlete to make the podium this year.
"Small fruit bowl sir?", "Why thank you @IRONMANtri, that'll do nicely." Loving @thetribum too 🙄 pic.twitter.com/UU8ye3Dvaw

— Charlie Pennington (@c_e_pennington) October 16, 2017
Paul Lunn: Fifth M45-49 (9:25:02)
On his first trip to the IRONMAN World Championship, Paul Lunn produced a great performance to take fifth place in the very competitive M45-49 division, just 6:19 back from the winner.
https://www.instagram.com/p/BaXLYHalEGV/