"If I have a good race, a podium is realistic…"
Ruth Purbrook aims to join the list of British IRONMAN World Championship Age-Group podium finishers
Ruth Purbrook is one of the best and most consistent British Age-Group athletes racing over the middle and long distances.
We recognised her efforts last year, when making her our ERDINGER Athlete of the Month winner for August 2016 reflecting her great season of results. Those performances were noted by Team Freespeed (www.teamfreespeed.com), who selected her to join their successful squad for the 2017 season. Will their fantastic record of success at the IRONMAN World Championship help Ruth to earn a coveted Umeke trophy in Kona on Saturday 14th October?
Continuing our countdown to the sports most iconic race, we spoke to Ruth about her season to date, plus preparations and expectations for her Hawaii debut.
---
We're only a week or so away now from when you'll set off for the IRONMAN World Championships. What are your feelings for that – excitement? Nerves? Other?
So it is 10 days now until I board the plane, and at the moment I am mainly excited for what I am sure will be an incredible experience. Having had quite a few friends out there last year I was pretty jealous of all their photos and stories, so very much looking forward to getting out to what looks like such a beautiful place. I am sure when I get out there he nerves will start to kick in though!
At which point from when you started triathlon did you become aware of 'Hawaii' – and when did racing there become a target?
I first became aware of it when I joined my club, Ful On Tri, in early 2014 and heard stories from people who were firstly doing Ironman races (which at that point I still thought was an impossible distance!), and who had been to Kona and were talking about this holy grail. To be honest, I didn't think about doing an Ironman until the end of last year, when my application for a pro license was rejected – and then Kona and Ironman became the goal for this year.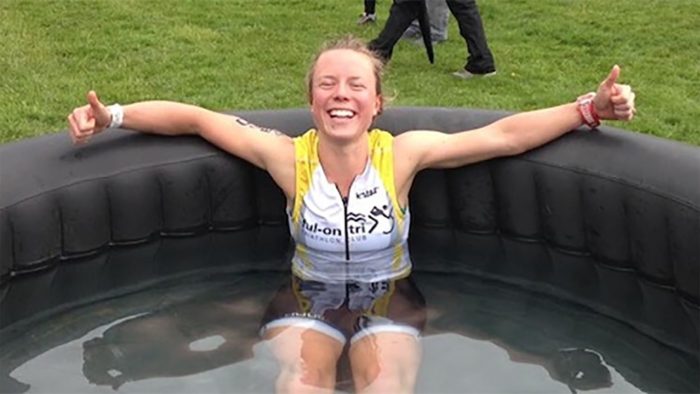 You qualified at IRONMAN Lanzarote this year in a race which, by your own high standards, didn't go especially well (third in AG). While that hurt at the time, has it actually been a blessing as you try to make that transition from 70.3 to IRONMAN races? What were the key things you've learned?
Looking back, I think it definitely is a blessing for a number of reasons. I think if it had all gone to plan I would be heading to Kona with very high expectations and undue pressure on myself. Having not had a great race, it feels like the pressure is off a bit, albeit I definitely have goals for the race! The key thing I've learnt is an Ironman is a really long way – lots of things can happen and the likelihood of having a perfect race is very small – so you just have to react to what happens and do the best race you can.
KONA!!!!! Over the moon that I got lucky and still qualified despite my race – onwards and upwards to ironman no 2! pic.twitter.com/NZAX4sguCz

— Ruth Astle (@Rastle50) May 21, 2017
Your 2016 results helped you get noticed and then selected for Team Freespeed this season. How much has that helped you in terms of support, kit, equipment and the like?
Being part of Team Freespeed has been amazing this year. The support in terms of kit and equipment has made it much easier, and ensured I have the very best. In particular the Orca Alpha wetsuit is awesome – for someone who isn't a strong swimmer, having the flexibility in the shoulders makes the swim a lot more comfortable for me, and whilst I haven't raced in the Swimskin yet, the practice swims I have done it feels speedy (when I finally managed to get it on!).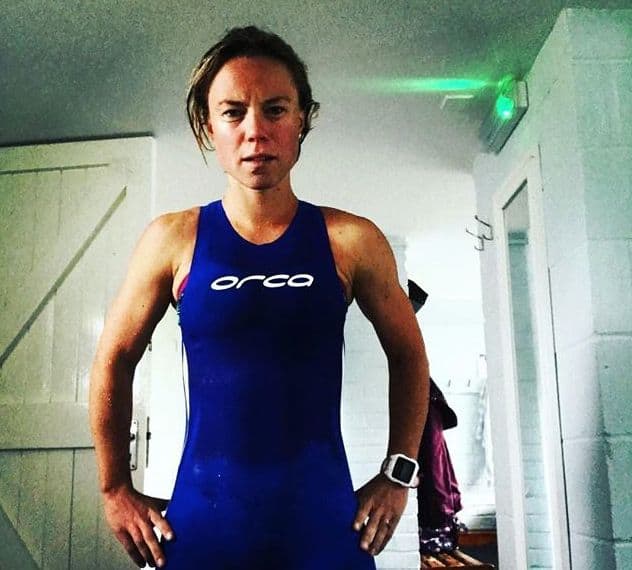 Skechers trainers have been great, and a big drop of ClifBar has kept me well fuelled. I was already working with Precision Hydration so it has been nice to keep that relationship going – their advice in the run up to Kona has been amazing. Giant St Paul's Richard introduced me to, which is very handy, being two minutes away from work – so having the amazing Liv Avow to ride this year has been really enjoyable – and I hope to do it justice in Kona.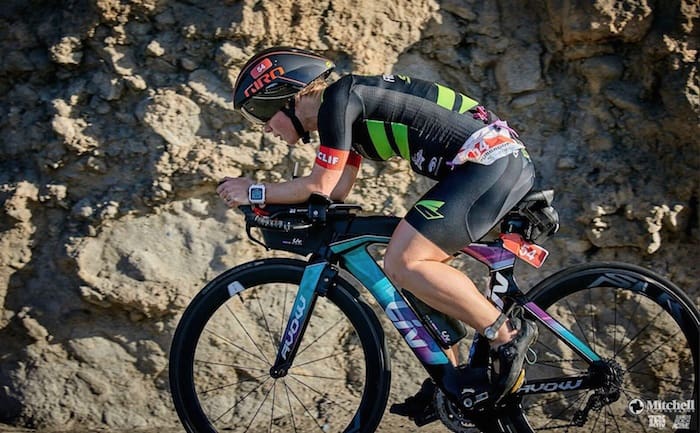 There will be a big Freespeed contingent in Kona once again – with plenty of previous podium finishers too – have you been able to get much from them in terms of advice and experience to try hit the ground running in Hawaii?
The other Freespeed members have been really helpful throughout the whole season – both in terms of advice for my first Ironman and as we head to Hawaii. Having so many of us out there I'm sure will make the whole experience so much fun, although as a Freespeed female there are definitely big boots to try and fill (Ali Rowatt has set a high bar!). The main advice so far seems to be to make sure we have the best underwear for the Underpants Run!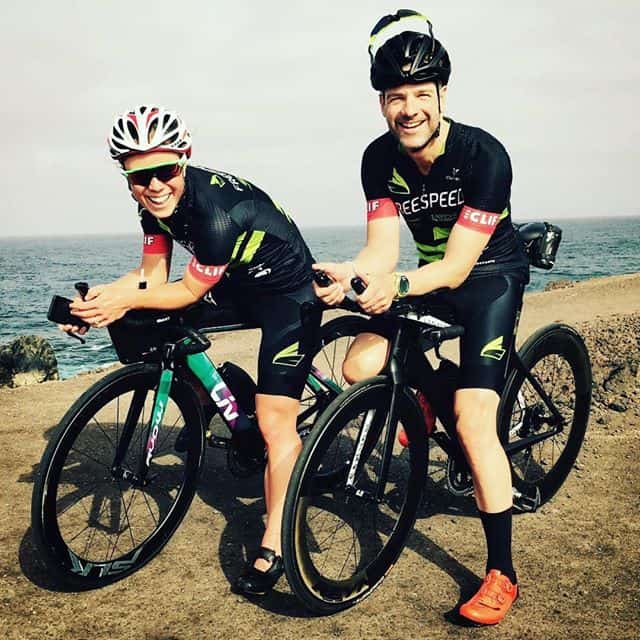 I've seen your name appearing when winning Age-Group events at Gran Canaria, Jonkoping, Wimbleball and Lanzarote – so from those at least, it sounds like the training and racing has gone well this year?
This year has been pretty good – from a 70.3 perspective I have been the first age grouper in all my races and feel like I have made some good progress with my two fastest times at Sweden and Lanzarote. The past month I've had a great training block, so am certainly feeling the fittest I have – the challenge will be putting together a good race!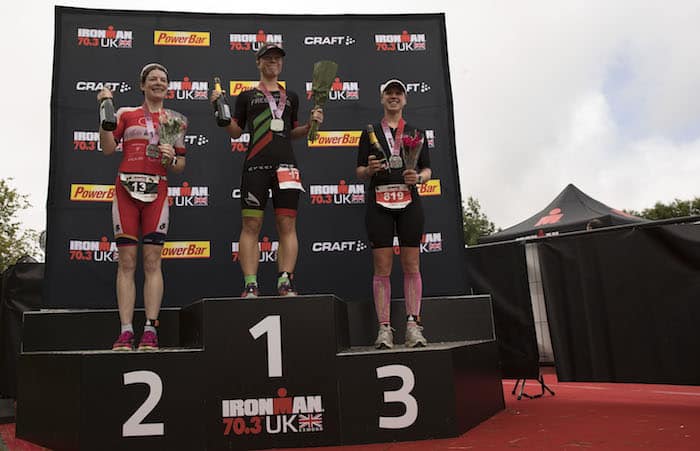 You've been coached by Will Clarke for a couple of years now – can you give us an insight into how that relationship works and the progress you've made?
Will's coaching has been invaluable. Whilst a lot of his coaching is remote, we message most days and talk fairly regularly. I have also been up to stay with him in Loughborough a few times, and just had a week in Lanzarote with him. His experience is so broad, and he is very flexible in terms of adapting my training around the job. He has been able to bring on my swim a lot, and I think as we head into next year more will come from the run as well. His aim has been to make me a better rounded triathlete which is really starting to come together now.
#roadtokona continues – amazing to have one on one coaching from @Theclarke this week #spoilt #ironman #kona pic.twitter.com/YtiW3RgzAw

— Ruth Astle (@Rastle50) September 7, 2017
You made the podium at the IRONMAN 70.3 World Championships in Australia last year; after a great season to date, is repeating that in Hawaii a realistic objective for you? Those 'fruit bowls' do look nice…
I think if I had a good race, a podium is realistic, however it is a very strong age group so I would need to have a race where nothing major went wrong! Being only my second Ironman, I am trying to go into the race with goals rather than expectations, and enjoy the experience. It also seems like very few people have a great first Kona. . So, we will see what happens!
You've managed the training and racing around a 'proper' career too – can you tell us a bit more about the day job, and how you fit your sporting goals around it?
I work for Lloyds Bank as a Regional Business Manager in the commercial bank. Whilst the hours vary, from c.45-60 hours a week, I am lucky in that work is supportive and we are also becoming much more agile, so I am able to work from home quite regularly, and most recently worked from Lanzarote for a week, which was great for training. I just ensure that my boss knows what I have going on, and the days I need to flex my hours a bit to fit training in. My husband is also an elite cyclist, so we are both getting up early to train, which helps from a motivation point of view!
What are you most looking forward to after the race in Hawaii is done?!
The after party! Seems to have a more epic reputation than the race! Probably that and then the long weekend I have booked with my husband in November, as he won't be coming out to Hawaii.
Good luck – and next time we chat, it will be on the Big Island itself!
Thanks!