Fast approaching race day in Hawaii, we've just about got time to fit in another profile of one of the Great Britain Age-Group athletes who will be racing at the IRONMAN World Championship. One of the youngest members of the team, Danny Bluff (www.dannybluff.co.uk) will be racing in the 18-24 category on Saturday, having qualified for Kona in his very first IRONMAN.
After a season in which he won The Lakesman triathlon over the same distance, does he feel ready for the Big Island?
---
When did you start triathlon and when did IRONMAN become a target?
I competed in my first triathlon when I was 16 years old. I didn't think much about it as I was playing football to a reasonable standard, so just turned up without any training. I borrowed a wetsuit, used an old mountain bike and ran in astroturf trainers so it was safe to say my time wasn't great, but the feeling of crossing the finish line was incredible and one I wanted to replicate. I properly started to get into triathlon when I was at Newcastle University and it was only in my second year that I heard about Ironman. Realising I had more of a preference to the long distance training and racing I just thought I'd have a go at Ironman distance. I've not looked back since.
You are still in the 18-24 division – when was your first race over the distance?
My first race at this distance was in my qualifying race at Ironman Wales. The weather was something else and I definitely learned plenty of lessons. My main focus was to just get round and not burn out before the finish line. The Kona slot was definitely the icing on the cake.
https://www.instagram.com/p/BY6FY24g-rM/
You qualified at IRONMAN Wales 2017 and so have had 13 months to think about this weekend – has that time flown by?
The past 13 months have gone by so quickly. I took a bit of time off after Wales to recover but then it was all speed ahead to ensure I was ready for the big dance. It definitely helped qualifying far in advance as it gave me plenty of time to plan my trip to Kona and also the 2018 triathlon season, ensuring I came here with confidence.
How long have you been out in Hawaii, and how has it compared to your expectations?
Come race day I will have been here for almost two weeks which I think has been enough time to acclimatise and familiarise myself with the course. It's so hot here but I managed to do some preparation with no fan turbo sessions and hot baths straight after workouts which has helped me a little to adjust to the hot climate.
Unlike most, you've had the chance to win overall at the distance which you did at The Lakesman this year. How was that experience?
Winning at The Lakesman was incredible! The support is amazing and definitely a race I would recommend to anyone wanting to do a friendly middle/long distance race that cares about the athletes. It was far from a perfect race for me, but it gave me confidence that my fitness was there and that the hard work over the cold winter months had been worth it.
https://www.instagram.com/p/BkTH7SmF76C/
How would you compare your fitness now versus your qualification races in Tenby?
I feel like I've come a long way since qualifying. The numbers I've been producing in training and racing this year are very positive and give me confidence that I can achieve my goals come race day. I've focused on all aspects of triathlon to optimise my performance and just hope the long hours of training and sacrifice will be worth it.
What are your strengths / weaknesses across the disciplines?
I'm quite glad once the swim is over because I know the hardest part (for me anyway), is over with. I've tried to work on my swimming technique as much as possible and it's now at the stage where I'm not at too much of a loss coming out of the water, but I already know it will be my main focus over the winter months. On the other hand, I love my cycling and, like many others, I focus a lot of my attention on that because it's my favourite discipline. I only started using a power meter earlier this year but that has given me an extra boost with improving my overall speed – I can't recommend one enough if you're wanting to improve your cycling.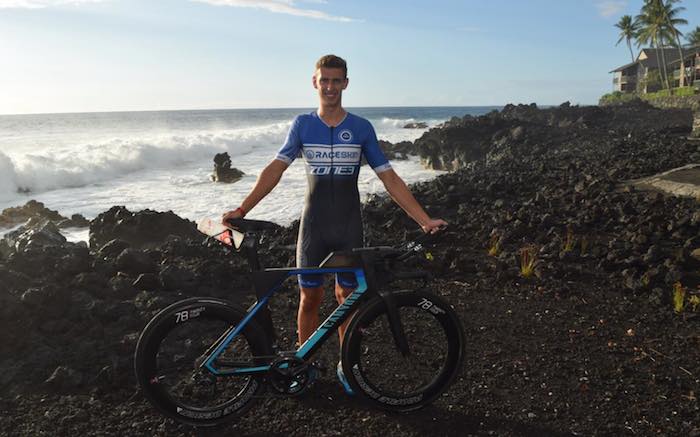 How have your found the conditions since you arrived – do you feel more acclimatised now?
When I first arrived I was a bit worried because of how hot and humid it is here. On my first run my heart rate was through the roof compared to what it usually is in the UK. Thankfully, after a few sessions my heart rate seems to be back where I'd expect it to be and feel a lot more ready to tackle the harsh conditions on race day.
https://www.instagram.com/p/BolHPteFqtG/
I see you did 60 minutes for the Training Swim last week – pleased with that?
Considering the swim was non-wetsuit, I was pretty happy with that. It was a great opportunity to get to understand the course and get some practice drafting faster swimmers. I feel a lot more confident now so if you're thinking of coming out here next year then definitely do the practice swim.
Any targets for the Saturday?
I've got some personal targets for all the disciplines that I'm going to keep to myself. However, I want to get to that finish line knowing I couldn't have given it anything more. I'm quite nervous but I also can't wait to race and see what I can do!