A truly memorable day in the history of IRONMAN Wales
Having been working at IRONMAN Wales in Tenby this past weekend (and hence – apologies – the delay in news updates for the past couple of days), I've seen at first hand just what an event it was. IRONMAN Wales is already held in the highest regard and well known for its challenging terrain – but add in the worst that the British weather could throw at one of the toughest courses around too. If you made it to the finish line (and perhaps I even called you over it too?!), you should be incredibly proud.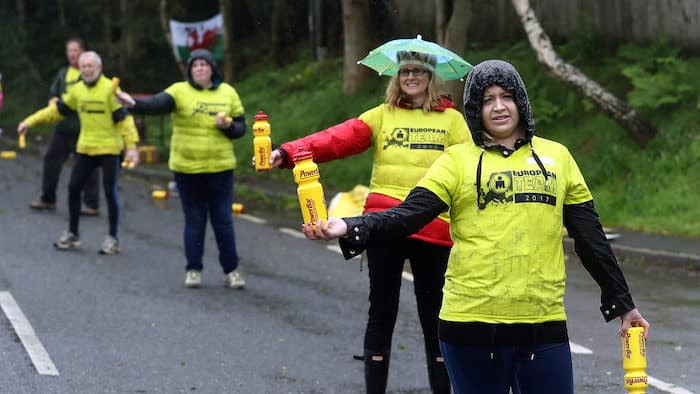 Epic and brutal with biblical rain are just a few of the words that will still likely not do the 2017 edition of IRONMAN Wales in Tenby justice. And to think, the blue skies and seemingly calm sea looked so inviting at 7 a.m.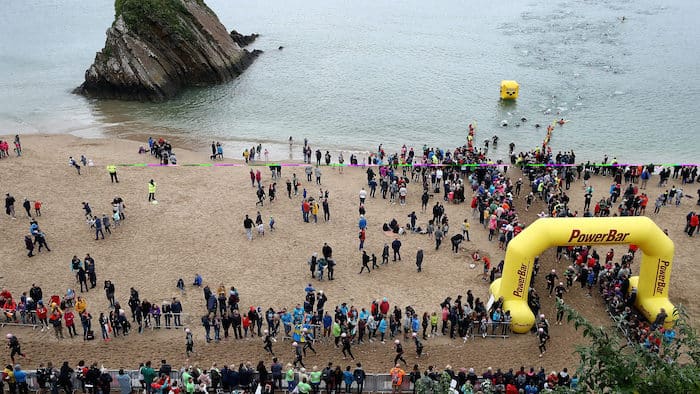 The course had to be built (and re-built) several times over, with wind and rain so strong at times that almost every piece of branding on the finish line had to be removed for safety reasons. The finish arch itself had to be further reinforced to ensure it remained on the esplanade, while at least one of the event gazebo's was last seen heading out to sea. Throw in to that news of some possibly deliberate sabotage of the bike course, with oil spillages left on some high speed corners, and it is then that you really do need to realise just what goes on behind the scenes with the event crew to keep things running and safe for the athletes and spectators. And many of those people worked for over 24 hours without a break.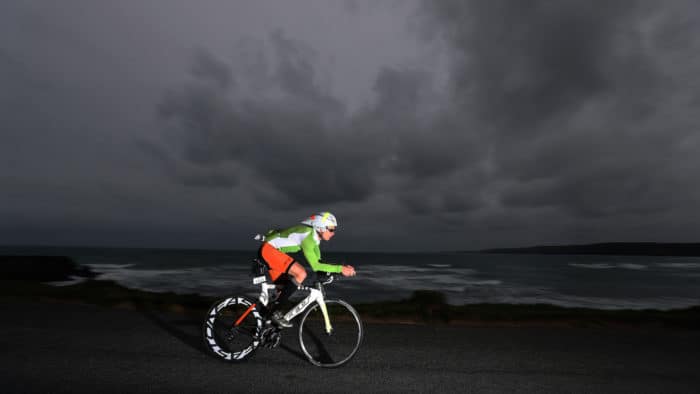 It was an incredibly tough day for everyone racing – but massive respect too, to everyone involved in making it happen and the thousands of spectators who were not going to let the conditions dampen their support. Ironman Wales really is a special event in a great location.
The support at ironman Wales never ceases to amaze me. Thanks to everyone who came out in horrendous weather to make it a great day.

— Harry Wiltshire (@harrywiltshire) September 11, 2017
Pro Men
Just three weeks after watching him taking a close second place at IRONMAN Kalmar in Sweden – and heading to Kona for the IRONMAN World Championships too – Australia's Cameron Wurf earned his first IRONMAN title in Tenby, with a narrow victory over Philip Graves. An Olympian in Rowing, and then a professional cyclist who race the Giro d'Italia and the Vuelta a Espana, Wurf representing Australia at the highest levels in a third sport. Despite the conditions, he almost broke the bike course record, and reached T2 with a nine minute lead over Philip Graves (second last year), with Germany's Christian Kramer a further four minutes back.
Kramer was the swiftest of the three during the early stages of the run, but Graves was moving well too, and also closing slightly on the Aussie. By the halfway point of the race, Wurf was still leading with Kramer second and Graves third, six and eight minutes in arrears, respectively. By the end of lap three (of four) on the notoriously hilly Tenby circuit, those margins had been further cut to 2:44 and 4:38. Could the Aussie be caught?
The Kramer charge would come to a halt late on, as Graves moved past the now struggling German at a feed station and was continuing his charge. Giving everything, he was just two and a half minutes behind with two and a half kilometres to go, but would finish 90 seconds short after running a 3:03:30 marathon, versus the 3:11:00 of Wurf.
That felt real good 👊 @IRONMANLive #IMWales Cheers for the pic @shortandrounduk pic.twitter.com/obPkemywaD

— cameron james wurf (@cameronwurf) September 10, 2017
Pro Women
Despite only four Pro women starting the race, anyone collecting a pay cheque on Sunday was certainly going to have to work for it given the conditions.
One of those four, Rachel Hallam, would end the day in the medical tent, leaving Lucy Gossage, Parys Edwards and Kate Comber to race for the podium spots.
@IRONMAN_Wales didn't quite go 2plan yesterday ended up in the medical tent with hypothermia.Big thanks2 all who have supported &helped me

— Rachel Hallam (@RachelHallam3) September 11, 2017
The winner in Tenby in 2013, Lucy Gossage was the hot favourite to win again, and she would live up to that pre-race expectation. As expected, Kate Comber (53:01) lead the way in the swim, with Rachel Hallam five minutes back and then Gossage and Edwards reaching the sand of North Beach for the second time in almost exactly one hour, seven minutes behind Comber.
Everything to expectation at this stage, as was the Duracell Bunny's charge to the front of the race and a big T2 lead. Over 13 minutes clear starting the run, Comber and Edwards had been close through most of the bike leg and racked their bikes within seconds of each other. Catching Gossage was never likely to happen, but Edwards would win that race (via a 3:24:55 marathon), versus the 3:35:39 of Comber. A first IRONMAN podium for Edwards, and a second inside a month for Comber who also finished third at IRONMAN Maastricht.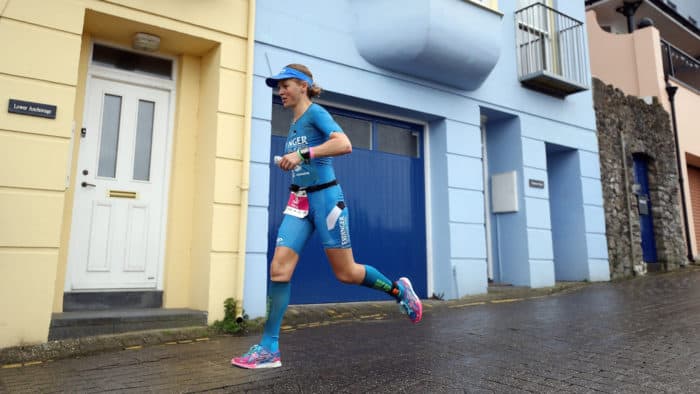 IRONMAN Wales – Sunday 12th September 2017
3.8km / 180km / 42.2km
PRO MEN
1st – Cameron Wurf (AUS) – 9:07:03
2nd – Philip Graves (GBR) – 9:09:33
3rd – Christian Kramer (GER) – 9:14:26
4th – Andrej Vistica (CRO) – 9:17:41
5th – Matt Leeman (GBR) – 9:30:14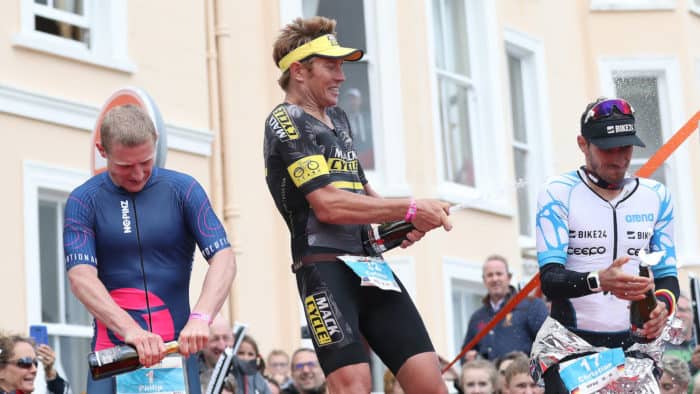 PRO WOMEN
1st – Lucy Gossage (GBR) – 10:11:20
2nd – Parys Edwards (GBR) – 10:35:16
3rd – Kate Comber (GBR) – 10:44:02