A man 'in transition' – but Mark Buckingham still has racing ambitions too…
With the ETU Duathlon European Championships coming up in just over a weeks time, I spoke to a British Elite athlete who will be seeking success in Punta Umbria, Spain – who must have one of the busiest and varied schedules in the sport…
Few members of the British Elite triathlon scene are balancing quite so many roles in the sport at the moment – and certainly none I know, doing so with such a consistent smile on their face – as Mark Buckingham.
Back in 2010, Mark – a former international track runner – joined the British Triathlon squad through the fast-track TriGold scheme, funded by Barrie Wells. Success followed, including an ITU World Cup victory, three ITU Duathlon World Championship Bronze medals, several British Elite Championship titles and a Mixed Relay Triathlon World Championship Bronze too.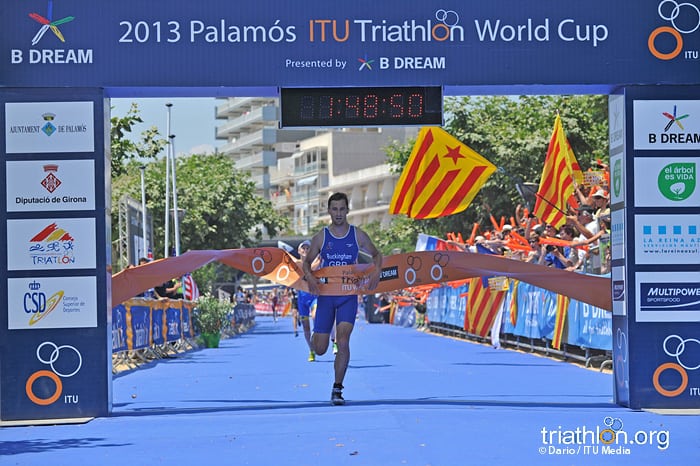 As well as his own racing, Mark has also been for many years a key training partner of Alistair and Jonathan Brownlee, co-founder of Yonda Sports, triathlon commentator (a couple of those times, alongside me!), a World Championship Gold medal-winning Paratriathlon Guide – while currently part of the UK Sport 'Athlete to Coach'  Programme… with a few Pro IRONMAN 70.3 races thrown into the mix along the way!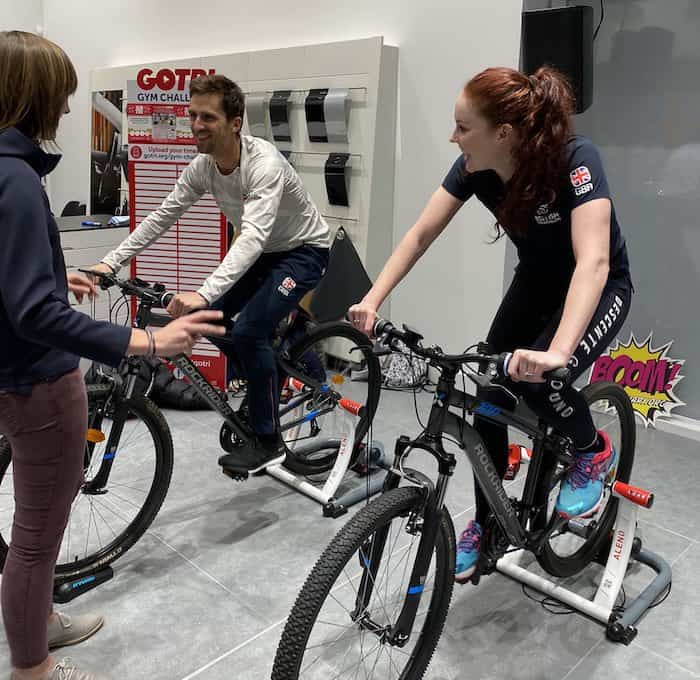 As if to reinforce that versatility, this past weekend Mark finished in the top-10 at the English National Cross Country Championship – though when I spoke to him recently, he was by his own admission being thrashed by plenty of kids at a recent GoTri event, at the launch of Volvo Sheffield.
https://www.instagram.com/p/B84YAI2BCBK/
Somewhat out of breath from his bike / sprint / star-jumps triathlon… it was probably stating the obvious to ask, is it a busy time?!
"Yes, I am definitely in the middle of spinning all of those different plates! It's a period of transitioning…"
With so much going on, how was he managing to keep so many of those 'plates' spinning, stay focussed and stop them all crashing to the floor?
"For 2020 my key role really is supporting British athletes up to the Olympic Games in Tokyo – and for me, that is mostly training with and helping the Brownlee brothers. 'Performance Partner' is my formal role title."
Beyond 2020, using his experience to help other athletes is the target – how has that been going, and what has he learned along the way so far?
"I've also been coaching and working hard on that, aiming to move towards that full-time post Tokyo.
"I definitely seem to learn best and quickest when I experience it first hand. Training before Kona last year with Alistair in Arizona was a great opportunity – you are seeing and feeling first hand fuelling, nutrition, race strategy and more. As well as being a training partner, it was also a great education towards my future coaching ambitions."
https://www.instagram.com/p/B2m5sKiB0Tk/
With the transition from athlete to coach underway, one might naturally assume that his own competitive fire has faded. While the next step on his sporting journey is an exciting one, there are still some racing targets of his own… which actually complement that training partner role.
"Yes, I've still got racing ambitions of my own. That's also quite important simply to be able to be of value when training and supporting athletes. I still need that carrot of racing, which enables you to do those 'bury yourself' sessions when needed. Without doing that and getting in and staying in that sort of shape, trying to train with and support athletes of the quality of Alistair and Jonny is going to be very difficult… and painful!
"My early season goal is the European Duathlon Championships at the beginning of March – my calendar is mostly dictated by the Brownlee's schedule, and they will be in Abu Dhabi for the opening WTS event that weekend, so I'm free to race!" [UPDATE – Abu Dhabi now postponed]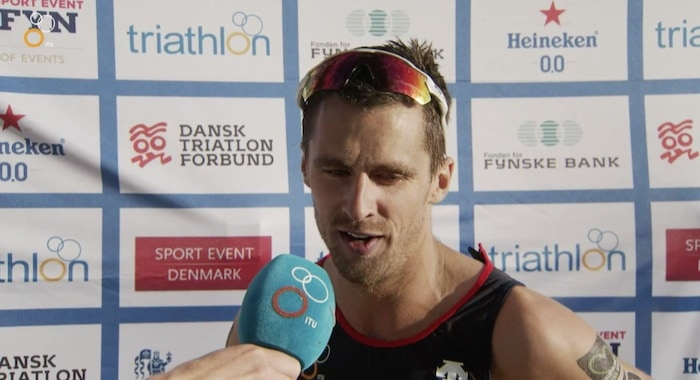 While the Brownlee brothers are aiming for Tokyo, there is a chance that Mark could be there in a racing capacity himself, through his role as a Paratriathlon Guide for VI athlete and 2018 World Champion, Dave Ellis.
"The Guiding last year with Dave was fantastic, and another one of those educational things that helps build that rounded knowledge of all of these different aspects within the sport. For 2020, I think any Guide work will be more in a Reserve capacity. Luke Pollard has moved to Loughborough and is training full-time with Dave – he does and will do a great job, and I think between the three of us who were Guiding – myself, Luke and Tim Don – we've said that for any race we would all get Dave around within 30 seconds of each other. Luke has committed to that role, and we back the decision fully."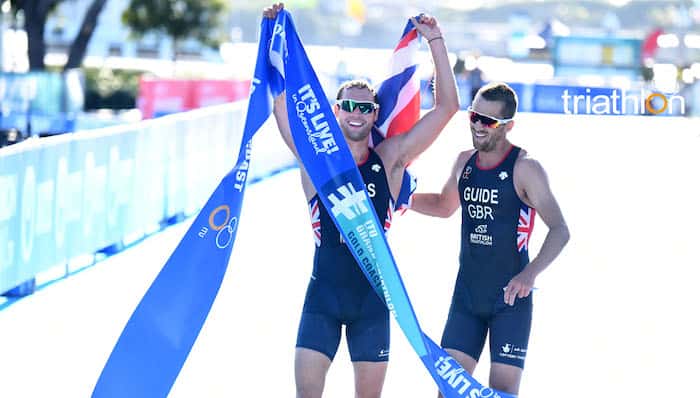 One thing that wasn't planned – but he ended up winning – was a debut at the marathon, when he won his local Yorkshire Marathon last October in a speedy 2:21:42. Another part of his 'racing targets'?
"No, the marathon was not planned at all! When I was out in Arizona training with Alistair, we'd done one run of 38km, but then I figured I may as well carry on and do another 4km because I'd never done the distance before. When I got back, not long after the Yorkshire Marathon was practically on my doorstep, so I thought, why not? There was really no proper plan – I even had a curry and a couple of beers the night before – so maybe that was the secret?!"
https://www.instagram.com/p/B2_AUdnhbjE/
With that one in the bag – and a move towards coaching over the coming years – could marathon running be the next target, perhaps fitting in more easily with coaching commitments and the need for swimming pools and five hour rides?
"No, it definitely wasn't part of any grand plan for the future… but then Will Clarke mentioned he was going to do the London Marathon (!), but no, it's not something I'll be able to fit in this year."
https://www.instagram.com/p/B4K0CGwBJOz/
Well, if that does prove to be his one and only marathon, 'raced one, won one', would be quite a nice way to finish, wouldn't it?
"Retire undefeated? You know, that sounds pretty good, doesn't it… at least that would give me one up on Eliud Kipchoge!"