A three-time IRONMAN World Champion (2010, 2013, 2014), Australia's Mirinda Carfrae (www.mirindacarfrae.com) has so far in her stellar career collected a total of seven top-three finishes in Hawaii. An IRONMAN 70.3 World Champion too in 2007, she is one of the most decorated athletes currently racing.
Having recently signed a new partnership with Aqua Sphere, we took the chance to ask her about her approach to her weakest discipline – swimming – life in lockdown and her plans for 2021, with the birth of her second child due soon.
---
Now that you have a young family, how are you and Tim managing to maintain your life as professional athletes? Do you have any magical time management tips for time-poor triathletes? For example, how do you both fit in time in the pool?
Time management is key for any successful athlete or working parent. Tim and I know we are going to have good days and bad ones and we support each other emotionally for any down days, whether it's about training or business or just being overwhelmed with balancing family, training and the responsibilities that come with the business side of our lives.
There is no magic, but communication is key. My advice would be to focus on what you can control. Make a clear schedule every night or every week and communicate with your spouse or partner. We typically swim in the same practice group, so we utilise day care to make these sessions work. For us, Sundays are reserved as family days and this helps us reboot into the new week.
Acknowledging that swimming is your weaker of the three disciplines, but having a blistering run in your arsenal, how do you work on improving/maintaining your swim to bring you closer to uber-swimmers, such as Lucy Charles-Barclay?
Swimming is a full-time emphasis all year. In the off season, I try and stay in the water as much as possible, essentially taking a step back to move forward with technique and drills while keeping a good maintenance program I can pull from once I start training again.
As more and more Olympic-distance-specialists are stepping up to mid and long-distance triathlon, often with strong swims, how is this changing your race tactics?
It's important to always be able to tap into high intensity swimming at the beginning of a race. Sometimes it's about whom you are swimming with more than the shape you are in. You need to utilise the opportunity at the beginning of the race to get with the group that you need to be with. Strategise your start and be where you need to be before the gun goes off. Warming up and/or using swim chords prior to a race is key. Get the muscles you need ready to go.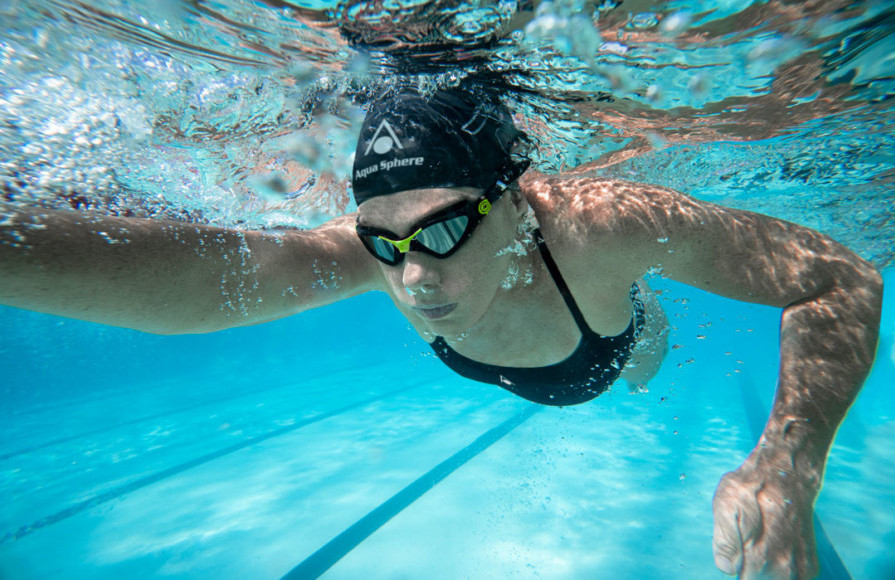 We have a love/hate relationship with swimming; what advice would you give to someone who does not have a swimming background and finds swimming more of a challenge than cycling and running to keep them motivated?
Do what you can to shift the scales to more love. Find some routine or swim buddies that make it fun. Back in the early days of my career we would do a rough water swim on Friday nights that ended up as a social at the local pizza house. Use equipment and research swim sets that might add some spice to your time in the water. Water time is always going to benefit your athletic goals. The fitness and breathing translate to other areas. My motivation is that it's the weakest of the three disciplines, so I need to work hard. That alone enough is motivation for me.
Have you been impacted by lockdown? If so, with swimming pools often being closed, what have you been doing to ensure you maintain your swim fitness, to the extent possible?
Covid has definitely disrupted our sport. During the initial pool closures we were lucky enough to tap into our Master Spas and keep the feel of the water. I also have a weight-training program that focuses on balance and core movements that align with triathlon. Plus, I can ignite some great swim movement with my swim chords. My advice would be to get creative with what you have.
What are your favourite technique drills for swimming, and what swimming tools can you not live without?
I love hypoxic sets. I find them meditative and also very effective, even at altitude. I also like some of our high elbow and fist swimming to regain the feel for the water. I do like to utilise equipment, especially since swimming is a key factor all year long. I can't live without my Phelps buoy and I also use Phelps Strength Paddle (which are part of Aqua Sphere's family of brands). These allow me to get stronger and sustain fast interval work without losing my stroke. They really teach you how to use your body and feel the glide.
The swim in Kona is obviously non-wetsuit, but other long-distance races are. What do you look for in a wetsuit and why? How often do you try to swim in open water as opposed to in the pool? Also, what type of sets do you do in open-water sessions?
I look for comfort and mobility and of course buoyancy. I love a wetsuit that provides all this without having to be overly snug, like Aqua Sphere's Phantom Wetsuit. When weather permits, we are practicing open swimming in the pool and the reservoir locally. On the race site prior to start I will always get in the water and get a feel for not only the currents, but also where I sit on top of the water and then also some key landmarks. Our main emphasis again with open water is finding a pace that helps strategise your efforts to hop on the desired group during the race. We do a lot of mock mass starts. Learn to go hard and then settle in effectively.
I understand you were a keen basketball player in your younger days. During the off-season what other sports/activities do you do keep you feeling fresh?
I stay active in the off-season. Mostly I take advantage of riding my mountain bike and gravel bike. I dabble in cross-country skiing also. I do stay in the water as that fitness and maintenance is important for me going into a new season. Currently, at close to eight months pregnant, swimming is the main exercise for me as we keep our eye on the ball for 2021. I try to have fun while minimising any sports that might cause any unforeseen injury. I love running so the off-season gives me a chance to run without a focused plan.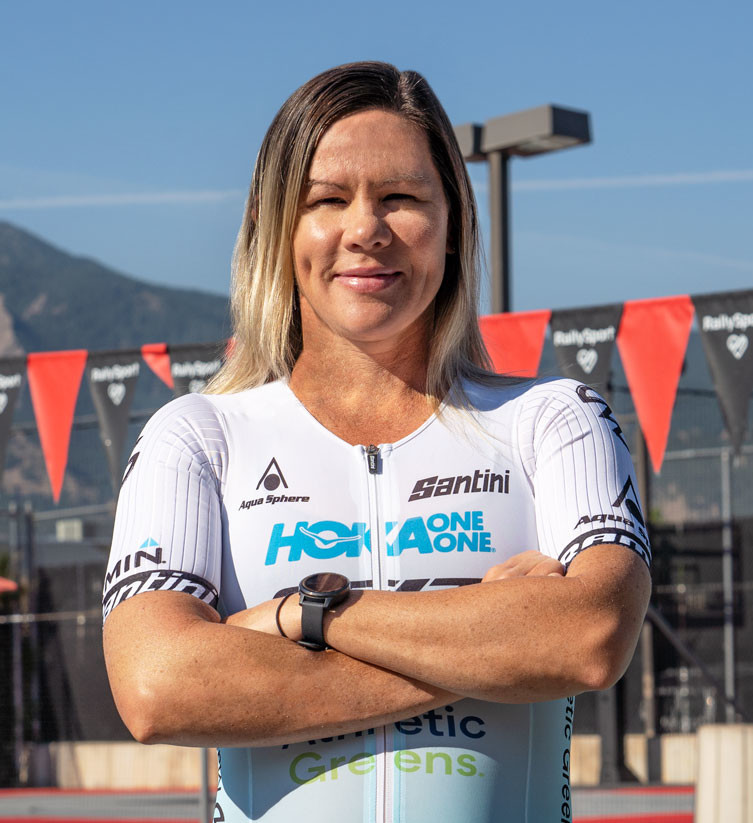 You hold the record for the fastest women's run at Kona – do you think you can go faster? Do you think the advent of carbon bladed shoes will see run times going down generally?
Yes, I've always believed I could break 2:50 in Kona but just haven't quite got there yet. It would require a pretty perfect day, but I believe I can do it. Also yes, with the improvements in footwear technology, times will inevitably get quicker as we have witnessed over the stand-alone marathon and half marathon distances.
Assuming there is a triathlon season in 2021, what are your main aims and goals? Have you got any single-sport races or targets – for example, are you interested in pushing your limits over a marathon?
My main goal for 2021 is Kona. I will look to start my season in June or July, after our new baby comes in late December/early January. Judging from my comeback after Izzy's birth, I expect my 2022 season to be better than 2021.
No, I won't be looking to race any single distance events just yet. When I'm completely retired from triathlon I'd love to try a marathon and see how fast I could go.